Canada's Ukraine embassy situation reveals numerous problems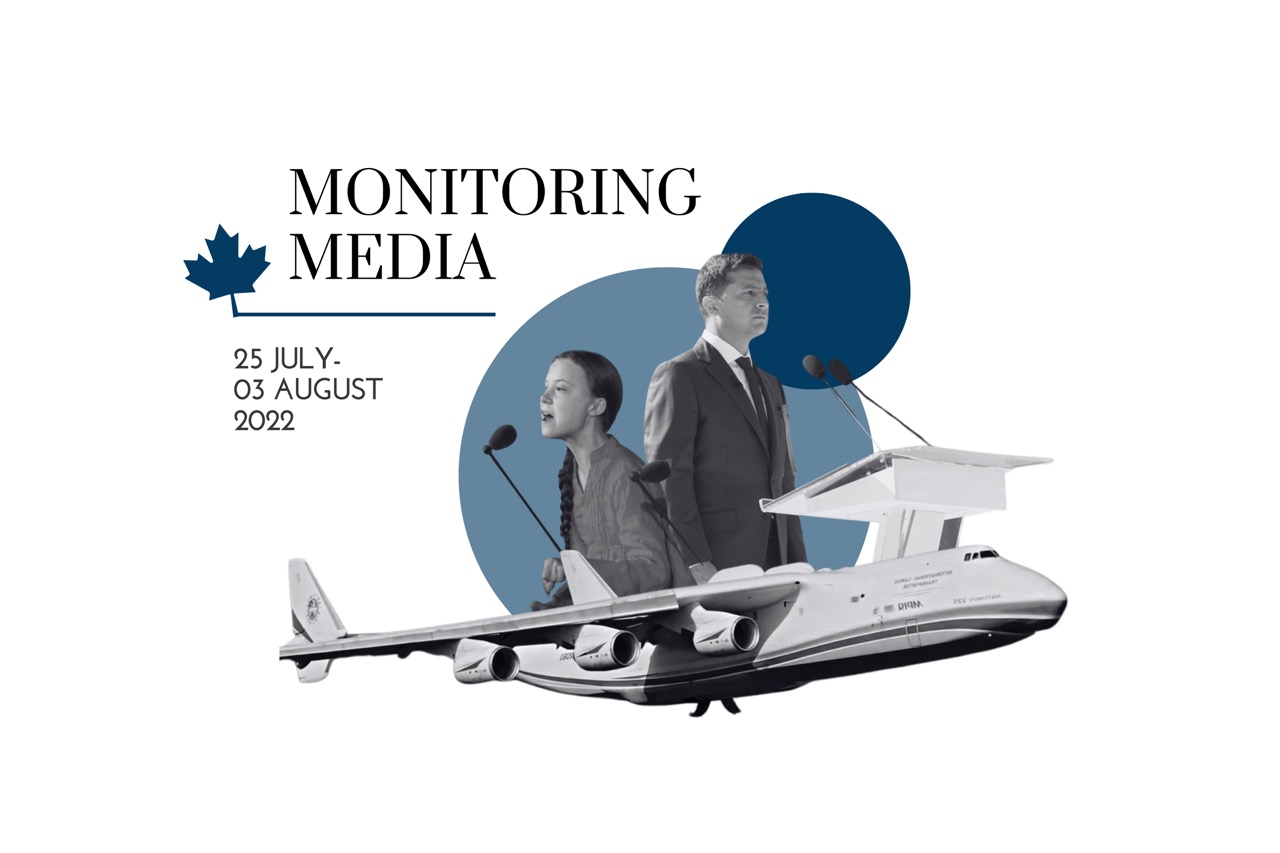 CIUS's weekly report on Canadian media coverage of Ukrainian affairs, 25 July–3 August 2022
Four media outlets—The Globe and Mail, The National Post, Le Journal de Montréal, and Le Devoir—were selected to prepare this report on how the situation in Ukraine and Canada's role in the war have been portrayed in Canadian media during the ten-day period of 25 July–3 August 2022. The sample of publications was created based on their impact on public opinion as well as their professional reputation, popularity among readers, and topical relevance.
This analysis reviews only original reporting about Ukraine produced by the selected publications in the past ten days. It covers texts from special sections on Ukraine, paper editions of the magazines, and opinion columns and editorials.
Key messages to watch for in this report:
Canada's Ukraine embassy evacuation;
Economic toll of Russia's war against Ukraine;
Can war be aestheticized?
The most common topics:
Canada's Ukraine embassy conundrum
In an investigation published by The Globe and Mail, Katharine Lake Berz and Mark MacKinnon shed some light on how Canada left its Ukrainian embassy employees behind after pulling the Canadian diplomats out of Ukraine weeks ahead of the Russian invasion. Berz and MacKinnon based their report on information provided by three Canadian diplomats with direct knowledge of what happened. According to them, in January diplomats working at the Kyiv embassy received intelligence notes from the Five Eyes alliance (Canada, United States, Britain, Australia, and New Zealand) in which they were told that Russia was going to pursue its intention to invade Ukraine. They also knew that Russia had prepared "lists of Ukrainians whom the alliance believed Moscow intended to pursue, detain or perhaps even kill." It was unclear at the time whose names appeared on the lists, but the diplomats were told that Ukrainians who worked for Western embassies in Kyiv were likely at risk. Based on this information, it was clear that the embassy needed to evacuate.
"Before Canadian staff members were withdrawn from the embassy ahead of the 24 February invasion, they received instructions from Ottawa about what to do with the warning that their Ukrainian colleagues could face arrest or execution. The instructions were clear: Don't tell them," the authors write.
The sources told The Globe that several embassy officials raised concerns about the Ukrainian staff members to their senior managers in Ottawa. They were reportedly told by two Global Affairs servants that Canada had no responsibility—known in policy terms as a "duty of care"—to local employees in this situation, and that Canada did not want to set a precedent of protecting local embassy staff.
"No evacuation plans were made for the Ukrainian staff members who were likely to be on the lists. Instead, they were told to shelter in their homes if Russia attacked Kyiv."
The authors mentioned that local staff were also denied their requests to work remotely from Lviv or Poland, and they had to watch "the efforts of Canadian embassy staff to evacuate their pets while local employees were left behind" (emphasis added).
Bryan Passifiume (The National Post) in his 29 July article provided an update on what is happening with the Canadian embassy in Kyiv, which was deserted in February in the wake of Russia's full-scale invasion. "Nearly three months after Prime Minister Justin Trudeau made a surprise visit to Kyiv to officially reopen our country's embassy there, Canada's diplomatic presence in the wartorn nation's capital remains shuttered," Passifiume writes, adding that Canada's leadership had been under mounting pressure as the list of reopened embassies continued to grow—as did the list of world leaders who had attended face-to-face meetings with President Volodymyr Zelensky.
"At the time, Canada was facing criticism for not returning its embassy staff earlier, but now, three months later, it's clear that the embassy never reopened after the prime minister's May visit," Passifiume writes. He concludes by citing Global Affairs spokesperson Jason Kung, who told the National Post that ongoing security concerns kept the building vacant: "Despite Canada's ostensive return of its diplomatic presence, consular and immigration services will continue to be provided from Poland and other neighbouring countries."
Canada's role in Russia's war against Ukraine
In an opinion piece, Andrew Coyne (The Globe and Mail) argues that the situation with the Ukrainian embassy staff desertion reported by Katharine Lake Berz and Mark MacKinnon shows that despite Canada's assertions to "be there" for Ukraine, it "did nothing, as they (Canadian diplomats) prepared to flee in advance of the invasion, to assure the safety of their Ukrainian employees; they did not even tell them their lives were in danger—on the direct instruction, according to three diplomats, of Global Affairs."
Coyne also harshly criticizes Canada's military help to Ukraine, which he calls the "rolling farce of Canadian military aid for Ukraine. […] "Delivered in instalments: too late, too old, and too little to do much good, but just enough to keep the government from being too visibly offside with the other Western powers."
Coyne concludes his opinion piece by reminding the readers that the "duty of care" policy, which he calls a "policy of doing nothing to provide for local staff," dates from the previous Canadian government. He writes, however, that it doesn't remove the responsibility for lack of action—in this case, not notifying Ukrainian embassy staff openly about potential danger to their lives—from the current leadership.
"A longstanding bipartisan consensus in favour of shirking our international responsibilities—in our NATO commitments, in peacekeeping, in foreign aid, and beyond—ought to be a source of deep national shame. Liberals or Conservatives, we're the ones who keep electing them."
Economic toll of the Russian invasion
In a guest opinion published by The Globe and Mail, Ukrainian journalist Anastasiya Ringis (temporarily based in Ottawa) further explores the topic of how Russia's full-scale invasion affects oil and gas supplies and global food security and threatens post–World War II global order and rule of law. Ringis reminds readers that despite the fact that the war in Ukraine might seem distant to many Western countries—in particular, Canada and the U.S.—there is something important at stake for all democracies: "Ukraine is paying an enormous price in fighting the war against this brutal dictatorship, and we are grateful for the confident support from our Western allies. But the West is not merely an ally, because this war is not only about Ukraine: it is about all of us."
Ringis concludes her opinion piece with a question: "Mr. Putin is at war with the West—at war with nearly every citizen on both sides of the Atlantic—and Ukraine is merely the test site for his aggressive imperialism. The debate, then, should now be focused on one question: How will we respond to his most recent attempt to break the existing world order and turn it into a place we definitely would not like to be in?"
Check out some of our Francophone picks from this past week:
Sylvain Raymond (Le Devoir) compares Ukraine's President Volodymyr Zelensky to Swedish activist Greta Thunberg, arguing that both Thunberg and now Zelensky once found themselves in the spotlight as the world rallied around their causes. A few years ago, Raymond writes, the world turned to Thunberg to teach everybody a lesson, but now it has a new hero.
"A pandemic later, another figure took his place with our leaders, that of a Ukrainian actor who became a warlord: Volodymyr Zelensky. It is now him that we display on all our screens, everywhere on the planet. We give him the floor in our parliaments, our classrooms, and even at the Cannes Film Festival. We ask him to lecture us on the state of international politics but above all to inspire us with courage and determination."
Raymond continues by admitting that the Western world is "mainly mobilized around our easy activism, waiting for a solution, without disturbing our summer holidays, apart from perhaps complaining on TikTok about the delay in retrieving our luggage following an intercontinental flight." The author concludes that as the war unfolds in Ukraine while disasters, death, and destruction also happen in other parts of the world, we are "simply waiting for the next figure to broadcast massively on our screens, intended to comfort us, to confirm to us that the problem is elsewhere, far from here, far from us, far from me."
Pierre Paul-Hus (Le Journal de Montréal), a conservative MP for Charlesbourg–Haute-Saint-Charles in Quebec city, argues in his op-ed that as the "crisis in Ukraine" has revived a topic of the utmost importance—energy supply—it also gives Canada a chance to "help Europeans regain peace of mind by providing them with the gas they need to live. And we can do it with much less impact on the environment than 20 years ago."
Paul-Hus demonstrates clear pro–oil-and-gas points by asking the question: "Do we continue to advocate the green ideology that strives for environmental purity, or are we ready to do our part to support ourselves and our allies? Will we continue to maintain the myth, or are we ready to face reality, the reality that cruelly reminds us that we still need our natural resources to survive in this world?"
Apart from the energy issue raised by the author, it's worth noting that the term "crisis" Paul-Hus uses to describe the war in Ukraine does not adequately portray what has been happening in the country.
As the Forum for Ukrainian Studies explained in an article published in May, a crisis is a moment in political, social, economic, or military affairs when an abrupt change happens: "While the war in Ukraine that started in 2014 is commonly referred to as a crisis, eight years of exhausting war cannot be described simply as one single moment or a single turning point." The term crisis in Ukraine is misleading to the point of negligence, as it reduces the severity of what is happening and doesn't address anyone's responsibility. For readers who don't know the context, it looks like there is an unfortunate event in Ukraine, but this phrase doesn't speak to why it is happening. Media and communications on the conflict must acknowledge that there is a full-scale Russian military invasion, a war which aims to mercilessly destroy Ukraine as a country and its people.
Worth your attention:
In an opinion piece published by Le Journal de Montréal, Richard Martineau argues whether we have the right to aestheticize war. The opinion followed a widely discussed photoshoot of President Volodymyr Zelensky and his wife Olena that appeared in a digital edition of Vogue magazine.
The author compares the shoot to a scene in the 1960 movie Kapò, directed by Gillo Pontecorvo. In 1961, Martineau recalls, the film critic Jacques Rivette critised one of the shots that makes a "beautiful image" out of the corpse of a Jewish teenager in a concentration camp who had just committed suicide, and quotes Rivette as saying:
"See, in Kapo, the shot where the character played by Emmanuelle Riva commits suicide by throwing herself on the electrified barbed wire, the man who decides at this moment to make a forward tracking shot to reframe the corpse from a low angle, taking care to place the raised hand exactly in an angle of his final framing—this man is entitled to nothing more than the deepest contempt" (Rivette).
Martineau continues by describing a photo showing "first lady of Ukraine (immaculately dressed) wearing a magnificent blue coat, surrounded by three heavily armed soldiers who stand guard." This photo, and the photoshoot overall, according to Martineau, makes him feel uncomfortable.
"The photo, taken from the scene of a recent attack by the Russian army, is beautifully framed. If it weren't for the three soldiers and the wreckage (of a plane? of a train?) that serve as a backdrop, it would be like looking at a fashion photo."
This is, perhaps, a difficult photo to understand if a person is not familiar with some war realities in Ukraine, as it has a very specific message to convey that is far from a fashion statement.
Let us consider the original Vogue article about the First Lady: the caption to the photo mentioned by Martineau reads "Zelenska at Antonov Airport in Hostomel with a group of female Ukrainian soldiers." It doesn't describe in detail what we see in the background; however, the location chosen for the photo—Antonov Airport, or Hostomel Airport—is the home of the Antonov AN-225, the world's largest and heaviest aircraft, also known by the poetic name Mriya (Dream). It is Mriya's wreckage we see in the photo, not a random plane or train. The world-famous aircraft was destroyed when Russian forces fought to seize the airport in late February. For Ukrainians, that plane has been a symbol of immense pride, since it was designed by the Antonov Design Bureau in the Ukrainian SSR, still a part of the Soviet Union, during the 1980s. Over the years, it has contributed significantly and visibly to global peace and security. In 2020 and 2021, Mriya delivered crucial PPEs, test kits, and other necessities to medical professionals on the front lines of the health crisis in the U.S. and other countries that was caused by the Covid-19 pandemic.
Depicting Olena Zelenska in front of the Mriya wreckage, surrounded by female soldiers, may certainly look like a fashion photo, but it is also a way to show a country hurt but unbowed, where women have had to take up arms to fight for their future and defend their dream—which, according to the slogan of the Antonov aircraft, is a "name that carries more weight than any other" name possibly could.
As the photo appeared in a fashion magazine, it might not be easy to immediately decipher the narratives hidden inside it. However, the fact that those photos sparked discussion and once again brought Ukraine into the spotlight is a positive outcome, as Martineau's partner—who is quoted in an opinion piece—suggests: "The media hardly talks about this horrible war anymore," she told me. "If these photos—and, above all, the text that accompanies them—can keep this story alive, why not?"
Paul Waldie (The Globe and Mail) explores the economic impact of Russia-instigated war. Waldie notes in his article that "The war in Ukraine has driven up prices in Canada and around the world" and continues by saying that it is, ultimately, the people of Ukraine who suffer the most, as they have to endure the impact of inflation that is closing in on 30%, interest rates which are at 25%, and privations that have left around one-third of the workforce unemployed.
Waldie touches on an important topic that often is underreported in Canadian media—Russia's war against Ukraine is a major blow to the global economy that will hurt growth, raise prices, and send ripple effects across the world.
While exploring this issue, special attention should be brought to correct phrasing. Sharp increases in world prices for key commodities, particularly fuels, that Canadians have been experiencing for the last couple of months have happened not "because of Ukraine" (easy but incorrect explanation) but because of Russia's unprovoked war against a sovereign neighbour that has already killed thousands of people, uprooted millions of Ukrainian families, destroyed approximately 4 million tons of grain storage capacity, and contaminated about 13% of Ukrainian territory (80,000 sq. km) by Russian mines and ERW (explosive remnants of war). Waldie provides examples of small business owners in Ukraine who worry about raising prices to cover the increased costs, thus highlighting a clear example of the cause and effect of Russia's war.
Kevin Theriault contributed reporting to this review.
Translations from French by Kevin Theriault and Olena Goncharova-LaFoy.