Ukraine prepares the ground for a counter-attack in the south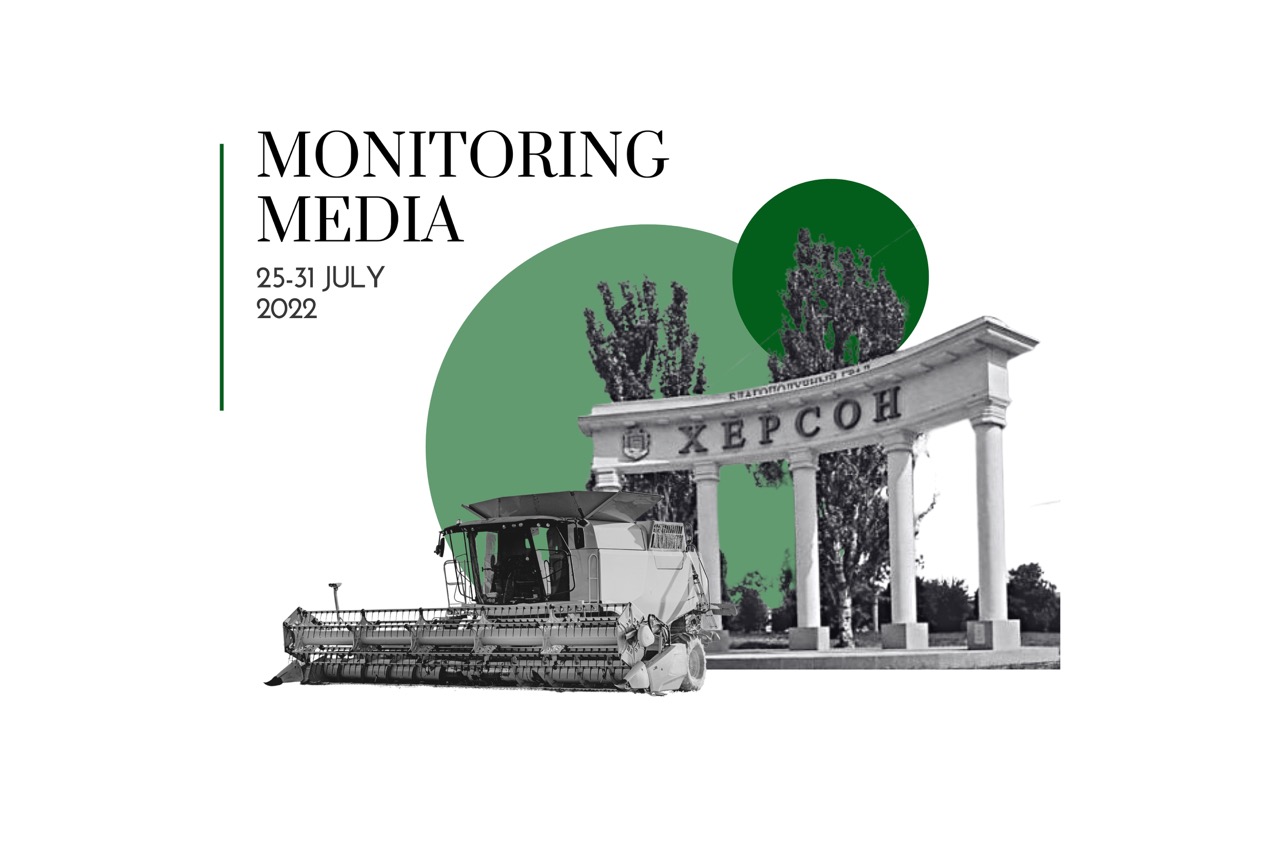 CIUS weekly report on media coverage of Ukrainian affairs, 25–31 July 2022
Three North American magazines (The Wall Street Journal, The New York Times, and The Atlantic) were selected to prepare this report on how the situation in Ukraine has been portrayed in the media during the past week (25–31 July 2022). The sample of magazines was created based on their impact on public opinion as well as on their professional reputation, popularity among the readership, and topical relevance. These three magazines represent the centrist and liberal political spectrums.
This report covers only the most-read articles about Ukraine, as ranked by the respective magazines themselves in the past week. Its scope extends to promoted texts on home pages, texts from special sections on Ukraine, texts from the paper editions of the magazines, and texts about Ukraine from opinion columns and editorials.
Topics featured in the selected articles:
Ukraine at war: Kyiv's diplomatic efforts are aimed at Russia being declared a state sponsor of terrorism; Ukraine demands a thorough investigation of the massacre of its POWs in Olenivka; Ukraine is accumulating resources to liberate Kherson; northern oblasts of Ukraine suffer renewed Russian attacks; Ukraine's farmers started harvesting amidst the war; Ukraine is experiencing an outflow of investments; Ukrainians collect war mementos in the battlefields;
Russia at war: the Kremlin is blamed for killing Ukraine's POWs in Olenivka; Russia's defeat by Ukraine could save Taiwan; Russia has evolved into an empire of evil; Russia is not a "great power."
The most common arguments:
Ukraine presses the international community to declare Russia a state sponsor of terrorism. Matthew Luxmoore (Wall Street Journal) provides many details about the killing of dozens of Ukrainian POWs in a rocket strike at a camp in Olenivka on Russian-occupied Ukrainian territory. Kyiv claims that Russia orchestrated the killing to take revenge against imprisoned Azov Regiment soldiers, who inflicted significant damage on its attacking troops during the defence of Mariupol this spring; by such killing Russia violated international humanitarian law, not to mention the laws of warfare. In turn, the Kremlin accuses Ukraine and argues that the prisoners were killed in a strike using Western-provided HIMARS rockets. The latter accusation seems dubious, as the trajectory of every HIMARS rocket can be traced and none launched from Ukraine has ever landed near Olenivka. Luxmoore cites the Institute for the Study of War, a Washington think tank, which also refutes the Kremlin's accusation and writes that the footage from Olenivka is "not the sort of damage that a Himars strike would likely have caused." On top of that, he reports, the Russian side is denying access by the International Committee of the Red Cross to the crime scene to assess the damage and provide relief to survivors (ICRC is the organization that had brokered the evacuation of some 2,000 Ukrainian soldiers from Mariupol to Olenivka in May 2022). Finally, Ukrainian military intelligence accuses the Russian mercenary company Wagner Group of striking Olenivka at their own will, taking revenge without authorization from the Kremlin. Luxmoore concludes that in light of the attack against unarmed POWs, Kyiv is expecting the West to designate Russia as a state sponsor of terrorism.
Ukraine calls for investigation into the mass-murder of its captive soldiers in Olenivka. Marc Santora, Maria Varenikova, and Matthew Mpoke Bigg (New York Times) also touch upon the circumstances behind the killing of Ukraine's POWs in Olenivka. Apart from providing facts similar to those reported by Luxmoore, they add a few additional details. For instance, they refer to Ukrainian authorities who believe that by orchestrating the killing, Russia wanted to hide the fact that Ukraine's POWs were tortured; they were "given just enough food to survive" and "suffered [regular] beatings, including with chains and metal pipes." Santora, Varenikova, and Mpoke Bigg also declare that the destruction and killings in Olenivka might have been inflicted by bombs planted inside of the building, not by shelling. To support this claim, the analysts refer to the fact that "no Russian soldiers or workers at the prison were injured," as they had evacuated in advance; also one of the Ukrainian POWs who "called his wife on Thursday night […] reported hearing an explosion, rather than shelling." For this reason, a thorough investigation is needed, a call rejected by the Kremlin. In turn, President Zelensky believes that "the prison explosion fits a pattern in which an unwarranted invasion of his country…has been accompanied by atrocities committed by Russian forces—for example, in suburbs north of the capital, Kyiv, and missile strikes on civilian targets."
Ukraine prepares for a counter-attack on southern fronts. Stephen Fidler and Daniel Michaels (Wall Street Journal) write that Ukraine is using Western-supplied weapons effectively to halt Russia's advance. The growing shortages and disruptions in logistics being suffered by the Russian army are creating an opportunity for Ukraine to mount a successful counter-attack in the south and liberate the city of Kherson, which was the first major Ukrainian city to fall after 24 February 2022. Fidler and Michaels write that "for Ukraine, Kherson is an important strategic objective as…taking it back would deny Russian forces access to the southern coast toward Odesa." Also, an assault on Kherson would force the Russian command to face a tricky decision: to retreat from the city and make it easier for Ukrainians to recapture or to move more troops from the Donbas to defend it and leave Russia's positions in the east more vulnerable. Ukraine's liberation of Kherson will likely trigger a much bigger psychological impact on the belligerents than the sinking of the Moskva flagship or recapturing Zmiinyi Island. Russia's morale will plummet, Ukraine's will skyrocket, and the West will have evidence that their weaponry and training are being put to good use. Fidler and Michaels consider that with "one bite at a time" Ukraine will likely be successful in its counter-attack; however, the situation is changing very fast, and any miscalculation may become critical.
Ukraine destroys a bridge strategic for the Russians in occupied Kherson. Matthew Luxmoore and Evan Gershkovich (Wall Street Journal) describe the effect that the destruction of the Antonivskyi Bridge in Kherson by the Ukrainian army imposes on the war. According to Luxmoore and Gershkovich, "the bridge links Kherson with other Russian-held areas in southern Ukraine across the Dnipro river and is used by Moscow to resupply the city and forces stationed there." With its destruction Ukraine has made it more complicated for Russians to deliver more heavy weaponry and entrench themselves in Kherson. This will likely place the occupiers at a critical disadvantage when Ukraine finally launches a major counter-offensive. Apart from this, Russia's presence in the south is constantly being challenged by the precision of weaponry that is being supplied by the West in increasing numbers for Ukraine's army and extensive local resistance networks. At the same time, Russia-appointed officials in Kherson claim that although the Antonivskyi Bridge was significantly damaged, it is still standing and is able to secure supplies and deliveries into the city. These officials also plan to enforce a popular "referendum" in September 2022 on whether Kherson and other southeastern oblasts of Ukraine should join Russia.
Ukraine's counter-offensive and liberation of Kherson will likely come at a high cost. Michael Schwirtz (New York Times) starts his article with a statement that Ukraine's counter-attack on Kherson will "require huge resources, and could come at a heavy toll." As did the analysts from the Wall Street Journal, Schwirtz provides many details about the military situation around Kherson, but he also includes interviews with Ukraine's officers on the coming offensive. They state that by destroying Russia's warehouses and command positions with the help of the US-supplied HIMARS, Ukrainians are now able to regularly create "small waves" of disruption which will multiply and overlap, leading to "bigger waves" in future. Schwirtz also cites the opinions of Ukrainian and Western officials that a counter-attack is necessary: "They [officials] say that the Russian military is in a relatively weaker position, having expended weapons and personnel in their Donbas offensive." However, to be successful, the counter-attack requires huge numbers of troops, many more offensive weapon systems, and close cooperation with the underground resistance. One of the major challenges ahead for the Ukrainian army is the necessity of fighting in a densely populated urban landscape, putting civilians at risk. That said, the civilians Schwirtz spoke to also support the counter-attack.
Northern Ukraine suffers intense attacks from Russia, which denies Ukraine's right to statehood. Ian Lovett and Evan Gershkovich (Wall Street Journal) provide an overview of recent war-related events in Ukraine. They write that the missile attack on 28 July 2022 was the first in weeks when Russians targeted Ukrainian territories north of Kyiv. This attack ended a period of calm in the capital, which had returned to a sort of normalcy: "Locals often take little note of the air-raid sirens, continuing to sip their coffee at sidewalk cafes as the warnings blare." Lovett and Gershkovich also write that Ukrainians are preparing a counter-attack in Kherson oblast, while Russians there are working on "referendum" arrangements and incorporating the occupied territory into Russia. Also, expectations are growing in the Kremlin regarding the announced meeting between the US Secretary of State Antony Blinken and Russian Foreign Minister Sergei Lavrov. The two sides are to discuss an exchange of prisoners. In Ukraine, President Zelensky inaugurated an annual Day of Ukrainian Statehood, which emphasizes that Ukraine "is the only legitimate heir to Kievan Rus'." This holiday and its historical interpretation irritated the Kremlin, which used to exploit Russia's alleged connection to Rus' in order to justify its territorial claims over large swathes of Eastern Europe.
Ukraine's farmers start harvesting despite the war. Alistair MacDonald (Wall Street Journal) brings to light many problems that Ukrainian farmers are facing today. These include, in particular, densely mined fields in places where Russians were previously stationed, destroyed agricultural infrastructure and equipment, stolen tractors and harvesters (which were taken to Russia), lack of funding to purchase seeds for the next planting season, and many more: "Overall, the first three months of war resulted in about $4.3 billion in damage to Ukrainian agriculture, in lost crops, machinery, facilities and other factors, according to the Kyiv School of Economics." MacDonald's predictions for Ukraine's agricultural sector are quite pessimistic: in 2022, the sector will experience a decline due to the scarcity of fertilizers and fuel, an inability to collect the harvest from occupied territories, Ukraine's hryvnia plummeting compared to other world's currencies, very limited opportunities to export food, and other factors. Speaking of exports specifically, "in 2021 the sector accounted for more than 40% of the country's $68 billion in exports, according to the U.S. Department of Agriculture"; meanwhile, in 2022 exports of grains and oilseeds are predicted to be only half of that. MacDonald concludes that while the agricultural sector employs 14% of Ukraine's population and remains crucial for the state's post-war reconstruction, it is surviving now mainly on the sheer determination of individual farmers.
Ukraine's seizing of Russian capital within its borders looks worrisome for international investors. Anna Hirtenstein (Wall Street Journal) writes that Ukraine today "is fighting for its survival and is desperate for cash," and thus it is not desirable to create non-transparent obstacles for international investors to retrieve their money from ill-fated businesses in Ukraine. In the centre of Hirtenstein's article is a story of the investment by Richard Deitz, the head of VR Capital, in Ukrzaliznytsia (Ukrainian Railways). The investment was seized in May 2022 by the government in Kyiv in an attempt to sweep Russia-related money from the state's territory. According to Hirtenstein, Deitz's assets have little to do with Russia, even though the businessman built his first capital in Moscow in the 1990s. At the moment, Deitz has taken his appeal against the seizure of his investment to the courts and complains that the procedures are taking much time and might have been more transparent. Hirtenstein concludes that Ukraine has to improve its business environment and remove the stigma of being a corrupt state where the government can overrule the law. Elimination of corruption and non-transparency remain crucial for Ukraine's post-war reconstruction.
Ukrainian artists and private collectors search the battlefields for war artefacts. Jeffrey Gettleman (New York Times) declares that "across Ukraine, many civilians and soldiers are foraging for shrapnel pieces, mortar fins, spent bullet casings, and bits of bombs." These artefacts of war are then used to create works of art or craftsmanship, raising money for Ukrainian soldiers at auctions, and establishing "war trophies" collections. By doing so, according to Gettleman, Ukrainians want to "somehow feel connected to the cause even if they are far from the fighting or don't see themselves as cut out for combat." Examining these pieces of war memorabilia and acknowledging their unique tragic history, ordinary Ukrainians acquire a better feeling for the existential moment that their state is facing. This becomes the most direct way of memorializing the war and gaining some psychological comfort. Gettleman cites one such collector, Ihor Sumlennyi: "You don't feel the war through television or the news. But if you show people these pieces, they feel it."
Russia is to be blamed for the mass killing of Ukraine's prisoners of war in Olenivka. Michael Schwirtz, Valerie Hopkins, and Cora Engelbrecht (New York Times) start their article with a statement that "at least 50 captured fighters died in a blast at a prison in eastern Ukraine, with no clarity on exactly what happened and each country blaming the other." This said, the credibility of Russia's accusations against Ukraine, that it allegedly used HIMARS to kill its own soldiers, sounds implausible. Numerous cases of atrocities committed in recent months demonstrate that it is Russia which has resorted to explosions and shelling civilian targets—for instance, the missile strike in Kramatorsk in April 2022—to achieve its military objectives. Having committed these atrocities, Russia typically accuses Ukraine of "conducting so-called false flag operations to make Russia look bad." To this, one should add that the Kremlin "has a history of fabricating narratives to cover up potential war crimes," such as shooting down the MH17 plane over Ukraine in 2014, which the Kremlin wanted to pin on Kyiv. The same logic seems to be applied to explain the explosions in Olenivka. Moreover, there is no solid evidence that Ukraine has ever used high-tech and easy-traceable HIMARS equipment to target areas adjacent to Olenivka. Instead, Ukraine's intelligence service recorded a phone conversation between two Russian-backed "separatist fighters," who concluded that "there was no sound of any rocket before the explosion, and that Russian forces had likely blown up the barracks themselves."
Russia's defeat in Ukraine will restrain China from attacking Taiwan. Jeffrey Goldberg (The Atlantic) interviews Jake Sullivan, the Biden Administration's National Security Adviser, about the effects of Russia's invasion of Ukraine and other issues of global importance. In particular, Sullivan believes that "Russia was not able to achieve the basic strategic objectives that President [Vladimir] Putin set out, which were to seize the capital city of Kyiv and to end Ukraine as a going concern…instead the Ukrainians won the battle of Kyiv. They beat Russia back from Kharkiv. They stopped Russia from being able to make a bum's rush to Odesa…And now we're in a circumstance in which Russia is facing significant difficulties constituting the kind of force necessary for them to achieve their objectives." This strategic underperformance is closely monitored by China, which is preoccupied with establishing a firm rule over Taiwan. The bigger the Kremlin's failures become, the less inclined Beijing may be to initiate its own invasion. In turn, the Taiwanese are also learning from Ukrainians the lessons of societal mobilization and territorial defence, information warfare, and effective deterrence based on high-precision missiles. Sullivan defines the success of US policy as the survival of "a sovereign, independent, viable Ukraine that emerges proudly from this [war] and can repel any future Russian aggression."
Putin is constructing an empire that humiliates Russia's neighbours. Peter Pomerantsev (New York Times) discusses reasons behind the Russian war in Ukraine that Russian soldiers themselves believe. Specifically, he describes the story of Valentyna, a woman who survived the occupation. Asking a Russian soldier why he participated in the invasion, she heard the answer that "We want you to be with us, for you to be with Russia." Pomerantsev concludes that "being with us" became a synonym for the humiliation of targeted societies in a neo-imperial war: "The Russian military seems intent on humiliating Ukrainians, taking away their right to independence and their right to make their own decisions." Pomerantsev also believes that Russia has evolved today into an empire of humiliation, as there exists neither a unifying ideology nor any values except despising their neighbours. Moreover, Putin is very effective at humiliating ordinary Russians with the political regime he constructed, and then he re-directs all the accumulated rage at the Kremlin-appointed foe. In particular, ethnic minorities in Russia such as the Tuvans or Chechens may actually be better off committing atrocities in Ukraine than enduring the harsh conditions of their homelands and surviving the pressure of the state machine. According to Russian logic, humiliated victims—whether at home or abroad—lose their agency, and therefore the aggressor should feel neither remorse nor responsibility. Pomerantsev concludes that "the threat Russia poses—to Ukraine and to the world—must be mitigated now," as the West is also in danger of undergoing humiliation one day.
A big army does not make Russia a great power. Phillips Payson O'Brien (The Atlantic) highlights a major geopolitical misconception: "military forces on their own are a deeply deceptive metric in understanding what makes a nation 'great'." Today, much more attention should be paid to economic, technological, social, and political structures that shape the state's might. The poor progress of Putin's Russia in Ukraine clearly demonstrates that numbers of soldiers are insufficient for achieving decisive victories. Payson O'Brien looks at history and concludes that "true great powers are the technological and economic leaders of their era. This means that not only can they develop the most advanced technological products (including weapons), but they have the ability to produce and operate them in large numbers." As for the last hundred years, "states with committed populations, with political systems that work against one-person rule, and that encourage scientific and general philosophical inquiry have a higher likelihood of translating their technological-economic strength more effectively into military power—the product." This means that only the US has consistently met all the criteria for a "great power" since 1900. On the other hand, today's Russia lacks technological capacities, the state's system is comparatively rigid, and its soldiers are not motivated and trained enough to do their best on the battlefield.