"We were not expected to return home": Lviv in contemporary Russian travel stories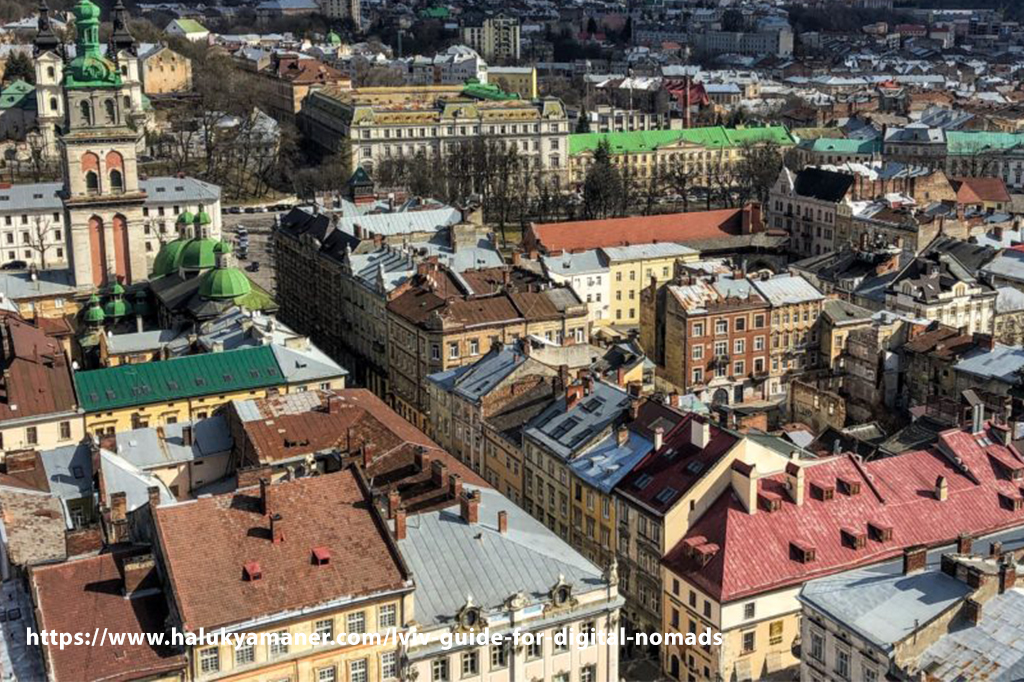 Modern Lviv is an increasingly popular tourist destination due to its multicultural heritage, relative affordability, and tasty local cuisine. At the same time, it is often perceived as a contested city with multiple (Polish, Ukrainian, Austro-Hungarian, Soviet) identities. While Lviv's current tourist image relies heavily on its Habsburg heritage and traces of interwar Poland, the Soviet part of its identity is, by most accounts, much less visible. Thus, Soviet monuments as well as symbols of the earlier imperial Russian presence remain mostly outside the mainstream travel narrative.
Nevertheless, visitors from Russia and other post-Soviet countries still comprise a significant group and produce a considerable number of travelogues, the majority of them online. Such stories can be especially valuable for exploring personal discourses about history and memory, since they are not directly influenced by official propaganda. Thus, by analyzing travel blogs and tourist forums, we have a chance to see whether visitors pay attention to the places of Russian and Soviet memory in this western Ukrainian destination, and if so, how they describe and contextualize them. Assuming that Russian tourists and visitors from post-Soviet countries not only consume local tourist products but also contribute to their creation by sharing images and texts for the global audience, what is their role in the formation of the Lviv's popular image? Is the concept of nostalgic tourism (similar to the one that attracts Polish tourists to the city) applicable in this case?
It is important to note that in this article, with respect to symbols the terms "Russian" and "Soviet" are sometimes used interchangeably, for two reasons. Firstly, during Soviet times the signs of the Russian presence were deliberately integrated into the Soviet historical narrative, in order to artificially underline the Russian impact on Lviv's urban development even before its integration into Soviet Ukraine after the Second World War. Secondly, tourists themselves typically often refer to particular objects both as Russian and Soviet, depending on the context.
Travel blogs and online tourist forums supply an almost unlimited amount of data. Let us consider several representative examples of personal blogs and forum threads dealing specifically with the experiences of Russian citizens who recently visited Lviv. Svetlana Apollonova from the city of Vladimir publishes her travel vlog on "Tourister," a specialized Russian platform. In May 2019 she spent a day in Lviv and shared a story about her experience. Artemy Lebedev, a Russian designer and blogger, puts out his travel stories on a personal site, www.tema.ru. He visited Lviv and western Ukraine at least two times in 2009 and 2012. Andrei Schelkunov uses the nickname "Punktir"; his blog at http://punktir.org/ contains several detailed reports on Lviv and western Ukraine, with a particular focus on Russian and Soviet memory sites.
Additionally, there are several popular travel forums, such as the so-called Winsky forum (www.awd.ru) and the Russian segment of the global Tripadvisor. Winsky is the largest Russian resource on independent travel; it contains numerous stories, including those uploaded by Lviv visitors from Russia and former Soviet republics. The majority of the authors at the Winsky forum are Russian citizens or identify themselves as such, while Tripadvisor gathers a much more diverse audience.
One of the first issues that emerges while browsing through Lviv-related blogs and forum posts is the geopolitical belonging of the city. It soon becomes clear that different authors locate it on different mental maps, including post-Soviet space, Rus (Slavic world), and Europe. For example, Winsky places Lviv (and the rest of Ukraine) in the ex-USSR rubric. Interestingly, the forum's content is geographically divided by continents, ex-USSR and Middle East being the only exceptions.
The author of the personal "Punktir" blog, on the other hand, describes Lviv as a place that "still retains what connects it with other parts of Russia," despite "currently serving as the center of Ukrainian nationalism." The Winsky forum user Ajup-khan posted an almost identical comment in February 2013: "There is also something commonly Slavic here: a monument to the first printer Ivan Fedorov, a monument to Daniil Galitsky [sic] and some street names."
At the same time, Svetlana, Artemy, and many other visitors describe Lviv as a somewhat different place, which belongs neither to Slavic or Soviet space—unlike other major Ukrainian destinations. The differences they point out can be placed within two major contextual categories, loosely labeled as Europeanness and Ukrainian nationalism. One can find both key concepts in Svetlana's story. It starts with the confession that she "does not really want to write about Lviv…since this city is Banderite" (referring to the Ukrainian integral nationalist movement represented by Stepan Bandera, a leader of the Organization of Ukrainian Nationalists and the Ukrainian Insurgent Army). Her opinion is based on the fact that she could rarely hear Russian spoken in the streets. At the same time, she admits that "the attitude towards tourists is good." She goes on to say that the architecture of Lviv sets the city apart from Kharkiv, Odesa, and Kyiv. While being in those cities, she would feel like she was still in Russia, while in Lviv she could "immediately feel the European style." One can make at least two observations from this text: first, that on Svetlana's mental map, Lviv does not belong to a familiar realm but to Europe instead; and secondly, that discursively neither her homeland nor Odesa, Kharkiv, and Kyiv are situated in Europe.
Artemy Lebedev also starts by observing that the western part of Ukraine is perceived as "something separate (or different) from the rest of the country." According to him, this is an old and natural division. According to Ajup-Khan, a visitor from northern Russia, the majority of Russian-speaking tourists are coming to Lviv "to see another Ukraine…that used to be European and preserved traces of European architecture and lifestyle…"
Apart from architectural remains of past epochs, Europeanness is traditionally associated with wealth, safety, and order. Most Russian visitors point out that they felt safe while in Lviv despite the initial fears inspired by official propaganda or friends' warnings. LyLKA from Moscow recalls on the Winsky forum the initial reaction of her friends to the idea of visiting Lviv in May 2013: "When I announced my plans at work and to friends I only heard: 'Aren't you afraid? It's Western Ukraine!' and after they learned I was traveling alone, they tried to scare me even more." Kirillja had very similar encounters when preparing to travel in January 2013, commenting, "The media are responsible for this…because all the friends who have learned that we are going to Lviv remembered only one person—Stepan Bandera, of course—in the appropriate interpretation…we were not expected to return home."
The stories above represent very typical narratives of western Ukraine (and particularly Lviv) as a dangerous place and the homeland of extreme nationalists. This set of stereotypes was supported both by Soviet propagandists and their Russian heirs and still permeates the online discourse. Additionally, the Lviv tourist industry consciously and successfully sells "nationalist horrors" to the city's visitors. Artemy Lebedev comments that "the legend about nationalism and the trade in fascist paraphernalia attached to it" generate a significant part of the city's revenues. He also adds sarcastically that "Muscovites" are happy to buy these items in the first place. He seems to be quite correct, since almost every travelogue contains photos and descriptions of specific souvenirs such as flags and tridents.
There are several places on the Lviv map that can be directly connected to a Russian and/or Soviet symbolic presence in the city. A tourist guidebook published in Leningrad in 1982 naturally contains descriptions of monuments in Lviv to Soviet and Communist Party leaders—among them: Lenin in front of the Opera House, Yaroslav Halan, and Sergej Kuznetsov, as well as military monuments on upper Stryiska Str. and in the Lychakiv Cemetery. None of the personal monuments exist today, while the military memorials are still standing. Among the historical sites that would potentially attract the attention of nostalgia-driven Russian tourists there are also a memorial known as the "Collective resting place of Russian journalists" at the Lychakiv Cemetery, the Pushkin Centre for Russian culture on Korolenka Str. along with the Russian Orthodox church nearby, and places associated with the activities of the Muscovite refugee publisher Ivan Fedorov. None of these places are mentioned within Tripadvisor's Russian section, and only a few travelogues discuss them. However, at least two travel bloggers specifically followed the Russian and Soviet sites in Lviv.
Andrei Schelkunov ("Punktir") published a particular series of reports titled "Russian Lviv"; the places he chose to visit included the Ivan Fedorov monument and locations associated with his activities in Lviv (St. Onuphrius Monastery, Stauropegion Institute). While visiting the Lychakiv Cemetery, Schelkunov focuses on the collective burial site of Russophile Galician journalists and writers. Among his special interest places are the Russian Military Memorial (Hill of Glory) and the local Centre for Russian Culture.
The centre was closed by a decision of the Lviv City Council approximately at the time of the visit (spring 2017). The author noted that the building itself looked abandoned and unkempt, and there was even no signboard identifying the institution. He also claimed that "traces of vandalism" were visible on its walls. A Russian Orthodox church is situated right next to the Russian cultural centre. Schelkunov's impressions from his visit to the church were overwhelmingly pessimistic as well: "On the one hand, it seemed that we were among our people. On the other, it was a sad picture. In the dark church, several older people sang awkwardly in different voices…Such a visual withering of the Russian community."
Overall, the Russian cultural centre did not seem to attract many tourists from Russia. At least, the Russian Society's chronicle, recorded written by its former head, does not mention any visitors except official delegations or music groups on tour. Tripadvisor.ru also does not list this place among the popular tourist attractions. It appears the centre was situated off the traditional tourist paths, both literally and symbolically, and attracted only specific kinds of visitors—those interested in Russian institutions for personal or ideological reasons.
Both authors pay significant attention to the Russian and Soviet military monuments in Lviv. The "Punktir" blog contains an abundantly illustrated narrative about the Hill of Glory—a site that first served as a resting place for Russian soldiers from the First World War and subsequently as one of the most important Soviet memorials. In the introductory remarks, the author expresses his concern about the fate of the place, claiming that "it was repeatedly vandalized by Ukrainian nationalists, while the Lviv city government attempted to run it into the ground." He describes its current condition in great detail. According to the blogger, the symbolic elements, including plates with names of the heroes of the Soviet Union and Soviet orders and medals, are still in place but in grave need of being restored. The tombs of Soviet military heroes (including one named Putin) make a special point of interest for this traveler.
During his 2013 visit, Ajup-Khan paid homage to another military memorial on Stryiska Str. His story includes a photo in front of that memorial and a commentary similar to Schelkunov's: "[I am] at the Memorial of Glory. The eternal flame no longer burns … but the flowers and wreaths are still present. As my colleagues later informed me, the Academy of Ground Forces of Ukraine looks after the Memorial." Apparently, just like the previous author, he expected the memorial to be already destroyed. After finding it still standing, he expresses satisfaction about this fact along with concern about its future. Interestingly, for Ajup-khan the Ukrainian army is a natural custodian of the traditions of the Soviet Army, while the local government is not to be trusted with this task.
It appears that the symbolic image of Russian and/or Soviet Lviv can indeed be identified in contemporary tourist stories posted online. This image is as controversial and diverse as the history of the city itself. In numerous testimonies by Russian travelers, Lviv simultaneously belongs to the European and the post-Soviet space. It represents Western culture and lifestyle, on the one hand, and the horrors of radical nationalism, on the other. Both narratives reproduce decades-old stereotypes suggesting that despite significant transformation in the current political situation, they are deeply rooted in Soviet times. Indeed, the current political situation and propagandist messages (old and new) have made a significant impact on the number of Russian tourists visiting Lviv and their impressions of the city.
Natalia Kovalchuk
Director of the Artes Liberales baccalaureate program
Ukrainian Catholic University in Lviv