Western states to provide Ukraine with advanced weaponry and military vehicles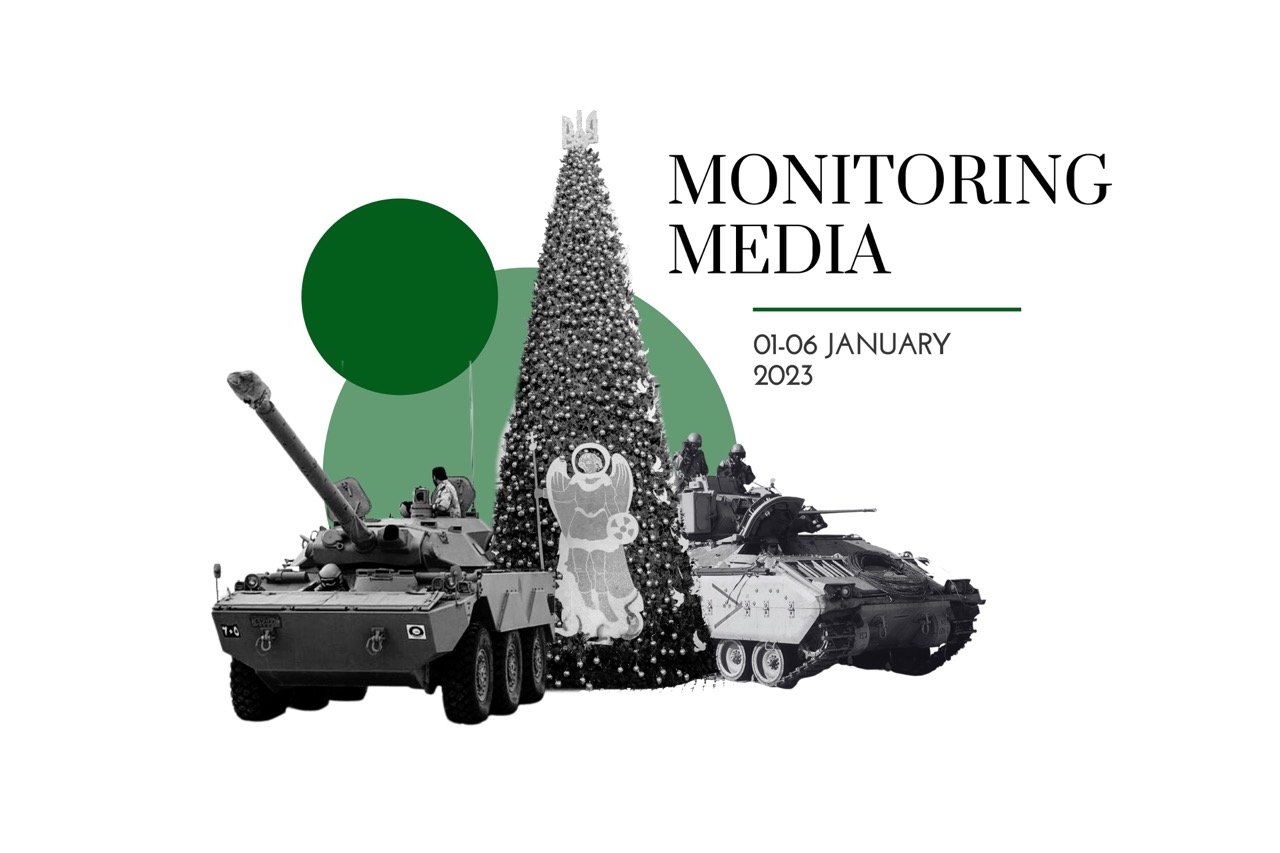 CIUS weekly report on media coverage of Ukrainian affairs, 1–6 January 2023
Four publications (The Conversation, Politico, The New Yorker, and National Review) were selected to prepare this report on how the situation in Ukraine was portrayed in the press during the past week (1–6 January 2023). The sample was compiled based on their impact on public opinion as well as on their professional reputation, popularity among the readership, and topical relevance. These four publications represent centrist and conservative viewpoints on the political spectrum.
This report covers only the most-read and relevant articles about Ukraine, as ranked by the respective publications themselves in the past week. Its scope covers promoted articles on home pages and articles from special sections on Ukraine, with the hashtag #Ukraine, from the paper editions of the publications, and about Ukraine from opinion columns and editorials.
Topics featured in the selected articles:
Ukraine's current situation: Ukrainian forces are continuing to destroy Russian occupiers in the hundreds; Kyiv did not support Putin's incentive for a Christmas ceasefire; Ukrainian forces have become highly effective in downing Russian drones; the citizens of Ukraine's capital try to live normal lives in spite of the war;
The world and Ukraine: supporting Ukraine is in the US's national interest; Washington's aid to Ukraine will remain sustainable and progressive but cautious; Western states agree to provide Ukraine with their newest armoured vehicles; 
Russia at war: The Russian invasion has accelerated Ukraine's Euro-Atlantic integration; Russia plans to continue the war no matter the costs; Russia destroys schools and other educational institutions, aiming to rewrite Ukraine's identity.
The most common arguments:
Ukrainians kill hundreds of Russian soldiers in a single missile strike. Ari Blaff (National Review) writes about the successes of Ukraine's massive rocket barrage on a Russian military base in the Donetsk region on New Year's eve. Exact information on the casualties is missing; however, independent analysts estimate that a minimum of 200 and a maximum of 600 Russian soldiers could have been killed. The counterattack came not long after the televised addresses of presidents Volodymyr Zelensky and Vladimir Putin, in which  their respective nations were encouraged to support the war effort. Blaff concludes with an acknowledgment that "the Ukrainian strike relied on American-supplied HIMARS rocket systems designed by Lockheed Martin."
Ukraine refuses to support the Christmas ceasefire initiated by Russia. Brittany Bernstein (National Review) writes that Ukraine dismissed Putin's order for an Eastern Orthodox Christmas ceasefire as "hypocrisy." According to the Kyiv government, any kind of short-term arrangement would only allow the invaders to regroup and rearm. Instead, Ukraine took the opportunity to advocate for Russia's complete withdrawal from its occupied territories. For its part, Russia argued that the ceasefire would allow the Orthodox Christians living in the area to attend Christmas services in safety. Bernstein concludes that Putin's order "comes after Russian forces bombed Ukrainian cities on New Year's Eve. Russians also shelled the Kherson area on December 24 and 25, killing at least 10 people…Many Ukrainians chose to celebrate Christmas on December 25 this year, in a rebuke of the Russian church."
Ukraine has learned to counter Russia-launched drones but still needs Western weaponry to remain effective. Paul McLeary (Politico) writes that Ukraine is now able to shoot down almost all of the Iranian-made drones that Russia deploys against its infrastructure. On New Year's Eve alone, as many as 80 unmanned aerial vehicles were intercepted over Kyiv. According to McLeary, these successes take place "thanks to the German-made Gepard system, a vehicle that can send dual streams of 35-mm rounds ripping into the sky to hit the drones. Berlin has sent 30 Gepard vehicles to Ukraine over the past year, with seven more on the way this year." However, the effective functioning of the Gepards may be put to a halt within a wider international context: "Many of the rounds for the vehicles' two guns were manufactured in Switzerland, and the government there has refused to allow Germany to re-export those rounds to Ukraine, citing its neutral status." But this refusal encouraged other European states, as well as the US, to increase their domestic capacity of weapons manufacturing as well as to refurbish their Cold War–era munitions—such as missiles for the long-retired HAWK air defence systems—and send them to Ukraine. Western states are also searching for leverage on Iran to thwart its drone production capacities and prevent further exports of its weaponry to Russia.
Citizens of wartime Kyiv try to live their lives as they used to in peaceful times. Dave Eggers (New Yorker) writes about his recent visit to the Ukrainian capital, where evidence of the Russian invasion is inescapable. In particular, he narrates an attempt to get to the National Museum of the History of Ukraine. At the entrance to the museum there was an artistic installation of pieces of shrapnel and bombs hanging from the ceiling. In the museum itself, the majority of artifacts were absent in order to protect them from damage or looting. While in the venue, Eggers had to interrupt his tour and hide in the basement from incoming air attacks. He spoke with his museum guide, Svitlana, who declared that Russian bombing of electric grids and critical infrastructures would not make Ukraine surrender: "I'm ready to be without electricity but not part of the Russian world, you know?" She also showed a cellphone application that allows civilians to track Russian missiles in real time—a technological solution that Ukraine invested in for protecting its citizens. From their unavoidably prolonged discussion Eggers concluded that such people as Svitlana, who are engaged in spreading information about Ukrainian culture and identity to a wider audience, constitute the first line of social defence against Putin's intention to erase the Ukrainian nation. In his report Eggers also writes about how different generations of Ukrainians perceive Russia, how their perception changed across the entire country after the Russian atrocities became publicized, and how society and businesses are adapting to life under constant threats. Eggers highlights that "in our time in Kyiv, nine months into the war, we saw that life away from the front was going on with shocking regularity. The grocery stores were well-stocked and immaculate. Restaurants were full. The streets were crowded with people shopping, working, living…Make no mistake, there were countless signs that the country was at war—checkpoints outside the city, rolling blackouts—but, also, throughout Kyiv, a profound defiance was evident in every packed café and gallery."
Supporting Ukraine should be one of Washington's top foreign policy priorities. Daniel Twining (Politico) opines that "Ukraine is doing something no one thought possible: defeating the Russian army and, in doing so, crippling one of America's most dangerous adversaries." In this way, Ukraine is helping the US to resolve international issues of concern to it, especially global security issues. It's a natural outcome of Washington's previous policies to foster democracy in post-1991 Ukraine and help construct effective institutions. Twining believes that thanks to those US investments and guidance, Ukrainians did not choose the path of autocracy, unlike Russians, and that "Ukraine now has strong governing institutions—so strong that they have continued to function under the onslaught of Russia's attack in the biggest war in Europe since the 1940s." He encourages Americans to fully benefit from their country's previous Ukraine policies and use the bipartisan support in Congress to take new decisive steps: "In addition to providing military and reconstruction assistance, our long-term strategy for Ukraine must incorporate robust support for Ukraine's democratic development so that the country doesn't just survive this war but becomes even stronger as a bulwark of trans-Atlantic security." Twining concludes that Ukraine's victory against Russia along with further democratization and alignment with the West will make "the return on America's investment in Ukraine's democracy…incalculable."
US support for Ukraine will be sustained but cautious. In their newsletter, Erin Banco, Alex Ward, Matt Berg, and Lawrence Ukenye (Politico) analyze a statement by Michael Carpenter, US ambassador to the OSCE, that the Biden administration is looking to provide "sustainable" assistance to Ukraine, even if sometimes it will not always be the amount Kyiv hopes for. The authors write that "to date, the US and Europe have balked at sending long-range missiles to Ukraine. Biden administration officials, in particular, are fearful of provoking Russian President Vladimir Putin further. And some European countries are increasingly concerned about the economic costs of sending more high-value weapons to Ukraine as well as increasing commitments to fleeing Ukrainians." At the same time, Carpenter repeated President Joe Biden's promise that the US will support Ukraine "for as long as it takes" alongside its European partners. Banco, Ward, Berg, and Ukenye conclude with highlights from Politico's interview with Dmytro Kuleba, Ukraine's Foreign Minister. In his interview Kuleba claims that Ukrainians will continue liberating their territories and that a peace deal with Russia will become feasible only after the Kremlin demonstrates a genuine willingness for negotiations and readiness to answer for its war crimes. However, considering the numbers and gravity of Russian war crimes in Ukraine, investigating them may take years—which the US seems to understand, and Carpenter ponders about "multiple different mechanisms and jurisdictions."
Western states decide to arm Ukraine with advanced missiles and armoured vehicles. Lara Seligman (Politico) writes that the White House is considering sending radar-guided Sea Sparrow anti-air missiles, as well as Bradleys, the US Army's primary infantry fighting vehicle, to Ukraine as a part of a $3.8 billion aid package. A White House statement to this effect was made on Tuesday 5 January, on the same day when Germany declared readiness to send its Marders and a day after France had confirmed sending AMX-10 RC armoured fighting vehicles. All three types of vehicles are known to be highly manoeuvrable and built around powerful guns that can damage if not destroy battle tanks. Receiving the US, German, and French armoured vehicles will notably improve Ukraine's battle capabilities and will likely lead to further deliveries of advanced weaponry. It may even eventually unlock the supply of German Leopards or US Abrams tanks, for which the government in Kyiv has been asking for months. Leopards and Abrams are considered more mobile, accurate, and longer-range shooting compared to the old Soviet tanks. However, they also require a very sophisticated system of logistics, operating, and maintenance, for which Ukraine's military infrastructure may not be ready yet. Seligman writes that "the US Bradley and the French AMX-10, if deployed by the spring in time for renewed Ukrainian offensives in the east, would provide a potent new capability for the Ukrainian forces." Apart from this, the Bradleys may effectively serve as support units to Ukraine's Soviet-era tanks and allow transporting infantry quickly and safely on the battlefield. The provision of the Bradleys, Marders, and AMX-10s will take place alongside new training programs in combined arms operations that have been offered to Ukrainian soldiers by Western states, as well as consent for the deployment of US and German Patriot air-defence batteries on Ukrainian soil.
Russia's invasion of Ukraine accelerates Ukraine's alignment with Euro-Atlantic institutions. Four analysts, Kristin M Bakke, Gerard Toal, John O'Loughlin, and Kit Rickard (The Conversation) write that notwithstanding one of the stated reasons behind Russia's invasion of Ukraine being to ensure the neutral status of the latter, "ten months of bloody warfare have had the reverse effect. There is now a larger NATO military footprint in Ukraine than ever before. Military support—from medical equipment to training and advanced weaponry—has exceeded US$20 billion (£16.8 billion) from Washington alone." The analysts argue that in this light, the invasion has become one of the Kremlin's major blunders of recent times. They present the results of their 2022 sociological survey on the issue of Ukraine's geopolitical orientation and highlight that in the last six months a major turn toward NATO and the West took place: among those aged 18 to 30, "nearly 47% think that Ukraine should be oriented towards the West, compared with just 3% who think it should be oriented towards Russia. With respect to NATO and neutrality, we see a similar shift … our 2019 survey showed that support for joining the alliance was about 44%. But in our October 2022 survey, eight months after the invasion, the share of respondents favouring membership was 77%." The authors conclude that the Russian invasion of Ukraine backfired and undermined the pre-invasion inclination toward neutrality among Ukrainians. 
Russia is determined to continue the war regardless of the costs. Stefan Wolff (The Conversation) opens his article with a statement that "for the past two months, Russia has systematically targeted Ukrainian infrastructure, devastating the country's power grid and putting many basic services from healthcare to sanitation at risk. Apart from destruction, this campaign has achieved virtually nothing positive for Russia." Wolff continues that the forthcoming air attacks on Ukraine, which will likely constitute the core of Russia's war effort, will also be ineffective considering the fighting spirit of the defenders, the failure by the offenders to gain any territory, and the sustained support coming to Ukraine from the West. In light of Ukraine receiving the Patriot air defence system, Wolff highlights that "previous US concerns about delivering more powerful weapons systems to Ukraine that can reach deep into Russian-occupied territories, and potentially into Russia itself, have been overcome." This as well as other types of ammunition will help Ukraine to continue inflicting targeted damage on Russia's supply lines and troop concentration areas. That being said, Wolff warns against underestimating Russia, as the mobilization still continues there, and the stocks of drones and missiles are far from exhausted, contrary to numerous predictions from the past. Russia is also working on enhancing its relations with China and is negotiating strategic cooperation. Wolff concludes that "hastening a change of mind in Moscow—possible through a combination of Ukrainian fighting spirit and Western support—will be the only way to bring this tragedy to an end in 2023."
Russia tries to cancel Ukraine's history and identity by destroying schools. Katja Kolcio (The Conversation) argues that Russia's attacks on educational infrastructure in Ukraine are a "part of a broader and long-standing effort to dismantle Ukraine's schools and ultimately remake them as subservient to Russian interests." According to the statistics of the Ministry of Education and Science of Ukraine, by September 2022 over 2,500 schools were damaged by the war, of which 300 were completely destroyed. That being said, regardless of the threat, 51 per cent of Ukrainian schools offered in-person classes alongside remote instruction in September 2022. In this light, Kolcio argues that Ukraine's educational system demonstrates resilience and is able to adapt to "the most adverse circumstances." During last summer schools were required to build bomb shelters and develop procedures to keep students safe in case of attack. Many schools also "mounted emergency first aid programs so that students would know how to handle an attack, apply tourniquets, and provide other emergency aid." Kolcio cites CIUS-based scholar Oleksandr Pankieiev, who believes that today's targeting of educational institutions is nothing new, as Russia has been weaponizing education against Ukraine for centuries: "Russia has waged war on Ukrainian history and identity for hundreds of years: the Kyiv Mohyla Academy, founded in Kyiv in the early 1600s, was prohibited from using the Ukrainian language by Catherine the Great in 1763. In 1804 the Ukrainian language was banned in all schools and universities. In 1876, Czar Alexander II of Russia issued a decree, the Ems Ukaz, banning the use of Ukrainian language in public [events]." Kolcio concludes that the Russo-Ukrainian war is being waged not only on the battlefield but also in the domains of history and identity: "It is a fight for [Ukraine's] existence, cultural memory, freedom, and democracy. In this battle, schools are an indispensable and essential force."