Urban cultural heritage endangered by the Russo-Ukrainian war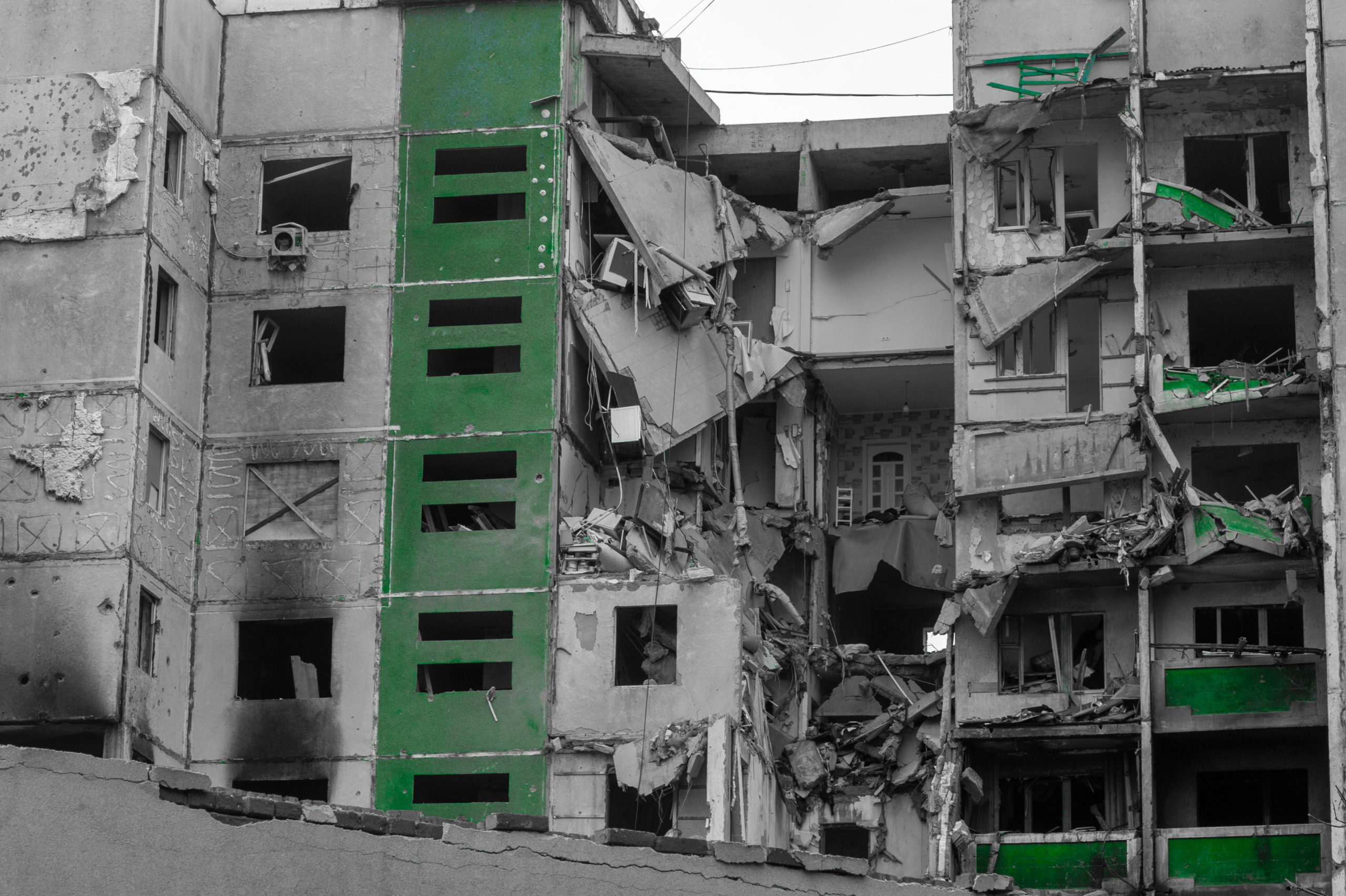 Since 2014, Russia's military aggression against Ukraine has inflicted significant destruction and human casualties in Ukrainian towns and cities. Residential neighbourhoods, hospitals, schools, universities, industrial enterprises, and objects of critical infrastructure suffer indiscriminately. Damage has been caused to many historic buildings and ensembles (residential and administrative buildings, places of worship, memorials, monuments, and others) as well as various cultural institutions (primarily museums, archives, and libraries). Experts observe that the damage to the cultural heritage of Ukraine today is the most severe since World War II. The country's cultural heritage continues to suffer losses, especially in territories that remain occupied by Russia and those where fighting is ongoing. At the same time, the Russo-Ukrainian War has triggered a rethinking of the meaning and significance of cultural heritage in Ukrainian society; it has led to a turn of sorts in the understanding of, and attitude towards, culture in general. On the one hand, there is a growing public interest in traditional Ukrainian cultural forms, which are seen as the basis of national identity. On the other, heritage associated with Russian imperial and Soviet totalitarian history has undergone a critical re-evaluation. An important component of this turn is a new wave of renaming streets and squares, dismantling urban monuments, reformatting museum displays, revising library collections, and the like.
Many investigators of the Russo-Ukrainian War argue that the criminal actions of the Russian troops in Ukraine exhibit characteristics of urbicide. In particular, they stress that the ongoing destruction of Ukrainian cities is out of proportion to the military objectives of the conflict and that furthermore the Russian attacks are not limited to military targets but extend to the anthropogenic environment of cities, towns, and villages. Instances of urbicide as a form of the politics of violence have been recorded at different stages of this war since 2014, starting with the annexation of Crimea and fighting in the Donbas (parts of Donetsk and Luhansk oblasts). A clear example of Russia's criminal policy is the large-scale destruction and appropriation of cultural heritage sites and objects in Ukraine, which violate international humanitarian law.
What is urban cultural heritage?
Ukraine's urban cultural heritage comprises a vast body of objects of various types and species. Obviously, there is an association between the heterogeneous nature of the majority of Ukrainian cities and the diversity of their urban cultural heritage. It is noticeable, for example, in the coexistence and combination of cultural elements contributed by different social, ethnic, religious and other groups of urban residents. It should be noted that today the cultural heritage of cities is understood to include both tangible objects (urban structures, architecture, infrastructure, industrial facilities, memorials, monuments, etc.) and intangible assets (cultural landscapes, urban celebrations, festivals, customs, language, culinary traditions, etc.). Many artifacts of cultural heritage may enjoy official status (i.e., be included in registers of cultural heritage at national and international levels), but others may be only informally recognized by individual urban communities. Cultural heritage is a fundamental source of individual and group identity and of the vitality and solidarity of diverse urban communities.
An important bearer of urban cultural heritage is the historic urban landscape, comprising various sites and areas (such as ensembles of buildings, structures, and open spaces) that have emerged out of the layering of cultural and natural values and attributes over time. Urban cultural heritage influences the formation of cultural traditions and "spirit of place"—the tangible and intangible elements that give an urban area its individual character, meaning, and emotional tenor. A city's varied cultural heritage shapes its specific historical and cultural landscape, which is embodied in and simultaneously influences the formation of the cultural values (cultural patrimony) and collective identity of its residents. Any more or less significant changes in the urban space inevitably lead to transformations of cultural heritage. For example, the emergence and replacement of symbolic architectural dominants, the destruction of old or installation of new monuments and memorial plaques, and the renaming of streets and squares all become manifestations of the symbolic coding and recoding of urban space—and, hence, of urban heritage. At the same time, heritage serves as a kind of symbolic collective text of the city and a form of its symbolic representation.
It should also be noted that urban cultural heritage is associated not only with positive historical experiences and values; it may also include a legacy of violence, connected with the memory of wars, genocides, etc. In the case of Ukraine, this includes the memory of victims of the genocide of the Crimean Tatar people and of political repressions, the Communist and Nazi totalitarian regimes, the Holocaust, the Holodomor, and more against other people of Ukraine.
This outline of the nature of urban cultural heritage allows us to better understand its importance for urban communities and urban spatiality. At the same time, when it comes to the recording and further study of cases of destruction and damage to cultural heritage sites and objects as a component of the criminal actions of the Russian troops in Ukraine, the official urban cultural heritage, which is featured in the relevant national and international registers and is subject to protective norms and regulations, is of primary importance.
Monitoring cultural heritage in wartime
An important part of documenting the crimes of the Russian military and illegal actions of the Russian occupation authorities entails keeping a record of destroyed and damaged objects of cultural heritage across Ukraine. However, compiling a proper inventory of the country's cultural heritage sites and objects was a problem even before the war, as illustrated by, for instance, contradictions in the official data on cultural heritage losses resulting from the occupation of Crimea and the hostilities in Donetsk and Luhansk oblasts since 2014. We should also keep in mind that Russia blocked Ukrainian and international experts from accessing objects of cultural heritage in the occupied territories. It is no coincidence that after 2014, many public initiatives appeared that co-operate with Ukrainian government agencies to establish systematic monitoring of cultural heritage sites in the occupied territories (for example, the Crimean Tatar Resource Center and Crimean Institute for Strategic Studies focus particularly on the cultural heritage of Crimea).
Since the start of the full-scale Russian invasion in February 2022, the Ministry of Culture and Information Policy of Ukraine has been collecting data from organizations specializing in cultural heritage (primarily the Ukrainian State Institute of Cultural Heritage), regional and municipal cultural heritage protection bodies, and oblast administrations and coordinating initiatives and projects set up to monitor destroyed and damaged cultural heritage sites and objects. A wealth of information about such objects, with varying degrees of verification, can be found in the public domain. According to the ministry, during February–October 2022 552 instances of damage and destruction of cultural heritage were officially recorded in Ukraine. This number includes 171 landmarks, 146 buildings of historical value, 58 monuments and works of art, and 44 museums. In addition, almost 1,000 objects of cultural infrastructure were damaged. It should be noted that the recorded cases of destruction and damage to cultural heritage sites and cultural institutions require comprehensive inspection and assessment of the damage caused. In addition, the above data concern only those cultural heritage sites that have official status—that is, are included in the State Register of National Cultural Heritage—and are protected by law. Records are not systematically being kept of damage to other objects and practices that may be recognized as important by local communities but do not have the official status of cultural heritage objects.
To properly document war crimes against humanity and cultural heritage sites committed by the Russian military, the Ministry of Culture and Information Policy of Ukraine has set up the web resources "Recorded War Crimes" and "Destroyed Cultural Heritage of Ukraine." As of the end of October 2022, it contained information about 513 destroyed or damaged cultural heritage sites and cultural institutions across the country. Among these were historic buildings (residential, administrative, educational, etc.), places of worship (churches, mosques, and synagogues), memorials and monuments, archives, libraries, museums, and more. In addition, the Ukrainian Cultural Foundation has created an interactive "Map of Cultural Losses," which is based on the "Recorded War Crimes" database. These platforms continually update their lists of cultural heritage objects as well as descriptions of the damage they suffered. Of course, expert observation of the current state of preservation of cultural heritage is impossible in occupied territories and areas of active hostilities. Therefore, today the number of damaged and destroyed objects, the nature of the damage, and the overall negative impact on the state of the cultural landscape of cities, towns, and villages can be determined only approximately.
Various international organizations have joined in documenting the crimes of the Russian military against Ukraine's cultural heritage. For example, a list of damaged Ukrainian cultural heritage sites is also available on the UNESCO website. As of 21 November UNESCO confirmed damage to 218 sites since 24 February, including 95 religious sites, 17 museums, 78 buildings of historical and/or artistic interest, 18 monuments, and 10 libraries.
Given that movable cultural heritage is particularly vulnerable in times of war and cultural property is at high risk of theft and trafficking, the International Council of Museums (ICOM), together with Ukrainian partners, has begun to compile an emergency "red list" of endangered cultural heritage. It will include museum artifacts and collections already stolen by the Russian military, as well as objects that are at the highest risk. In the near future, the "red list" should be provided to international law enforcement agencies and border authorities.
Strategies for the protection of cultural heritage in wartime
The Russian aggression has exacerbated many longstanding problems related to the legal, organizational, financial, logistical, informational, and other aspects of cultural heritage protection in Ukraine. In 2019 the National Institute for Strategic Studies published an analysis of the institutional and legal problems in this sphere. It is significant that cultural heritage protection was recognized as the most problematic area in the field of cultural policy. Several issues that hampered the state's efforts regarding the preservation of and engagement with cultural heritage were named: the lack of a unified system of state management in cultural heritage protection, unjustified restrictions on the powers of cultural heritage protection bodies, weakness of current legislation when it comes to determining liability for damage to cultural heritage, and an inadequate system of registration of cultural heritage objects (in particular, the lack of full-fledged information resources for cultural heritage and cultural property).
Criticism of the existing state system of management of cultural heritage protection in Ukraine is certainly not unfounded. Examples of the low readiness of state-run cultural institutions to protect cultural heritage in emergency situations are museum collections that were not evacuated to safe places and have been damaged since the beginning of the full-scale Russian invasion.
Since 2014, various public initiatives and the volunteer movement have become important agents of cultural heritage protection. Thanks to the diligent efforts of the public, much has been accomplished in protecting important cultural heritage objects, both immovable (as when some monuments and historic buildings in Zaporizhia, Kyiv, Lviv, Odesa, Kharkiv, and other cities were encased in protective layers of fire-resistant materials, sandbags, and plywood shields) and movable (many museums, archives, and libraries were given assistance in dealing with the consequences of bombing and shelling). Overall, public initiatives and the volunteer movement have proven capable of quick and effective response to various challenges posed by the Russian aggression. The accumulated experience of such work since 2014 has been especially useful during the full-scale Russian invasion of Ukraine. For example, already in early March 2022 a Museum Crisis Center was set up at the initiative of the management of the Territory of Terror Museum. The center, in cooperation with international partners, helps to provide regional museums and their staff with financial, organizational, volunteer, and other forms of support during the war.
As the war progresses, the practice of consolidating the efforts of state bodies responsible for cultural heritage protection and Ukrainian business is becoming more widespread. One example is the project "Save Ukrainian Culture," an active part in which is played by the telecom operator Vodafone Ukraine. The objectives of this initiative are to raise funds for the protection, evacuation, and preservation of cultural property and to support the work of cultural and art institutions affected by the war. The project's web portal already provides information about 20 objects and sites, grouped into several categories: "completely destroyed," "damaged," and "those that have suspended operations."
Today, international support is of paramount importance for the protection of Ukraine's cultural heritage. For example, thanks to international partners many Ukrainian cities have received necessary funds and construction materials to protect urban monuments, historic buildings, and cultural institutions from fire, debris, or blast wave damage. The most valuable monuments are marked with the international "Blue Shield" sign, which indicates their enhanced protection status. Destruction of such objects is a war crime against cultural heritage. In addition, many international organizations have joined in the development of a digital infrastructure for the quick documentation and assessment of damage caused to cultural heritage objects. Cooperation with international organizations also includes efforts to secure the status of "World Heritage Site" for certain cultural heritage sites in Ukraine. For instance, in October 2022 Ukraine submitted an official application for the inclusion of the historic city center of Odesa in the UNESCO World Heritage List.
In early March 2022, with the support of international partners a Heritage Emergency Response Initiative was established, whose aim is to help preserve museum cultural heritage in wartime. Its headquarters operates in coordination with UNESCO, ICOM, the International Centre for the Study of the Preservation and Restoration of Cultural Property (ICCROM), and other international bodies. As a joint project with the National Museum of the Revolution of Dignity, it developed rapid response guidelines for museums, which became an important addition to the existing recommendations for specialized cultural institutions regarding heritage protection in crisis situations.
In an effort to find a systemic solution to the problems of cultural heritage protection in Ukraine, in July 2022 the Ministry of Culture and Information Policy announced the development of a new ecosystem of cultural heritage. It should include the digitization of museum collections across Ukraine (according to official data, the total holdings comprise 12 million artifacts preserved in more than 4,500 national, local, university, and other museums) and the creation of a unified electronic register of movable and immovable heritage (today, there are more than 140,000 architectural, archeological, and monumental art sites and objects of national and local significance in Ukraine).
Digital technologies in the preservation and restoration of cultural heritage
Given the complexity and diversity of Ukraine's urban cultural heritage, it is necessary to employ a variety of approaches and technologies for its preservation and study. In times of war, many cultural heritage sites are under the potential threat of destruction or damage. Even the construction of protective structures or evacuation of cultural property to bomb shelters cannot ensure its safety. Hence, digitalization becomes essential as an effective form of cultural heritage protection. Among many such projects today, we may mention the volunteer initiative "SAVE UKRAINIAN HERITAGE," whose aim is to build a digital archive of Ukraine's immovable heritage. 3-D models are created using laser scanning and photogrammetry, which makes it possible to accurately record the object current conditions and use the data to restore them in the event they are destroyed. Another example is the initiative "Saving Ukrainian Cultural Heritage Online" (SUCHO), which brings together an international team of volunteers co-operating to set up electronic data archives of Ukrainian cultural institutions.
The war has made access to many museums, archives, libraries, and private collections impossible. This gives all the more importance to various local web projects that are aimed at creating digital archives of Ukraine's urban history and cultural heritage. Prominent among these are the "Urban Media Archive" of the Center for Urban History of East Central Europe in Lviv and the "Zaporizhia Heritage" of the Department of Culture and Tourism of the Zaporizhia City Council. Other interesting local web projects aimed at the mediatization of Ukrainian urban history and cultural heritage include "Kyiv Interactive," "Constructivism-Kharkiv," "City and War," and more. In addition to preserving data, such web projects play a salient role in rethinking the cultural heritage of Ukrainian cities. Some of them have already become a kind of platform to enhance the public discourse in this sphere and coordination centers that gather expert opinions and try to influence the work of specialized institutions.
Protection of cultural heritage remains a crucial aspect of Ukraine's public policy in the context of the war with Russia. The Russian military is constantly and deliberately shelling Ukrainian cities. In particular, the urbicide carried out by Russian troops aims to destroy the cultural and symbolic heterogeneity of the country's urban spaces and the diversity of its cultural heritage. In response, new strategies for the protection of cultural heritage are being developed in Ukraine, under the strategic influence of central state institutions in the field of culture. Thus, the Ministry of Culture and Information Policy now offers various recommendations concerning individual categories of cultural heritage and carries out general coordination of projects dedicated to the monitoring and protection of cultural heritage sites and objects. At the same time, we believe it is important to expand the powers and resources of regional and municipal cultural heritage protection bodies. They are able to respond more quickly to the ever-changing circumstances and more effectively safeguard cultural heritage sites and objects from destruction or damage. Various public initiatives, the volunteer movement, and help from international organizations are playing an important role in the preservation of Ukraine's cultural heritage in wartime. However, Ukraine will also need long-term support for its cultural heritage protection. In particular, deepening its cooperation with international partners will ultimately help to accelerate the country's integration into the broader global and international cultural space.