Ukraine's counteroffensive brings hope, but Russia is ready to up the ante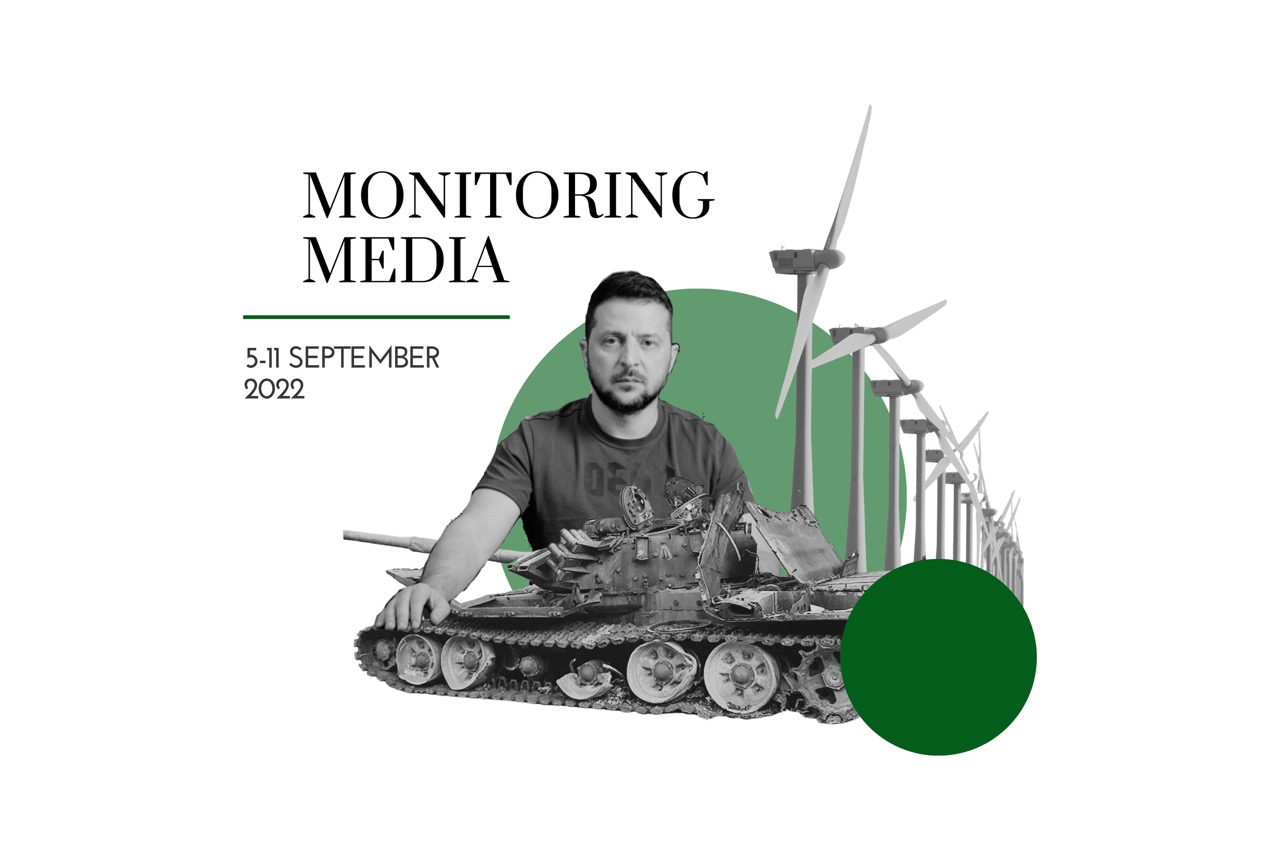 CIUS weekly report on media coverage of Ukrainian affairs, 5–11 September 2022
Three North American magazines (National Review, The Conversation, and Politico) were selected to prepare this report on how the situation in Ukraine has been portrayed in the media during the past week (05–11 September 2022). The sample of magazines was created based on their impact on public opinion as well as their professional reputation, popularity among the readership, and topical relevance. These three magazines represent the conservative, centrist, and liberal political spectrums.
This report covers only the most-read articles about Ukraine, as ranked by the respective magazines themselves in the past week. It also covers promoted texts on home pages, texts from special sections on Ukraine, texts from paper editions of the magazines, texts with the hashtag #Ukraine, and texts about Ukraine from opinion columns and editorials.
Topics featured in the selected articles:
Ukraine's current affairs: Kyiv strategists are determined to liberate all of Ukraine's territory; Ukraine's postwar economy may become more sustainable than before; Ukraine exhibits Russian burned equipment to demonstrate its military successes; Ukrainian partisans continue eliminating key collaborators with Russia; Zaporizhia power plant has stopped and may become demilitarized; Ukrainian mobile operators are hit by Russian vandals and hackers; 
The world and Ukraine: US should develop effective measures against Russian propaganda; 
Russia's war in Ukraine: North Korea allegedly supplying weapons to Russia; Putin's popular support remains high; Kremlin continues aggressive Russification in occupied territories of Ukraine; Putin is ready to raise the stakes.
The most common arguments:
Ukraine intends to push Russia entirely out of its sovereign borders. Olivia Olander (Politico) highlights the major points of President Zelensky's interview with Fareed Zakaria, a CNN journalist. Zelensky's major messages are: Ukraine's main goal is to recoup the whole territory of the state, including Crimea; the source of Ukraine's strength resides in acknowledging the existential threat of defeat: "Russia does have a way out. They can go back home. We have only this home to defend"; the successes of Ukraine's recent counteroffensive in the northeast were largely assured thanks to US support.
War is stimulating Ukraine's plans for reconstruction on renewable and sustainable grounds. Sebastien Malo (Politico) argues that "for all its destruction, the Ukrainian war also presents an opportunity to rebuild the country in ways that could remedy the ills of outdated, Soviet-era urban design and even slash national greenhouse gas emissions." The costs of such a rebuild will be unparalleled, but so will be the long-term benefits. With an emphasis on renewability and sustainability, Ukraine will be more welcome in the European Union, which even seems to be ready to finance the rebuild. Malo also praises the grassroots movements of volunteers and activists who are willing to conceive, crowdfund, and coordinate innovative projects. For instance, Alexander Shevchenko and his Zvidsy Agency designed an urban development plan for Melitopol (currently under occupation) that will address many issues after the war is over, including establishing an alternative energy supply. Shevchenko has also finalized his ReStart project, which envisions the reconstruction of destroyed buildings with climate-friendly "green technologies like so-called mass timber—load-bearing walls made with wooden panels bound together with glue or nails." Chernihiv is seen as a pioneering city for ReStart. Malo provides numerous persuasive arguments and stakeholder statements, emphasizing that building a "greener Ukraine" is in everyone's interest: European, national, and local authorities as well as individual citizens. 
Ukraine's clever "parade" of battle trophies boosts support and patriotism. Anya Free (The Conversation) examines how the display of destroyed Russian military equipment on Kyiv's main street, Khreshchatyk, on 24 August, Independence Day, influenced public opinion in Ukraine. Free writes that the display was "an intentional mockery of Russian President Vladimir Putin's failed plan of a victorious Russian army parade in Kyiv." She also mentions that the tradition of displaying the weapons of defeated enemies goes back to times of antiquity. In more recent times (e.g., British exhibitions of German weaponry after WWI or Soviet exhibitions of Nazi trophies after WWII), these displays serve a propaganda goal: to show that the enemy is powerful but not invincible if all people give their full effort. In the case of Ukraine, exhibitions of captured and destroyed Russia's equipment have been a regular occurrence since the war began in 2014. They aim to "boost the morale of the Ukrainian people by celebrating the strength of the Ukrainian army and to humiliate the enemy by demonstrating the incompetence and moral inferiority of the Russian army and its weaponry." Another aim of these exhibitions, especially those organized in foreign capitals, is to gain international support to enable Ukraine to continue fighting.
Ukraine's underground forces assassinate Russian collaborators in occupied territories. Stephen Hall (The Conversation) writes that many public figures in Ukraine's occupied territories—including the Russia-appointed heads of temporarily occupied districts of Luhansk and Donetsk oblasts—are citizens of Ukraine who decided to collaborate with Russia. To establish control over the occupied territories, the Kremlin has to assign decision-making positions to political loyalists. According to Hall, it is becoming harder to find collaborative proxies as the Ukrainian underground is efficiently targeting them: "There have been 19 attacks on pro-Russian Ukrainian officials since March this year." The most resonant such attack thus far occurred in Kherson, resulting in the death of the Russia-appointed governor of the occupied oblast and his deputy. One of the reasons behind such targeted assassinations is Ukraine's counteroffensive being mounted in the south. Another reason is its attempt to prevent any staged referendums in occupied territories that would vote on joining Russia. Hall concludes that "these attacks and assassinations…create an atmosphere of fear for any Ukrainians who have chosen to switch sides and work on behalf of the occupying forces."
Last working reactor at Ukraine's Zaporizhia NPP has stopped. Politico reprints an article by Associated Press which argues that "Europe's largest nuclear plant has been reconnected to Ukraine's electricity grid, allowing engineers to shut down its last operational reactor in an attempt to avoid a radiation disaster as fighting rages in the area." A week ago, the connection between the plant and the external electricity grid was severed by shelling which compromised the security systems of the facility. After the security systems returned to normal Ukraine's nuclear operator, Energoatom, made a decision "to shut down power unit No. 6 and transfer it to the safest state—cold shutdown." At the same time, Energoatom renewed its appeal for Russian forces to leave the Zaporizhia plant and allow for the creation of a "demilitarized zone" around it. Rafael Grossi, director-general of the International Atomic Energy Agency (IAEA), has also called for a safe zone around the plant.
Ross Peel (The Conversation) expands on the situation around the Zaporizhia power plant and claims that "Ukrainian president Volodymyr Zelensky has welcomed an international proposal for a demilitarised zone around Europe's biggest nuclear plant, currently occupied by Russia." The proposal was bluntly put forward by the IAEA and consists of the following points: restoration of Ukraine's operation of the plant; removal of Russia's military equipment, soldiers, and engineers from the facility grounds; completion of urgent repairs of the plant's security systems; and re-establishment of supply chains that will allow the facility to operate normally. The Kremlin has yet to respond to this proposal. Peel also adds that the Russo-Ukrainian war has become the first in the history of the IAEA to inspect a nuclear facility located in immediate proximity to the battlefield. 
Ukraine's Kyivstar infrastructure hit by Russia's physical and cyber attacks. Maggie Miller (Politico) discusses how Ukraine's communication companies are functioning in wartime, with a particular focus on physical reality and cyberspace. Kyivstar, Ukraine's largest mobile operator, has lost about 10 percent of its base stations after the Russian Federation escalated its invasion on 24 February. Apart from this, "about 30 percent of the company's infrastructure—including phone towers and lines—has been damaged." At the same time, Kyivstar has experienced a tripling of phishing attacks attempting to infiltrate the company and a doubling of online traffic on the company's web pages. However, Kyivstar has suffered no significant damage, not least thanks to the support of government and freelance counter-hackers who call themselves the "IT Army" of Ukraine. This informal army not only defends the state's critical infrastructure but conducts reciprocal attacks on the enemy's communications and thus distracts the attention of Russian hackers, putting them on the defensive. Miller speculates that US infrastructure looks vulnerable to Russia's cyber know-how and encourages the US government and businesses to learn from Ukraine's digital resilience: "U.S. companies simply haven't had this trial by fire…Questions remain around whether these companies are prepared to face similar levels of attacks and keep service up and running. Now, U.S. officials have begun approaching companies like Kyivstar for advice on how to handle Russian cyber aggression."
US should engage and overcome Russia in psychological warfare. David R. Shedd and Ivana Stradner (Politico) argue that instead of focusing on selling the "American dream" and democratic values to Russians via Hollywood, "U.S. information operations should use Russian nationalism to turn the tables on the Kremlin—highlighting the war's damage to Russia, exposing government corruption and inequities inside Russia, and exploiting resentment among Russia's ethnic minorities." During the Cold War, Washington backed initiatives such as the Voice of America, Radio Free Europe, and Radio Liberty, using them to deliver non-ideologized news to Soviet citizens. Today, Washington's media outlets should use VPNs to post unbiased information on platforms beyond the Kremlin's firewall and communicate with Russians directly. Shedd and Stradner highlight that Russians today are feeling nostalgic for the greatness of their former tsarist and Soviet empire. Washington should capitalize on this feeling: "A more effective approach [to appeal to Russians] would be to underscore just how Putin has degraded Russia's 'greatness' at home and abroad with his bloody war in Ukraine." At the same time, there should be an abundance of messages discrediting Putin as a great leader and questioning his political prudence. In all aspects of communication, Shedd and Stradner recommend using humour, consistently emphasizing discrimination against minorities, and engaging dissidents, whose human capital and public authority have always been highly praised by Russians. 
Russia purchasing weapons from North Korea to use in Ukraine. Lara Seligman (Politico) states that in light of Ukraine's counteroffensive, Russia started purchasing millions of rockets and artillery shells from North Korea. At the same time, Russia has already started receiving the first Iran-made drones, which can be used to conduct strikes, electronic warfare, and targeting. However, according to the Pentagon these drones have proved to be rather unreliable. The Pentagon also believes that Russia purchasing weapons from North Korea demonstrates that its reserves are not limitless and that the Western sanctions are working.
Putin's support remains high in Russia because he is perceived as the defender of national interests. Alexander Hill (The Conversation) argues that the initial Western scenario regarding the development of conditions in Russia has not come true: the national economy still holds, the oligarchs continue remaining loyal to the Kremlin, and the citizenry tolerates a lower living standard and growing casualties on the front. Paradoxically, the popularity of Putin became even stronger after the start of the escalated invasion. Hill admits that "there's no question the Russian population is subject to a Russian media largely loyal to the Kremlin—and speaking out publicly against the war will certainly get you into trouble in Russia. But that doesn't mean Putin lacks genuine supporters." Putin's supporters, according to Hill, may remain staunch due to a variety of fears: oligarchs are afraid of losing their wealth and status if Putin's regime gets undermined; nationalist politicians are afraid of losing the president who revived Russia after the very challenging 1990s;  ordinary citizens with oppositional views are afraid of prosecution for voicing their position openly; and finally, there is an overwhelming social fear of losing a strong leader who kept Russia prosperous and secure in an aggressive and Western-dominated world. 
Kremlin forcefully Russifying Ukrainian citizens as a means of controlling occupied territories. Christoph Bluth (The Conversation) highlights numerous miscalculations by the Kremlin that have transformed the war into a disastrous one for Russians. Above all, Ukraine's population has never wanted to be "absorbed by Russia," and invading troops need to spend significant resources on pacifying occupied territories. Secondly, the incompetence of the invading troops and their high casualty levels provoke Russians into targeting and persecuting Ukrainian civilians, both physically and mentally. Bluth writes that the "Russification" of occupied territories takes different guises: annexation following staged referendums, indoctrination of children in school, media brainwashing, interrogation in "filtration camps," and forceful deportation. Bluth quotes US Secretary of State Antony Blinken stating that "Russian authorities have interrogated, detained, and forcibly deported between 900,000 and 1.6 million Ukrainian citizens, including 260,000 children, from their homes to Russia." Bluth assumes that Russia's behaviour in Ukraine can be classified as a "war crime" under international law. He also compares that behaviour to the Nazi and Soviet atrocities in the 1930s–50s. Bluth concludes that it is the responsibility of international society to impose diplomatic pressure, investigate illegal "Russification" in Ukraine, and try to bring the Kremlin to justice for its misconduct. 
Putin prepared to escalate the war after Ukraine's counteroffensive. Matthew Continetti (National Review) emphasizes the unwavering Western support of Ukraine, which played a role in its successful counteroffensive, and believes that Putin cannot accept such developments. Putin has signaled his readiness to opt for a harsh response: "On September 2, Gazprom shut down the Nord Stream 1 gas pipeline to Europe. On September 7, Putin warned that he might ban oil and gas exports to Europe altogether. Then he said he might cancel the deal that allows Ukrainian wheat exports to transit the Black Sea. His indiscriminate shelling of the Zaporizhzhia nuclear plant turns nearby residents into hostages." Continetti argues that Russia's losses in Ukraine have been tremendous and the only thing the Kremlin can do now is resort to threats, hoping to undermine Western unity: "[Putin] wants to paint a scary portrait of the future so that Western governments abandon Ukraine." In this light, Continetti believes that the West, and specifically the US, should encourage Ukraine to build on its recent successes—especially providing Ukraine with more HIMARS and ammunition as well as tanks, air-defence systems, and planes (for instance, MiGs under the deal that Washington scuttled in March). Washington should also seriously consider labelling Russia as a state sponsor of terrorism. If Ukraine is successful in its fight, it will mitigate crises that could impact the US in the long run. If not successful, the US's enemies will gain more ground and create more challenges for Washington.