Despite the West's war fatigue, Ukraine needs all the help it can provide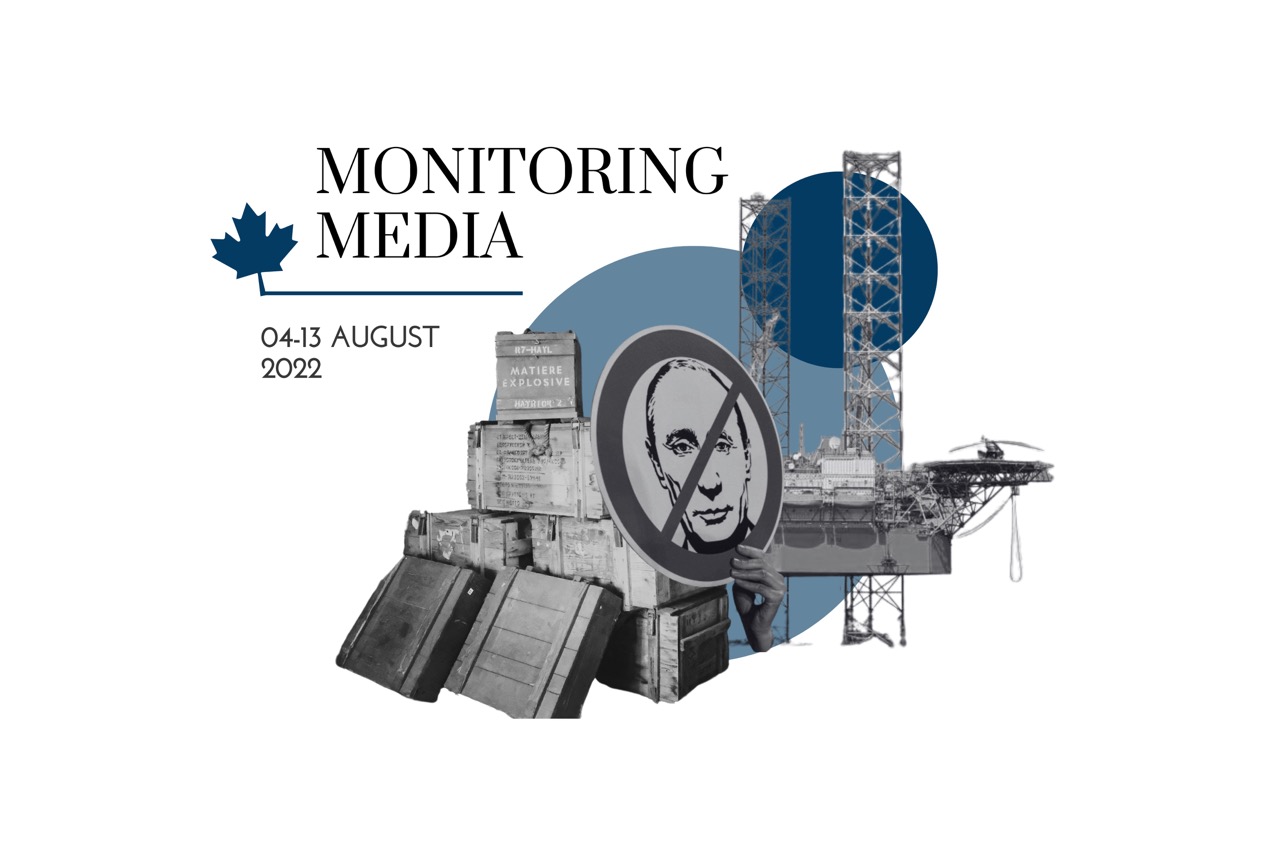 CIUS's weekly report on Canadian media coverage of Ukrainian affairs, 4–13 August 2022
Five media outlets—The Globe and Mail, Ottawa Citizen, Le Journal de Montréal, CBC and La Presse—were selected to prepare this report on how the situation in Ukraine and Canada's role in the war have been portrayed in Canadian media during the ten-day period of 25 July–3 August 2022. The sample of publications was created based on their impact on public opinion as well as their professional reputation, popularity among readers, and topical relevance.
This analysis reviews only original reporting about Ukraine produced by the selected publications in the past ten days. It covers texts from special sections on Ukraine, paper editions of the magazines, and opinion columns and editorials.
Key messages to watch for in this report:
How much military aid has Canada sent to Ukraine?
Nord Stream 1 turbine conundrum
War fatigue amid Ukraine's fight for democratic values
The most common topics:
Canada's military aid to Ukraine. David Pugliese (Ottawa Citizen) sums up the amount of Canada's military aid to Ukraine while also shedding light on whether the country will acquire 155-mm artillery ammunition from South Korea. Artillery shells are critical to Ukraine's war effort.
"(Defence Minister Anita) Anand declined to say whether the Canadian government would actually proceed with the South Korean deal, which could cost Canadian taxpayers hundreds of millions of dollars. 'It would be imprudent for me to announce any transaction before it is finalized,' she noted. 'It is not my style,'" Pugliese writes.
He emphasized that Canadian taxpayers have already financed at least $626m worth of weapons and other military equipment to Ukraine. "That has included anti-tank systems, .50-calibre sniper rifles equipped with silencers, 60-millimetre mortars, grenade launchers, pistols, C6 and C9 machine guns, thermal-imaging binoculars, cameras, scopes, and medical supplies." He added that Canada has also funded the purchase of 20,000 artillery rounds from the United States to be donated to Ukraine's military, which cost $98 million.
Pugliese's article is a part of the Ottawa Citizen's "Defence Watch" series. In one of his previous articles, Pugliese highlights a valid concern that Canada's arms could potentially end up on the black market or in the hands of criminals—regardless of the tracking systems in place and monitoring performed of the weapons on the ground.
He notes that during the defence committee meeting in April, NDP MP Lindsay Mathyssen noted that last year the Taliban seized stockpiles of U.S. weapons after the group overthrew the Afghan government, and this is a scenario that could be happening in Ukraine. Pugliese adds that at the time, Minister Anand said she couldn't provide details about the weapons because of the need for operational security but she added that "Ukraine's military did sign a declaration that weapons Canada provided wouldn't be transferred to any other organization."
Western nations need to keep supporting Ukraine's war effort. Timothy Garton Ash (The Globe and Mail), a professor of European studies at Oxford University and a senior fellow at the Hoover Institution, Stanford University, reminds readers in his opinion piece: "The Russo-Ukrainian war is coming down to a race between the weakening political will of Western democracies and the deteriorating military means of Vladimir Putin's dictatorship." He also highlights the important message that Russia's war against Ukraine means that "our own countries are also, in some important sense, at war—and a corresponding politics of the long haul."
Ash also points out that the Russo-Ukrainian war is no longer on the minds and front pages of Western leaders and media, and it might become increasingly challenging to explain to taxpayers (read: voters) that supporting Ukraine in the long run is a victory for democratic world, too. "In democracies, leaders must justify and explain to voters this kind of large-scale, strategic commitment, otherwise they will not support it in the long run. Mr. Putin would then be proved right in his diagnosis of the weakness of democracy. Estonia's Kaja Kallas is giving an example of such leadership, but then her people know all too much about Russia already. At the moment I don't see any leader of a major Western democracy doing the same, except perhaps for Mario Draghi—and he's leaving."
Canada and the European energy crisis. Anja Karadeglija (Ottawa Citizen) writes that Canada had "no 'viable' alternative to returning [the Nord Stream] turbine to Russia" despite the Ukrainian Ambassador to Canada's plea to not return this turbine and five additional ones, as they would be "turned by Russia into tools of humiliation."
In July, Karadeglija explains, Canada decided to return the turbine, which had been in Montreal for repairs, despite the sanctions imposed on Russia over its invasion of Ukraine. "While Ukraine opposed the return, Germany had been pushing Canada to release the turbine. Germany is dependent on Russian gas, and the turbine is used in the Nord Stream 1 pipeline that provides Germany with natural gas from Russia."
Karadeglija also reminds readers that the return of the turbine hasn't solved the energy issue for Europe. "The turbine is now stuck in Germany, with Russia blaming Western sanctions for the holdup, while Germany says there is nothing preventing its return. Russia has also cut gas flowing through the Nord Stream 1 pipeline to 20 percent of capacity."
Russia might not be as successful in the war as it wants the West to see. Simon Johnson (The Globe and Mail), a former chief economist at the International Monetary Fund, argues in his opinion piece that despite Russia's media bravado regarding the war's progress combined with energy blackmail—as if victory is just around the corner—Russia is "losing the war badly in both military and economic terms."
In terms of military progress, Johnson writes that despite some territorial gains by Russia in the Donbas in recent months, "this advance was entirely due to massive artillery bombardment. Now that the Ukrainians have longer-range artillery, this Russian advantage is dwindling rapidly."
On the economic front, Johnson suggests, the situation does not look promising. He reminds readers that the pre-invasion Russian economy was "based on energy exports supported by foreign direct investment and a flow of people and ideas that had deepened greatly over the past three decades." However, six months into the full-scale invasion of Ukraine, "Western companies are pulling out their skilled people and technology; sanctions on coal exports are beginning to bite. And now the Russians are starting a self-destructive confrontation with Europe by weaponizing their exports of natural gas."
He concludes by saying: "The noose is tightening around Kherson—entirely the result of Russian aggression and over-confidence. And it is tightening around Russian oil revenues and the Russian economy for the same reasons."
Life in and around the Zaporizhia Nuclear Power Plant. Paul Waldie (The Globe and Mail) provides a detailed look into the life of Ukrainians who happened to live near the Zaporizhia AES [Atomic Energy Station], which was occupied by Russian forces since early March and used as a base from which to shell Ukrainian-held territories: "Some 500 Russian troops are believed to have taken up positions inside the station and have been using it to strike Ukrainian targets across the river. The Ukrainian military has increased its activity in the area, but officials insist they have not targeted the plant."
The situation around the power plant quickly put the collective West on alert as the threat of nuclear catastrophe has become more real. Waldie quotes the former head of Ukraine's State Nuclear Regulatory Inspectorate by saying that it was the first time a nuclear power station had been caught up in a war. "This power plant was never constructed or planned or designed for military action being taken near it," he said. "The presence of military personnel and equipment on the site just elevates the risk of an emergency situation."
Waldie concludes that it is unclear who would be responsible if there was an accident at the plant: while the Russian military occupies the plant, it is run by Ukrainians. "There are no rules, no procedures to follow," said Oleksandr Kharchenko, director of the Energy Industry Research Center, quoted by Waldie. If something did go wrong "it would be a problem for everyone from the Ural Mountains to Lisbon."
Canadian Ukrainians keep rallying in support of Ukraine. Tarini Fernando (CBC) highlights the efforts of the Ukrainian community in Calgary to keep the situation in Ukraine in the spotlight as "local attention to the war in Ukraine has dwindled." Fernando quotes Sanzhar Baiseitov, one of the organizers of the rally from Calgary's branch of the Ukrainian Canadian Congress (UCC) by saying, "The war is not over and the severity of war is not going down. Cities, villages, towns are being bombarded on a daily basis in Ukraine."
Check out some of our Francophone picks from this past week:
Eugene Czolij (La Presse), the honorary Ukrainian consul in Montreal and a former president of the Ukrainian World Congress, poses thought-provoking questions to the global community as he wonders when Western leaders will finally "decide unequivocally that enough is enough" and take the necessary steps to help Ukraine win the brutal all-out war that Russia launched against it on 24 February 2022.
Czolij's questions offer something of a reality check and aim to remind the collective West of the harsh reality Ukrainians are facing daily. Below are just a few of them:
"How many more tears must be shed by Ukrainian parents when burying their children, such as 4-year old Liza Dmytriyeva, killed in a Russian air strike while pushing her doll stroller during a leisurely walk in the park with her mother in Vinnytsia?"
"How many more Ukrainian teenage girls must be raped by Russian soldiers and told that they would continue to be raped so that they fear any future intimate relationship and do not give birth to Ukrainian babies?"
"How many more Ukrainian prisoners of war must be tortured and then murdered by the Russian military, such as those at the Olenivka prison in the Russian-occupied territory of Donetsk oblast?"
Czolij has a message for Western powers—"NATO member countries must stop wavering"—and calls on them to provide Ukraine additional financial assistance and all necessary weapons now to help Ukraine push the Russian army back to the border. Czolij also believes that strengthening sanctions against Russia will help curb its warmongering appetite in Ukraine, thus stopping its genocidal war.
Thomas Mulcair (Le Journal de Montréal) opens his opinion piece, titled "Who is really deciding in Global Affairs Canada / Qui décide vraiment à Affaires mondiales Canada ?" with a blunt statement: "Since the beginning of the year, Canada has often looked very bad in its foreign relations."
He argues that Global Affairs needs more individual accountability to avoid being too "nice with the Russians": "A few weeks ago, Canadians learned with amazement that an official representative of Global Affairs Canada had gone to celebrate at the Russian Embassy in Ottawa. It is the same Russia that is running a war as illegal as it is bloody against Ukraine. The same Russia that Canada qualifies, with reason, to be genocidal because of the horrific actions taken during this war."
Mulcair also emphasizes that in light of recent bad publicity for Global Affairs Canada—namely, the investigation published by The Globe and Mail on how Canada deserted its local Ukrainian embassy employees after pulling the Canadian diplomats out of Ukraine before the Russian invasion—there is an essential question to be asked: who is responsible and who decides?
Mulcair argues that it is ultimately the foreign minister who remains responsible, "even if she was never consulted or even informed," and concludes with a suggestion: "As much as it is obvious that the safety of our employees abroad must never be compromised, it has become urgent to clarify who decides, who should be informed, and who is in charge."
Translations from French by Kevin Theriault and Olena Goncharova-LaFoy.