"We are all on the front lines now": Baltic states' solidarity with Ukraine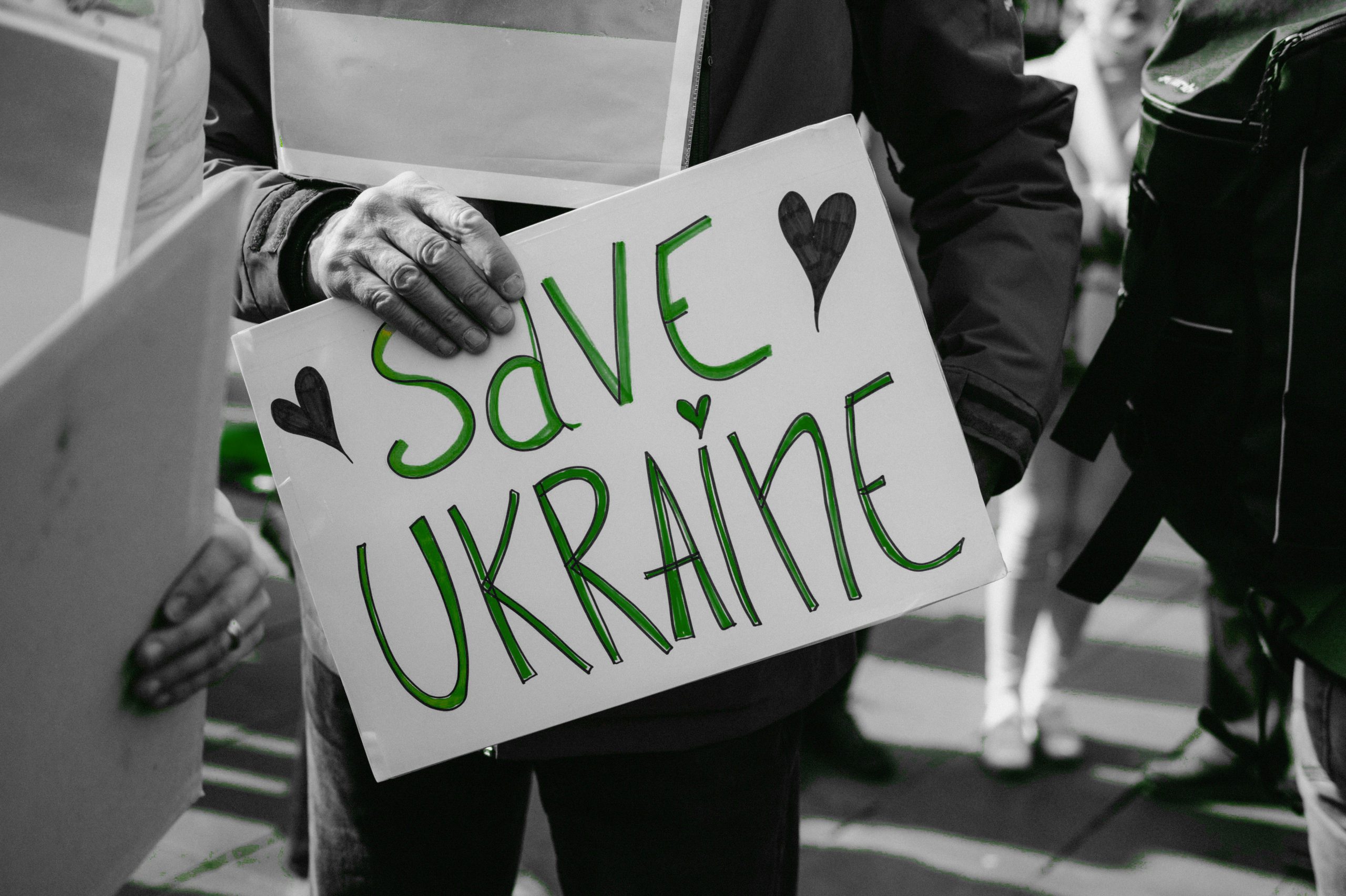 The experience of collective trauma leads to the creation of new identities. With Russia's war against Ukraine ongoing, we are seeing important changes in European identities, as Europe together with its allies seems to be galvanized to stand up for what have long been considered Western values and ideals, such as human rights and democracy. In the Baltic states, the genocidal war against Ukraine is perceived as an existential threat. The Baltic states have become the leading voices in Europe supporting Ukraine, arguing for its EU membership and for supplying Ukraine with what it needs most—weapons and other types of aid. There has also been strong support from the Baltic diasporas who have been engaged in pressuring governments in North America and other Western countries to aid Ukraine as well. As one of my colleagues in Lithuania remarked when the invasion started in February 2022, "we are all on the front lines now." Russia's aggressive war against Ukraine has become Lithuania's, Latvia's, and Estonia's war against Russia.
Baltic identification with Ukraine: Diplomacy, security, economics
Baltic countries' identification with Ukraine is not a new phenomenon. After the Russian occupation of Crimea in 2014 Lithuania became the first country to start delivering direct lethal military aid to Ukraine, but the feelings of existential uncertainty and related anxieties go back to much earlier times. It matters that the Baltic states and Ukraine share similar collective memories about the Soviet past, especially the repressions under Stalin. They created similar memory regimes, both of which came to the fore in 2014, consolidating around the experience of previous traumas—including the Holodomor (in the case of Ukraine) and deportations under Stalin (in all cases). This explains the immediate identification of the Baltic states with the Ukrainians as well as their emotional adoption of Ukraine's self-defense.
When the invasion started in February 2022, Jaunius Kazlauskas, a 50-year-old Lithuanian teacher in Vilnius, said: "My grandparents were sent away to Siberia. My father was persecuted by the KGB. Now I live in a free democratic state, but it seems that nothing can be taken for granted." Therefore, it does not come as a surprise that immediately after the invasion, many in Lithuania started demanding for more direct and hardline NATO engagement in the war. Dalia Grybauskaitė, a former President of Lithuania, became one of the most vocal voices demanding a greater NATO role in Ukraine. During the early stages of the invasion, in early March, Grybauskaitė argued forcefully that economic sanctions imposed on Russia by the West were not enough, and that "only war that has already been launched can stop another war … The people of Ukraine are fighting the war for us."
Grybauskaitė's opinion was shared by many in Lithuania and the other two Baltic states. In mid-March Estonia became the first NATO country to demand a no-fly zone over Ukraine. Several days later the Lithuanian parliament adopted a resolution arguing that this measure would help to ensure humanitarian corridors and the safety of Ukraine's nuclear power plants. Latvia followed, reiterating its full support for Ukraine's sovereignty and territorial integrity. However, NATO refused to provide the no-fly-zone requested by Ukraine and the Baltic states, arguing that it would lead to escalation and potentially start a direct war with Russia. Nevertheless, the Baltic states continued to support Ukraine in every way possible—politically, economically, and militarily: sending massive amounts of humanitarian aid, taking in Ukrainian refugees into their homes, forming cyber-brigades to help Ukraine fight the disinformation war, and cutting off economic ties with Russia. In March 2022 Lithuania promised a significant amount of money to the International Criminal Court to launch investigations into war crimes and crimes against humanity perpetrated by Russia (aided and abetted by Belarus). This happened well before the term genocide was used by an increasing number of international actors, including President Biden, to describe Russia's crimes in Ukraine. Clearly, previous experience of mass deportations and political repression under Stalin made Lithuania especially sensitive to the similar crimes being committed in the 21st century.
Furthermore, the Baltic states started the challenging process of cutting off their energy ties with Russia and pressuring businesses engaged in Russia to also cut off their ties to this country. In April 2022 Lithuania became the first EU state to suspend all imports of Russian natural gas. This escape from dependence on Russian gas was possible because Lithuania has been working on it since 2014—a significant achievement given that all of its gas imported that year was from Russia. To accomplish this it opened an LNG terminal in Klaipėda and began importing natural gas from other sources, mostly Norway. Latvia and Estonia followed Lithuania's lead in cutting off their dependence on Russian gas and calling on the entire EU to do the same. The three Baltic states became pioneers in Europe by eliminating their dependence on Russian gas and oil. Furthermore, Estonia proposed a model to the EU to use revenues from Russian oil and gas for the reconstruction of Ukraine.
Paradoxically, despite the Baltic countries' fears that they may be next, the eight-years-long war in Ukraine may have contributed to Baltic security, at least for the foreseeable future. Namely, since 2016 NATO's member states have forward-deployed four multinational battalion-size battle groups to the Baltic states and Poland on a rotational basis. Now the Baltic countries are calling on NATO to enlarge these battle groups to brigade size. NATO is expected to make a decision regarding the requested enlargement of its battle groups at its upcoming summit in June. Moreover, in response to Russia's escalated aggression, Sweden and Finland have signaled that they are interested in abandoning their neutral status and joining NATO. This means that the NATO security blanket could potentially cover an even larger part of the Baltic region, adding over 800 miles to Russia's border with NATO countries.
Russia as the root of societal divisions in the Baltics
Collective traumas can also be a source of internal societal divisions, especially among individuals with different perceptions of the past. Latvia, Lithuania, and Estonia are home to Russian speakers and also, in the case of Lithuania, an ethnic Polish minority whose members in the past have been suspected of dual loyalties—harboring some sympathies toward Russia and embracing a more positive view of the Soviet past.[1] In Latvia and Estonia there are still many individuals who identify themselves as Russians and do not have Latvian or Estonian citizenship.[2] In Lithuania, many members of the ethnic Polish community are attached to the Russian language and the Russian media, and thus some of them may have been susceptible to the Kremlin's propaganda—especially prior to February 2022, when Russian and Belarusian TV channels were banned in Lithuania over their "incitement of war and propaganda." After the 2014 occupation of Crimea by Russia, Valdemaras Tomaševskis (Waldemar Tomaszewski), a leading politician who claims to represent a large segment of Lithuania's Poles, publicly demonstrated support for Russia's position regarding Crimea. At that time as well, in Latvia a political party supported by Russian speakers named "Harmony" failed to condemn Russia's aggression.
More recently, during the height of the Covid-19 pandemic, in all three states significant numbers of Russian speakers and (in the case of Lithuania) ethnic Poles expressed their preference for the Sputnik vaccine, thus demonstrating their trust in Russia and supporting Russia's "vaccine diplomacy." Nevertheless, despite these observations, research on ethnic minorities in the Baltic states suggests that their identities are complex and multilayered. There are divisions within these civic and ethnic communities, and they cannot be treated as unitary actors that automatically support Russia.
It appears that one clear line of division is generational. In Latvia the younger generation of Russian speakers is using social media to express its frustration with older family members who support Russia's war against Ukraine. Some representatives of the older generation hold positive views of the Soviet past, which is associated with Russian hegemony. This often translates into support for Putin's Russia, which is seen as the inheritor of the USSR.
The other line of division seems to be related to religion. There are Orthodox churches in the Baltic states, and some of them operate under the jurisdiction of the Moscow Patriarchate.[3] Their relationship with the war has been complicated. The Orthodox Church of Latvia has condemned the war but did not condemn Putin as the main culprit and perpetrator. Similarly, the head of the Orthodox Church of Estonia has condemned the war (but not Putin) as well, joining the leaders of the Estonian Council of Churches in their condemnation of the bombing of humanitarian sites and causing the suffering of civilians. The archeparchy of the Russian Orthodox Church in Lithuania also condemned the war, and initially the metropolitan of the archeparchy, Inokentijus, revealed publicly that he personally disagrees with Patriarch Kirill over the war in Ukraine. However, shortly afterward, in April Inokentijus's archeparchy was rocked by a scandal when three priests were removed after publicly criticizing Russia's war in Ukraine and Patriarch Kirill. Inokentijus accused the three priests of "conspiracy" by trying to switch to the jurisdiction of Constantinople.
Russia becomes the common "Other
Despite these divisions, there have been concerted efforts by politicians and civil society leaders in the Baltic countries to present a united front regarding the war in Ukraine and avoid internal tensions. Politicians such as Tomaševskis who openly supported the beginning of Russia's war in Ukraine in 2014 unambiguously condemned Russia's escalated invasion in March 2022—although he had been critical of Lithuania's decision to shut down Russian TV channels after it started. Zbignevas Jedinskis (Zbigniew Jedziński), who served as an advisor to a member of parliament representing Electoral Action of Poles in Lithuania–Christian Families Alliance and who posted on Facebook arguing that Poland should leave NATO and establish friendly relations with Russia, drew widespread condemnation and lost his position due to this post. Meanwhile, civil society groups such as the Union of Lithuanian Poles organized public actions and humanitarian support for Ukraine.
In Latvia, leading pro-Russian politicians and "Harmony"—a political party that promotes the interests of Latvia's Russian-speakers—condemned the war and supported measures to help Ukraine. In Estonia, according to Dmitri Teperik from the International Center for Defense and Security in Tallinn, although there is a small number of pro-Putin Russians, "Russian-speakers who support Ukraine have gained visibility" as prominent government officials work to rally support for national unity. However, it appears that in Estonia a large group of Russian speakers has chosen to remain passive, referring to Russia's war in Ukraine as "not our war" instead of openly supporting or opposing it. Although hundreds of Russian speakers in Latvia participated in anti-war demonstrations in April, it appears that passivity ("not supporting either side") is a common response among Latvia's minorities as well.
This position may prove to be difficult to maintain in the future, as there are moves in the Baltic states to completely sever all links with the Soviet past and even with Russian culture. Discussions about removing all Soviet-era monuments have started. In Latvia there have been calls to dismantle the Monument to the Liberators in Riga—a memorial site associated with the glorification of the "Great Patriotic War" in Soviet Latvia. Similar calls to remove monuments associated with the Soviet victory in the "Great Patriotic War" have been made in Lithuania as well. This idea has obtained support from some politicians and government agencies, but it has been resisted by leading memory politics experts. At the same time, in Lithuania (similarly to Ukraine) public discussions about how to relate to Russian culture, including its classics, have been taking place as well. Some have argued that there is a clear link between Russian expansionism and Russian culture; thus, the "correct" moral position given the war in Ukraine is to resist all expressions of Russian culture.
Considering the Baltic identification with Ukraine's collective trauma, such discourses of othering do not come as a surprise. These new identity discourses mark the borders of new communities of fighting and suffering that are likely to last a long time, even after this genocidal war is over.
---
[1] In 2021, 6.53% of Lithuania's population identify themselves as ethnic Poles, and 5% as ethnic Russians. The ethnic Polish minority has been traditionally more politically active than the ethnic Russian minority. In 2021, 24.5% of Latvia's residents identified themselves as Russians. In 2021, 24.29% of Estonia's population identified themselves as Russians.
[2] After the breakup of the Soviet Union, Lithuania, the most ethnically homogenous Baltic state, chose the so-called "zero" option by awarding Lithuanian citizenship to everyone. Latvia and Estonia, which had a significant Russian-speaking population, restored citizenship to those who had it before the Soviet occupation and their descendants. In Latvia and Estonia, many Russians (who migrated to Latvia and Estonia during the period of the Soviet occupation) ended up without Latvian and Estonian citizenship. However, under intense international pressure, hoping for EU and NATO membership, Latvia and Estonia revised their citizenship laws, making it much easier to obtain. Non-citizens can use the state as a "service station"; they have many rights except the right to vote (in Estonia non-citizen residents can vote in local elections). In 2021, 10.1% of Latvia's population consisted of non-citizens. In 2021, in Estonia 69,127 individuals (or 5% of the population) described their citizenship status as "not specified".
[3] The Orthodox in Latvia and Estonia can choose whether to be under the jurisdiction of Constantinople or Moscow. In Lithuania, the Orthodox are exclusively under the jurisdiction of Moscow.