Ukraine's Russian-language secondary schools switch to Ukrainian-language instruction: A challenge?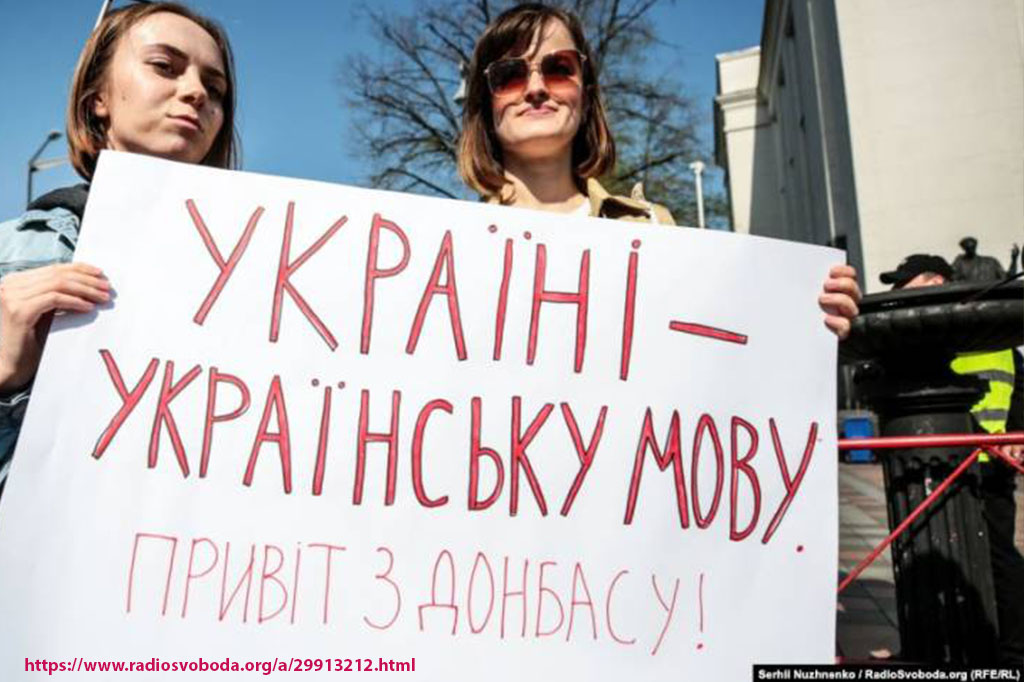 Introduction
A new language policy in Ukraine, spurred by the 2013–14 Euromaidan and marked by the repeal of the notorious Kolesnichenko-Kivalov law,[1] appears to be one of the things most consistently implemented by the post-revolutionary Ukrainian government, which itself has changed since that time. The present issue on this language agenda is the shift of all post-primary school education to Ukrainian as the major language of instruction in all of Ukraine's state-funded schools. This reform is expected to be completed by September 2023 for schools providing instruction in minority languages that are official languages of the European Union. And in schools educating in Russian, the shift will take place as soon as the coming school year. This means that as of 1 September 2020, a minimum of eighty percent of Ukrainian-language instruction is to be introduced in publicly funded secondary education, starting from fifth year onward.[2]
Legislation on language in education
The measure, announced in October 2019 by the then Minister of Education and Science of Ukraine Hanna Novosad,[3] is underpinned by legislation on education and language that was enacted by the Ukrainian parliament within the previous four years. The new Law of Ukraine "On education" (hereinafter "the Law") was the first to declare Ukrainian as the only means of instruction in schools after the primary division. Passed in 2017 and heavily disputed because of its Article 7, "The Language of Education,"[4] the law was recognized by the Constitutional Court of Ukraine on 16 July 2019. On the same day, the Law of Ukraine "On ensuring the functioning of Ukrainian as the state language" took effect and restated the priority of the Ukrainian language in education, guaranteeing minorities instruction in their native language only in preschools and primary schools.[5] The respective provisions of the 2017 Law are also specified in Article 5 of the recently passed Law of Ukraine "On complete general secondary education," which came into force in March 2020.[6]
The Law determines three patterns for Ukrainian-language instruction in secondary schools of Ukraine. The first concerns indigenous peoples such as the Crimean Tatars, who have the right to be educated in their own language, with Ukrainian taught as a separate subject, at any school stage. The second pattern addresses Ukraine's national minorities whose languages are official languages of the EU. The primary school division is available for them in their minority language (with Ukrainian as a separate subject), while higher divisions see a graduated expansion of Ukrainian-language instruction—from twenty percent in fifth year to forty percent in ninth year of middle (junior high) school and to sixty percent of all subjects during the three years of high school. The third pattern applies to "other minorities," i.e., Russians and Russian-speaking Ukrainians who attend Russian-language secondary schools. For them, Ukrainian-language instruction should be at a minimum of eighty percent in both middle and high schools, with the opportunity to have Russian taught as a subject or elective. The Law also clearly states that these provisions apply to state-funded schools only and entitles all private schools to a free choice of their language of instruction; nevertheless, private schools must teach the Ukrainian language and ensure that their students acquire the fluency standard defined by the state.
Students in schools in the 2019/20 school year
In the 2019/20 academic year there were 4,072,704 students enrolled full-time in secondary schools throughout Ukraine, with 4,032,366 attending state-funded schools and 40,338 attending privately funded schools.[7] Of the total number of 4,032,366 students attending state-funded schools, 92.4% were receiving Ukrainian-language instruction, 6.7% were being taught in Russian, and 0.9% were being taught in other minority languages—among them Hungarian (16,583 students), Romanian (16,109), Moldavian (2,498), Polish (1,697), Slovakian (147), Bulgarian (58), and Crimean Tatar (53).
As a minority language, in 2019/20 Russian was the language of instruction for 269,956 students in state-funded schools and 11,301 students in private schools in Ukraine. Leaving the private schools out of the scope of this analysis, the transition to Ukrainian-language instruction mandated by the Law will affect significant numbers of students in state-funded schools. The largest proportions of students taught in Russian, as well as of Russian-language secondary schools and schools where Russian is the main language of instruction, are found in Odesa, Kharkiv, Dnipropetrovsk, Zaporizhia, Donetsk, Luhansk, Kherson, and Mykolaiv oblasts. Located in the southeastern part of Ukraine, these schools are concentrated in urban rather than rural areas, with 97 Russian-language schools in the cities and 22 schools in small towns and villages. In 2019/20 there was a total of 125 Russian-language secondary schools in Ukraine.
Language attitudes and opinions on languages in education
Traditionally Ukraine's southeast has been more Russian-speaking than other parts of the country. A March 2019 survey by the Kyiv International Institute of Sociology (KIIS)[8] showed that 47.9% of respondents speak only Russian or mainly Russian in the south of Ukraine, slightly more (49.5%) do so the east, and many more (82.6%) in the Donbas. Over half of the respondents in these regions wanted to have the same amount of time allocated for learning Russian as for Ukrainian in secondary schools (57.1% in the south, 52.9% in the east, and 73.5% in the Donbas, compared to 15.8% in the centre and 7.6% in the west). However, the southeast's appreciation of Ukrainian as the official state language as well as "an important attribute of Ukraine's independence" is rather high. A December 2019 survey by the Ilko Kucheriv "Democratic Initiatives" Foundation, together with the Razumkov Center, showed that this attitude is shared by 71% of respondents in the south and 64% in the east.[9] For them, Russian is a mere means of communication, with its role perceived differently from the role of Ukrainian as the official language of the Ukrainian state.
Nevertheless, the ex-minister's statement on the transition to Ukrainian-language instruction to be implemented in Russian-language secondary schools was not perceived as objectively positive. A survey conducted by the KIIS right after the statement was made in October 2019 showed that 49% of respondents mainly approved of the measure while 47% more or less disapproved (survey sample representative of the adult Ukrainian population).[10] A KIIS survey conducted in February 2020 identified attitudes:[11] 40% think that the government should provide Russian-speaking Ukrainian citizens with the opportunity to be educated in Russian in the regions where the majority of the population expresses this wish; 33% think that this opportunity should be granted throughout the country; 24% answered that the government is not obliged to do so. This divergence of views may be explained by the fear expressed by parents that their children's transition to a different language of education would possibly slow down their progress.
This concern has also been expressed in the media by teachers as well as students. The teachers mention their colleagues who "for all their lives have been teaching in Russian" and now might have "imperfect" Ukrainian, which "a good teacher cannot afford".[12] They also speak about those of their students who come from abroad with their parents—employees of post-Soviet countries' embassies or other temporary workers—and may experience difficulties during the language transition. Still, the most vulnerable group among students seems to be those who were recently displaced from the Donbas and may not be fluent in the Ukrainian language at all.[13]
Preparation for the switchover
Ukraine's Ministry of Education and Science has worked on the transition to Ukrainian-language instruction in 2019 and 2020, so the change has not come out of nowhere, for the teachers at least. In 2019, the ministry designed a roadmap for implementation of the 2017 Law's Article 7. The roadmap includes a separate program for training teachers. It targets around 15,000 educators, with half of them already completing the Ukrainian language courses by the end of 2019.[14] The courses, as well as additional lectures and workshops, have been developed by institutes of post-graduate pedagogical training located in regions having the largest proportions of Russian-language secondary schools. Among them are Odesa, Kharkiv, Dnipropetrovsk, Zaporizhia, Donetsk, and Luhansk oblasts in southeastern Ukraine.[15] The Russian-language secondary schools are also reported to have been equipped with Russian–Ukrainian and Ukrainian–Russian terminological dictionaries containing essential concepts in the sciences and humanities, as an aid for educators undertaking the language switchover.[16] In addition, to enhance teachers' expertise in managing languages in education, the ministry started cooperating with the NGO "Ukrainskyi Svit"(Ukrainian World). As a result, a special course of lectures and workshops has been developed by "Ukrainskyi Svit" and "Ye-Mova", an online platform for learning Ukrainian. The course has free access and was scheduled to start online in July 2020.
As for the students undergoing the linguistic transition, the situation is somewhat more obscure. To encourage their switchover and allow them time to adapt, the ministry planned two-week day language camps to be held in 230 locations all over the country during the summer of 2020. Unfortunately, because of the ongoing COVID-19 pandemic and the accompanying quarantine, this year's camps were cancelled, and their adaptation and training programs were postponed until the summer of 2021.[17]
Promoting Ukrainian in a Russian-speaking environment
In these conditions, it seems quite realistic that come September, Ukraine's newly converted schools will have classrooms where Ukrainian will not be spoken exclusively. Rather, these classrooms will become hybrid linguistic spaces where bilingual practices and discourses may dominate. Although the Ukrainian language has always been a mandatory subject for all students in any school year, this experience may still be insufficient to make some of them confident enough to use the language in such classes as physics or maths. The point here is not that students will not understand Ukrainian-language instruction in science, nor that they would not have enough knowledge to speak. Their main difficulty may sooner be a psychological barrier, an inner unreadiness to switch to a different language that is now to be used as the main medium of communication in class. For the most part, this would be an issue in the absence of adaptation, an indispensable element in terms of language transition.
Should this be an alarming prospect? Should it be seen as a challenge that may hinder educational reform and a successful transition to Ukrainian-language instruction? And what is the attitude that should be developed towards bilingual classroom practices if they occur?
In the European educational context, where multilingual encounters are becoming increasingly common, the language spoken by students as their first or "home" language has come to be seen as an important resource in education that is provided in languages which are second or foreign to them. Based on substantial empirical research, this view has replaced an earlier vision of students' first language as being an obstacle in education, a "language deficit" that should necessarily be repaired, or simply ignored. Recent studies on multilingual use in science classrooms reveal positive effects on performance and motivation in science instruction if the students' linguistic and cultural background is brought into play.[18] Namely, these studies suggest that if learners instructed in their second language are allowed to use their first language in class, they make more progress compared to students who are required to use only the language of teaching. Similarly, research on non-standard varieties shows that these can be successfully integrated into the learning of a standard language which is the language of instruction in class.[19] The benefits of this approach include easier acquisition of the standard language as well as more psychologically favourable conditions of learning because students' linguistic varieties are recognized. Such situations, where the whole linguistic repertoire that students possess is used in educational contexts, are defined as translanguaging, an approach that alters our understanding of the traditional educational process.[20]
In Ukraine, Russian or mixed-language use in Ukrainian-language secondary schools has not been encouraged and sometimes has even been known to be deplored.[21] Even in eastern Ukraine, where Russian is the major means of communication, translanguaging practices are reported to be unacceptable and hybrid language practices are stigmatized; this has been the established pattern of socialization into Ukrainian language literacy acquired by Russian-speakers during their school years.[22] Often held up in Ukraine as a key factor of socializing learners into an imagined community of "the Ukrainian nation," Ukrainian is presented at school as a "pure" and "beautiful" language that must not ever be mixed.[23] However, the language of school education was not found to influence students' identities or their desire to identify with Ukraine. Instructed in either language, they firmly align with Ukrainian as their "language for identification" even while using Russian as a communication tool.[24]
By comparison, teaching Ukrainian provided by the Free Ukrainian Language Courses (FULC)—a volunteer initiative organized by the "Ye-Mova" team that targets Russian-speakers seeking a Ukrainian-language environment—takes a translanguaging-friendly approach. Identifying the psychological barrier as the main difficulty that needs to be overcome on the way to fluent Ukrainian, the FULC instructors present learning Ukrainian as primarily a means of communication. And here the knowledge of Russian is perceived as a tool.[25] The FULC online course "Ukrainian in 27 Lessons" was designed specifically for Russian-speaking Ukrainians, including those residing in the now occupied territories of Crimea and Donbas;[26] it was completed by a record number of 10,000 people in the first month after its release. While using only Ukrainian in video lessons, tasks, tests, and instructions to additional resources, the course contains Russian-language translations of separate words and phrases in the video transcripts and provides Russian equivalents for each lesson's thematic vocabulary. This translanguaging practice makes learning Ukrainian easier for beginners, while also implying a pragmatic acceptance of multiplicity, which comes to be seen as an important educational asset.
This attitude towards translanguaging practices appears to be in line with the strategy pursued by Ukraine's Ministry of Education and Science. Its implementation of Ukrainian-language instruction, described in a "Roadmap" document, includes the production of bilingual textbooks, bilingual glossaries for textbooks written in minority languages, and even cell-phone applications with bilingual terminological dictionaries. A separate section in the Roadmap describes measures to preserve the individuality of national minorities and indigenous peoples as an integral part of Ukrainian society and culture. These range from supporting pre-schools and primary schools educating in minority languages and developing curricula, courses, and textbooks to holding yearly national contests in minority languages. There is an explicit orientation toward multilingualism, whereby advancement of the Ukrainian language in education is balanced with the defence of Ukraine's minority languages.
Conclusion
Whether the multilingual perspective is seen as a prerequisite to the promotion of Ukrainian language or, on the contrary, as a hindrance to its implementation in eastern Ukraine largely depends on how language acquisition is viewed as a whole. If we believe that one language should be completely replaced by another, the former being altogether "subtracted" during the shift, we arrive at a stance that does not encourage translanguaging, constrains the ability to switch between the languages, and eventually precludes the successful learning of either language. If, on the other hand, a second language is understood as an extra resource in our linguistic repertory, which comes as an important "addition" while the first language is also maintained, bilingual practices cannot be challenged or seen as obstructing a language transition in education.
In Ukraine, at the moment this issue seems to be of an ideological rather than a practical nature. Essentially the matter depends on what we set as our aim: promoting Ukrainian as a means of communication regardless of the mistakes and mixing that occurs on our way, or cherishing it as a pure and beautiful language which either should be spoken perfectly or should not be spoken at all.