Interview with Roman Petryshyn: Supporting Reforms of Ukrainian Universities and Society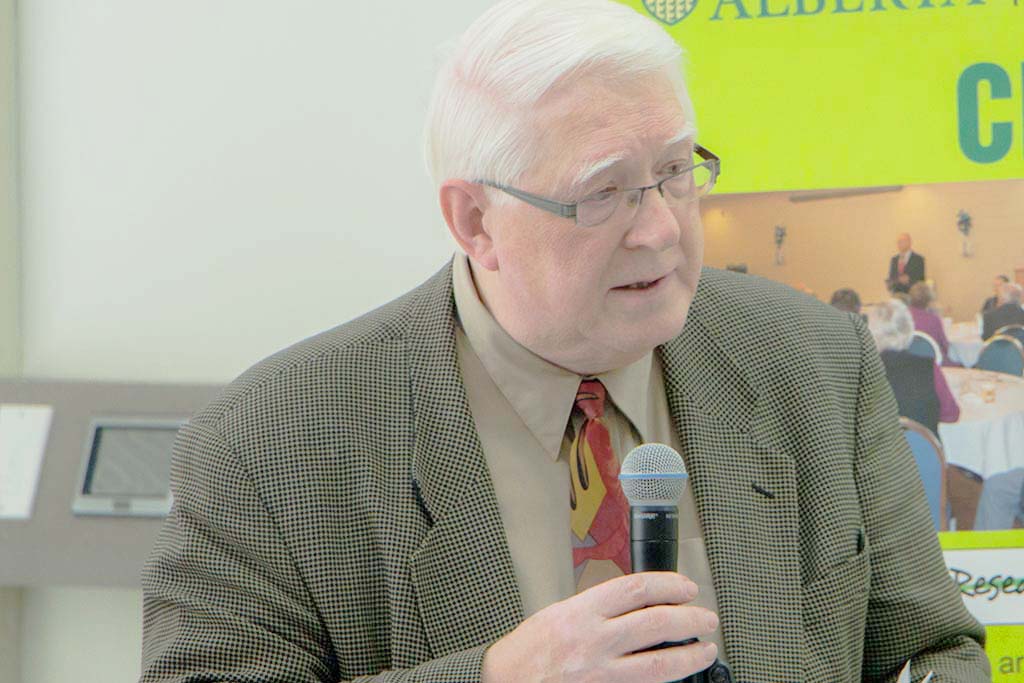 Dr. Roman Petryshyn holds a MA in clinical psychology and a PhD in sociology of race and ethnic relations. He was employed in the Ontario Citizenship Branch and after graduating, became a Research Associate at the Canadian Institute of Ukrainian Studies, University of Alberta. There he researched, innovated projects (e.g. Hromada Housing Coop; Ukrainian Canadian Social Services) and wrote about community development and ethnic identity. Dr. Petryshyn was a long-time activist in the multicultural movement which resulted in his being employed as Northern Director, Cultural Heritage, Alberta Culture for several years. Roman Petryshyn was the founding director of the Ukrainian Resource and Development Centre (URDC) at Grant MacEwan University where he held the Drs. Peter and Doris Kule Chair in Ukrainian Community and International Development until 2015. His research and publications focus on the integration of Ukrainian minorities in Britain and Canada. He Changing Realities: Social Trends Among Ukrainian Canadians and has contributed articles to several published compilations.

During 1991 to 2015 he was actively engaged in structuring and delivering technical assistance projects in Ukraine and Russia through Grant MacEwan University's Ukrainian Resource and Development Centre (URDC). He was Project Manager for the "Agricultural Curriculum" and the "Agri-Business Learning Materials" projects (1991-95); coordinator of research for the study "Reform of the Novosibirsk Health Care System"; Manager of the "Yamalo-Nanetsk and Tyumen Organizational Readiness" project in 1996-97; and co-director of the "Canadian Business Management Project in Ukraine" (1997-2000) and the "Health Education Learning Project" in Russia (2000-04). During 2008 to 2013 he co-managed the project "Inclusive Education for Children with Disabilities in Ukraine". Currently he is active as an Adjunct Assistant Professor with the Faculty of Education, University of Alberta studying the Higher Education system in Ukraine ,as part of the Research Initiative on Democratic Reforms in Ukraine (RIDRU) project.
Ivan Kozachenko: Dr. Petryshyn, you founded the Ukrainian Resource and Development Centre ( URDC) at MacEwan University; held the Kule Chair of Ukrainian Community and International Development; and were the director of the URDC from 1987 to 2015. Please explain how and why the centre and the chair came into existence?
Roman Petryshyn: In the 1970s and 1980s multiculturalism was part of the mainstream public discussion in Canada. The Royal Commission on Bilingualism and Biculturalism put forward a binational Anglophone-Francophone model for Canada, which was challenged in public hearings by many other ethnic groups, especially Ukrainian Canadians. They argued that Canada is not binational, but rather a multicultural society.
The fourth volume of the Royal Commission's report discussed the contributions of the other ethnic groups. One recommendation was that other ethnic groups should get greater access to universities and colleges so that they could communicate about their contributions to Canada and with each other. Professor Manoly Lupul, then in the Faculty of Education and the creator of the Department of Educational Foundations at the University of Alberta, took up the leadership role for Ukrainian Canadians. Along with others he championed the idea of founding the Canadian Institute of Ukrainian Studies (CIUS). This undertaking was realized in 1976 when the CIUS was established at the University of Alberta. Professor Lupul also advocated a Ukrainian Bilingual Programme in schools and the creation of the provincial historic site called the Ukrainian Cultural Heritage Village. All of these were created at the time multiculturalism was prominent. Along with Bohdan Kravchenko, later the second director of the CIUS, I was one of the people Professor Lupul hired to work at the newly created institute.
The CIUS was a new kind of Ukrainian post-secondary institution. It was created to be a research and publishing centre and take part in the debates on the future of Canada and the question of Canadian identity. The CIUS was not the first Ukrainian studies institution in the Canadian post-secondary system. In the 1920s, 1930s, and 1940s the community of children of Ukrainian-Canadian pioneers created student residences and courses in the Ukrainian language, Ukrainian literature, and theology. For example, the Ukrainian Orthodox community created the Hrushevsky Institute, and the Catholic community created the Sheptytsky Student Residence, with student societies and so on. Theology and language courses appeared because the Ukrainian clergy needed theological and language training to serve the community. St. Andrew's College was established in 1964 at the University of Manitoba to teach theology.
Further institutions followed the creation of the CIUS. In 1981, as part of the engagement in multiculturalism, the Canadian Centre for Ukrainian Canadian Studies was established at St. Andrew's College. Similarly the Huculak Chair of Ukrainian Culture and Ethnography (in 1989) and the Kule Centre for Ukrainian and Canadian Folklore (2001) were established at the University of Alberta for purposes of teaching, research, and collecting archives.
Because Ukrainian-content courses were well established by the 1950s and 1960s, it became possible to create different kinds of Ukrainian institutions at Canadian universities to supplement teaching. The URDC was created in 1987 during this multiculturalism period. From 1987 to about 1990 the URDC concerned itself with community-development programming in order to assist the Ukrainian-Canadian community in developing a greater institutional capacity.
After Ukraine became independent in 1991, the URDC refocused and added an altogether different kind of purpose to its mission. It was the first post-secondary institution in Canada to focus mainly on international educational development projects in Ukraine. While the other Ukrainian centres and the CIUS undertook academic and research projects in Ukraine, the URDC engaged in projects designed to step up the incorporation of best Western practices by post-secondary institutions in Ukraine. The URDC's purpose was not so much to research, publish or teach, but to support the reform of Ukrainian universities and society so they could participate more easily in the Western democratic world.
The URDC is actually what its name suggests—a centre of both resources and experience in development processes. It is a centre with resource people who develop projects in partnership with higher-educational institutions in Ukraine. In that respect the URDC occupies a new type of academic niche and operates with a different purpose and different methods than do the two earlier generations of Ukrainian centres and institutions in Canada.
Ivan Kozachenko: What is the relation of the URDC to other academic programmes based here in Edmonton?
Roman Petryshyn: The URDC's purpose and the method of operating are different from those of other Ukrainian-studies organizations. Let's discuss the URDC's philosophy of work for a moment. The URDC operationalizes concepts of international education, community development, engaged scholarship, and praxis, all of which are at the heart of the URDC's methods. Our view is that Ukrainian projects can be created in every field and discipline of interest to Ukrainians. Examples of such interest, expressed in Ukrainian higher education, have been demonstrated in agriculture, nursing, deafness studies, and inclusive education. These fields have all resulted in the URDC research, publications, and projects in Ukraine that have led to changes in curricula and new benchmarks of programs at post-secondary institutions in Ukraine.
Our research is done as part of projects that facilitate change and development. The URDC analyses various systems in Ukraine and shares them with discipline specialists at partner institutions in Canada and with faculty and students at MacEwan University. One key aspect is that the URDC always works in partnership with local community experts, MacEwan University, and universities in different provinces. The URDC provides resources and seed funding in the creation of projects. Flexibility is a key word in doing projects, as the URDC is not limited to a single discipline. The URDC is committed to a multidisciplinary approach, so that the staff of various disciplines, departments, and faculties at MacEwan have been able to and have partnered with it.
In developing projects, the URDC avoided duplicating what has already been done at the University of Alberta in teaching, research, and publishing. Instead we developed new types of contacts among Ukrainian universities working in disciplines considered to be non-traditional fields of study and atypical for Ukrainian-studies institutions in Canada. In particular we developed working relations with the National University of "Kyiv-Mohyla Academy" in media communications and sociology, and with the Ternopil State Medical University in the nursing program. In this way the URDC has broadened the number of disciplines beyond those typically associated with Ukrainian studies.
The URDC has been focused on Ukraine because of its emergence as a new nation-state that aspires to become a democratic country with a market economy integrated with the rest of Europe. This is a major transitional process that will take more than one generation to achieve. The URDC is assisting Ukrainian post-secondary institutions by facilitating their partnership and ability to draw on the expertise of other Canadian post-secondary institutions.
Ivan Kozachenko: Could you provide an overview of the main projects that were completed in Ukraine in collaboration with the URDC since it became independent?
Roman Petryshyn: During the multiculturalism era, from 1987 to 1990, the URDC created a number of capacity-building community initiatives in Canada. Using a community-development process, the URDC undertook projects in the arts and media, with choirs and dance groups. Because these efforts are important to the Ukrainian-Canadian community, the URDC brought artists together, organized them on a provincial and national basis, and helped raise educational opportunities within those groups. For example, the URDC helped to create the Alberta Council for the Ukrainian Arts and the Alberta Ukrainian Dance Association, both which continue to serve their respective arts communities.
When Ukraine became independent in 1991, the majority of the URDC's attention and energy went into the development of educational projects in Ukraine. We began with the newly emerged class of private farmers. MacEwan University does not offer courses in agriculture, but, applying our partnership strategy, we teamed up with universities in Canada that specialize in agriculture and with a number of agricultural universities in Ukraine. The first project the URDC undertook from 1991 to 1993 brought a hundred and fifty private farmers from Ukraine for training and practicum placement with farmers across Canada. The project also provided agricultural institutions in Ukraine with curricula and educational materials about Western farming methods. At the time Ukraine had collectivized agricultural enterprises that contrasted enormously with the model of Canadian family farms.
Next, the URDC worked with the nursing profession in Ukraine in the area of nurse upgrading. In the Western world, including Canada, nursing education is taught at the bachelor's, master's, and PhD levels. Nursing is a distinct profession from medicine. In the Soviet Union nurses had only two years of post-secondary education, and all decisions in the medical system were made by doctors without the involvement of nurses. If Ukraine was to move closer to a Western standard, its colleges and universities would need to develop a bachelor's degree in nursing and educate nurses to do a nursing diagnosis in partnership with a physician's diagnosis. We worked with the Ministry of Health of Ukraine and various educational institutions to introduce a bachelor's program in nursing to Ukraine. Canadian curricula and textbooks were adapted or localized for Ukraine. The Ukrainian degree program has been taught for more than ten years at three dozen institutions. The nursing profession in Ukraine now has a "senior nurse" position requiring a bachelor's degree. This is an example of how the URDC recognized a problem that needed to be solved, applied a community-development approach, and found the money to solve it. Canadian partners transferred modern knowledge that helped the Ukrainian side to fulfil its wish to Westernize both its curriculum and educational process to standards common in Europe and North America.
Ivan Kozachenko: You mentioned that Grant MacEwan Community College became MacEwan University quite recently. What has this development meant for the URDC?
Roman Petryshyn: Let me answer that question using the example of the work we did in the field of deafness and hearing impairment. From 1987 until 2009 the URDC functioned within MacEwan as a community college. The college offered two-year diplomas until 2004, when it became a degree- granting institution with four-year baccalaureate programs. At the time MacEwan offered courses related to deafness and hearing impairment. The URDC worked with the Association of the Deaf and Hearing Impaired of Ukraine to address the question of communication between parents and children and between teachers and children as early in the child's life as possible. Sign language and the involvement of parents were identified as high priorities, and in the course of the project courses and sign-language education was introduced. In the case of deafness studies the URDC partnered with the University of Alberta's Western Canadian Centre for Deaf Studies. A number of professors from the University of Alberta became our advisers and consultants in helping the Association of the Deaf and Hearing Impaired in Ukraine to develop a vision of how deaf students can aspire to become university graduates in almost all professions. Presently very few deaf people in Ukraine have a higher education. In part this is because from the 1950s sign language was banned in the teaching process even though it is the native language of deaf students. By using sign language deaf and hearing-impaired students in Canada can learn as fast as students who can hear, and there is no difference in intellectual achievement.
When MacEwan became a university in 2009, the URDC started involving more faculty members in its work and doing more research. The URDC has adapted to that requirement and has also put an emphasis on providing students with an opportunity to learn abroad. These are among the changes that came about when MacEwan became a university.
Ivan Kozachenko: the URDC has an impressive self-sustained endowment fund of seven million dollars. Could you explain the funding mechanism and the strategy of how this result was achieved?
Roman Petryshyn: First of all I should say that Western universities are increasingly required to put a greater emphasis on financial self-reliance. Unless specialized programs of university centres and institutes can pay for themselves through revenues from endowments or grants, universities in Canada are ever more hesitant to allow such educational opportunities at their university.
During the 1960s, 1970s, and 1980s in Canada, children of post-war Ukrainian immigrants attended universities in significant numbers. At that time there were sufficient numbers of students registered in courses in Ukrainian history, language, literature, and linguistics. However, in recent years universities have incorporated more and more quantitative and market measures to decide which courses will be permitted. In some cases enrolments in Ukrainian-studies courses have not met the minimum number established by a university, and this has resulted in cutbacks in course offerings. For example, since 2015 at the University of Alberta this minimum number is twelve students per undergraduate class and five per each course at the graduate level. If there are fewer registrations, the course is cancelled.
At MacEwan University there was no need to introduce Ukrainian courses because they were already being offered at the University of Alberta. Duplication was not only unnecessary but unrealistic. Instead of using teaching courses as a structure (which requires recruitment of students), we used the model of endowment funding to grow the capacity of Ukrainian studies in other ways. Donors from the community and from the government were asked to create permanent funds dedicated to the URDC. We raised $250,000 from inside the Ukrainian-Canadian community and then approached the federal and provincial governments. Donations of 1.5 million dollars from the provincial government and 500,000dollars from the Federal government were received thanks to the political influence of community leaders. With a little over two million dollars in hand, MacEwan's Board of Governors passed a motion to create the URDC in 1987.
The University Foundation invests these monies, and four percent of the revenue earning is paid out annually for operating purposes. Naturally, two million dollars is too small an endowment to generate revenues in sufficient amounts to fund a centre. In order to find additional donations, it became very important to create a permanent community fund-raising group. The Ukrainian Foundation for College Education (UFCE) was established with a group of twenty to twenty-five people dedicated to raising funds. Fortunately the UFCE invited Dr. Peter Kule to join its board of directors. Dr. Kule became a very generous benefactor at MacEwan. He donated two million dollars of his own funds to the URDC and ensured that MacEwan University matched his contributions with additional funds sourced by the university from the Government of Alberta. Dr. Kule is known as the most generous philanthropist supporting Ukrainian studies in Canada. At MacEwan he endowed the Kule Chair of Ukrainian Community and International Development. I am very grateful to him and his wife Doris for their investment in Ukrainian studies across Canada, and especially at MacEwan University.
The UFCE has had an annual fundraiser for the past twenty years and donated more than 300,000 dollars to URDC operations. The UFCE also set up a 300,000 dollar endowment for the URDC with the Ukrainian Canadian Foundation of Taras Shevchenko Foundation and donated 100,000 dollars, which was double-matched by MacEwan, to establish the Chair of International Health at the URDC.
In addition to endowment revenues, the URDC generates contract revenues from the projects it carries out. Consequently the URDC's core budget comes entirely from endowments and contract earnings, making the centre financially self-sufficient. The URDC does not rely on income from course registrations. Instead it relies on revenues from endowments, which are legal trust agreements that the university will continue to honour for decades to come.
After Ukraine became independent, the Government of Canada and other governments have provided funding to reform projects in Ukraine. The URDC has successfully applied to the Canadian International Development Agency for project grants. For example, the URDC undertook a project to introduce a Western model of educating disabled children in Ukraine. Canada has moved away from internaty—residential boarding schools—as a way to educate children with disabilities. Instead, children who are blind or have another disability attend regular neighborhood schools, where facilities are adapted and teachers are trained how to teach disabled persons. This is called the inclusive education model. Ukraine was interested in inclusive education but had not yet launched such a system. So, from 2008 to 2013 the URDC undertook a five-year project funded by the Canadian government. The project's several Canadian partners were provided with a total of five million dollars to undertake it. In Ukraine we introduced inclusive education at the ministry of education level in two pilot schools and with parental organizations. Such contracts and government funding for international development in Ukraine has proven to be a generous source of funding for the URDC. In this respect the URDC is a rather unique institution, because a large portion of its operational budget comes from endowment revenues, contract work, and community donations.
Ivan Kozachenko: Last year you retired from the position of director of the URDC. What developments do you hope to see there in the future?
Roman Petryshyn: I hope very much that concepts like engaged scholarship and praxis remain the philosophy at the heart of the URDC's work. Past outcomes have proven that they have had a significant impact on education in Ukraine and have benefited Canadian faculty as well. It is also important for the future of Canada-Ukraine relations that we see Ukrainian studies more broadly than it was defined in the past. Secondly, the educational division of labour among the three types of Ukrainian-studies centres should remain, but greater co-operation among them is needed. The URDC should not duplicate what already exists in teaching or research at other centres and institutes. Research areas at MacEwan University should be unique in examining non-traditional subjects. I also hope that MacEwan's new journal, started with the National University of "Kyiv-Mohyla Academy" and with the Ternopil State Medical University will continue. The journal is called Social, Health, and Communication Studies and focuses on disciplines in which the URDC has been active, namely in communications, media, social sciences, and health studies. Finally, since endowments are such a vital part of funding, the URDC and UFCE should work hard at building up the URDC's endowments. They can and should be grown to ten million dollars. With this additional funding the URDC could increase its number of staff and get into different kinds of research that are greatly needed in Ukraine and for Ukrainian-Canadian community development. These are some of my hopes for the future.
Ivan Kozachenko is a Stasiuk post-doctoral fellow at the Canadian Institute of Ukrainian Studies, University of Alberta. He completed his MA and BA in sociology at the V. N. Karazin National University of Kharkiv, Ukraine. He obtained his PhD in sociology from the University of Aberdeen, UK, in 2013. Dr. Kozachenko's current project, "The Ukraine Crisis: Contested Identities, Social Media and Transnationalism," considers the role of social media in competing Ukrainian social movements, exploring their articulation of national allegiance in online and offline public spaces.