As the frontline situation signals a war of attrition, Kyiv identifies necessary steps to achieve victory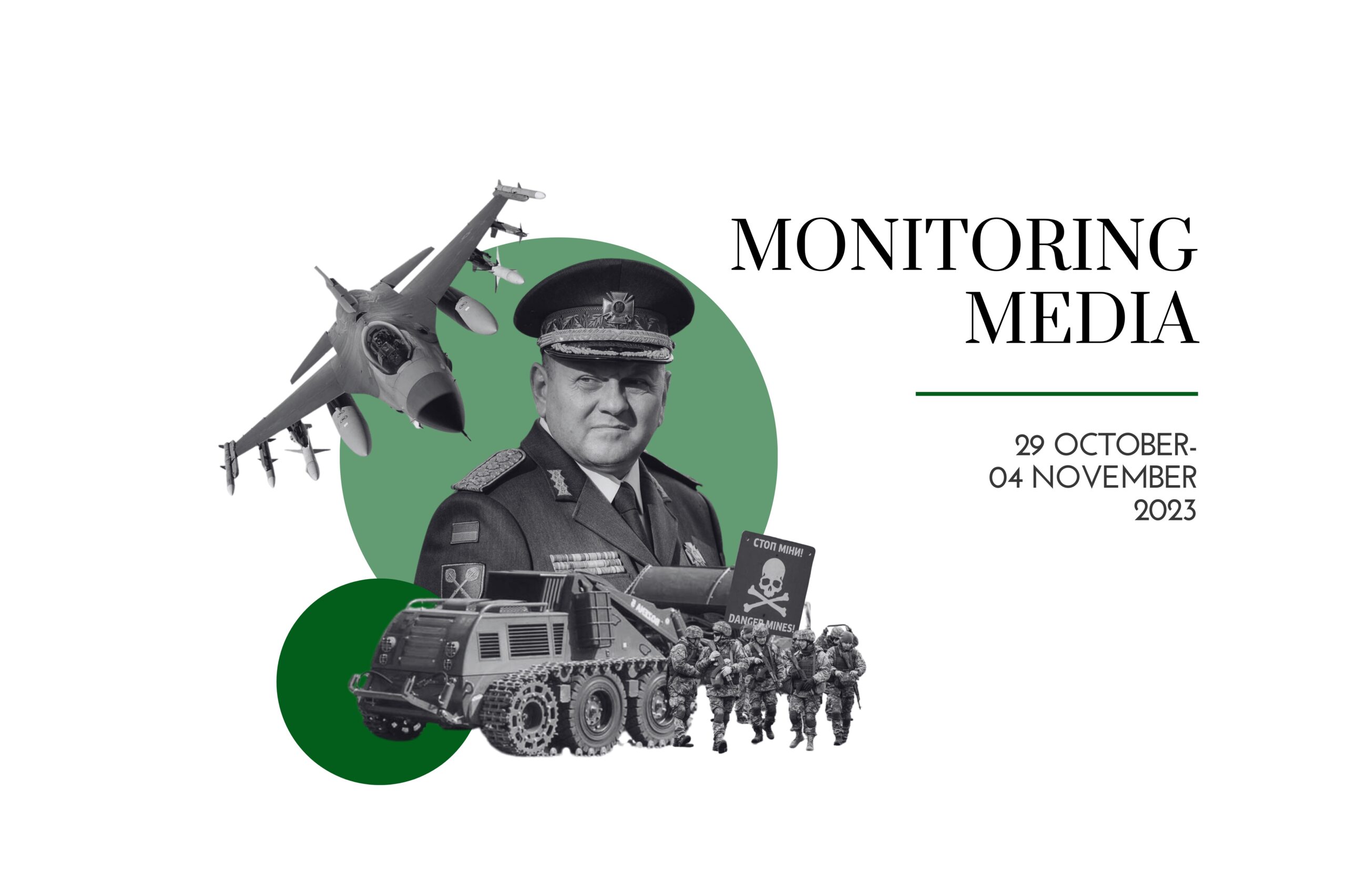 CIUS weekly report on North American media coverage of Ukrainian affairs, 29 October–4 November 2023
Seven publications (Foreign Affairs, Foreign Policy, The Economist, The Atlantic, The Globe and Mail, Winnipeg Free Press, and The Washington Post) were selected to prepare this report on how the situation in Ukraine has been portrayed in the North American press during the past week. The sample was compiled based on their impact on public opinion as well as on their professional reputation, popularity among the readership, and topical relevance. These publications represent centrist viewpoints on the political spectrum.
This report covers only the most-read and relevant articles about Ukraine, as ranked by the respective North American publications in the past week. Its scope covers promoted articles on home pages and articles from special sections on Ukraine, with the hashtag #Ukraine, from the paper editions of the publications, and about Ukraine from opinion columns and editorials.
Topics featured in the selected articles:
The world and Ukraine: Ukraine is a key element of European security; five necessary steps to victory from the Commander-in-Chief of the Armed Forces of Ukraine.
Russia in war: Russia supports the far right in Germany.
Belarus in war: Lukashenko benefits from Russia's war against Ukraine.
Main arguments:
What is Lukashenko's interest in Russia's war against Ukraine? Artyom Shraibman (Foreign Affairs) argues that the stalemate on the battlefield makes it possible for Lukashenko's autocracy to be revived in Belarus—and that Belarus will reap the greatest benefit most from Russia's war against Ukraine, with Lukashenko increasingly gaining leverage as the war continues. Until 2020, relations between Russia and Belarus were contradictory: on the one hand, they were mutually supportive, but on the other, Russia sought to strengthen its control over Belarus while Minsk flirted with the West to weaken this influence. However, the balance changed significantly in 2014, when Russia occupied the Autonomous Republic of Crimea and parts of Ukraine's Donetsk and Luhansk oblasts. Minsk became a platform for negotiations between Ukraine, Russia, France, and Germany, bringing Belarus into focus for European countries. However, the scales tipped again in 2020 after powerful protests in the Republic of Belarus. After that, it was only a matter of time before Belarus lost its agency. But the situation changed dramatically again after Russia's full-scale invasion of Ukraine on 24 February 2022: "especially in the absence of a rapid Russian victory­, Minsk gained new leverage over Moscow. The stability of the Lukashenko regime was now a military priority for the Kremlin, rather than just a political imperative, and as a result, Putin's approach toward Lukashenko became less coercive—based more on carrots than on sticks."
There is no European security order without Ukraine. Kristi Raik (Foreign Policy) emphasizes that it is premature to look to end or freeze Russia's war against Ukraine, due to the unwillingness of both sides to engage in serious negotiations to find a compromise. For Russia, the loss of control over Ukraine could "become a matter of life and death for Putin himself," while for Ukraine this struggle is existential, and giving up on it would threaten Ukrainian statehood. Second, freezing the military conflict would be unacceptable to Ukrainians as it would prolong Russia's violence against its citizens in the occupied territories. Third, a search for compromise at this stage cannot answer the question of what such a settlement would mean for the future of the European security order. According to Raik, "If the war were frozen, not only would Russia be rewarded for its attack, it would also hold on to its goal of fundamentally revising the European security order and reestablishing its sphere of influence." There are a number of obstacles to a constructive dialogue with Russia: (1) Moscow's understanding of the principles and norms of European security is incompatible with the views of the West: "the Kremlin equates security with control, which has deep roots in Russian history and foreign policy"; and (2) Russia's foreign policy belief that "European security order should be based on agreements among the major powers over the heads of smaller ones." According to the author, "In order to make the new order in Europe more sustainable, the West will need to pursue a proactive containment policy, including credible deterrence and defense, full integration of Ukraine and other countries in NATO and the EU, and restrictions on Russia's ability to restore its military strength."
Necessary steps to win the war. The commander-in-chief of Ukraine's armed forces Valery Zaluzhny (Economist), writes that Russia's war against Ukraine has changed the balance of power not only in Europe but also in other parts of the world—the Middle East and the Asia-Pacific region. Due to the inability of international institutions to assist in resolving the war diplomatically, Ukraine can only restore its territorial integrity through military force. Ukraine has already achieved a lot, but now a new stage has begun, "what we in the military call 'positional' warfare of static and attritional fighting, as in the First World War, in contrast to the 'manoeuvre' warfare of movement and speed." This particular stage allows Russia to restore its military power, which eventually will present a real threat to Ukraine. According to Zaluzhny, Ukraine needs five key military capabilities and technologies: (1) aviation and air superiority; (2) advanced electronic warfare; (3) enhanced counter-battery capabilities; (4) modern mine-breaching technology; and (5) increased reserves—including the ability to mobilize and train more people. According to the сommander-in-сhief, it is necessary to focus on "modern command and control—so we can visualise the battlefield more effectively than Russia and make decisions more quickly—and on rationalising our logistics while disrupting Russia's with longer-range missiles. New, innovative approaches can turn this war of position back into one of manoeuvre."
Putin supports the far right in Germany. Liana Fix and Caroline Kapp (The Atlantic) write that Putin, disappointed with Berlin's reaction to Russia's war against Ukraine, is looking for allies in Germany to help achieve Moscow's goals. The far-right Alternative for Germany (AfD) party could become such an ally. This prospect poses a serious threat to Berlin's continued support for Kyiv, as the AfD is becoming increasingly influential and popular in Germany: "Earlier this month, it achieved historically good results in regional elections in Bavaria and Hesse, two traditionally centrist states. Nationally, the AfD is polling at a record 21 percent, making it the second-most-popular party in Germany." This is a serious challenge, because Berlin is "Kyiv's second-biggest military supplier after Washington." Moscow is trying to achieve its goal by publicly supporting the AfD, referring to historical events, particularly in World War II, offering to resume gas supplies to Germany, appealing to Berlin's dependence on "bosses in Washington", inviting AfD representatives to observe the [staged] elections in Crimea, etc. Neither has Moscow ignored the ultra-reactionary Reichsbürger movement as well as the nationalist left-wing party just launched by Sarah Wagenknecht. According to the authors, Russia's support for "far-right groups in the West is not just about weakening democratic societies; it is part of a geopolitical strategy. At a time when the world faces political turmoil on several fronts, the success of Putin's tactics will be decided at ballot boxes across Europe and in the United States."
Kyiv needs more sympathetic backers as the frontline situation signals a war of attrition. Gwynne Dyer (Winnipeg Free Press) argues that the Ukrainian military offensive, initially seen as a significant breakthrough, has stalled, and the conflict with Russia has turned into a protracted and challenging war: "the Ukrainians are stuck in a military stalemate unless they can figure out what went wrong with their great offensive and fix it." According to Dyer, it is a fairly easy task: Kyiv hasn't yet achieved air superiority and needs to commit enough reserve units to help the initial breakthrough attempt—but not too many, which would not leave enough reserves to exploit the breakthrough when they finally achieve it. Developments showed that the latter situation has come about: "They finally got through most of the minefields and the 'dragon's teeth' by early September, but they ran out of reserves. They have just been bouncing back and forth between Verbove and Novoprokopivka for the past seven weeks." To secure further assistance—namely, "a lot of foreign help with money and military supplies"—Ukraine needs to seek new support from nations that are sympathetic to its cause but do not have critical strategic interests in the war. And to maintain their commitment, Kyiv must continually prove that it is making progress toward victory or, at the very least, possesses a strong prospect of success. For now, Dyer writes, the situation on the front lines is "a waiting game…with no clear path to victory for either side. If we can think of this situation as the First World War in miniature, then 20 months into the war brings us to early 1916." Despite uncertain variables, Dyer writes—including the possibility of a second presidential term for Donald Trump, which would confound everybody's calculations—"the odds still favour Ukraine."
Russian-Canadian pair charged in the U.S. for alleged sanctions evasion. Steven Chase (Globe and Mail) highlights the recent case of two Russian Canadians, Nikolay Goltsev and Kristina Puzyreva, who have been charged in the U.S. in connection with a conspiracy to evade sanctions and procure electronic parts crucial for Russia's war against Ukraine. According to the affidavit, over the span of a year the accused individuals are alleged to have sent more than 300 shipments with a total value of 10m USD. They used Brooklyn-based companies to facilitate the shipments. Some of the electronics purchased from U.S. manufacturers were found in Russian weapons used in Ukraine. Investigators allege that the defendants knew the electronics they were exporting had military applications. In a 2023 e-mail dated February 23 (a Soviet-holdover Russian holiday commemorating military forces and veterans), another co-defendant in the case wrote to Goltsev to wish him "Happy Defenders of the Fatherland Day," according to the affidavit, and Goltsev replied: "Happy holiday to you too my friend, we are defending it in the way that we can," with a smile emoji. The charges highlight increased enforcement efforts to prevent the evasion of sanctions on Russia, and the accused Canadians may also be violating Canadian sanctions law. This case underscores the importance of scrutinizing efforts to circumvent sanctions and depriving Russia of critical components for its military operations in Ukraine.
Russia's crimes in Ukraine trace back to past military campaigns. Lee Hockstader (Washington Post) discusses the atrocities committed by Russian forces in Ukraine in the context of the ongoing war. Despite numerous reports by the United Nations and independent investigators detailing these abuses, the full extent of the crimes is likely much larger because independent investigators are denied access to areas seized by Russian forces. Hockstader writes that in this war which has become "static, with front lines barely budging for months, it means the Kremlin's commanders have time to eliminate traces of physical evidence as well as civilians who might bear witness to crimes." As a result, international monitors primarily rely on the evidence of survivors who have managed to escape their towns and villages after Russian troops occupied them. The author recalls how the world was horrified when the full-scale invasion began, marked by the shocking killing spree in Bucha (Kyiv oblast), where Russian soldiers brutally murdered hundreds of unarmed civilians, gunning them down in streets and cellars. To him, however, the scenes felt eerily reminiscent, because he saw parallels with the war in Chechnya, the southern Russian region striving to break free from Moscow's authority in the 1990s. In Chechnya, he says, Russian forces routinely practiced torture, sexual assault, and indiscriminate killing of non-combatants—just like in Ukraine. "What was equally routine was the culture of impunity, as hardly any Russian soldiers faced prosecution for their actions." Hosckstader argues that while Russia's suppression of Chechnya, a relatively unknown region, received limited international attention, it became a chilling precursor to Putin's ongoing military campaign. This history serves as a stark reminder: "Ukraine is fighting not only for its right to live as a democratic, pluralist, and independent country free of Russia's yoke. It is also fighting for its life."