The Orthodox Church of Ukraine in the postwar period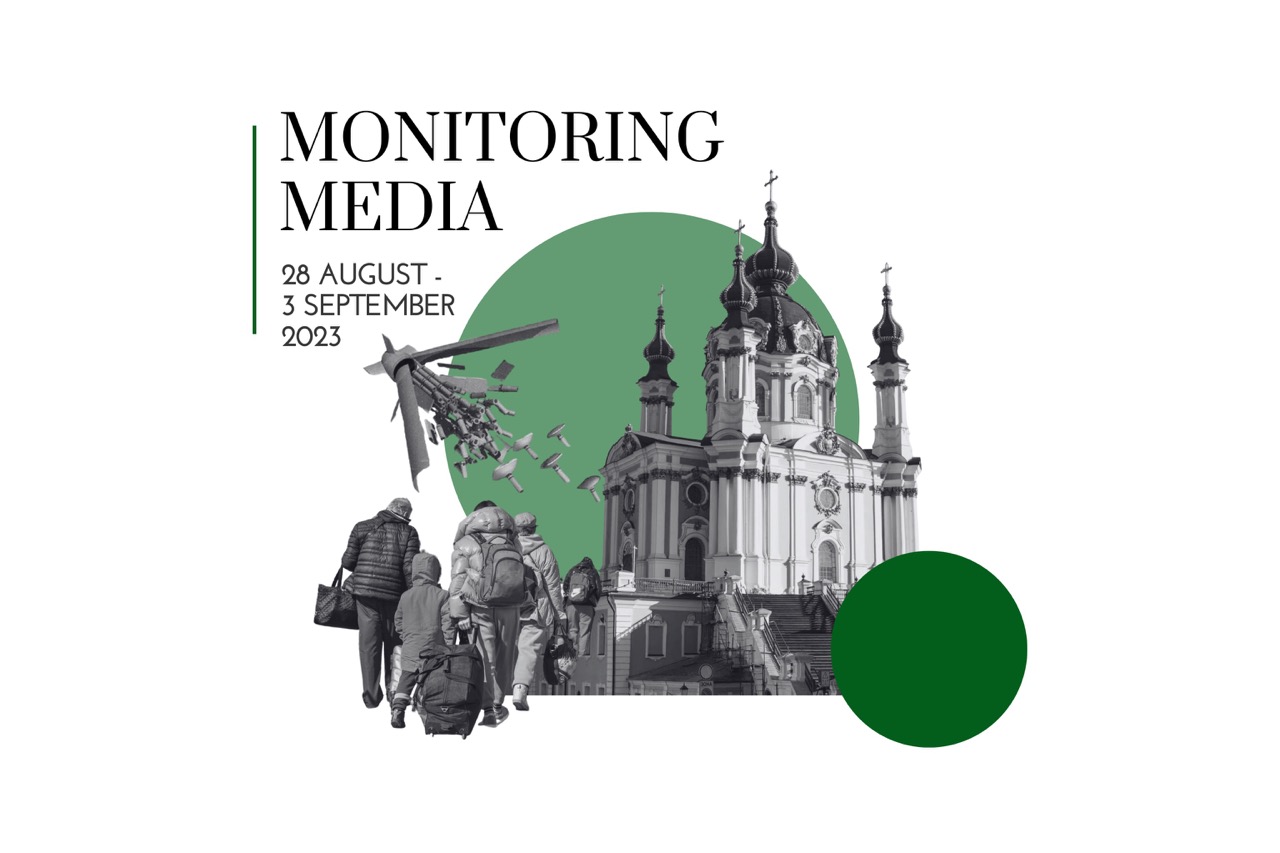 CIUS weekly report on North American media coverage of Ukrainian affairs, 28 August–3 September 2023
Three publications (The National Interest, Politico, and The Atlantic) were selected to prepare this report on how the situation in Ukraine has been portrayed in the North American press during the past week (28 August–3 September 2023). The sample was compiled based on their impact on public opinion as well as on their professional reputation, popularity among the readership, and topical relevance. These two publications represent centrist viewpoints on the political spectrum.
This report covers only the most-read and relevant articles about Ukraine, as ranked by the respective North American publications themselves in the past week. Its scope covers promoted articles on home pages and articles from special sections on Ukraine, with the hashtag #Ukraine, from the paper editions of the publications, and about Ukraine from opinion columns and editorials.
Topics featured in the selected articles:
Ukraine's current affairs: postwar role of the Orthodox Church of Ukraine. 
The world and Ukraine: US providing cluster munitions to Ukraine; Ukrainian refugees in North America and Europe; impact of the Russo-Ukrainian war on inter-Atlantic cooperation; plans to resolve the military conflict.
Orthodox Church of Ukraine potentially faces changing attitudes in the postwar period. Cole S. Aronson (Politico) describes the role of Orthodoxy in Ukrainian society—from its historical spread among the Eastern Slavs to Russia's full-scale invasion in 2022—and asks what role the Orthodox Church of Ukraine (OCU) will play in postwar Ukraine. Today, the OCU is the largest Orthodox jurisdiction in Ukraine in terms of congregation numbers. And it continues to grow rapidly, replenished by decamping parishes of the Russian Orthodox Church–controlled Ukrainian Orthodox Church – Moscow Patriarchate (UOC-MP), which Aronson cites at "1,500 Ukrainian parishes in the last five years." Moreover, the OCU "hopes that the good public standing of Ukrainian Christianity isn't just wartime sentimentality, but points towards a spiritual future that Ukrainians truly love and want to live for, even once the fighting stops." Admittedly, to some extent these sentiments stand in the way of Ukraine's aspirations to become a member of the EU, insofar as EU member states are characterized by the secularization of society and the protection of certain values that contradict the OCU. For example, the OCU opposes a draft law on civil partnerships that "сompared to Western gay marriage laws…is quite modest." On the other hand, according to some expert estimates, "Ukrainian support for equal rights for LGBTQ people has doubled since the war began" (many are currently fighting in the Armed Forces of Ukraine). This might lead to increased tension in society, as Aronson notes that "after its growth and prominence during the war, the OCU is unlikely to be a docile participant in Ukraine public life, especially on issues—like the civil partnerships bill—that it thinks oppose the church's moral teaching." Aronson suggests that whether and how the OCA decides to use its influence with other Ukrainian religious groups may determine the path the state will take after the war.
Cluster munitions constitute a serious threat in the Russo-Ukrainian war. Saadain Gardezi (National Interest) writes that "Cluster munitions will do more harm than good" in the Russo-Ukrainian war." This assertion is based on the argument that the use of cluster munitions has more negative consequences in the long term than the short-term benefits on the military battlefield. The use of this type of weapon leads to two key problems: (1) "their inability to discriminate between military and civilian targets, as evidenced by the fact that they have caused serious harm to civilians, including women and children, wherever they have been employed in conflicts"; and (2) "they are notoriously unreliable given their high failure rate, also known as the dud rate. Given the fact that their scattering over a wide area is a key characteristic that incentivizes states to employ them, bomblets that fail to explode continue to act in a similar way as landmines." Gardezi opines that the US's decision to transfer cluster munitions to Ukraine is unjustified and could lead to a new escalation: "Ukraine began employing cluster munitions supplied by the United States on the battlefield against Russia in mid-July to support its counteroffensive against the Russian defensive positions. The United States termed their usage 'effective,' while Russia warned of responding in kind, with President Vladimir Putin stating that Russia has a 'sufficient stockpile' of several kinds of cluster munitions of its own, which could be used in a tit-for-tat manner. However, both Kyiv and Washington are downplaying the long-term implications of the introduction of cluster munitions in the Russia-Ukraine conflict." The author notes that despite the fact that the Pentagon had received written assurances from Kyiv that cluster bombs would be used to break through Russian defences only in non-urban areas, "there have been  reports of Ukraine using them in attacks on Russian villages in the Belgorod region." The long-term effects of these weapons prompted the international community to ban their use, stockpiling, production, and transfer under the Convention on Cluster Munitions. However, many states, including the United States, Russia, and Ukraine, remain outside its scope. And now "there is a dire need for both Russia and Ukraine to stop using cluster munitions in the conflict given the long-term implications of these weapons, which outweigh both parties' short-term military goals." 
Females predominate in Ukrainian refugee cohorts. Nayla Rush (National Interest) focuses on the unusual nature of the Ukrainian migration flow compared to those that took place in Europe in 2015–17. Unlike in previous years, the majority of refugees are women with children: "The share of women among adult Ukrainian refugees is close to 70 percent in most host countries." Meanwhile, during the European refugee crisis of 2015–17, women accounted for only 30% of overall asylum applications. This change might be termed the "feminization" of Ukrainian refugee cohorts. The author notes that "the term feminization of migration was coined to note not so much an increase in the proportion or numbers of female migrants but the emergence of a new form of female migration in the early 1980s…. They have to manage alone and find employment while taking care of dependent family members who traveled with them (mainly children and elderly people and, in some cases, people with special needs), while also supporting family members who stayed behind." Unable to withstand such pressure, "Ten percent of all Ukrainian refugees who left following the February 2022 Russian attack have returned home from abroad, according to the International Organization for Migration." The European Union and the United States have proposed alternative ways of protecting Ukrainian citizens outside the regular refugee system, due to its outdated nature: (1) "the European Commission decided to give a 'temporary protection' status to nationals of Ukraine, which entails a residence permit, access to employment, housing, social welfare, medical care, education, etc; and (2) the USA "launched a program called 'Uniting for Ukraine' to offer Ukrainians a chance to come to the United States outside the regular refugee resettlement program under 'humanitarian parole' for an initial period of two years." Thus, the ongoing war only reduces the chances of women and children returning to Ukraine; this reality requires a shift from crisis management and short-term measures to long-term policies and plans. It is very important to monitor "the key measures that should help refugees help themselves." And the "feminization" of Ukrainian refugees requires additional initiatives to ensure the social and economic integration of this vulnerable group.
Ukraine at a crossroads between US and European views. Phillips Payson O'Brien (The Atlantic) opens his article with the statement that "Europe and the United States are on the verge of the most momentous conscious uncoupling in international relations in decades." According to the author, such a gap could lead to the collapse of NATO in 2025, and the reason for this collapse and growing divisions may lie in the blatant ideological difference between the Republican Party's populist wing (led by Donald Trump and his followers) and the "existential security concerns of much of Europe." The Russo-Ukrainian war merely provides an additional catalyst for these destructive processes. Two main factors are at play: (1) pro-Russian, anti-Ukrainian, and anti-NATO sentiments in the GOP's populist wing; and (2) the lack of capacity of European states to replace US military assistance to Ukraine with their own resources in a short period of time. In support of the first factor, O'Brien cites representatives of the GOP's populist wing Ron DeSantis and Vivek Ramaswamy, with the former vowing "to make any more aid conditional on greater European assistance and … [instead of money] to send troops to the US-Mexico border"; O'Brien then states that the latter "called for a complete and immediate cessation of US support for Ukraine" and that Ukraine "should be cut up." He further opines that Republican control of one or both houses of the US Congress "could substantially weaken US support for the Ukrainian effort"; and if Donald Trump or "one of his imitators wins the presidency in November 2024, Europe could find itself faced with a new American administration that will halt all support for Ukraine." European governments will have to find ways to minimize the risks of such a scenario, and they should start preparing for this possibility now. After all, unpreparedness for such developments and a lack of comprehensive military planning could lead to a crisis throughout Europe.
Plan C for Ukraine? Jamie Dettmer (Politico) raises the pressing question of whether there is an alternative plan to resolve the military conflict between Ukraine and Russia, other than a clear victory for one side or peace talks. This issue is relevant inasmuch as currently neither side seems capable of realizing Plan A—namely, seizing the initiative on the battlefield, as it was during the First World War. Dettmer notes that WW I "was militarily winnable—and was done so by the Western allies, largely thanks to economic factors and their superior level of development, allowing them to throw more resources into the horrendous meat grinder." The victory was achieved but at an extremely high human cost, which today Ukraine's partner states are not ready to bear. Thus, Ukraine finds itself in a difficult situation. If by the end of autumn (a wet season) it has not managed to secure "a breakthrough on its southern front and breached all three layers of Russia's formidable Surovikin Line by then — something that has so far eluded the country's forces in three months of fierce fighting — calls for negotiations will mount as a year of elections in both Europe and the U.S. looms, altering the internal political dynamics of allies." Regardless, the position of Ukrainians is clear and diametrically opposed: they believe in an unconditional victory. But according to the author, "Russia and Ukraine have one thing in common—their allies don't believe either side can secure total victory." Therefore, under Plan B a return to negotiations would only be a matter of time. However, this plan has three drawbacks: (1) Weakening support for Ukraine will weaken European and global security and give Putin additional leverage; (2) Ukrainians' lack of willingness to negotiate with Russia, which has "bombed their homes indiscriminately; butchered, tortured and abducted children. They remain gripped by cold fury"; and (3) Negotiations for Russia is "just another weapon of war, one used to distract, stall."
Worth your attention:
Can Ukraine be blamed for using all possible means to defend itself against Russian aggression? Saadain Gardezi (National Interest) emphasizes that the US decision to deliver cluster munitions to Ukraine in mid-July to protect against Russian aggression and strengthen Ukraine's counteroffensive is unjustified and could lead to a new escalation: "Ukraine began employing cluster munitions supplied by the United States on the battlefield against Russia in mid-July to support its counteroffensive against the Russian defensive positions. The United States termed their usage 'effective,' while Russia warned of responding in kind, with President Vladimir Putin stating that Russia has a 'sufficient stockpile' of several kinds of cluster munitions of its own, which could be used in a tit-for-tat manner. However, both Kyiv and Washington are downplaying the long-term implications of the introduction of cluster munitions in the Russia-Ukraine conflict." 
It should be noted first of all that Ukraine has the right to use any weapon on its territory to protect its sovereignty and territorial integrity. The argument that Russia could respond with an "eye for an eye" is also somewhat aggravating. After all, according to Human Rights Watch, it was the Russian Federation that first began using cluster munitions in February 2022. That is, neither Ukraine nor the United States initiated their use.
Secondly, as of July Ukraine was recognized by many international organizations and experts as the most mined country in the world. According to the Halo Trust, over 170,000 sq. km of Ukraine's area of 603,700 sq. km are mined, which is almost 30%. Under these circumstances, it is unlikely that a relatively small stockpile of cluster munitions would be of significant importance. 
Thirdly, according to various sources, this step was also forced: it was necessary to increase domestic production of artillery shells, which in future could replace the cluster munitions. 
Fourthly, the best way to ensure the safety of the civilian population is to free all of Ukraine's territories from Russian occupation. And cluster munitions contribute to the arsenal that will help to make this happen.
Another dubious claim by the author is that Ukraine used "cluster munitions during attacks on Russian villages in the Belgorod region."
It should be noted that the only source of this allegation is the governor of Belgorod region, Vyacheslav Gladkov, who is a representative of the aggressor state. And public statements by Russian officials are often an element of Russian propaganda. 
On the other hand, Human Rights Watch documented Russia's use of cluster munitions on 8 July 2023 in a residential area of the Ukrainian city of Lyman, killing nine civilians and injuring more than a dozen. This occurred before Ukraine received cluster munitions from the US.
There is no doubt that cluster munitions are best not used, but the victim of aggression cannot be the only party adhering to this rule. If Ukraine does not have the tools to defend itself today, then its future prospects are compromised, if not downright dire.