Protecting energy infrastructure is one of Ukraine's biggest problems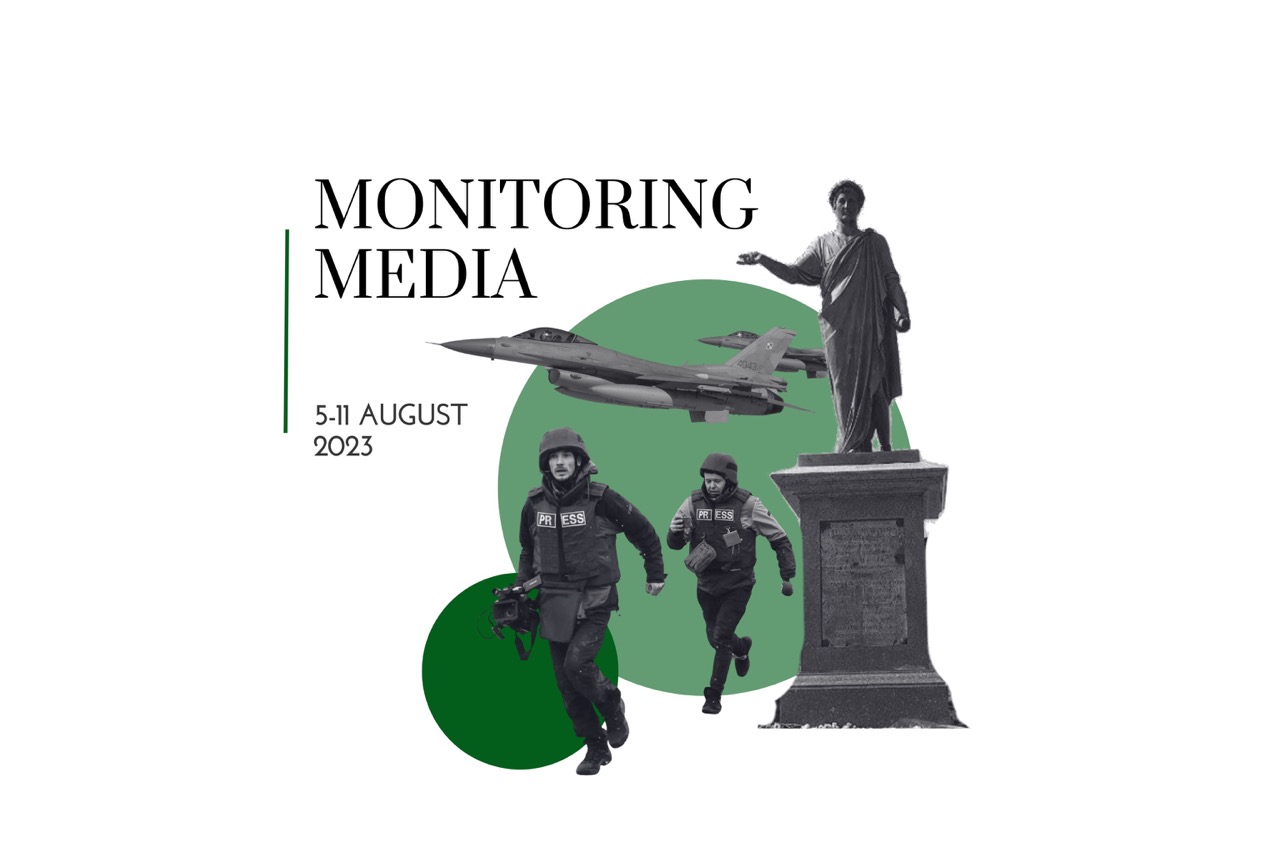 CIUS weekly report on North American media coverage of Ukrainian affairs, 5–11 August 2023
Two publications (Atlantic Council and The National Interest) were selected to prepare this report on how the situation in Ukraine has been portrayed in the North American press during the past week (5–11 August 2023). The sample was compiled based on their impact on public opinion as well as on their professional reputation, popularity among the readership, and topical relevance. These two publications represent centrist and conservative viewpoints on the political spectrum.
This report covers only the most-read and relevant articles about Ukraine, as ranked by the respective North American publications themselves in the past week. Its scope covers promoted articles on home pages and articles from special sections on Ukraine, with the hashtag #Ukraine, from the paper editions of the publications, and about Ukraine from opinion columns and editorials.
Topics featured in the selected articles:
Ukraine's current affairs: Ukraine will not get F-16s before 2024; Ukraine is in a race against time to make its energy infrastructure more resilient; Odesa remains a vibrant port city notwithstanding bombardments; 
The world and Ukraine: the West needs to arm Ukraine faster and better; Kazakhstan benefitting significantly from the war; 
Russia at war: Russian record of genocide in Ukraine is growing; Kremlin maintains centuries-long policy of expansionism; Russia seems to deliberately target journalists in Ukraine.
Main arguments:
Ukraine will likely not receive Western fighter jets before year-end. Olivia Yanchik (Atlantic Council) puts it straightforwardly: the delay of Western partners in arming Ukraine with F-16 fighter aircraft leaves the country exposed to deadly Russian air superiority, "mak[ing] it extremely difficult for Ukraine to mount major offensive operations. This has become painfully apparent during the first two months of Ukraine's ongoing summer counteroffensive. As many experts have noted, no Western military commander would ever attempt to execute such an offensive without first establishing control over the skies above the battlefield." According to Yanchik, Kyiv has been requesting F-16 fighter jets from the US and other partners since early 2022. However, these requests have faced numerous obstacles: Western concerns over the Kremlin's aggressive retaliation, various bureaucratic obstacles, and the time needed to train Ukrainian pilots. On the other hand, when delivered the F-16s should solve many problems of the defending army: Ukrainian forces will be more competitive in the air against Russians who are now flying newer machinery, the deficits of Soviet-made spare parts will no longer be  relevant, the infantry will be better protected against Russian air raids, and Ukraine's sheer air power will simply grow. Yanchik concludes that the major reason behind the delays in arming Ukraine with F-16s is the lack of political will. That being said, "every time Ukraine's international partners hesitate over the supply of new weapons systems, Putin is emboldened and Russia's faith in its ability to outlast the West is strengthened. A firm commitment to provide and maintain a sizable fleet of F-16s would do much to repair the damage to Western credibility caused by earlier delays. Crucially, it could also save countless Ukrainian lives." As things stand now, Ukraine is not slated to get the first party of the fighter jets until early 2024. 
Ukraine likely to be hit with a new wave of Russian airstrikes on its critical energy infrastructure. Suriya Evans-Pritchard Jayanti (Atlantic Council) highlights that Ukraine's energy sector will have to face and overcome numerous challenges in the forthcoming winter. It is yet unclear "whether the country is far enough along with infrastructure repairs, gas storage, and other measures" to counter the renewed Russian attacks. The threat is that a few successful and precise enemy airstrikes can throw the country into energy disarray again, similarly to the previous winter, regardless of all infrastructural repairs that have been done and international support that has been received.  Evans-Pritchard Jayanti writes that from October 2022 to March 2023 over half of Ukraine's energy sector became inoperable. As of August 2023, "6.8 gigawatts of power generation capacity remains offline awaiting repairs to electricity and heating plants, power transmission lines, and substations." Overall, power generation capacity remains 12 percent down compared to pre-invasion levels, gas storage is below target levels, and most coal sources are located in occupied territory behind enemy lines. Ukrainian private and public electricity grid operators are continuing to repair damaged facilities and erect drone-proof shelters; however, they lack parts, particularly for the large autotransformers. As for natural gas, Ukraine has accumulated approximately 11 bcm [billion cubic metres] out of the needed 14 bcm two months before the heating season; and in case of need, more gas can be purchased from the EU. Evans-Pritchard Jayanti concludes that Ukraine's long-term energy outlook is promising. The country has started re-purposing its disused compressor stations into thermal power plants; energy operators are massively buying new wind generators; on top of that, "private investment is moving into biofuels, nuclear development, storage, and other promising technologies that could transform Ukraine into a pillar of European energy security."
Odesa remains a vibrant city regardless of the war, but it requires more defences. Michael Bociurkiw (Atlantic Council) argues that in light of Russia's recently intensified air strikes, Odesa urgently needs an air defence upgrade in order to protect its UNESCO-listed buildings, economic infrastructure, and the lives of residents. Following the destruction of a cathedral in the city center, Bociurkiw highlights that the "prospect of Russia reducing Odesa to ruins as they did with Grozny, Aleppo, and Mariupol remains doubtful [but] can no longer be ruled out." In Bociurkiw's view, Odesa remains one of the most dynamic and resilient cities in Ukraine. Its "residents are [not] embracing defeatism. Like most major port cities, Odesa is a vibrant place with a cosmopolitan field of vision directed outward across the Black Sea … With its flair, beachfront bustle, and bottomless appetite for socializing, Odesa is to Ukraine what Tel Aviv is to Israel." The city is also a maritime gateway of Ukraine because its ports are used to export grain and agricultural products to the Global South. That being said, according to Bociurkiw, Russia's purposeful destruction of Odesa's elevators and other economic infrastructure inventory is nothing else but a weaponization of hunger and a "serious and deliberate threat to global food security." Finally, Bociurkiw highlights that one of the sources of Odesa's resilience is its multiculturalism—more than 100 different ethnic groups contributed to its foundation and early development, which crafted the city's adaptive identity and joie de vivre.
The West should abandon half-measures and arm Ukraine for a fast and final strike. Maksym Skrypchenko (Atlantic Council) writes that "with Ukraine's much hyped counteroffensive making minimal progress, a range of commentators have started suggesting the time has come to push Ukraine to the negotiating table rather than prolong the current stalemate." Suggestions of such a kind make little sense, and even sounding them is dangerous. One of the major reasons behind Ukraine's minimal progress is the shortage of modern aviation and long-range strike capabilities, which are critical for effectively storming elaborately fortified Russian positions. Skrypchenko argues that Western partners have done too little too late to boost Ukraine's success on the battlefield, and therefore they should restrain their criticism: "If Ukraine had received modern battle tanks, long-range missiles, fighter jets, and Patriot missile defense systems during the early months of the fighting, the dynamics of the war would have been markedly different. If a significant portion of these weapons had been sent to Ukraine in 2021, the whole invasion could potentially have been averted." Skrypchenko believes that urging Kyiv to start negotiations with the Kremlin is a major misreading of the causes of this war. Negotiating with a foe that tries to erase your statehood and national identity is not only illogical but also impossible. Moreover, in the eighteen months of fighting that has cost hundreds of thousands of lives, the Kremlin has never demonstrated an honest desire to settle matters peacefully. Skrypchenko believes that Putin has staked his future on outlasting the West, sowing disarray in the camp of Ukraine's partners, and promoting the idea of Ukraine's inability to liberate the occupied territories. However, signs are revealing that it is Putin's regime that is at its weakest. Therefore, Ukraine's slow counteroffensive should only encourage Western leaders to deliver even more weaponry to Kyiv in order to defeat the aggressor and solve the major challenge to European security. 
Kazakhstan reaps economic benefits from Russia's aggression against Ukraine. Harun Karčić (The National Interest) highlights that the full-scale invasion of Ukraine pushed the Central Asian states away from Russia's orbit and encouraged many of them to compete with the biggest state in the region. In particular, ignoring the possible backlash from the Kremlin, Kazakhstan became a major beneficiary of the economic and social havoc that struck Russia. Many of the international companies that left Russia under the pressure of sanctions relocated to Kazakhstan in order to maintain their presence in local markets. At least two migration waves of educated specialists escaping from mobilization have settled in Kazakhstan since February 2022. In the first nine months of the full-scale invasion more than half a million Russians crossed the Kazakh border. Many of these people were provided with five-year visas and extensive tax exemptions. Furthermore, "the Russian invasion of Ukraine has had a positive impact on the value of Kazakhstan's exports. From January to September 2022, exports from Kazakhstan amounted to $65.8 billion, 47.5 percent higher than in the same period of 2021." Karčić concludes that "regional political rearrangements are already visible, both regarding relations with outside powers and intra-regional cooperation dynamics. Equally profound for the region and for Kazakhstan's future per se is the ongoing 'decoupling' between China and the West, and Astana's search for a new equilibrium."
Russia's genocidal deeds continue escalating in and against Ukraine. Kristina Hook (Atlantic Council) writes that the ruthlessness of Russia's full-scale invasion of Ukraine has shocked many, and evidence of its atrocities continues to accumulate. In this light, international observers and professional organizations concluded back in May 2022 that the Russian Federation had breached the UN Genocide Convention's prohibition on direct and public incitement to genocide, to which Russia is a signatory. As an expert on genocides, Hook has recently examined large swaths of verifiable open-source data and published a legal analysis of the evidence of Russia's breaches of the UN Genocide Convention: "Organizing verifiable examples through an expert framework on the five 'Ds' of incitement (demonization, delegitimization, dehumanization, denial, and disinformation), we found durable genocidal incitement across all levels of Russian state authority." After a year of active fighting, verbal attacks of Russian officials against Ukraine became even more aggressive and got enriched with dehumanizing tropes, such as the necessity to "de-Satanize" Ukrainians. Hook believes that the growing brutality of the actions of Russian soldiers in Ukraine mirrors the xenophobia of the Kremlin's rhetoric. Apart from that, the legal analysis by Hook and her team demonstrate that Russia has apparently violated all five acts of genocide in Ukraine, which are: (1) killing, (2) inflicting serious bodily and mental harm, (3) inflicting conditions of life calculated to bring about the victims' physical destruction, (4) forcing measures to prevent births, and (5) the forcible transfer of children. Hook concludes that "many atrocity prevention policy and legal precedents will be set by the international community's response to Russia's escalating genocide in Ukraine. Genocide reports can make for harrowing reading, but nothing can compare to the horrors Ukrainians face each day."
Russian expansionism should prompt Western states to revive the Cold War policy of containment. Glenn Chafetz and John Sipher (Atlantic Council) claim that Russia has never manifested itself as a nation-state. It remains an empire that appropriates the histories and territories of other nations: "The Kremlin's preferred narrative of Russia rising from [what is] present-day Ukraine ('Kyivan Rus') is a Moscow-concocted fairy tale. The officially endorsed 1000-year history of Russia is a self-created and self-perpetuated myth that generations of Russian dictators have promoted to justify their external expansion and internal repression." Over five hundred years ago, with the weakening of Mongol rule Muscovy embarked on its "holy mission" of self-aggrandizement and grew to prominence and domination as a rapacious empire. The expansionism of Muscovy that started under Tsar Ivan III has been followed by all subsequent Russian leaders, including Putin. The authors argue, however, that the medieval expansion did not extend to the territories of contemporary Ukraine, Belarus, the Caucasus, all of Siberia, or Crimea: "Kyiv was no more a part of Russia then than it is now. There was no common language, no common administration, and no joint identity.… Few of the peoples inhabiting the lands Ivan III and his successors claimed saw themselves as Russian, at least not before they were 'gathered.'" Furthermore, Chafetz and Sipher argue that "if Putin is concerned with righting historical wrongs, he should give [the peninsula] back to the Crimean Tatars." But Putin will never do so, as this would be a strike against the imperial Russian nature and a deviation from Russia's imaginary version of its past. The authors conclude that "modern Russia remains an empire and does not see itself as a Great Power unless it dominates its neighbors. Consequently, Russia will continue to threaten, attack, and absorb its neighbors until the West acts collectively to contain it." Western leaders should return to the Cold War policy of containment of Russia, because there is no other option to deal reasonably with its inveterate expansionism. 
Russia appears to deliberately target Western journalists in Ukraine. Mercedes Sapuppo (Atlantic Council) declares that a "deadly Russian airstrike [on 7 April in Pokrovsk] close to a Ukrainian hotel and restaurant frequented by international journalists is fueling accusations that the Kremlin is deliberately targeting international media representatives in Ukraine." According to Sapuppo, allegations that Russia is committing such crimes are not new. In April 2022, the Institute for War & Peace Reporting published a dispatch highlighting high casualty rates among journalists in presumably safe locations. In February 2023, Reporters Without Borders and the Institute of Mass Information discovered that at least 26 journalists were deliberately targeted with rifle or artillery fire during the first year of the war. Sapuppo suggests that Russia's assaults on the physical safety of journalists in Ukraine reflect the uncompromising media policies adopted by the Kremlin within Russia itself. For the past two decades, opposition media in Russia were consistently shut down and dissident journalists were either detained or assassinated. Today, the use of the word "war" in the media instead of the Kremlin-invented "special military operation" is a criminal offence. Sapuppo concludes that many Western journalists who work close to the front in Ukraine consider the most recent strike in Pokrovsk to have been a deliberate action. Russians were fully aware that the targeted hotel hosted journalists and humanitarian aid workers.