Crimean Tatars fight for Ukraine on the occupied peninsula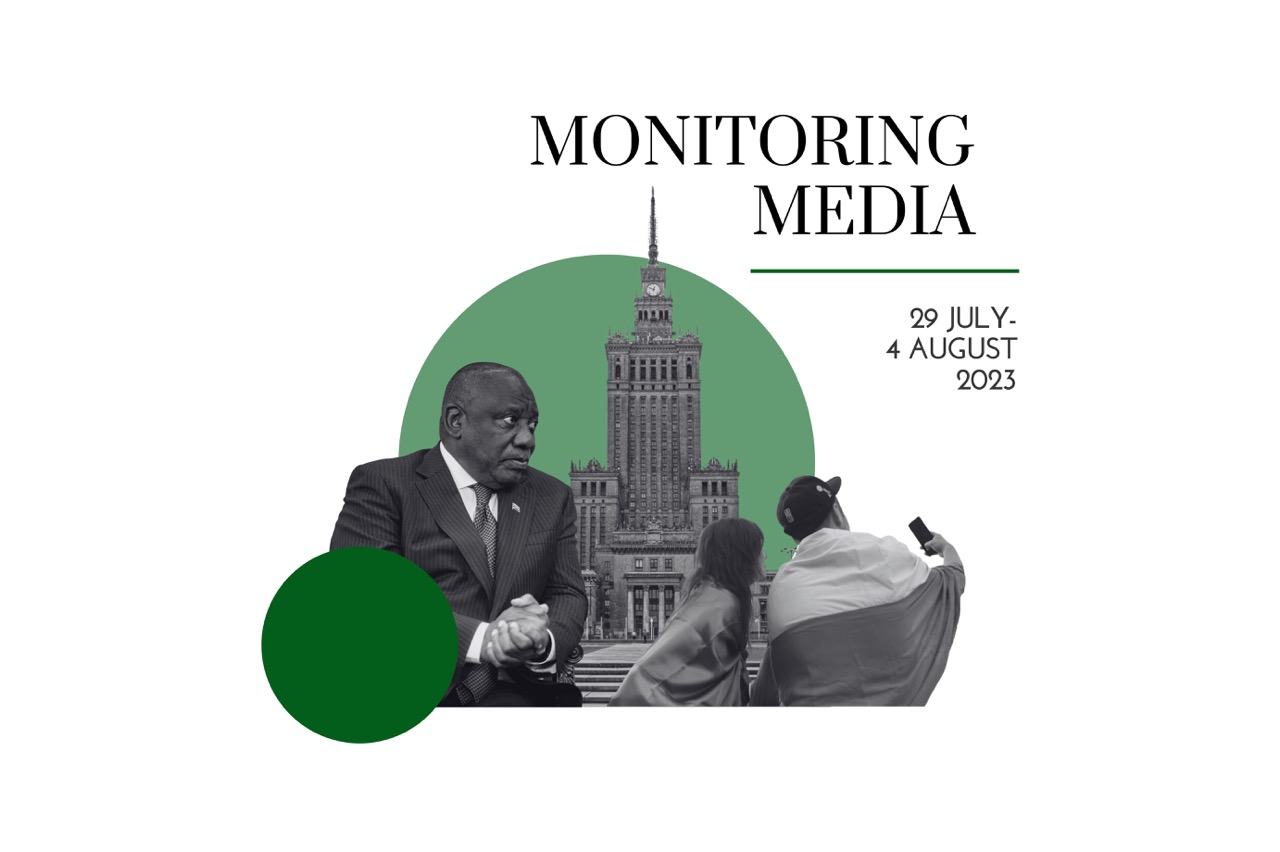 CIUS weekly report on North American media coverage of Ukrainian affairs, 29 July–4 August 2023
Two publications (The Conversation and Politico) were selected to prepare this report on how the situation in Ukraine has been portrayed in the North American press during the past week (29 July–4 August 2023). The sample was compiled based on their impact on public opinion as well as on their professional reputation, popularity among the readership, and topical relevance. These two publications represent centrist viewpoints on the political spectrum.
This report covers only the most-read and relevant articles about Ukraine, as ranked by the respective North American publications themselves in the past week. Its scope covers promoted articles on home pages and articles from special sections on Ukraine, with the hashtag #Ukraine, from the paper editions of the publications, and about Ukraine from opinion columns and editorials.
Topics featured in the selected articles:
Ukraine's current affairs: Counteroffensive is grinding through Russian fortifications and gaining momentum; Tatars have formed a powerful resistance movement in Crimea;
The world and Ukraine: US media pay great attention to covering the Russo-Ukrainian war; a US presidential candidate makes a surprise visit to Ukraine; African leaders fail to convince Putin to stop the war; young Poles perceive displaced Ukrainians less favourably than last year;
Russia at war: Putin's reputation as a strong leader deteriorates the longer the invasion lasts.
Main arguments:
Ukraine's counteroffensive is developing cautiously and gaining momentum. Christopher Morris (The Conversation) writes that two months after its launch, Ukraine's counteroffensive has not progressed as smoothly as anticipated. As ever, voices in the West claim that NATO-type training and equipment are being wasted. However, "in recent days there have been reports, backed by geolocational evidence, that the operation is gaining momentum and suggestions of breakthroughs at several points along the Russian defensive lines." The Ukrainian strategy seems to have transitioned from small-scale scouting actions to complex offensive operations. Furthermore, high-precision missile strikes and drones have allowed the Ukrainian army to interrupt Russian logistics, which could result in recapturing significant swaths of territory. Morris points to a few crucial reasons that are steering the dynamics of the counteroffensive. Firstly, while they are struggling due to low morale, Russian troops are nevertheless entrenched in well-prepared defensive positions that are hard to destroy. Secondly, the Russian command learned its lessons from Ukraine's fast breakthrough in the fall of 2022 and consequently deployed minefields that stretch for hundreds of kilometres. Thirdly, the Ukrainian command is wisely not going to send 40,000 of its highly-trained troops into the battlefield without having a solid chance for success. Fourthly, public support for arming Ukraine is shrinking somewhat in the US, which threatens to put even more of a strain on Kyiv's military operations. Finally, Ukraine's armed forces have decided to pursue a pragmatic approach—cautious advancements instead of Hollywood-style lightning-speed wedges. Morris believes that "should a significant breach be achieved, then Ukraine will aim to rapidly build up momentum, using its armour and mechanised units to push into the interior of Russian-occupied regions. With their logistics networks shattered and low on manpower, Russian forces may struggle to react." Because the situation in Ukraine is slipping out of the Kremlin's control, Putin and Medvedev have returned to nuclear blackmail tactics. Regardless, if the Ukrainian army pushes 60 kilometres farther south and reaches the Sea of Azov, Russia's troops will be cut into two isolated parts and will be much easier to defeat.
Crimean Tatars expect the Ukrainian state to be restored on their native peninsula. Gerald Hughes (The Conversation) reports on the participation of Crimean Tatars in Ukraine's war effort—in particular, as underground fighters on the occupied Crimean peninsula. In September 2022 a resistance movement called  Atesh (fire) was founded there, aiming to "disrupt logistics, sabotage key targets, and stoke discontent against and within" the Russian army. Atesh actions are often ruthless, and the idea behind them is to make the occupiers live under a constant threat and never feel safe. Hughes highlights that underground resistance in Ukraine is quite fervent, and besides assassinating Russian military personnel it also conducts psychological operations (e.g., coordinated sticker and flyer campaigns, or dropping leaflets urging Russians to desert and save their lives). Hughes also outlines a brief history of the Crimean Tatars. They have been living on the peninsula since the 13th century and thus can be defined as an indigenous population. During the imperial Russian rule and especially during the Soviet Union, Crimean Tatars were massively persecuted, deported, and slaughtered. It was only in the early 1990s that those Tatars who had survived could return to their homeland, yet with no right to reclaim property: "In 1897 native Crimean Tatars made up 34.1% of the population of Crimea. Despite the reversal of Stalin's ethnic cleansing [including a mass deportation in 1946], by 2001 Russians made up 58% of the Crimean population while the indigenous Tatars represented only 12%." Today, Tatars have every reason to support the Ukrainian state and are expecting its restoration on the peninsula. Moscow's occupation in 2014 came to them as a new existential challenge. At the end of his article Hughes cites Rory Finnin and concludes "that the future of the Crimea is central to any settlement that may follow the current war. Ukraine lost control of Crimea in 2014, but the exertions of the Crimean Tatars in the present conflict are contributing significantly to Kyiv's ability to avoid defeat by Russia."
US media are paying more attention to the Russo-Ukrainian war compared to other similar conflicts. Esther Brito Ruiz and Jeff Bachman (The Conversation) argue that the US's news coverage of the wars in Yemen and in Ukraine reveals a bias concerning civilian harms. Namely, the reporting that highlights or addresses human suffering in the two conflicts largely parallels US foreign policy objectives. To arrive at that conclusion, Brito Ruiz and Bachman "compared New York Times headlines that span approximately seven and a half years of the ongoing conflict in Yemen and the first nine months of the conflict in Ukraine." They paid particular attention to headlines on civilian casualties, food security, and the supply of arms. Brito Ruiz and Bachman make several more points. First, the stories from Ukraine are far more numerous and often on the front page, compared to the stories from Yemen: "546 stories on Yemen [were published] between March 26, 2015, and Nov. 30, 2022. Headlines on Ukraine passed that mark in under three months and then doubled it within nine months." Second, the stories on Ukraine provide more context and are more opinion-making, while the stories on Yemen are more event-focused and descriptive. Third, as a rule the headlines unequivocally point to Russia as the perpetrator in the war on Ukraine's territory and remain more obscure about who the perpetrator is in the war in Yemen. Fourth, while both conflicts have led to food insecurity, it is only in the Ukrainian case that the headlines emphasize the Russian weaponization of hunger. Finally, when addressing Ukraine the headlines tend to invoke moral judgments (e.g., heroes fighting villains), compared with a more neutral tone on Yemen (e.g., victims dying). At the end of the article, Brito Ruiz and Bachman mention that "Washington officials have made open and direct declarations about the inhumanity of atrocities in Ukraine while avoiding inquiry and condemnation of those in Yemen. Our research suggests that such messaging may be supported by the news media."
US presidential candidate Chris Christie makes a surprise visit to Ukraine. Kierra Frazier (Politico) writes, "Former New Jersey Gov. Chris Christie made a surprise visit to Ukraine on Friday [4 August] to visit President Volodymyr Zelenskyy and reaffirm his support of the United States' funding efforts for the country." Bearing in mind that Christie is a GOP presidential candidate, his surprise visit likely pursued his domestic political objectives. Unlike many other candidates from the Republican party, Christie has been consistently supportive of the US's alliance with Ukraine, arguing that his country "should be able to provide [Ukraine] with the hardware they need to be able to fight off an awful Russian invasion." In Kyiv, Christie met with Zelensky and was brought to towns affected by the war—including Bucha, which was severely damaged during the Russian occupation in early 2022. President Zelensky appreciated that surprise visit and used the opportunity to thank all Americans for their support of his country. At the same time, Zelensky did not comment on the candidates in the 2024 presidential race in the US: "Whoever the next president is, I need to have that person feel a partnership with Ukraine."
African leaders fail to persuade Putin to renew the grain deal and cease hostilities in Ukraine. This Associated Press article, republished in Politico, claims that the African leaders left the 27–28 July Russia-Africa summit in St. Petersburg without reaching an agreement with Putin on the restoration of the Black Sea grain deal or ending the invasion of Ukraine. From the perspective of the Russian president, termination of the grain deal earlier in July caused a rise in grain prices, thus benefiting his country's corporations. Putin also promised that Russia would share some of those revenues with the "poorest nations" and ship 25,000 to 50,000 tons of grain for free to six African nations (which is incomparably less than the 725,000 tons that the UN World Food Program had provided under the grain deal). Apparently not all African leaders agreed with Putin's arguments or pretended generosity. The presidents of Egypt and South Africa were among the most outspoken on the need to resume the grain deal. President Cyril Ramaphosa of South Africa stated that "we would like the Black Sea initiative to be implemented and that the Black Sea should be open… We are not here to plead for donations for the African continent." When the African leaders appealed to Putin to stop the invasion of Ukraine, he responded, "We can't pause fire while we're being attacked." Politico concludes that the importance of cooperation with Africa's nations is hard to underestimate for both Ukraine and Russia because they "make up the largest voting bloc at the United Nations and have been more divided than any other region on General Assembly resolutions criticizing Russia's actions in Ukraine."
Young Poles moderating their positive attitudes toward Ukrainians compared to last year. Félix Krawatzek and Piotr Goldstein (The Conversation) present the results of a survey among young Poles assessing the response of their country to the Russo-Ukrainian war. As of today, around 8 million displaced Ukrainians have taken refuge in Western European states, with around 1.6 million of them in Poland. Such a significant influx could not but have an impact on the social architecture of the host country. Ukrainian and Russian languages are often heard in the streets of Polish cities. In this light, Krawatzek and Goldstein "surveyed more than 2,000 young Poles, aged 16–34, in March 2022 and again in May–June 2023. Our analysis found that between 2022 and 2023, increasing numbers of young Poles—now 52%, up from 42% a year ago—believe that refugees should be offered temporary status, with the assumption that they return to Ukraine as soon as it becomes safely possible." Furthermore, Polish young men are perceiving Ukrainians more favourably than young women. Polish Catholics and sympathizers with right-spectrum political ideas are more convinced that Ukrainians should return to their home country after the fighting is over. All young Poles expect their government to limit individual support to displaced Ukrainians in Poland. On the other hand, 60% of young Poles expect their government to send humanitarian aid to Ukraine, 28% expect it to send weapons, and only 2% expect their national army to be deployed beyond their eastern border. The authors conclude: "With an election this autumn and the profound socio-demographic shift caused by Ukrainian migration, which has turned Poland into a more multicultural country than at any time since 1945, the political discourse has become extremely polarised." The right-wing political powers are gaining momentum and may become future coalition partners of the conservative Law and Justice party, which risks losing its current majority in the parliament.
Putin's statesman myth discredited by his ventures in Ukraine. Matthew Sussex (The Conversation) writes that the narratives of Putin's wits and heroism as they circulate in Russia are greatly exaggerated. Instead, "future historians are unlikely to treat [him] kindly. He has ruled through a combination of fear and favour, cynically upending Russia's proto-democracy by making dissent a crime rather than a crucial part of political life." Since coming to power, Putin and his henchmen have been reconstituting Stalin's police state, which "celebrates xenophobia, nativism, and violence." Today, when the Kremlin is facing strong resistance from Ukrainians to its neoimperialist invasion, the fragility of the Kremlin's authority has become apparent as never before. Sussex devotes much attention to the ascendance of Putin to the Russian presidency and analyzes the steps he took to accomplish that. He started by becoming head of the Russian Security Council in March 1999 and then subsumed other institutions under this structure. He granted political immunity to the elites who were connected to the previous president, Yeltsin. To the people of Russia he promised to grant their perennial desires—order, stability, and restoration of the country's superpower status—even at the expense of their freedoms. He also narrowed the focus of Russia's national economy on the export of energy resources and subdued all the oligarchs to his puppet government. However, the sanctions following the 2014 annexation of Crimea forced Moscow to default on its foreign currency debt for the first time since 1918 and enter a recession half a year later. Today's Russian society is characterized by uneven wealth distribution, a dismally short life expectancy, and an unhealthy tolerance of autocracy. Sussex believes that Putin's personal fears of democratic processes demolishing his power structure have led the Russian president to commit a continuous series of mistakes. And the more he does so, the weaker he appears: "Perhaps the greatest irony of Putin's near-quarter-century at the helm, then, is that he has come to personify the chaos he has long professed to abhor."