Ukrainians continue grinding counteroffensive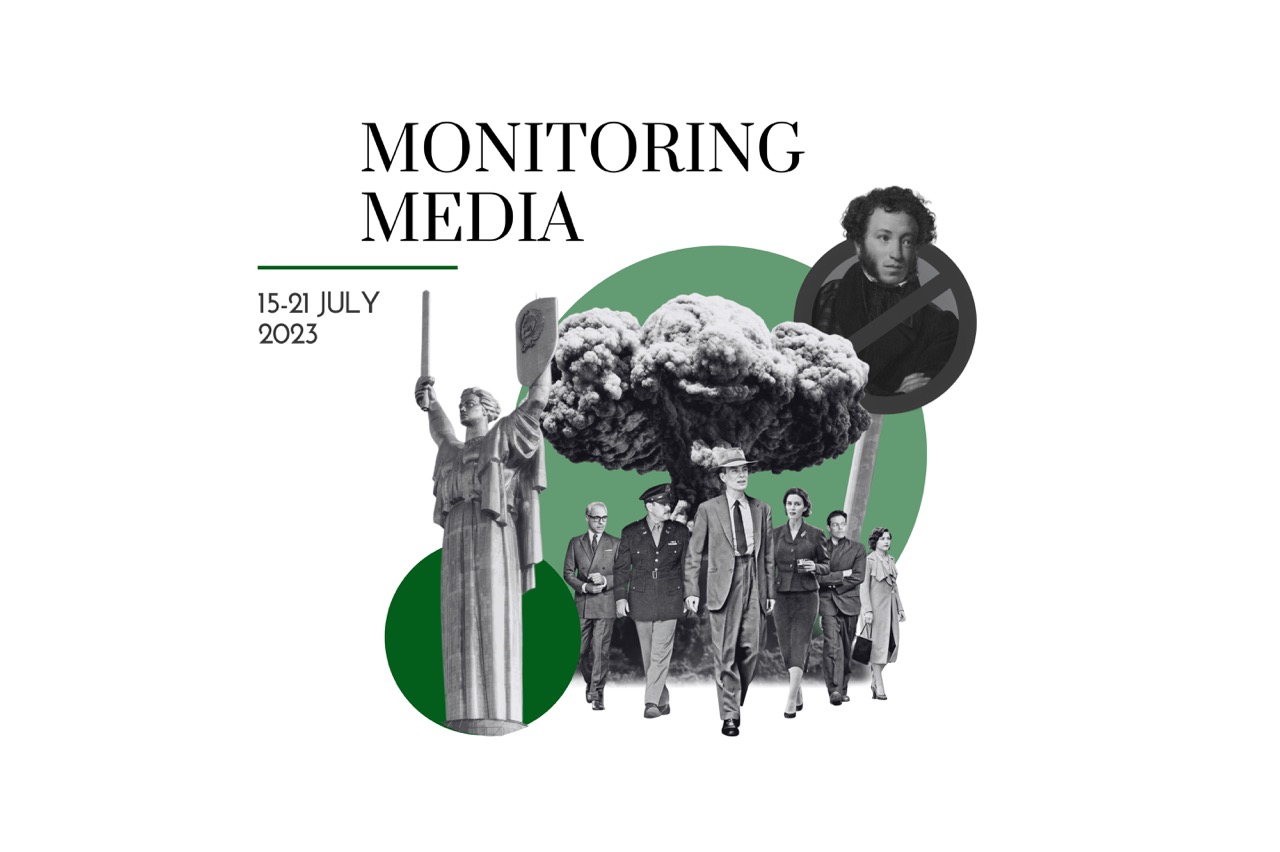 CIUS weekly report on North American media coverage of Ukrainian affairs, 15–21 July 2023
Two publications (The Conversation and Politico) were selected to prepare this report on how the situation in Ukraine has been portrayed in the North American press during the past week (15–21 July 2023). The sample was compiled based on their impact on public opinion as well as on their professional reputation, popularity among the readership, and topical relevance. These two publications represent centrist viewpoints on the political spectrum.
This report covers only the most-read and relevant articles about Ukraine, as ranked by the respective North American publications themselves in the past week. Its scope covers promoted articles on home pages and articles from special sections on Ukraine, with the hashtag #Ukraine, from the paper editions of the publications, and about Ukraine from opinion columns and editorials.
Topics featured in the selected articles:
Ukraine's current affairs: the counteroffensive has encountered fierce Russian resistance and is progressing slower than expected; Kyiv residents have adapted to war and are trying to recover their peacetime lifestyle; Ukrainians and Russians will not find a common language unless the latter abandon their imperialist mindset;
The world and Ukraine: Oppenheimer movie may convey Ukraine's war experiences to Western audiences; US greenlights delivery of F-16 jet fighters to Ukraine;
Russia at war: Russia's unilateral abandonment of grain deal threatens the lives of people in Africa and the Middle East.
Main arguments:
Ukraine's counteroffensive is not as dynamic as expected due to its late start and lack of equipment. James Horncastle (The Conversation) analyzes the reasons behind Ukraine's slow-progressing counteroffensive, contrary to what many expected in the West. According to Horncastle, "Russia has had several months to prepare… Extensive fortifications, including trench systems reminiscent of the First World War, are making any rapid advance quite difficult. Overcoming such a defensive system without specialized equipment, which Ukraine lacks, means that progress will be slow and casualty-heavy." He also highlights that "Russian forces have learned from past failures and have displayed an ability to perform increasingly complex and effective tactics." Horncastle argues that the major strengths of the Ukrainian army reside in the following: its infantry, which consists of battle-hardened units (able to maintain tactical advantage against the Russians but have suffered significant casualties); Western-trained and equipped brigades (maintain a technological advantage over the Russians but have modest combat experience); the National Guard of Ukraine (an aggregation of highly mobile brigades that mirror the Azov battalion's structure and tactics); the Ukrainian Territorial Defense Forces (units with good defence capabilities in specific locations but with the rather ineffective offence); and the Ukrainian Special Operations Forces (units that conduct surgical strikes but have limited ability to seize territory). Horncastle also highlights that Ukraine applies NATO doctrines while planning its counteroffensive but lacks the key component of these doctrines, which is air superiority. NATO member-states do not have the political will to provide Ukraine with F-16s in the immediate future. This handicap is being remedied with increased artillery supply. That being said, using cannons instead of fighter jets is very ammunition-consuming—a luxury that Kyiv cannot afford—and lacks versatility. Horncastle concludes that neither Ukraine's nor Russia's victory objectives appear achievable. However, "continued military operations by Ukrainian forces and their incremental success could place Ukraine in a better position should a negotiated settlement become possible."
Kyiv residents have learned to distance themselves from the stress of the war. Tatsiana Kulakevich (The Conversation) argues that while signs of the ongoing conflict are evident and people live in a near-constant state of alert in Ukraine's capital, daily life continues as uninterrupted as possible. Kulakevich visited Kyiv this summer and narrates her impressions as a scholar on Central and Eastern Europe. For one, when hearing the air raid alerts, many people no longer rush to the nearest shelter but instead check the type of threat (missile or drone) on the radio/internet and then decide what to do. For another, most restaurants, cafes, and other businesses remain operational in Kyiv. As in peacetime, there are often people gathering in crowds, including for bungee-jumping competition, leisurely walks, and lining up for the cinema. A third observation by the author was that historic monuments are protected from airstrikes with sandbags. Some buildings and cars have signs of destruction on them, mainly bullet holes. "There are also small Ukrainian flags planted in the grass on Kyiv's Independence Square, each bearing the name of a person killed in the war." Fourthly, while some draft-age men attempt to dodge mobilization and the statistics of war casualties are dreadful, the majority of Ukrainians are far from the breaking point and willing to fight as long as it takes. Kulakevich provides data from the Kyiv International Institute of Sociology dated 23 May 2023 showing that about 84% of Ukrainians are not ready to give Russia territorial concessions and about 89% of Ukrainians want Ukraine to become a NATO member. At the same time, 78% of Ukrainians stated that close family members or friends have been wounded or killed since February 2022.
Identity rift between Ukrainians and Russians is wide and growing. An extended article by Nahal Toosi (Politico) examines contemporary relations between the Ukrainian and Russian peoples. She starts by highlighting a very clear phenomenon: "Despite their mutual fury toward Putin, Ukrainian activists and Russian dissidents are largely avoiding each other. There's little cooperation and no serious coalition building. Instead, there's tremendous suspicion on the Ukrainian side and defensiveness from the Russians." One reason is that Ukrainians believe that Russian dissidents did little in terms of anti-war campaigning in the West—to say nothing of helping Ukraine achieve NATO membership or lobbying for the redirection of frozen Russian assets to Ukraine's reconstruction. Instead, Russians appear to be "very self-focused" and present themselves as no less tragic victims of the Kremlin's regime than Ukrainians—which is patently incomparable, as those Russian "victims" are not being killed daily. In fact, Ukrainians believe that the roots of Russia's aggression are not in the Kremlin's policy-making but rather in the imperialist mindset of Russian society: "Many Russians simply cannot accept that Ukraine is a fully independent country… That's especially the case for Crimea, a Ukrainian territory Putin annexed in 2014 and which many Russians believe has always belonged to them." Because of that, Ukrainians very actively object to the recognition of Russian dissidents (e.g., Oscar win of a documentary about Alexei Navalny) or their treatment as people who are cognate to Russians (e.g., the 2022 Nobel Peace Prize being granted equally to civil activists from Ukraine, Russia, and Belarus). Toosi continues by highlighting that "while Putin may be issuing the orders, Russian citizens are the ones dropping bombs on [Ukrainian] cities and committing atrocities against children." She also writes that while Ukrainians have sometimes risked their lives to kick out "corrupt leaders over the past 20 years… Russians have never mobilized enough to oust Putin" and therefore cannot demand equal treatment today. One of the only Russians dissidents who is respected among Ukrainians is Garry Kasparov, a former chess champion and an expatriate opposition leader. In his view, Russians must take broader responsibility for the aggression of their country against its neighbour—something that many Russians are unwilling to contemplate. That being said, Toosi also writes that not all bilateral ties have been irreversibly severed, for Ukraine has become a safe haven for many Russian dissidents who have fled from Putin. And occasionally some Ukrainian and Russian protest groups do cooperate in order to pursue a shared anti-war agenda.
Oppenheimer portrays to Western audiences an anxiety over missile attacks that Ukrainians endure daily. Viktoriia Grivina (The Conversation) writes about her experience of watching Christopher Nolan's movie Oppenheimer in Kharkiv, a few dozen kilometres away from the Russian border: "While daily life in the war-time state constantly fluctuates between feeling like a farce and a Greek tragedy, Oppenheimer emphasises the real level of the threat… Watching Oppenheimer [at] my local cinema in Kharkiv, I hope that—to a smaller degree—a global audience will experience Ukraine's everyday anxiety too." Grivina highlights that many of the movie's plot turns, character developments, sounds, and phrases resonate with the residents of Kharkiv. For instance, the phrase that "you will never hear 'your' missile—the one that kills you." In the Kharkiv context, it takes about 30 seconds for an S-300 missile to fly from Belgorod (in Russia) and hit the target, before even the warning siren can be heard. Another point of resonance is that the movie narrates the discovery of a nuclear bomb in the US, while the first atom fission in the USSR was accomplished in Kharkiv. In 2022, the Russian army did its best to destroy Ukraine's nuclear research facility and thus to damage the Ukrainian nuclear programme. On a separate note, the movie also fails to mention the Ukrainian physicists (who were predominantly from Kharkiv) who contributed to the Soviet nuclear programme, which is inaccurately misnamed as "Russian" in the movie. Grivina concludes that "Oppenheimer is not a film about historical accuracy or justice, but rather a great emotional and sensory experience. And for a summer blockbuster, what more can we ask?"
US agrees to authorize the delivery of modern fighter jets to Ukraine. Lara Seligman (Politico) writes that the Biden administration is working on the shipment of American-made F-16 fighter jets to Ukraine by the end of 2023. In light of recent developments on the front, Washington acknowledged a new sense of urgency to deliver this type of weapon. Seligman highlights that the government in Kyiv has been asking for F-16 fighter jets for more than a year already. However, regardless of the US's consent to allow training of Ukrainian pilots on F-16s by other members of the international coalition, Washington has yet to formally approve its own training program, which is required under export restrictions. As for the international coalition, eleven states led by Denmark and the Netherlands are finalizing the training program, which is expected to begin in a specialized centre in Denmark in August and sometime later in another centre in Romania. The UK took on the responsibility to improve English language proficiency among the Ukrainian pilots. In turn, President Zelensky continues to press Ukraine's allies to accelerate the delivery of the F-16s. Speaking ahead of the 2023 NATO Summit in Vilnius, he blamed his international colleagues for the delays: "We have agreed, we have pressed, and we have a coalition of countries that are ready to start training for Ukrainian pilots. [But] there is no schedule for training missions, and they're delaying it. I don't know why they're doing this."
Russia's withdrawal from grain deal aggravates world hunger. Anna Nagurney (The Conversation) writes that "on July 17, 2023, Russia said it was pulling out of the year-old deal, which allowed shipments of grains and other foodstuffs to travel past the Russian naval blockade in the Black Sea. And to make matters worse, over the next two days Russia bombed the Ukrainian grain port of Odesa, destroying over 60,000 tons of grain." Following that development, the prices for wheat, corn, and soybeans surged in the Middle East and Europe. Nagurney argues that before Russia invaded, more than 400 million people had relied on agricultural products shipped from Ukraine. Possessing one-third of the world's most fertile soil and access to the warm seas, Ukraine was a major player in global food supply chains. Russia's invasion interrupted these chains and aggravated the situation with world hunger, which was already complicated due to climate change and the COVID-19 pandemic. World hunger is believed to be at its worst since at least the early 2000s. Speaking of the grain deal, Nagurney writes that Ukraine has exported more than 32 million tons of food products through the Black Sea since August 2022. The major recipients of these products were Ethiopia, Yemen, Afghanistan, and Turkey. "The U.N. has estimated that the grain deal reduced food prices by more than 23% since March 2022." To remain a part of the grain deal, Moscow demanded increases and facilitations for its own food and fertilizer exports. As these demands were not met, Russia declared every merchant vessel heading toward Ukraine's shores its potential military target and destroyed the infrastructure of the Odesa port. Nagurney concludes that the "Russian leader Vladimir Putin is weaponizing food at a time of growing hunger. I only hope goodwill prevails and somehow Ukraine's vital exports are allowed to continue."
Meredith Lee Hill and Doug Palmer (Politico) continue where Anna Nagurney (The Conversation) left off, writing that US officials intend to speak in person with their Chinese counterparts and "discuss the fallout from Russia's withdrawal from a key global food security deal." The discussion may take place in Seattle at the beginning of August, during the 2023 APEC food security ministerial meeting. Hill and Palmer highlight that "Western officials have been hoping Beijing, a key ally of Moscow, can help persuade the Kremlin to rejoin the deal, since China has been the top destination of the grain shipments from Ukraine under the agreement." Earlier on, the US, EU, and Chinese officials publicly called on Russia to extend the agreement and restore key food supplies to poor populations across Africa and the Middle East. That being said, the authors assume it will be hard to influence the Kremlin even if the Chinese side is actively engaged: "Since pulling out from the deal, Moscow has ramped up its missile attacks on key Ukrainian Black Sea ports and threatened to attack any commercial ship en route to the region."
One more article about the importance of the grain deal and the detrimental effects of Russia's stepping out from it was written by Meredith Lee Hill (Politico).