The war's aftereffects will weaken Putin's regime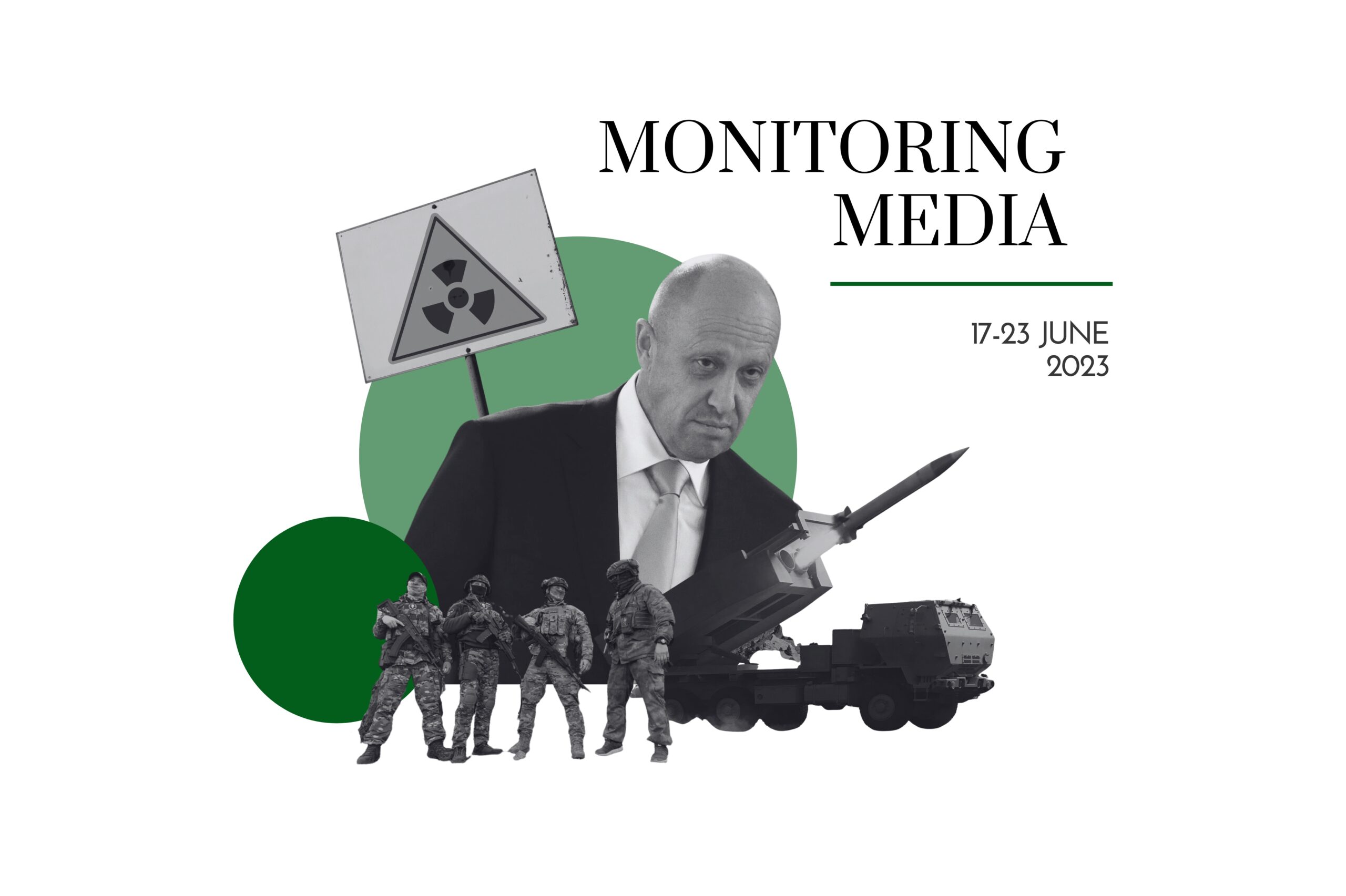 CIUS weekly report on North American media coverage of Ukrainian affairs, 17–23 June 2023
Two publications (The Conversation and Politico) were selected to prepare this report on how the situation in Ukraine has been portrayed in the North American press during the past week (17–23 June 2023). The sample was compiled based on their impact on public opinion as well as on their professional reputation, popularity among the readership, and topical relevance. These two publications represent centrist viewpoints on the political spectrum.
This report covers only the most-read and relevant articles about Ukraine, as ranked by the respective North American publications themselves in the past week. Its scope covers promoted articles on home pages and articles from special sections on Ukraine, with the hashtag #Ukraine, from the paper editions of the publications, and about Ukraine from opinion columns and editorials.
Topics featured in the selected articles:
The world and Ukraine: US may arm Ukraine with cluster munitions; US lawmakers criticize the Pentagon's plan to supply more missiles to Ukraine; Biden's administration speaks against Ukraine's fast-track accession to NATO; Belarus may gain nuclear weapons and become a new security threat for Europe; the world community will increase pressure on Ukraine and Russia to end the war;
Russia at war: Private military companies challenge the authority of Russia's state power; poor progress on the invasion will gradually erode Putin's regime. 
Main arguments:
US decides to supply cluster munitions to Ukraine. Robert Goldman (The Conversation) scrutinizes the legal and moral considerations behind the initiative to provide Ukraine with cluster munitions. They are engineered to scatter bomblets across a wide area; if they do not explode immediately, it will pose a long-lasting danger to the civilian population. 123 world countries signed a ban on the development and deployment of cluster munitions. The US, whose Congress discusses the initiative today, is not a signatory to that ban. Moreover, the US has a recent history of supplying cluster munitions to Saudi Arabia. The main points of Goldman's article are that "these munitions are not in themselves illegal, but their usage can be" and "should the U.S. provide Ukraine with cluster bombs, it could weaken the argument against others doing likewise"—which, consequently, risks leading to the increased illegal deployment of such munitions. To support his points, Goldman highlights that cluster munitions have been widely used by different national armies since 1945. In Ukraine's case, they will be especially effective against dug-in Russian positions. However, the threat remains that not all the bomblets explode on impact and, thus, increase the chances of civilians' being maimed or killed afterward. Also, the use of cluster munitions "in urban settings is particularly problematic, as they cannot be directed at a specific military target." Speaking of international law, neither Ukraine nor Russia signed the ban on cluster munitions and can, therefore, deploy them. That being said, both sides need to follow the supplementary protocols of the Geneva Convention on limiting harm to civilians. Goldman argues that members of the US Congress are worried that Ukraine may use cluster munitions indiscriminately, especially in urban warfare, which is the major moral reason behind their reluctance to send this type of weaponry right away. The case of Saudi Arabia demonstrates that indiscriminate use is easy and tempting to authorize. Goldman concludes: "It is highly unlikely that Ukraine will deliberately use U.S.-supplied cluster munitions to target civilians and their environs. But nonetheless, providing Ukraine with cluster weapons could serve to destigmatize them and runs counter to international efforts to end their use. And that, in turn, could encourage—or excuse—their use by other states that may be less responsible."
US lawmakers target the Pentagon's plan to ramp up missile production for Ukraine. Connor O'Brien and Lee Hudson (Politico) write that "Republicans on the House Appropriations Committee are making significant cuts to an ambitious Pentagon goal to ramp up production of missiles as it seeks to arm Ukraine while preparing for a potential conflict with China." In particular, $2.5 billion of reductions were made to the sections in the Pentagon's budget proposal dealing with missile procurement. This was a major blow to Biden's defence plans and resulted in a "first-ever request by the Pentagon for Congress to fund multiyear purchases of munitions in a bid to kick production into high gear." The official reason for the cut is that the Department of Defense cannot provide realistic cost estimates and "has proceeded with these multiyear procurement requests without a firm understanding of each program's unit cost and production capacity."
US will not treat Ukraine's application for NATO membership as a special case. Giselle Ruhiyyih Ewing (Politico) writes that Biden's administration will not simplify the NATO application procedure for the government in Kyiv. When asked about the possible removal of the Membership Action Plan for Ukraine, Biden himself stated "No. Because they've got to meet the same standards. So we're not going to make it easy." At the same time, the US will continue coordinating and supporting Ukraine's military reforms so that the country becomes a deserving candidate. Ruhiyyih Ewing also writes that Biden's administration has high hopes for the visit of Secretary of State Antony Blinken to Beijing. This visit will become the first since a Chinese spy balloon was shot down off the coast of the Carolinas and will likely improve bilateral relations. In particular, the dialogue between Washington and Beijing to resolve the Russo-Ukrainian war will likely be intensified. 
Belarus may become a nuclear threat to Ukraine and wider Europe. Natalya Chernyshova (The Conversation) opens her article by citing Joe Biden that the threat of Russia using nuclear weapons is "real" and "absolutely irresponsible." The President's comments followed information that Russia was planning to move its nuclear arsenal beyond its borders, to Belarus. If these plans are successful Belarus will become a pillar in Russia's security architecture and instigate new challenges for Europe: "The warheads will be under Russian control… This will require a significant Russian military presence and permanent military bases in Belarus." At the same time, public opinion in Belarus regards the prospect of deployment of nuclear weaponry on national soil very unfavourably: "Researchers from Chatham House… have found that 74% of respondents in their March 2023 survey objected to deployment." Such a negative public opinion is directly connected to the memory of the Chornobyl disaster in 1986: "About 70% of the radioactive fallout landed on [the territory of Belarus], and there is evidence that Moscow deliberately seeded clouds so that radioactive rain fell over Belarus rather than drift towards Moscow." At the same time, the dictator Aliaksandr Lukashenka declared that he would not take into consideration the opinion of ordinary citizens on his state's security. Chernyshova concludes that the military and economic overreliance of Belarus on Russia does not bode anything good for the nation. On top of that, becoming supervised by the Russian command, nuclear facilities in the territory of Belarus may be used against Ukraine, which should provoke powerful retaliation against the aggressor Russia. Finally, the West needs to focus on two policies today: continuing to support Ukraine's war effort and containing the growing threat from Belarus. 
The world's pressure on Ukraine and Russia to find peace will be gradually increasing. Stefan Wolff (The Conversation) discusses the modest results of the African peace mission to Kyiv and Moscow last week. Led by South Africa's president Cyril Ramaphosa, the mission included leaders and senior officials from Congo-Brazzaville, Comoros, Egypt, Senegal, Uganda, and Zambia. Their intention was to encourage a ceasefire between Ukraine and Russia "through negotiations and diplomatic means." Also, "high on the agenda were calls for Ukrainian and Russian grain and fertiliser exports to resume unimpeded and the return of children taken during the conflict." The modest results of the African mission are nothing new, as the earlier initiatives by the Vatican and the peace proposal by Prabowo Subianto, Indonesia's defence minister, failed to bring any breakthrough either. The only peace plan that remains seriously considered by all engaged sides is the Chinese one: "Putin described it as a potential basis for ending the war during his meeting with the Chinese president, Xi Jinping… Zelensky signalled cautious optimism about China's engagement in mediation after his hour-long phone call with Xi." In turn, the West favours Ukraine's peace plan, which was presented in ten points at the G20 summit in Bali. That plan anticipates a complete Russian withdrawal from all occupied Ukrainian territories, including Crimea. Wolff argues that no peace plan has a chance to succeed as long as the objectives of Ukraine and Russia remain irreconcilable. At the same time, the global demand for peace will grow, and the agenda of the African mission serves as evidence. The strongest pressure on Kyiv and Moscow, however, will come from China, India, Brazil, and the US. It seems that Beijing and Washington may even find space for cooperation when trying to mediate the Russo-Ukrainian war. Wolff concludes that "ultimately, the key pressure point—for now, at least—remains military in nature. The more successful Ukraine's counteroffensive, the stronger its position in the run-up to negotiations and at the negotiation table."
Private military companies bringing more chaos to the Russian war effort. Tracey German (The Conversation) highlights the fragile situation in which Kremlin decision-makers have recently found themselves. On the one hand, they need to better control Russia's private military companies and improve coordination between all units on the battlefield. On the other hand, any attempt to establish such control automatically intensifies the rivalry between power factions in Russia. German writes that following the invasion, private military companies (such as Ramzan Kadyrov's Chechen forces, Wagner, Redut, Patriot, and Potok) became legalized in Russia, which allowed them to join the invading army in the Russo-Ukrainian war. Subsequently, such private companies grew in importance because they were self-funded, independently recruited, relatively effective, and never marred governmental statistics with their casualties. At the same time, they have not been rigidly subordinated to the general staff; quite the opposite, Yevgeniy Prigozhin, the leader of the Wagner group, often criticized the official Russian command for their short-sighted decisions. In June 2023, the latter announced that it would bring all irregular forces under its direct control. "The announcement was seen as an indication of Russia's desperate need for manpower and the Kremlin's desire to avoid full-scale mobilization of the population." However, the Wagner group, unlike the Akhmat group of Chechen forces, rejected that initiative, which added more fuel to the animosity between Prigozhin and Sergei Shoigu, the defence minister. German concludes that "This rivalry serves Putin's interests to a certain extent. As long as any potential challengers are busy fighting each other, they pose little threat to his position. But it also hinders the country's combat effectiveness as the fragmentation of forces makes command and control difficult, and means there is little unity of effort."
War's recoil gradually destabilizing the Russian political system. Peter Rutland (The Conversation) writes that the absence of advancements by the Russian army, as well as potential successes of Ukraine's counteroffensive, are spreading anxiety among the Russian elites. To demonstrate that the situation remains under control, on 13 June Putin met military bloggers, some of whom were critical of him. "In answering, he used the term 'war' a number of times – deviating from his line that what is happening in Ukraine is a 'special operation'—and conceded that Ukrainian attacks across the border into Russia had been damaging." On top of that, Putin had to explain his relations with Prigozhin, a defiant nationalist leader of mercenaries and an open critic of the Russian military command. Prigozhin controls a private army of 50,000 soldiers, as well as having built a "business empire [that] includes media outlets, the Internet Research Agency … a movie series, and social media channels that enable him to reach tens of millions of Russians." Putin addressed Prigozhin's critics of inexperienced generals and confirmed that some of them were not fit for the job. Rutland highlights that support for the war among ordinary citizens has recently decreased; however, they still believe that Russia should never be defeated. The elites also share the feeling that the war is going badly and none of the goals of "the special military operation" has been achieved. To change the situation—and resolve the security threat for Russia—some of the elites go so far as to advocate nuclear strikes on Ukraine and Poland. Rutland concludes that Prigozhin "is clearly proving to be a thorn in Putin's side. And the lack of progress toward victory over Ukraine is seemingly making the Russian elite increasingly nervous about how to maintain social stability and stave off political challenges from nationalists who are arguing for more aggressive prosecution of the war."