As Ukrainian troops anxiously await NATO equipment, could Chrystia Freeland be heading to NATO after all?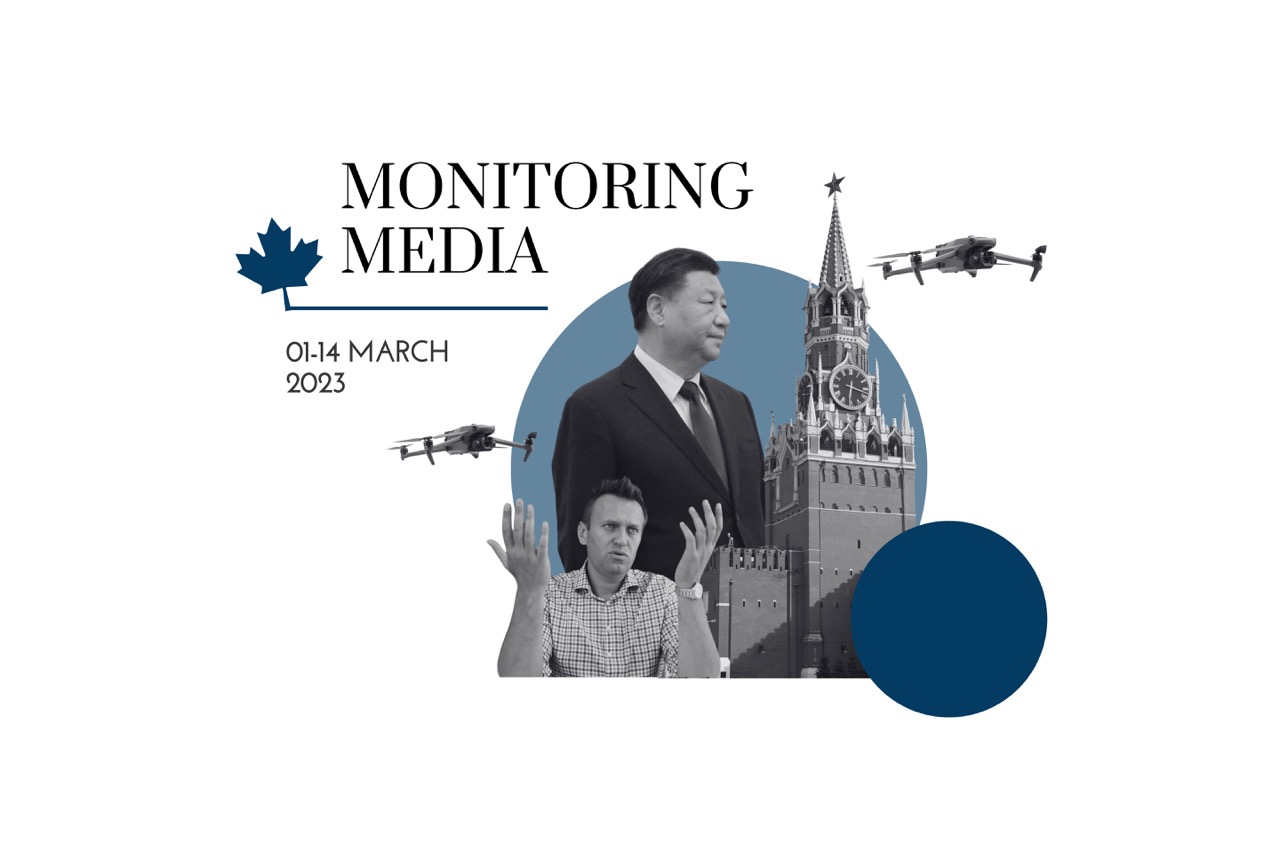 CIUS report on Canadian media coverage of Ukrainian affairs, 1–14 March 2023
Three media outlets — The Globe and Mail, Global News, and Toronto Star — were surveyed to prepare this report on how the situation in Ukraine and Canada's role in the war have been portrayed in Canadian media in the first two weeks of March. The sample of publications was selected based on their impact on public opinion as well as their professional reputation, popularity among readers, and topical relevance. 
This analysis reviews only original reporting about Ukraine produced by the selected publications in the given fourteen-day timeframe. It covers texts from special sections on Ukraine, paper editions of the newsmagazines, and opinion columns and editorials.
Key messages:
Ukrainians didn't support the Oscar-winning Navalny documentary;
Canada's pro-Ukraine Deputy Prime Minister among top contenders for key NATO post;
China needs to find balance in its ties to Russia, Chinese scholar warns soon after escalated invasion.
Main topics:
Canadian volunteer teaches drone operators in Ukraine. Carolyn Kury de Castillo (Global News) highlights the story of an Albertan of Ukrainian origin who is currently volunteering with the army in Ukraine near Donetsk oblast's city of Bakhmut and using his skills to teach others to operate drones.
Yevgen Mykhaylichenko, who teaches autonomous farm equipment operation at Olds College in Alberta, was born in Ukraine near Dnipro city and taught at the Dnipro State Agrarian and Economic University. "Last fall he was able to help Olds College students control a robot in a field near Didsbury, all while he was in the middle of a war," Kury de Castillo reports. Yevgen and others are also collecting money for drones and other equipment, like backpacks and gloves and binoculars.
"You only have one life, and you need to utilize your time to 100 per cent of its potential. It's always a challenge. Are you ready for this?" Kury de Castillo quotes Yevgen, who is set to return to Alberta in late March after his sixth time volunteering in Ukraine.
China cannot be tied to Putin, scholar warns mere days after invasion. Roger Garside (Globe and Mail) in his opinion piece quotes a Chinese scholar and researcher, Hu Wei, who urged Chinese leader Xi Jinping to move away from Russia and toward the United States after Russia launched its full-scale invasion of Ukraine. In his article published in the U.S.-China Perception Monitor, Hu warned that China can't be tied to Russia and must safeguard its own interests. 
He argued that China's top priority is to make strategic adjustments to change the hostile American attitudes towards China and prevent concertedjoint sanctions being imposed on China. However, if China doesn't ride to Russia's rescue and Russia falls to both military defeat and economic disaster, China's Communist Party will have lost its only major ally in the global struggle between democracy and autocracy.
Citing Hu, Garside writes that without China's support, Russia's prospects are dire, and its costly invasion has plunged its budget from a surplus of US$25 billion to a deficit of US$25 billion. Ultimately Hu Wei's policy advice was not adopted, but his predictions have been proved correct.
"If the Ukrainian counteroffensive succeeds, then—in Mr. Hu's words—'the postwar world landscape will be radically altered, the current structure of the United Nations will be reshaped, Russia will no longer be a great power, and the external environment, which China confronts, will become increasingly vicious,'" Garside writes, adding that if "Hu's vision comes to pass, the consequences for Mr. Xi and his regime would be far-reaching."
Oscar-winning Navalny documentary didn't win Ukraine's hearts. Allan Woods (Toronto Star) argues that Ukraine didn't celebrate the Oscar win of the Navalny documentary because there is a "deep and lingering suspicion in the besieged country that the enemy (Alexei Navalny) of its enemy (Russian President Vladimir Putin) is no true friend."
Woods reminds readers that Navalny once accepted the annexation of Crimea by Russia and carried the banner of Russian nationalism. However, his last year of incarceration appears to have changed his stance, as he now advocates for Russia and Ukraine to return to their 1991 borders and end the war crimes committed during the hostilities.
Woods cites Anton Shekhovtsov, who said that few can forgive and forget Navalny's past positions. "His past remarks, as well as the Navalnists' arrogance and disdain, offered little hope that 'the wonderful Russia of the future' would have any respect for Ukraine's sovereignty and territorial integrity," according to Shekhovtsov.
Woods adds that Ukrainians were also disappointed that the Navalny documentary beat out a film about life in an institution for troubled children in eastern Ukraine. He concludes by quoting Ukrainian comedian Anton Tymoshenko, who said following the ceremony that Navalny "deservedly received the Oscar because he perfectly played the role of the opposition in Russia." Some Ukrainians, Woods argues, believe that the suffering of ordinary Ukrainians during the war should not be compared to the suffering of a Russian with a questionable past.
Ukrainian troops anxiously awaiting NATO equipment. Mark MacKinnon (Globe and Mail) writes in his dispatch from Donetsk oblast that Ukrainian Master Sergeant Lishy, who has been driving Soviet-era T-64 tanks in the southeast of the country for the past four months, is excited about the arrival of the Leopard 2 main battle tanks now being delivered by Canada and other NATO allies. 
Lishy describes the new tanks as "battle-changing," citing their vastly superior targeting systems, greater speed, and manoeuvrability. Ukraine expects between 120 and 140 tanks to be delivered by its allies over the coming months, including 31 Abrams tanks from the US and 14 Challenger 2s from the UK. Delivery and training of the tanks and their crews are only the beginning: "Ukraine will also need its allies in the West to continue to supply it with spare parts and ammunition for the vehicles. One of Ukraine's challenges has been keeping its Soviet-era tanks on the battlefield when the parts and ammunition they require are largely manufactured in Russia."
According to MacKinnon, Ukraine is hoping the new armour will enable a counterattack to drive the invading Russian troops out of the roughly 15% of Ukrainian territory they currently hold—a stark reminder of the colossal task Ukrainian defenders are facing.
The collective West can't afford to lose to Russia. Michael Levitt (Toronto Star) writes that as Russia's full-scale invasion enters its second year, the war must not be taken lightly, and support for Ukraine should not waver, as there is so much at stake.
Levitt reminds readers of the price Ukrainians are paying in this war: "Eight million Ukrainians have had to flee their country, with many more displaced internally. On a humanitarian level, we're witnessing a disaster of epic proportions. If there's one thing I've learned from history as a Jew, it's the danger that evil poses when left unchecked."
Levitt argues that the war has shown the importance of allyship, and it is essential for Canada and other democracies to continue supporting Ukraine.
Allowing Ukraine to fall could have dire consequences for the democracy globally: "We shudder to think what could happen to the world order if we were to allow Ukraine to fall. Its suffering presents a moral challenge to all of us. Through Putin's wanton aggression and brutality, he has trampled on basic human rights and the Western values of freedom and democracy. We can't allow his war of attrition to weaken our outrage or cause us to falter in our responsibility to help Ukraine."
Could pro-Ukraine Chrystia Freeland be heading to NATO? Konrad Yakabuski (Globe and Mail) argues that Canada's Deputy Prime Minister and Finance Minister Chrystia Freeland might be a top contender for the job at NATO when current Secretary-General Jens Stoltenberg's term ends this fall. However, there might be a number of obstacles for her to overcome for this idea to succeed. 
Yakabuski writes that at a recent G20 meeting Freeland openly accused Russian officials of being complicit in President Putin's actions in Ukraine: "You are apparatchiks, you are economists—you are not soldiers. But all the same, you also bear personal responsibility for this criminal war. We know who you are and we will not forget."
Whoever gets Stoltenberg's job, according to the author, faces some challenges: "Mr. Stoltenberg's successor nevertheless faces the daunting task of maintaining cohesion among the alliance's 30 member countries (set to grow to 32 with the pending entry of Sweden and Finland) as the war in Ukraine drags on and, once it ends, ensuring NATO does not slip back into its former comatose state."
Even though Freeland's candidacy is apparently backed by Washington, it might not be enough to secure the job, Yakabuski argues, adding that France and Germany "could push for someone from a European Union country who is considered less openly hostile toward Mr. Putin." Another issue, in his opinion, is "Canada's reputation as a NATO scofflaw that flouts its rule to spend at least 2 percent of its gross domestic product on defence."