Ukraine becomes world's leading military tech country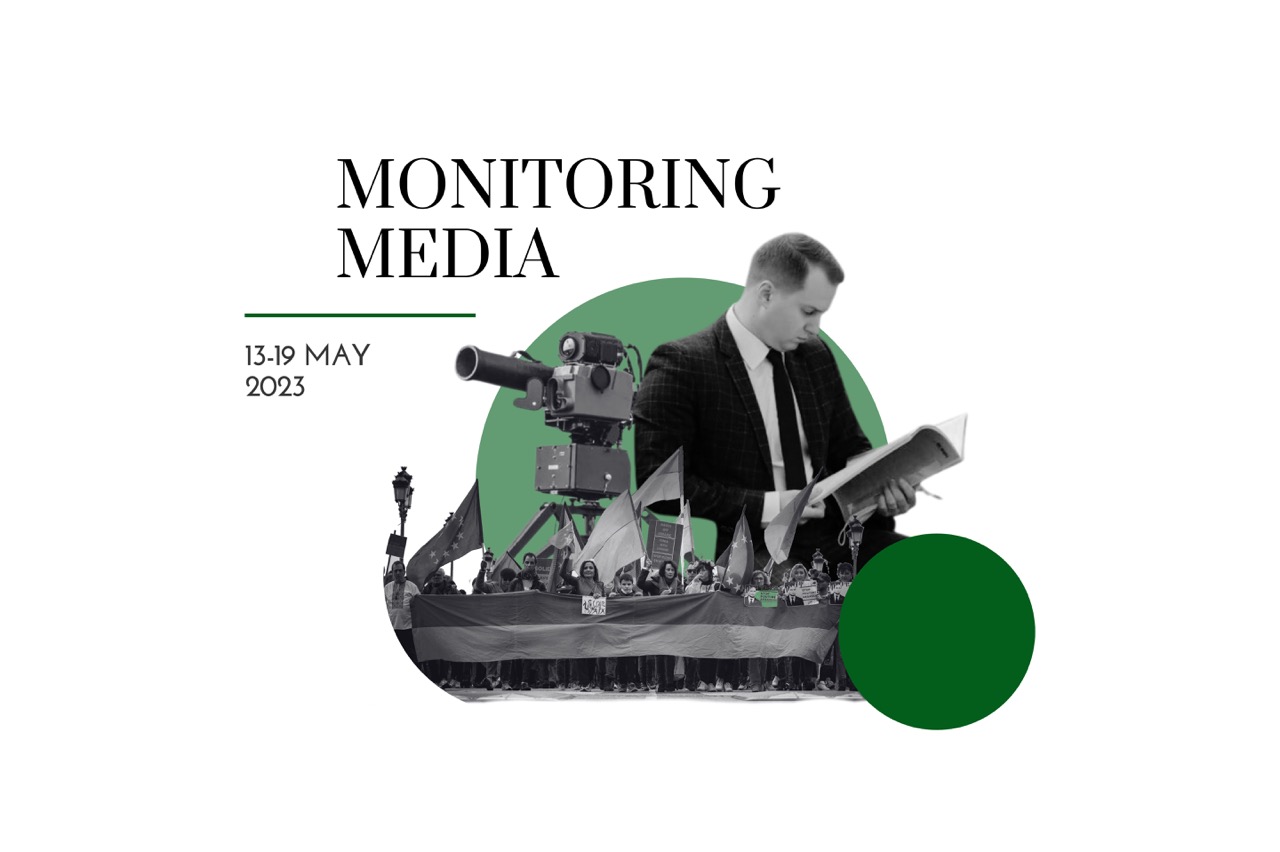 CIUS weekly report on North American media coverage of Ukrainian affairs, 13–19 May 2023
Three publications (Atlantic Council, The New Yorker, and The National Interest) were selected to prepare this report on how the situation in Ukraine has been portrayed in the North American press during the past week (13–19 May 2023). The sample was compiled based on their impact on public opinion as well as on their professional reputation, popularity among the readership, and topical relevance. These three publications represent centrist and conservative viewpoints on the political spectrum.
This report covers only the most-read and relevant articles about Ukraine, as ranked by the respective North American publications themselves in the past week. Its scope covers promoted articles on home pages and articles from special sections on Ukraine, with the hashtag #Ukraine, from the paper editions of the publications, and about Ukraine from opinion columns and editorials.
Topics featured in the selected articles:
Ukraine's current affairs: Ukraine is actively developing high-tech military equipment to fight Russia; Ukraine's fast transatlantic integration will be beneficial for the West;
The world and Ukraine: the West is yet to decide what "Russia's defeat" means; French filmmaker fights back against Western fatigue from the war;
Russia at war: Putin continues to believe in Russia's invincibility; quarrels escalating between the Kremlin and political elites; Russia's farcical rotating presidency on UN Security Council.
Main arguments:
Ukraine perforce becoming one of the world's leading defence tech countries. Mykhailo Fedorov (Atlantic Council) reflects on the importance of new technologies in military conflicts and argues that "the rise of AI, drones, and autonomous control systems is changing the face of warfare and shifting the battlefield to the technological realm. Ukraine is at the cutting edge of this process." Fedorov highlights that Ukraine's response to Russia's artillery bombardments and human wave tactics can only be effective in the realm of asymmetrical creativity and engineering. Ukraine's most recent advancements were secured not least by "its ability to use everything from drone technologies to satellite communications." To continue liberating occupied territories successfully, as well as to preserve human lives, it is vital for Ukraine to constantly and systematically innovate: "We must create an environment where startups flourish and innovative products can move rapidly toward mass production. Creativity must be tailored to the specific needs of the military, with the necessary expertise and state support readily available to turn great ideas into military advantages." Fedorov presents the BRAVE1 defence tech cluster as a successful case of such a systemic innovation. The cluster allows for immediate communication between the major stakeholders in Ukraine's war effort: tech companies, the state, the military, investors, and other potential partners. The cluster also produces expert knowledge and solutions in supply and logistics, unmanned aerial vehicles, cybersecurity, navigation, and medical care. Fedorov opines that Ukraine is slated to benefit from the creativity of its people and become one of the world's leading defence tech countries in future. He concludes that "Ukrainians have already demonstrated to global audiences that they are some of the bravest fighters on the planet. They must now confirm that they are also among the smartest."
Ukraine's membership in EU and NATO is a win-win for the West. Stephen Nix and Zachary Popovich (Atlantic Council) write that the combination of two factors—overwhelming support of Ukrainians for joining the EU and the political will of many EU leaders to make that happen—opens "a unique opportunity to integrate Kyiv within Europe's institutional frameworks and pave the way for a sustainable peace" in Europe. Ukraine's membership in the EU and NATO is a win-win scenario for the West: the transatlantic community will gain a shield against Russian expansionism; freedom and prosperity as democratic values will be reinforced; and Beijing's autocratic influence across the globe will be diminished. If Ukraine is accepted by the West as its full-fledged member, any countries that rely on Russia and China will likely have to reconsider their policies and decision-making. Nix and Popovich highlight that since June 2022, when Ukraine received official EU candidate status, the country has "moved quickly to adopt EU recommendations across various legislative and judicial sectors." For instance, this includes strengthening the Specialized Anti-Corruption Prosecutor's Office. Apart from that, Ukraine's armed forces have been introducing NATO military standards and conducting joint military exercises and training with their Western counterparts since 2014. In the economic sector, the authors recommend that Europe's "earlier strategic projects with Russia such as the Nordstream pipelines should be replaced with new long-term investments across Ukraine's energy, tech, and agricultural sectors." Nix and Popovich conclude that "together, Ukrainians and their European partners have the potential to create not just a free Ukraine but a better future for all of Europe."
The West lacks a vision of Russia's "strategic defeat" in Ukraine. Geoffrey Aronson (The National Interest) writes that in the first days of the full-scale invasion, Western world leaders such as Victoria Neuland or Ursula von der Leyen declared that Russia was an aggressor and should suffer a strategic defeat in Ukraine. In this light, Aronson raises two questions: "What indeed does such high-sounding rhetoric really mean? How will we know when we have arrived at such a solemn and expansive if indefinite objective as Russia's strategic defeat?" Aronson argues that the West, and specifically the US, does not have a vision of strategic defeat. Instead, what they have is simplistic calculations about "how many tanks and artillery shells Washington is sending to Ukraine." Such absence of vision has already led to counterproductive results in Syria, whose President Bashar Assad, instead of being ousted, became unconditionally readmitted to the Arab League. It did not work with Iran either, whose leadership has recently declared a "strategic victory" when it managed to strengthen its regional position. Instead, Putin propagates an imagined interpretation of the West's vision of Russia's strategic defeat—he claims that the West wants "to finish us off. That's exactly how we understand it all. It's about the existence of our country." Aronson highlights that Western betting against the Russian army is a dangerous and costly wager. He also concludes that "to command the strategic defeat of any enemy, let alone a nuclear-armed Russia, is no mean feat…Washington's commitment to Putin's (or is it Russia's?) strategic defeat seeks to leave Russia unable to achieve even the most modest of its war objectives in Ukraine as well as weaken Moscow's sovereign capabilities to resist NATO's expansion. Events of the past year have at least made it clear that Washington's commitment to Russia's strategic defeat has not been accompanied by a U.S. guarantee of Ukraine's 'victory,' however [it is] defined."
French filmmaker's masterpiece popularizes the cause of Ukraine in the West. Melinda Haring and Jacob Heilbrunn (Atlantic Council) write a review on Bernard Henri-Lévy's documentary film Slava Ukraїni (Glory to Ukraine). They define it as "a gritty, intense, and probing examination of the impact of the war, it offers what is surely the ultimate antidote to Ukraine fatigue." A French filmmaker and intellectual, Henri-Lévy journeys across Ukraine and presents the bravery of ordinary citizens to the world. By doing so, he not only ridicules Russia's justification to wage a territorial war, at the same time he essentializes the idea of the uniqueness of Ukraine's nationhood. Henri-Lévy narrates the life stories of an elderly woman whose apartment was hit by a missile in Kyiv, an elderly man who tries to keep on living in his household close to the enemy line, and or iron ore miners who provide raw materials to produce bullet-proof vests. Henri-Lévy sends a message in his film that "it is rare in history to see so many people embody heroism in one place." Haring and Heilbrunn conclude that "this film is anything but neutral and Henri-Lévy makes no attempt to disguise his sympathies." It is also a must to be watched by all people who are interested in the Russo-Ukrainian war.
Putin believes in the flawlessness of his decisions and the invincibility of Russia, which he built. Joshua Yaffa (New Yorker) argues that "one of the seeming paradoxes of the Putin system is the degree to which its figurehead is at once a unitary micromanager and an absent, aloof, and often indecisive leader." The invasion of Ukraine became the epitome of Putin's indecisiveness and inaction. On the one hand, the President continues justifying the war, at least for himself and the closest elites, with his personal grievances toward the West, fantasies about Russia's right to rule over Ukraine, and misplaced confidence in his own army. On the other hand, after the invasion did not bring quick results, Putin switched to inaction and denial of plans going wrong, as well as placed the responsibility for hard decisions on someone else. Putin seems if not to ignore then underestimate the major Russian failures of the last year. In winter, the invading army did not make any notable advancements and today anxiously awaits Ukraine's counteroffensive. At the beginning of May, two drones struck the dome of the Kremlin, which became a symbolic epitome of Russia's vulnerability to the supposedly inferior opponent: "If the Kremlin can't protect its own building, what else isn't it capable of doing?" At the same time, Yevgeny Prigozhin, the head of Russia's Wagner mercenary group, exploded with criticism of the national political and military leadership, accusing them of irresponsibility and almost sabotage of the war effort. Prigozhin threatened that if his units are not provided with ammunition, they would withdraw from the front lines, specifically Bakhmut. None of those crises—winter military underperformance, attacks on the Kremlin, and Prigozhin's outspokenness—triggered a response from Putin. Yaffa concludes that Putin "genuinely believes that Russia is essentially a finished political project—the internal enemies are vanquished, the economy is under state control, the country has been reoriented around a long-term struggle with the West—and it now needs only to sit back and await its spoils." Putin sees himself "not as weak but sagacious and pragmatic, avoiding being pulled into an unplanned escalation while playing for time." However, time is what Russia may not have to spare today.
Russian military leadership bogged down in quarrels during the critical moment of the invasion. Olivia Yanchik (Atlantic Council) addresses a series of outspoken social media attacks by Yevgeny Prigozhin, the head of Russia's Wagner mercenary group, on the country's military leadership last week. She argues that such attacks "point to mounting internal divisions within Putin's invading army as it prepares to face a potentially decisive Ukrainian counteroffensive." In particular, as Prigozhin argues, Russian positions on the front risk collapsing because the Wagner fighters are ignored by the Kremlin, and they lack ammunition. He also was assumed to brand Putin a "happy grandpa" for his excessively optimistic perception of the war situation. The aggressiveness of Prigozhin's rhetoric can be connected with the successes of his Wagner group on the battlefield. Regardless of enormous casualties (above 10,000 personnel killed at Bakhmut alone), the Wagner fighters are the ones who brought Russia grinding advancements in eastern Ukraine. This cannot go unnoticed by the Kremlin strategists and ordinary citizens alike. Yanchik speculates that the reason why Putin remains reluctant to mitigate the growing tension between Russian mercenaries and the regular army is twofold: it may be "a sign of the Russian dictator's own growing weakness," or "a deliberate ploy to position the likes of Defense Minister Shoigu and army chief Gerasimov as scapegoats for a coming defeat." Yanchik concludes that alongside the growth of Prigozhin's political influence, and his aggressive criticism of the Russian command undermine the morale of the rank-and-file soldiers. While the issue of morale has been a plague of the invading army since February 2022, eroding it further on the eve of Ukraine's counteroffensive may come at a dramatically high cost for ordinary Russians; "Prigozhin's frequent public criticism of Russian troops and commanders is unlikely to boost fighting spirit at this critical moment for Putin's invasion."
Russia should never have presided over the UN Security Council. Svenja Kirsch and Vladyslav Wallace (The National Interest) open their article with a statement that "the brazen paradox of an international aggressor presiding over an institution of peace underscores the absurdity of Russia's UNSC [UN Security Council] presidency." Further in their article, Kirsh and Wallace explain that such an absurdity has (at least) three prerequisites. Primarily, following the collapse of the USSR, Russia ascended to its seat at the UNSC automatically, bypassing the decision of the UN General Assembly. This violation of the official procedure should question the legitimacy of Russia's permanent membership in the Security Council, not to mention its recent presidency. Secondly, Russia uses its privileged position to disseminate propaganda and disinformation globally from the UN stage thus transforming the organization into the Kremlin's mouthpiece; "such actions undermine the UN and erode trust in its legitimacy." Thirdly, since February 2022, Russia has regularly misused its veto power at the UNSC to prevent international investigation and conceal its crimes in Ukraine. This is not the first time Russia has been noticed doing so: in 2008 Russia vetoed the UN observers' missions to Georgia and in 2018 to Syria. To deal with these and other absurdities, Kirsh and Wallace argue that the UN members should demonstrate boldness and launch an investigation into Russian ascendance to the UNSC, as well as initiate a chain of profound reforms, particularly related to the obligations and responsibilities of UNSC members. Kirsh and Wallace conclude that "almost eighty years after World War II, the UN faces a similar fate as the League of Nations when it failed to prevent the largest catastrophe of the century. If the UN fails to take meaningful action against Russia, it could spell the end of the institution's legitimacy and encourage similar future UN Charter violations."