Whole world anticipating Ukraine's counteroffensive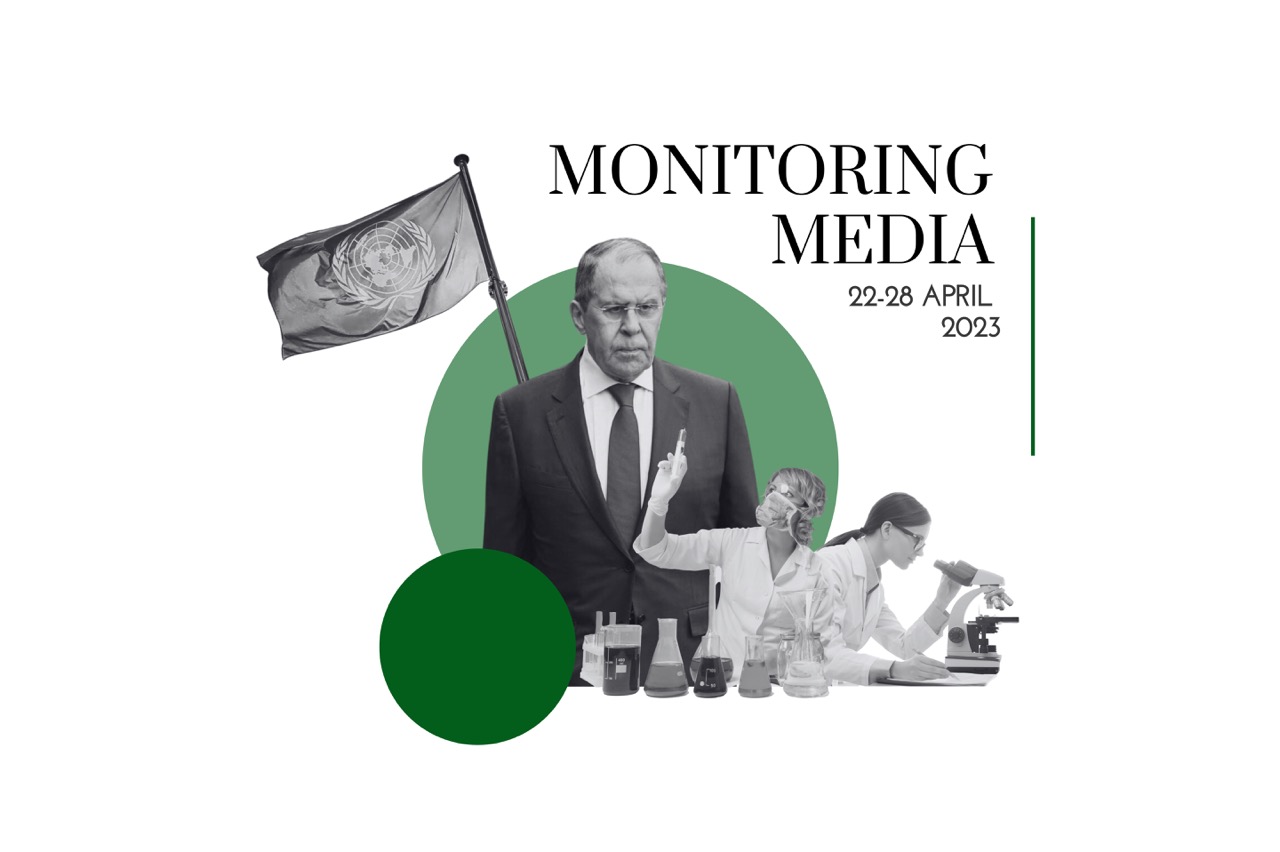 CIUS weekly report on North American media coverage of Ukrainian affairs, 22–28 April 2023
Three publications (The Conversation, Politico, and National Review) were selected to prepare this report on how the situation in Ukraine has been portrayed in the North American press during the past week (22–28 April 2023). The sample was compiled based on their impact on public opinion as well as on their professional reputation, popularity among the readership, and topical relevance. These three publications represent centrist and conservative viewpoints on the political spectrum.
This report covers only the most-read and relevant articles about Ukraine, as ranked by the respective North American publications themselves in the past week. Its scope covers promoted articles on home pages and articles from special sections on Ukraine, with the hashtag #Ukraine, from the paper editions of the publications, and about Ukraine from opinion columns and editorials.
Topics featured in the selected articles:
Ukraine's current affairs: the outcome of Ukraine's counteroffensive will set the political course for many countries across the globe;
The world and Ukraine: US senators insist on arming Ukraine faster; US never had biological laboratories in Ukraine; US encourages South Korea to send weapons to Ukraine; EU and China increasingly coordinating diplomatic efforts to bring Russo-Ukrainian war to an end;
Russia at war: Russia abuses privileged UN stage to communicate its war messages globally.
Main arguments:
Ukraine's counteroffensive is a widely anticipated event of global importance. Christopher Morris (The Conversation) highlights that Ukraine is continually receiving Western weapons and is finishing preparations for a major push (e.g., it has established a bridgehead on the eastern bank of the Dnipro River). For its part, Russia is exhausting its troops in skirmishes of dubious importance around Bakhmut instead of reinforcing its defence lines. Morris argues that switching to defence is politically unacceptable for Putin, who refuses to recognize that Russia lacks the resources to continue its invasion. In this light, the Kremlin's strategy may reside in increasing the cost of war for Western and Southern countries so that they pressure Ukraine to come to peace terms with Russia. However, as Morris warns, "Russian strategy appears to be more about buying time and saving face rather than securing lasting peace. A negotiated stalemate would only last as long as it serves Russian interests." Morris also mentions that very little is known about how and when Ukrainians will start the counteroffensive. According to US intelligence leaks, Ukraine has accumulated enough resources for only a limited and cautious advance. Thus, major breakthroughs are not seen as realistic, but they are miraculously expected—and even critically needed. Morris highlights that current Western-Ukrainian relations have entered a paradoxical stage: "The West wants reassurance that Ukraine can achieve a major military success, while Ukraine needs Western arms and support to do so." If Ukraine fails to meet Western expectations, it is likely that Kyiv's allies and partners will lean toward the Chinese scenario of a political settlement. On the other hand, if Ukraine manages to liberate large swaths of its territory, the Russian and other authoritarian regimes will weaken and become less aggressive.
Success of Ukraine's counteroffensive is instrumental to securing continuous Western support in future. Jonathan Lemire and Alexander Ward (Politico) outline the problematic situation for Biden's administration if Ukraine's counteroffensive does not bring groundbreaking results. If that happens, the White House will be heavily criticized from both "hawks" and "doves" in the US: "One side will say that Ukraine's advances would've worked had the administration given Kyiv everything it asked for, namely longer-range missiles, fighter jets and more air defenses. The other side, administration officials worry, will claim Ukraine's shortcoming proves it can't force Russia out of its territory completely." On top of that, allies in the EU will increase pressure on Washington to speed up the negotiation process between Ukraine and Russia because they are running low on ammunition and funds; they also risk becoming unprepared to address other conflicts that might explode in the region. According to leaked documents in February 2023, as well as the assessment of US intelligence, Ukraine simply does not have the ability to push Russian troops out from where they have been deeply entrenched. Neither do US analysts see a feasible option for Ukraine to destroy the Kerch Bridge and cut off Russian supply lines. That being said, it is believed that Ukraine will inflict considerable damage on the invaders and liberate some of its lands but the outcome of the counteroffensive will likely be less impressive than the Kharkiv oblast operation in September 2022. One of the scenarios that Western allies are discussing is to encourage Ukraine to sign a ceasefire, "leaving the door open…to regain more of its territory at a future date." This scenario will also include some powerful incentives: "perhaps NATO-like security guarantees, economic help from the European Union, more military aid to replenish and bolster Ukraine's forces, and the like."
Senators urge US government to speed up delivery of tanks to Ukraine. Connor O'Brien (Politico) highlights that some Republican and Democratic senators "are frustrated with the Pentagon's months-long timeline for sending US tanks to Ukraine, saying Kyiv needs the capability now." They argue that the planned delivery of 31 Abrams to Ukraine in September 2023 may be too late to push the invaders out. They also argue that if it was a need of the US Army, main battle tanks would be deployed in days, not months. The senators believe that the Abrams delivery delays are rooted in two reasons: primarily, the unwillingness of the Biden administration to send main battle tanks to Ukraine in the early stages of the invasion, and secondarily, the lack of political will to speed up deliveries today. O'Brien also highlights that "the initial January announcement said the US would provide M1A2 tanks, which would need to be overhauled in a process that could take as long as two years. But the Pentagon said in March the military would pull out some of its older M1A1 Abrams that need less refurbishment and would arrive by the fall." The official reason behind the delay is the necessity to refurbish tanks to export specifications, train Ukrainian crews, and satisfy no less urgent contracts (such as the one placed by Poland). 
US never had laboratories in Ukraine and never helped Kyiv develop biological weapons. Jim Geraghty (National Review) writes about the departure of Tucker Carlson from the Fox network in light of his promotion of false information about US biological laboratories in Ukraine. According to Geraghty, Ukraine has always had biological research facilities. As a state with actively functioning seaports, it has to develop infrastructure to study communicable diseases and viruses, especially those spread by ship rats. Some of Ukraine's facilities have always stored different kinds of viruses and bacteria on their shelves. In 2005, the US and Ukraine agreed to develop a program to fund security improvements for Ukraine's research facilities; the US provided $15 million for that aim. The program provoked Russian media outlets into branding Ukraine's research facilities as US biological laboratories. In turn, Carlson was actively spreading this disinformation among the Fox audience. What Carlson did not mention, however, was that "several times last year, United Nations officials have stated they have seen no evidence that Ukraine has a biological weapons program." Geraghty also highlights that "the existence of the labs was never denied, although it is safe to say that neither the US government nor the Ukrainian government wanted to advertise just what pathogens were in those labs." Finally, when the Russian invasion started, the US side did not have enough time and personnel to curtail all their operations and transfer security functions to Ukrainians. Geraghty concludes that "you can either be mad that the US didn't do more in Ukraine after the war started, or you can be mad that the US has a handful of military personnel remaining in the country. But not both!"
Washington encourages South Korea to start sending weapons to Ukraine. Phelim Kine (Politico) analyzes the reasons for and outcomes of the visit of South Korean President Yoon Suk Yeol to Washington and argues that it revolved around three issues: US guarantees to protect South Korea in case of a nuclear attack from Pyongyang, diversification of support to Ukraine, and the technology tug-of-war with China. Addressing Ukraine's issue specifically, Kine writes that "South Korea provided Ukraine $100 million [in 2022] and responded to Biden's call for more such assistance with a $130 million pledge last month to support Kyiv's energy infrastructure and humanitarian needs." However, by mounting pressure on Seoul to start supplying munitions to Ukraine, Washington is contradicting the South Korean Foreign Trade Act (i.e., prohibiting the sale of weapons to countries at war or for re-export to third countries). Kine cites analysts on South Korea, who believe that Seoul may eventually unlock munition exports to Ukraine as it has been "historically good at helping out quietly when the US asks it to."
EU may disagree with Chinese position on Russo-Ukrainian war, but is not rejecting it. Stefan Wolff (The Conversation) writes that the position of Beijing regarding the Russo-Ukrainian war remains ambiguous. On the one hand, Chinese authorities are reiterating their respect for the territorial integrity of all states; on the other hand, they continue reassuring the Kremlin of the "friendship without limits" between the two nations. The situation became even trickier when the Chinese ambassador to France, Lu Shaye, suggested that former Soviet countries "don't have actual status in international law because there is no international agreement to materialize their sovereign status." Beijing was very quick to present these statements as unofficial and even agreed to a long-awaited phone call between Presidents Zelensky and Xi. Wolff argues that the Russo-Ukrainian war has complicated relations between the EU and China. This can be particularly observed in the different attitudes that selected EU member-states demonstrate toward China's peace initiatives, as well as their fluctuating trust in the US leadership. Wolff also highlights that EU members are divided on how to address the war in the immediate future: there are governments "who urge the West to double down and dramatically increase its military support for Ukraine"; there also are those who encourage to "move the contest from the battlefield to the negotiation table." One government that would prefer the war to be settled through negotiations is French. President Macron has been noticed communicating closely with President Xi about the Chinese mediating in the Russo-Ukrainian war. The fact of such communication not only demonstrates the EU's military weakness to help Ukraine win by arming it but also the fear of damage if Russia decides to escalate further and the importance of China in the foreign policy of EU member-states. 
Beijing's stakes in the Russo-Ukrainian war are high and risky. Stefan Wolff and Tetyana Malyarenko (The Conversation) write about the Chinese interest in the Russo-Ukrainian war and highlight a few important issues. First, the fact that Presidents Xi and Zelensky had a phone conversation recently symbolizes that "China is getting serious with its mediation efforts and judges the time to be right for this, not least because of increasing tensions in the Western alliance and doubts about the success of a Ukrainian counteroffensive." Second, Beijing's successful mediation of the conflict and its pacification, if it happens, would reinforce Chinese-EU relations: a direct threat to European security would be resolved with the assistance of a major Asian actor. Third, China needs to keep Russia at its side in its competition with the US, and therefore the "friendship without limits" will not cease; at the same time, China will try using the war to come to better terms with the EU. Finally, Beijing's contribution to a successful resolution of the war may initiate the construction of a new Eurasian security architecture, with Russia's aggressiveness kept at bay by the EU's economic, NATO's military, and Chinese political influence. Wolff and Malyarenko conclude that Beijing's stakes in the Russo-Ukrainian war are high and risky. To build a new Eurasian security architecture as well as reshape the existing international sovereignty-based order, China will need to "find a way to square the circle between Moscow's internationally isolated insistence that its illegal war and land grab in Ukraine be recognised and Kyiv's rightful demand that its borders not be subject to change by force."
Russia uses UN as a global stage to promote its war narratives . Nahal Toosi (Politico) opens her expanded article with a statement that "the United Nations is accustomed to oddity, absurdity, and a certain amount of hypocrisy. But the eye-rolling is hitting epic levels this month as Russia has taken over the rotating presidency of the UN Security Council and used it to defend its war on Ukraine." In particular, Russia as the current agenda-setter in the Security Council, the most powerful UN decision-making body, tries to manage the discussions in order to justify its crimes in Ukraine. Russia explains the abductions of children as a protective measure to save them from war, as well as accuses Western states of igniting the conflict by sending weapons to Kyiv. Russia also tries to spread war fatigue globally and brands Western arguments as "old and tired." Toosi highlights that "the council presidency is an ideal platform for Russia as it tries to convince many countries to either support its war on Ukraine or avoid taking any meaningful action to undermine Moscow." In this light, US and other diplomats face a tricky dilemma: "Ignoring Russia risks allowing its version of reality to spread unchallenged; debating it risks drawing more attention to the Russian view." Toosi dedicates a substantial part of her article to explaining how Western and Russian diplomats use official and non-official instruments to undermine one another's narratives as well as mitigate diplomatic provocations. Toosi concludes that regardless of its efforts, "Moscow has found itself in many ways isolated at the United Nations over the past year. The United States and its allies have maneuvered around the Security Council, turning to the broader UN General Assembly to push through multiple resolutions condemning Russia with more than 140 votes."
Russia's representative makes a political show at the UN. Jimmy Quinn (National Review) writes about the press conference of Russian Foreign Minister Sergei Lavrov in New York on 25 April as well as his performance at the UN Security Council. On both occasions the minister used the global stage to voice numerous Russia-propagated misconceptions, even conspiracy theories. Primarily, Lavrov "sought to convince the world that the West's 'golden billion' is an arrogant bloc that seeks to subjugate the rest of the world's seven billion people, reprising a theory recently pushed by Vladimir Putin to justify Russia's brutal invasion of Ukraine." Secondly, Lavrov accused the Western world of instigating WW III through NATO "expansion" in Central and Eastern Europe as well as its deliveries of weapons to Ukraine. Thirdly, he put forward a theory of "effective multilateralism," which seems to be an attempt by Russia, China, and other authoritarian regimes to defend their aggressive foreign policies and avoid criticism of human rights violations. Fourthly, he justified the arrest of Wall Street Journal reporter Evan Gershkovich by stating that "journalists are as capable as anyone else of committing crimes by receiving Russian state secrets." Fifthly, Lavrov accused the US of instigating the most recent military conflict in Sudan. Finally, Lavrov expressed regret that the US did not approve visas for Russian state media organs to accompany him during the visit, as well that the Fox host Tucker Carlson left the network: "The American information space has suffered as a result." Quinn deduces regarding Lavrov's performance that the minister used specific rhetoric to bring developing countries to the Russian side by exposing alleged Western hypocrisy.