Liberation of Crimea feasible with smart planning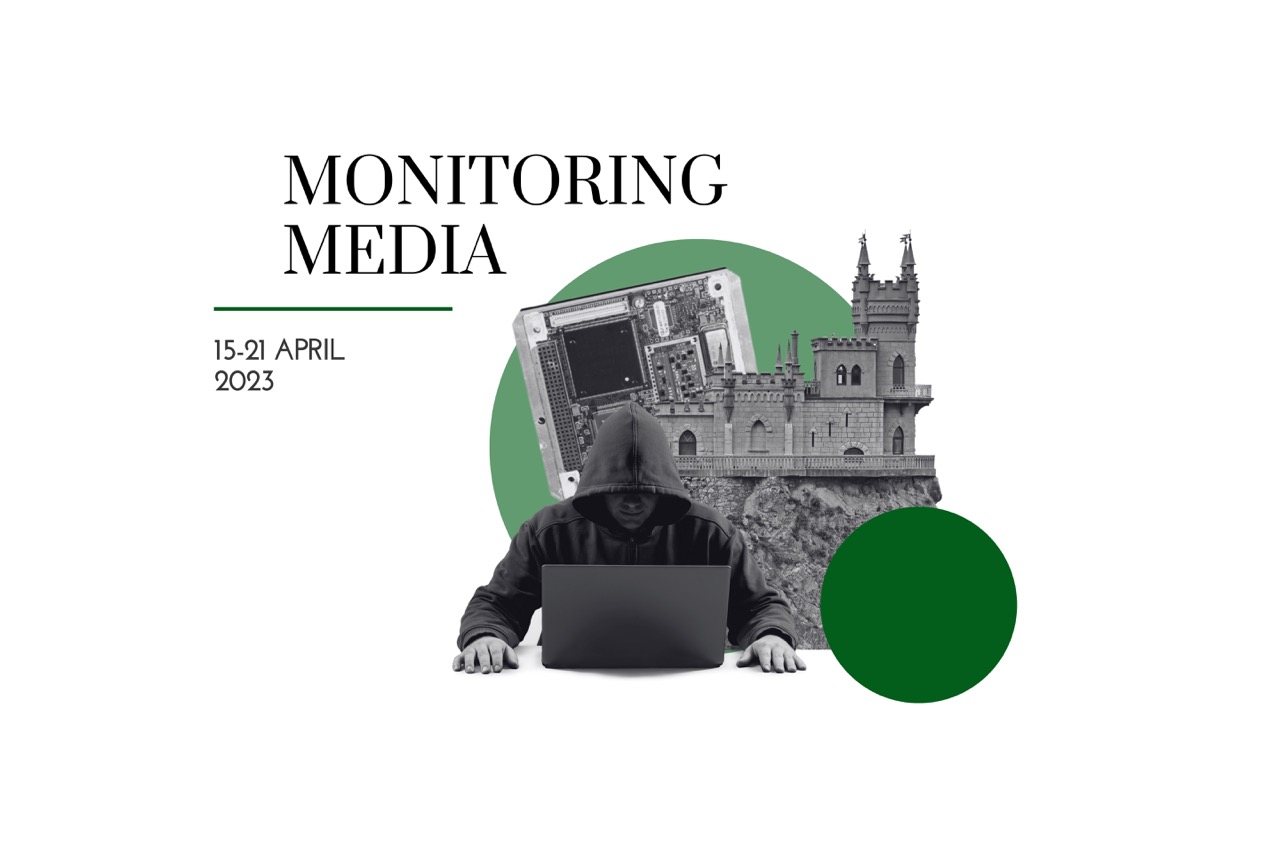 CIUS weekly report on North American media coverage of Ukrainian affairs, 15–21 April 2023
Three publications (Atlantic Council, The New York Times, and The National Interest) were selected to prepare this report on how the situation in Ukraine has been portrayed in the North American press during the past week (15–21 April 2023). The sample was compiled based on their impact on public opinion as well as on their professional reputation, popularity among the readership, and topical relevance. These three publications represent centrist and conservative viewpoints on the political spectrum.
This report covers only the most-read and relevant articles about Ukraine, as ranked by the respective North American publications themselves in the past week. Its scope covers promoted articles on home pages and articles from special sections on Ukraine, with the hashtag #Ukraine, from the paper editions of the publications, and about Ukraine from opinion columns and editorials.
Topics featured in the selected articles:
Ukraine's current affairs: Using precision weaponry, Ukraine can boldly pursue the liberation of Crimea; Ukrainians capably defending themselves against Russia's cyber-attacks; 
The world and Ukraine: EU dealing with negative outcomes from opening its borders to Ukraine's food exports; Hungarian officials are not as pro-Russian as they may sound;
Russia at war: Russians are smuggling Western technologies, bypassing sanctions; many Russian prisoner soldiers are carrying infectious diseases; Russia is an empire that does not want to revise its destructive legacy; passive acceptance of the arrest of Kara-Murza illustrates political immaturity of Russian society. 
Main arguments:
Liberating Crime is not an impossible feat for Ukraine. Mariia Zolkina (Atlantic Council) argues that no lasting peace with Putin's Russia is attainable until Ukraine de-occupies Crimea, notwithstanding dissuasions today from what appears to be a very challenging military campaign. Zolkina highlights that "some skeptics question if Ukraine has the military capabilities to successfully liberate the Russian-occupied peninsula; others claim Crimea's personal importance to Putin makes it a red line for the Russian dictator that could spark a nuclear escalation." While recognizing these as valid points, Zolkina shines a spotlight on the generally uncritical approach of Western analysts to the Crimean case—particularly their plain fear of Russia's nuclear sabre-rattling, their desire to help Putin save face, their belief in the importance of Crimea for Putin's political legacy, and their alignment with narratives that the peninsula has mentally always been a part of Russia. Emotions aside, however, if it is allowed to continue unabated, the West's tacit consent to Russia's ongoing occupation of Crimea will do more harm than good. Primarily, the peninsula would remain as a command post and military base for new Russian attacks on Ukraine's south. Secondly, the Russian navy in Crimea would continue harassing trade and travel in the Black Sea littoral. Thirdly, Russia would set a precedent and proceed with more nuclear threats to obtain new territorial concessions from Ukraine. Zolkina also notes that liberating Crimea would not necessarily require a massive on-land operation but rather a series of targeted missile strikes to make the Russian military presence unsustainable. Zolkina concludes that to end the war, Ukraine needs to be successful in its forthcoming counteroffensive and acquire long-range missile capabilities in order to hit targets in the Crimean interior. These two factors should convince Russia to abandon its maximalist agenda and seek genuine peace with Ukraine. 
Ukrainians have learned to defend themselves against Russia's cyber-attacks. Vera Mironova (Atlantic Council) writes that most military commentators today are focusing on the trench warfare in the Russo-Ukrainian war and largely overlooking the battle for cyber dominance, which is highly innovative and offers insights into the future of international aggression. Since the Euromaidan revolution, Ukraine has been on the defensive in the cyber war with Russia. It withstood the attempts to falsify the results of the 2014 presidential election (where Poroshenko prevailed), the attack on Ukraine's energy infrastructure in 2015, and the "NotPetya" malware attack in 2017. Before the full-scale invasion of 2022, Russia sought to access Ukraine's government IT platforms and download information about military and law enforcement officers. However, Ukraine's cyber defenders claim that they have already identified all the hacks and tricks that Russia uses to inflict harm: "They tried phishing attacks, but this only resulted in our colleagues having to work two extra hours to block them. They have also created fake interfaces to gain passwords and login details." The Delta situational awareness system, developed in Ukraine, successfully detects and blocks unauthorized users from accessing data. Another objective factor that works in Ukraine's favour is the fast-changing situation on the battlefield—which quickly makes any information outdated. Mironova writes that Ukrainians are launching attacks against Russia too, but they are not very effective due to the "comparatively low level of digitalization in modern Russian society." Ukraine's major achievements so far have been downloading the financial data of Russian military personnel and cartographic information related to the invasion, as well as hacking Russian television and radio broadcasts with true messages about the war. Mironova also discusses the phenomenon of the "IT Army of Ukraine," which counts 200,000 volunteers from all across the globe. While being effective in their attacks, these volunteers often publish Russian secret documents for free access, which discredits the benefits of possessing such information in the first place. Mironova concludes that "the cyber front of the Russo-Ukrainian War is highly dynamic and continues to evolve. With a combination of state and non-state actors, it is a vast and complex battlefield full of gray zones and new frontiers." Developments in the Russo-Ukrainian cyber war will provide guidelines for future conflicts of a similar nature.  
Following controversial results, EU revises its policy regarding Ukraine's grain exports. Patricia Cohen (New York Times) writes that Ukraine's grain exports through the EU railway system has provoked dissatisfaction among local farmers. In particular, Poland and Hungary have blocked the entry of farm products from Ukraine because excessive volumes have led to oversupply in their national markets and cheap prices have undercut local businesses. At the same time, in the UK and Spain, not to mention West and Central African countries, demand for food has increased along with prices. Cohen writes that "with sea shipments from Ukrainian ports blocked or restricted by Russian forces, the European Union suspended tariffs and quotas on food from Ukraine and rushed to transport as much as possible by rail and truck through neighboring countries." This solution worked, at least to some degree, easing anxieties over food shortages in the most vulnerable places on Earth. However, at the same time EU farmers have found themselves in a position where they unexpectedly need to compete with Ukrainian manufacturers and the changed price formation system. The biggest hit landed on Polish and Hungarian farmers, who launched a wave of national protests and made their governments introduce unilateral bans on imported Ukrainian food. To mitigate the concerns of the five Eastern and Central European countries, the EU agreed to provide $110 million to compensate farmers. While the effectiveness of such compensation is yet to be seen, Hungarian officials are considering adding eggs, poultry, and honey from Ukraine to the list of blocked products. This complication comes at an unfortunate moment, because the UN-brokered deal between Ukraine, Turkey, and Russia on the export of grain through the Black Sea is set to expire on 18 May. 
Hungarian officials may sound pro-Russian, but their actions prove otherwise. Logan C. West (The National Interest) defends the recent policies of the government in Budapest in the face of Russian aggression and highlights that Hungary has learned its lessons from the war and is adjusting to the new security environment. In particular, national military expenditures have significantly increased, reaching $1.4 billion. The German military contractor Rheinmetall has begun production of the Lynx infantry fighting vehicle in Hungary, which is expected to replace the ubiquitous Bradleys. Being a prime logistics node for NATO members in Europe, Hungary is constantly upgrading its transportation infrastructure. Finally, Hungarian infantry constitutes a critical defensive line on NATO's eastern flank, and its air force regularly patrols the Baltic region. West states that "all of these developments seem to escape Hungary's fierce critics, who continue to paint the country as a traitor to the West rather than a crucial pillar for its defense due to its divergence from the collective message-signaling opposition to Russia." Furthermore, West adds, Hungary has voted in favour of all EU sanctions packages, regardless of their belief that they would not achieve the intended goal. As for humanitarian aid, Hungary is believed to have granted asylum to 200,000 Ukrainians and allowed over two million of them to enter its territory while migrating further into Europe. The author concludes that "implementing a policy of conformity and 'purification' within NATO will only widen fissures between member states. To avoid that, the West must prioritize unity along with tangible accomplishments like Hungary's growing military industry and support to Ukraine's exiles while setting aside the virtue-signaling that its detractors espouse."
Russia is experiencing hardship, yet still maintains access to Western know-how. Ana Swanson and Matina Stevis-Gridneff (New York Times) write that Russia is continuing to import Western weapons technology, which raises many issues about the efficacy of sanctions: "As Ukraine tries to repel Russia from its territory, the United States and its allies have been fighting a parallel battle to keep the chips needed for weapons systems, drones, and tanks out of Russian hands." Swanson and Stevis-Gridneff acknowledge that the capacity of the aggressor's military industry has shrunk, but Russia has adapted to the restrictions and gained circuitous access to many electronic components. One of the adaptation strategies resides in substituting lower-quality or counterfeit parts for sanctioned originals, which makes its weapons less accurate. Another strategy is building supply chains with third countries which are friendly to both Russia and the West and can become intermediaries. Finally, Russian military engineers have learned to extract needed chips from appliances, such as toasters, hair dryers, and microwaves. Apart from that, the authors highlight that "so far, the Russian military appears to have been relying on a large stockpile of electronics and weaponry it accumulated before the invasion." Swanson and Stevis-Gridneff conclude that the US and EU are diligently focused on isolating Russia from global chip markets and technological chains. 
Many Russian prisoner soldiers are carriers of H.I.V., hepatitis C, and tuberculosis. Andrew E. Kramer (New York Times) interviews Russian soldiers at Ukrainian detention centers and brings to light previously unknown aspects of the war. He estimates that around 20 percent of Russian prisoner recruits are H.I.V. positive, who are "offered hope, with the promise of anti-viral medications if they agree to fight." In this way, fighting on the battlefield becomes less life-threatening for these people than remaining in prison, where medications are of dubious quality or irregular supply. One of the interviewees states that many prisoners are recruited with no military experience and are deployed to the front after only two weeks of training. According to Kramer, "units of former prisoners have made up the bulk of forces in Russia's attack on Bakhmut, one of the bloodiest and longest-running battles in the war. Beginning on a wide scale last summer, inmates were promised pardons for going into combat." Russian prisoner soldiers with H.I.V. or hepatitis C are supposed to wear red or white (or both) rubber wristbands in order to publicly label their health condition; then, if they are wounded, they might undergo appropriate treatment. However, sometimes these wristbands delay first aid, as medics need to take extra care in order to avoid becoming exposed to the infected blood. The wristbands could also be ignored, and then soldiers with H.I.V. or hepatitis C end up hospitalized in general wards, endangering the general population. In active skirmish situations wristbands actually make little sense, as combatants have almost no time to notice them. Kramer writes, "since the summer, about 50,000 prisoners have signed up to fight in Ukraine, roughly 10 percent of the incarcerated population [in Russia]… About a third of the total inmate population [in Russia] has at least one of those three infections [H.I.V., hepatitis C, and tuberculosis]."
Russia is an empire in its twilight that is trying to revive itself. Richard Cashman (Atlantic Council) argues that Putin's full-scale invasion of Ukraine should be best understood as the latest stage in the unfinished collapse of the Soviet Union and as part of Russia's historic retreat from being an empire. The imperial structure and mentality of the current Russian Federation remain one of the reasons why it has been impossible to fully integrate the state into the European diplomatic and security space since the 1990s: "Recognizing modern Russia's imperial identity will not make policy and diplomacy any easier, but it should lead to fewer illusions." Russian kleptocratic neo-imperialism has the following features: elected regional elites are neither representative nor influential; economic flows continue moving from peripheries to the metropolis; ethnic minorities from the peripheries constitute the bulk of the Russian military; post-Soviet states continue being regarded as territories of Russia's "privileged interest"; imperial narratives uncritically circulate across society, particularly since Putin first became president in 2000; and Russians still believe that their state cannot be defeated on the battlefield. As of today, according to Cashman, Russia can best be defined as an empire in its twilight. Nevertheless, Kremlin decision-makers are striving to implement "all policy with the aim of reversing rather than managing Russia's imperial decline." To speed up the process of de-imperialization, the international community should continue delegitimizing Putin and his henchmen (e.g., with new warrants from international courts); Western academia should decolonize Russian, Eurasian, and Slavonic studies; Western governments should refute the image of Russia as an anti-imperial centre of power among countries of the Global South; and Russian citizens should reform their governance mechanisms, making them more representative, and genuinely recognize the right of former states of the Soviet bloc to self-determination. 
Russians' passivity in the face of war today may lead to long-lasting retribution after the fighting is over. Arseniy Yatsenyuk, a former Prime Minister of Ukraine, declares in the Atlantic Council that the 25-year prison sentence for Vladimir Kara-Murza in Russia for speaking the truth about the invasion of Ukraine is a major milestone in that nation's descent into Stalinism. Yatsenyuk praises Kara-Murza for his staunch position and for speaking against the Kremlin's narratives in spite of the obvious threats to his personal safety. The prison sentence has become "the harshest act of retribution so far" that the Russian courts have imposed on a member of the opposition and resembles "the purges and show trials of the totalitarian Stalin era." According to Yatsenyuk, the Kremlin is sending an unequivocal message to the Russian population that nobody and nothing is safe, especially people who dare to criticize Moscow's political objectives. Fear is one reason why Russians do not protest against the war, regardless of all the crimes they've seen committed in Mariupol and Bakhmut. Yatsenyuk concludes that Russians "must now understand that unless they rise up to oppose the Kremlin, they will pay for it for the rest of their lives."