Russia uses Iranian drones in attempt to curtail Ukraine's initiative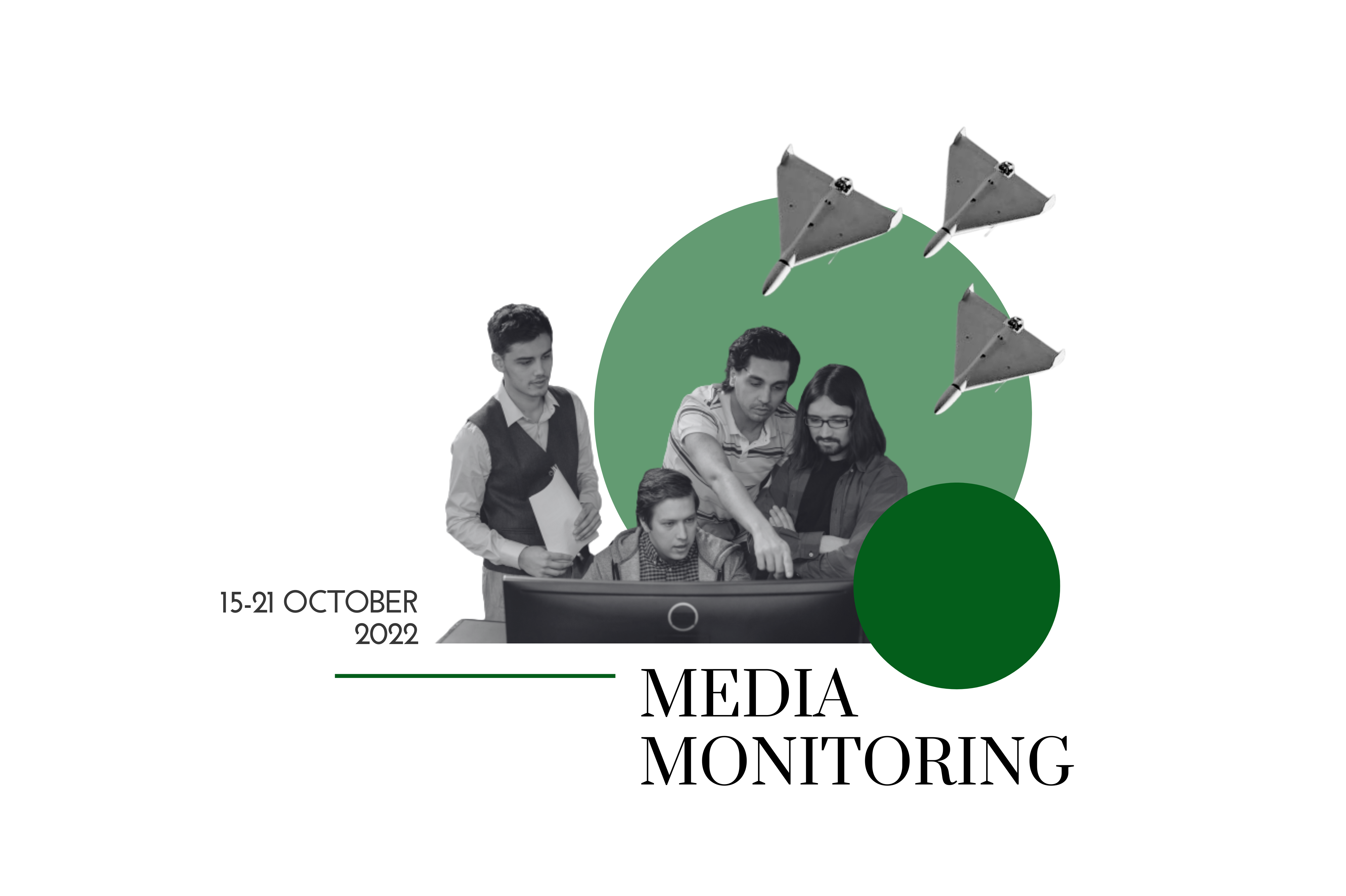 CIUS weekly report on media coverage of Ukrainian affairs, 15–21 October 2022
Three publications (The Wall Street Journal, The New York Times, and Atlantic Council) were selected to prepare this report on how the situation in Ukraine has been portrayed in the press during the past week (15–21 October 2022). The sample was compiled based on their impact on public opinion as well as on their professional reputation, popularity among the readership, and topical relevance. These three publications represent centrist and liberal viewpoints on the political spectrum.
This report covers only the most-read and relevant articles about Ukraine, as ranked by the respective publications themselves in the past week. Its scope covers promoted articles on home pages and articles from special sections on Ukraine, with the hashtag #Ukraine, from the paper editions of the publications, and about Ukraine from opinion columns and editorials.
Topics featured in the selected articles:
Ukraine's current affairs: Ukraine has gained the initiative on the battlefield and continues pressing Russia; Ukraine's long-term security depends on its postwar economic and military buildup; Ukraine's energy infrastructure is badly damaged on the cusp of winter; Ukraine's agricultural exports and IT sector are showing growth; Ukraine should foster its democratic tradition today and after the war;
The world and Ukraine: global security would change irreversibly and profoundly the moment Russia uses nuclear weapons; businessman Elon Musk will continue supporting Ukraine in its war effort;
Russia and Ukraine: Russia's inability to gain air superiority in Ukraine leads to its defeats on the ground; Russia uses Iranian-made unmanned aerial vehicles (UAVs) to strike civilian and military targets in Ukraine; Iranian instructors help Russians use their UAVs more effеctively; Russia's war crimes in the Kharkiv region appear to be worse than those in Bucha.
Main points:
Ukraine possesses the initiative and is dictating the war developments, but Russia can still fight back. Julian E. Barnes (New York Times) refers to US intelligence data and argues that a window of opportunity has opened up for Ukraine to liberate even more lands from Russian occupation "if it can continue its push in the south and the northeast before muddy ground and cloud cover force the opposing armies to pause and regroup." Due to their low morale, some individual Russian units may collapse under Ukraine's pressure, especially in the Kherson region. However, as Barnes argues, the war will be a prolonged one and its dynamics will significantly depend on the following variables: "more difficult fighting conditions in December, the extent to which President Vladimir V. Putin is willing to escalate the fight, whether Europe's unity can be maintained this winter as energy prices soar, and the potentially changing political environment in the United States that could result in a decrease of military support to Ukraine." The military experts whom Barnes interviewed for his article emphasize that the war initiative belongs to the Ukrainians today, yet a complete collapse of the Russian army any time soon is hardly imaginable; in turn, due to problems with logistics, manpower, and equipment Russia will not launch any major offensive for the next couple of months. That being said, Barnes puts its bluntly: "Even if it is losing momentum now, Russia, according to American officials and military analysts, has not yet lost the war."
Ukraine's security will not be set in stone even after Russia is defeated. Taras Kuzio (Atlantic Council) makes several important points: the future of the war is either a prolonged stalemate or Ukraine's victory; Russia will continue posing an existential threat to Ukrainians for decades to come; the international community should deal with its war fatigue and support Ukraine at every step. Kuzio writes that the prevailing majority of Ukrainians agree they will continue the struggle up to the moment when their state restores sovereignty within its 1991 borders. Moreover, "Ukraine's complete liberation remains an ambitious goal, but it is no longer confined to the realms of fantasy," as proved by the counteroffensives in September 2022. Kuzio highlights that if Ukraine is successful in liberating its territories, Putin's regime will crumble: "It is hard to imagine the strongman Russian ruler surviving such a disastrous defeat." However, whoever comes in Putin's stead will likely be "a nationalist figure from within the ranks of the current elite," albeit with more pragmatic views on relations with Ukraine. The new leader will also be very reluctant to hand over Putin and his henchmen to international prosecutors or authorize payment of reparations to Ukraine. In their turn, ordinary Russians today "do not believe they are morally responsible for the deaths of Ukrainian civilians" and are not likely to acknowledge their guilt in the future. Post-Putin Russia will be no less hostile toward Ukraine, although likely more cautious. Kuzio concludes that "in order to prevent another Russian invasion, Ukraine must transform itself and become a European Israel." To perform this task, Euro-Atlantic integration and maintaining the sympathies of Western societies are pivotal.
Ukraine faces a hard winter, with its energy infrastructure hit hard by Russia. Suriya Jayanti (Atlantic Council) opines that having no advancements on the battlefield, Russia decided to inflict damage on Ukraine's civilians and their living conditions in order to diminish the nationwide resistance to the invading troops. Russia launched a wave of missiles on 10–11 October that targeted "Ukrainian power stations, power lines, heating plants, and other energy targets. On the first day of the Russian blitz, Ukrainian Energy Minister Herman [Halushchenko] reported that 30% of Ukraine's energy infrastructure was hit." To remedy the damage, apart from immediate repairs, Ukraine's energy operators have resorted to emergency brownouts and bans on energy exports to the EU, as well as called on citizens to reduce their electricity consumption. Jayanti states that consumption in Ukraine has naturally decreased by 35 per cent since February 2022, as millions of people left their homes and hundreds of homes were destroyed. Jayanti concludes that "Ukraine urgently needs technical support and financial aid to secure energy sources for the winter." For that reason, it is critical for both Ukraine's citizens and their government to conserve energy, with the EU's backing as well.
Ukraine's agricultural product exports have returned almost to pre-invasion levels. Alistair MacDonald (Wall Street Journal) writes that in the previous month Ukraine "shipped 6.9 million metric tons of grain, vegetables, and edible oils last month, almost matching the 7.1 million tons exported in September last year." This increase in exports helped to "ease pressure on global food prices and offers a bright spot in Kyiv's fight against Russia." At the same time, these positive dynamics could easily be reversed, as Ukraine's export capacities directly depend on Russia refraining from attacking merchant vessels in the Black Sea. Apart from this, in the face of wartime uncertainty, a deficit of fertilizers, and logistical backlogs Ukraine's farmers planted much fewer crops this year compared to last. Russia's occupation of huge tracts of Ukrainian farmland will also significantly affect food production volumes in 2023. That being said, with Ukraine's return to international markets the prices of agricultural goods have markedly decreased (though not yet reached pre-invasion levels) and overall global food demand has diminished.
Ukrainian IT sector thriving despite the war but can do even better. Dathan Duplichen (Atlantic Council) argues that regardless of the "devastating impact [of the war] on the Ukrainian economy, with the latest World Bank forecast predicting Ukrainian GDP will contract by an eye-watering 35% in 2022…Ukraine's tech sector is a rare source of optimism." In the first six months of 2022 the IT industry's export revenues increased by 23 per cent and constituted 3.74 billion USD. Before the COVID-19 pandemic, by 2020 the IT sector was accounting for 8.3 per cent of Ukraine's exports overall and significantly contributing to the growth of the national GDP. The average monthly salary earned by an IT specialist is six times higher than the national average—3,000 USD against 500 USD. Also, Ukraine is one of the few countries in the world to have a specialized Ministry of Digital Transformation. On the other hand, Duplichen notes that to reach its full potential Ukraine's IT sector requires "a suitable legal framework," a major shift in business models from outsourcing to national service, and massive recruitment of qualified specialists. The latter has become very challenging after February 2022, as not all local or international talents want to settle in a country at war.
Ukraine should remain loyal to its democratic tradition durings and after the war. Peter Erben and Gio Kobakhidze (Atlantic Council) argue that Russia's invasion of Ukraine "is not only a criminal assault against a sovereign country, but against democracy everywhere." Following the 2014 Revolution of Dignity, Ukraine became a regional trendsetter in the movement to uphold civil liberties and freedoms, which also brought it directly into authoritarian Putin's cross-hairs. Erben and Kobakhidze emphasize that while Ukrainian armed forces continue to liberate the country, the restoration of Kyiv's rule on de-occupied lands must also be accompanied by the restoration of democratic practices. The major marker of Ukraine upholding its democratic traditions will be post-war elections; in particular they should be seen to be competitive and transparent: "safeguarding, institutionalizing, and expanding Ukraine's electoral [process] is pivotal to realizing the nation's Euro-Atlantic ambitions and is a foundational prerequisite for all other democratic reforms. Progress in this area will strengthen international confidence in Ukraine and prove that democracy is sustainable even in wartime and during the postwar recovery period." Another marker will be the smoothness and consistency of the postwar transition from military to civilian administrations throughout Ukraine.
Global security architecture will change irreversibly if Russia uses nuclear weapons. Andriy Zagorodnyuk (Atlantic Council) argues that if Ukraine and its Western partners lose courage in the face of renewed Russian nuclear sabre-rattling, this will not lead to a lasting ceasefire but rather will make "a future nuclear war far more likely while encouraging dozens of countries to acquire nuclear arsenals of their own." So far, the response of the West to Russia's blackmailing has been mixed: while the US and EU have vehemently and repeatedly promised unprecedented retaliation, President Macron of France and billionaire entrepreneur Elon Musk have argued for more Kremlin-friendly solutions. Zagorodnyuk believes that the outcome of the Russo-Ukrainian war will define the global security architecture for decades to come: "We are currently witnessing a nuclear superpower threatening a non-nuclear state precisely because it has failed to win a war by conventional military means. The message from Moscow is both menacing and unmistakable: countries with nuclear weapons cannot be defeated by those who have none." Therefore, as Zagorodnyuk concludes, "The only way to prevent the world from descending into a dark future of spiraling nuclear confrontation is to make sure Putin fails."
Musk says Starlink will continue providing Internet access to Ukraine's troops. Matthew Luxmoore (Wall Street Journal) writes that "the billionaire chief executive of SpaceX and Tesla pledged to continue funding the Starlink service for Ukraine." His decision to keep funding the Ukrainian government "for free" came the day after Musk's complaint to US authorities that SpaceX had been losing a lot of money and "couldn't finance the service indefinitely on its own." The rationale behind his decision was not revealed. Luxmoore also writes that the 20,000 Starlink terminals allocated in a lower space orbit over Ukraine are a key node for its wartime communications. Unlike cellphone service, the Starlink connection cannot be jammed by Russia, which allows Ukraine's officers to call in artillery strikes or coordinate operations under any circumstances. This gesture of support from Musk comes at a crucial time, as just last week Russia declared its annexation of Ukraine's southeastern territories.
Russia's inability to dominate in the air is a major war blunder. Daniel Michaels (Wall Street Journal) argues that "Russia's struggling invasion of Ukraine has faced problems [in particular] failure to win control of Ukraine's skies. Without air superiority, Russia has been unable to stop Ukrainian attacks on its soldiers with HIMARS and other weapons. Kyiv's forces have capitalized on Russia's limited ability to respond by retaking hundreds of square miles of territory from the invading army since early last month." Michaels observes that Russia's inability to use piloted aviation effectively became apparent in the first weeks of the escalated invasion. Dozens of its military aircraft were shot down, leaving the Kremlin's invading troops without air support. Because of this, Russia has had to resort to unmanned aerial vehicles. Nevertheless, this solution has many limitations to it, including the ease with which the UAVs can be intercepted. Not to mention that Ukraine's defenders have shown themselves to be very effective in using Soviet-era air defence systems, processing US intelligence data, and operating their own UAVs. Recently, Ukrainian-piloted aviation has been trying to retake the initiative in the air and started inflicting losses on Russian positions in the occupied parts of the southeast.
Russo-Ukrainian war increasingly becoming a clash of drones. John Ismay (New York Times) starts by pointing out that Moscow has massively resorted to Iranian-made UAVs—specifically, the Shahed-136 and Mohajer-6—and deployed "dozens of models of the remote-controlled and programmable weapons" against Ukraine. At the same time, Ukraine has been building an "army of drones" since the first days of the invasion. Ismay writes that both sides are using drones intensively and explains the differences between surveillance, kamikaze (i.e., "loitering munitions"), and attack drones. Both sides have also learned to rework commercial quadcopters into grenade carriers. Ismay states that Ukraine predominantly uses UAVs produced in the US, China, and Turkey (the famous Bayraktar TB2 was Ukraine's main long-range weapon before the HIMARS arrived). Moreover, Ukraine is expecting new deliveries of advanced military UAVs, such as the Switchblade or Puma, from the US. Instead, the Russian army switched to the more simplistic Iranian-made weapons as it ran out of domestically produced ones, like the Orlan-10 or Kartograf. Apart from this, as Ismay argues, "after repeated setbacks Russia's use of the Iranian drones could be a sign that it is running low on precision-guided weapons." Ismay concludes that after their use in Ukraine's war theatres is analyzed, drones may or may not become one of the decisive factors for wars of the future.
Reflecting on Russia's drone aerial warfare, Matthew Luxmoore and Isabel Coles (Wall Street Journal) notice that the invading side has most frequently deployed its Iranian-made UAVs to strike civilian and military targets in Ukraine's rear: "Russian forces have increasingly turned to targeting civilian infrastructure in Kyiv and other cities as winter approaches, disrupting electricity and fuel supplies." The rate and precision of these strikes prompted the Ukrainian authorities to appeal to citizens to limit their electricity consumption. In turn, Ukraine's public utilities have had to impose blackouts in order to ensure the national grid's integrity. Luxmoore and Coles highlight that Russia decided "to wear down the civilian population in response to a series of setbacks for the Kremlin on the battlefield." In light of Moscow's intensified use of unpiloted aviation, Western partners have promised to provide Ukraine with more and newer air defence systems.
Russian troops are being trained by Iran to use drones more effectively. Julian E. Barnes (New York Times) as well as Vivian Salama and Michael R. Gordon (Wall Street Journal) argue that Iran has likely deployed trainers and drone operators to Crimea in order to assist Russians in their offensive—specifically, bombarding cities and civilian infrastructure. If this proves true, as claimed by US intelligence, then Iran has become directly engaged in the Russo-Ukrainian war and is therefore co-responsible for war crimes committed against the Ukrainian side. US intelligence is also worried that Iran may provide Russia with even more destructive weapons in the future, such as surface-to-surface missiles. However, the greater Iran's engagement in the war, the less probable is the restoration of the 2015 deal with the West that constrains Iran's nuclear capability and the more likely are new sanctions against the state. Commenting on Russia's most recent use of the UAVs, Salama and Gordon write that "Ukraine's forces have been effective in shooting down Russian warplanes, but they have a limited capability to defend population centers against attacks by swarms of drones, cruise missiles that hug the ground, and ballistic missiles." To this, Barnes adds that "the drones would be more effectively used on the front lines of the military battlefield in Kherson or Donbas. Using them on civilian targets shows that Mr. Putin is desperately trying to break the Ukrainian will to fight."
Russia systematically committing war crimes in occupied Ukrainian territory. Carlotta Gall (New York Times) opens her article with a statement that "with Russian soldiers pushed out of parts of the Kharkiv region, Ukrainian investigators have been overwhelmed with accounts of detentions, torture, and missing relatives as well as collaboration and property theft." In particular, Gall writes that the levels of destruction and atrocities which Ukraine's police officers are discovering in the liberated northeast may be even higher than in Bucha, one of the nadir-symbols of Russia's invasion: "So far, police officers have logged more than 1,000 cases of people being detained in [the occupier's secret prisons]…The real figure is probably two or three times that." Gall interviews the survivors of interrogation and torture who shared details of what the Russians and local collaborators did to them and describes how Ukrainian and French forensic specialists have been carrying out autopsies of the bodies of the deceased.