Ukraine's innovative use of Western weaponry far exceeds expectations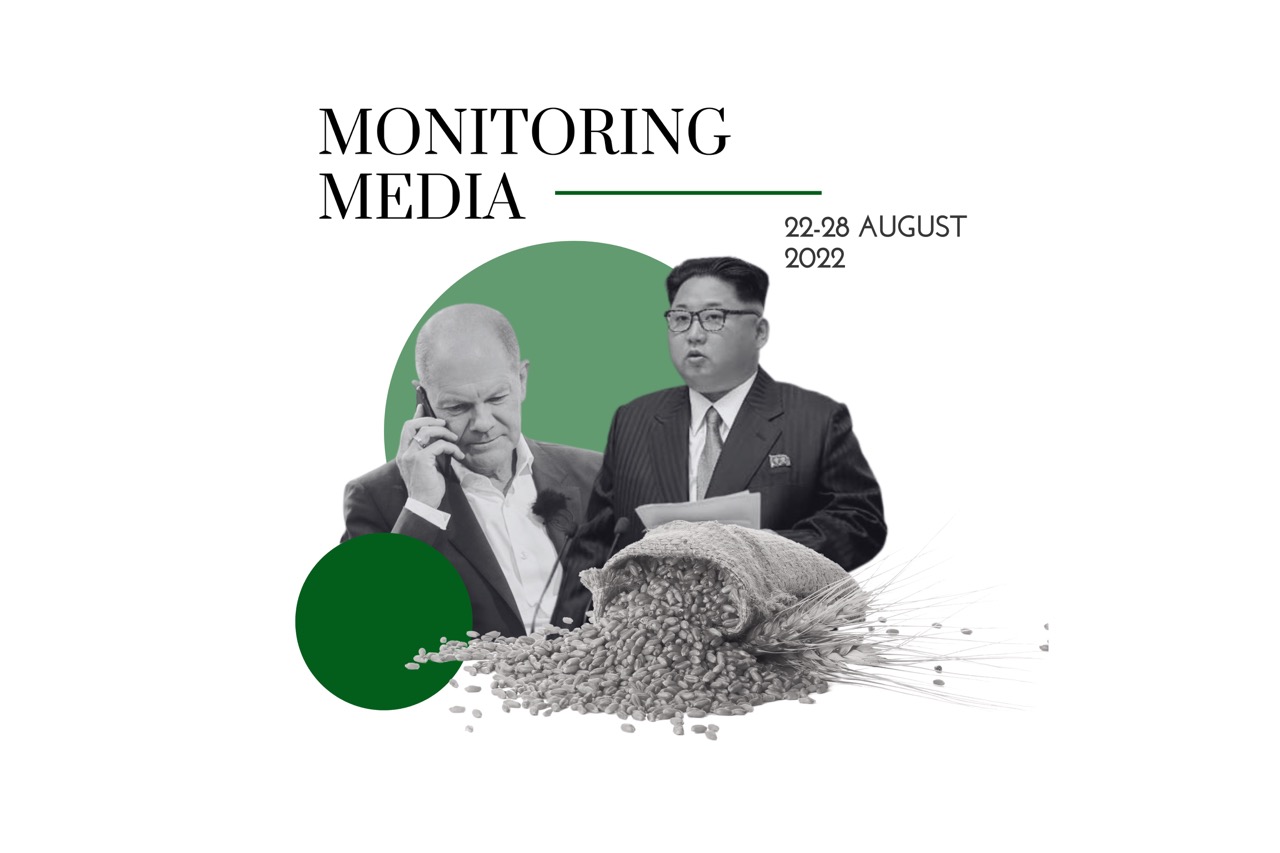 CIUS weekly report on media coverage of Ukrainian affairs, 22–28 August 2022
Three North American magazines (The Wall Street Journal, The New York Times, and The Atlantic) were selected to prepare this report on how the situation in Ukraine has been portrayed in the media during the past week (22–28 August 2022). The sample of magazines was created based on their impact on public opinion as well as on their professional reputation, popularity among the readership, and topical relevance. These three magazines represent the centrist and liberal political spectrums.
This report covers only the most-read and relevant articles about Ukraine, as ranked by the respective magazines themselves in the past week. Its scope extends to promoted texts on home pages, texts from special sections on Ukraine, texts with hashtag #Ukraine, texts from the paper editions of the magazines, and texts about Ukraine from opinion columns and editorials.
Topics featured in the selected articles:
Ukraine's current situation: Ukraine seems to be taking initiative on the battlefield; more and more Ukrainian women are joining the army; Ukraine's strikes against Russian troops become more daring and improvisational; Ukraine continues accumulating forces to liberate Kherson; Zaporizhia nuclear power plant remains within Ukraine's energy grid; UN inspectors to arrive at Zaporizhia power plant; Ukraine increases grain exports; Ukraine's dance artists introduce war themes in their art;
The world and Ukraine: German foreign policy has become more assertive since Russia's invasion; North Korea draws nearer to Russia in order to meet its military objectives;
Russia at war: Russia stumbling on both offensive progress and defending its military bases; Russia violates the rights of prisoners of war.
The most common arguments:
After half a year of heavy fighting, Ukraine is gaining momentum in the war. Marcus Walker and Gordon Lubold (Wall Street Journal) highlight that while "Ukraine is still struggling against Russia's advantage in raw firepower…[its] defenders are increasingly hitting Russian logistics and bases, including in Crimea, as they receive more Western weapons." In this respect, Walker and Lubold mention that on 19 August 2022, the US announced a new package of military assistance to Ukraine that includes drones, artillery, ammunition, tactical vehicles, and mine-clearing equipment—all of which are needed to start an offensive. The Russian side seems to be aware of Ukraine's constant reinforcements and therefore decided to pause active advancements and prepare to defend its occupied territories. The result of Ukraine's forthcoming offensive is yet to be seen; however, even with all its defensive preparations, Russia is in a disadvantageous position: it is struggling "to replace losses of troops and materiel, relying on mercenaries, proxy militias and old tanks to fill the gaps. Russia's economy is facing a far deeper recession than Western nations." Apropos, Walker and Lubold believe that notwithstanding energy shortages and galloping inflation, their citizens are likely to blame Russia, not Ukraine, for the hurdles they face. Only far-left and far-right politicians and parties advocate the lifting of sanctions against Russia. Overall, the West and NATO look as united as they have ever been since the end of the Cold War.
Numbers of Ukraine's women engaged in the war effort are constantly increasing. Megan Specia and Emile Ducke (New York Times) describe four Ukrainian women who changed their lifestyles due to the war and became sappers, truck drivers, and farmers, or forced to abandon everything in order to undergo physical rehabilitation after Russia's shelling. Specia and Ducke cite Ukrainian and British sociologists who highlight that the social role of women in wartime has acquired more agency and become more visible. What were earlier perceived as occupations for men, such as battlefield deployment and military careers, have become accessible to women too. To date, more than 50,000 women have joined Ukraine's armed forces. The pre-war masculine paternalism has vanished; nevertheless, there still remains much room for improvement before the wartime efforts of women are treated equally to those of men. For instance, the fact that women have taken the lead in war logistics and are supporting Ukraine's soldiers with all-terrain vehicles, purchasing them all across Europe, remains unacknowledged and underappreciated. Specia and Ducke anticipate that the wave of changes in gender roles that started in 2014 will become stronger in future, and discriminatory stereotypes will no longer be tolerated in Ukrainian society.
Ukraine's operations against Russia becoming more and more taunting. Andrew E. Kramer (New York Times) reports that the Ukrainian side mocks the Kremlin by organizing a parade of destroyed Russian military equipment on Kyiv's main street, conducting daring operations in the Russian rear, and posting scoffing messages on social media that belong to Ukraine's governmental agencies. Kramer believes that official Ukraine's finesse in mockery may likely come from President Zelensky and his team, who were previously experienced in "the news media, show business and comedy." Remarkably, despite being provoked by the public mockery and taunting attacks in Crimea and Belgorod, the Russian side has not retaliated. Kramer cites here Serhiy Leshchenko, an adviser to the Ukrainian president's chief of staff, who believes that "Russia has already been stretched to the limits of its military capabilities, limiting its ability for reprisal." At the same time, Western anxiety about not "poking the Russian bear" is slowly dissolving as Ukraine demonstrates to its international partners that it can outstrip Russia in both physical and psychological warfare.
Ukraine exceeding Western expectations with effective use of available weaponry. Helene Cooper and Eric Schmitt (New York Times) write that "from the sinking of the Moskva, Russia's Black Sea flagship, in April to the attack on a Russian air base in Crimea this month, Ukrainian troops have used American and other weapons in ways few expected." In particular, Ukraine's armed forces are mounting: missiles onto trucks to move them faster into and out of firing range, rocket systems onto speedboats to increase naval battle capacity, and the US's newest HARM missiles onto old Soviet MIG planes; as well, they are modifying inexpensive drones to deliver and drop munitions on Russian rearguard positions. Cooper and Schmitt argue that "the engineering ingenuity of the Ukrainians lies in stark contrast to the slow, plodding, doctrinal nature of the Russian advance." Cooper and Schmitt cite Frederick B. Hodges, a former top US Army commander in Europe, who believes that Ukrainians adopted their practical approach to combat warfare solutions from the 1980s TV show "MacGyver": engineering simple, improvised contraptions to secure best outcomes from unfavourable circumstances. Cooper and Schmitt conclude that Ukraine's ongoing offensive is unconventional in its nature and ultimately aims to expel the Russians from the territories they thought they had already secured.
To this, Andrew E. Kramer, Anton Troianovski, and Helene Cooper (New York Times) add that Ukraine is capitalizing on its engineering and improvisational talents in order to conduct "risky maneuvers as early as this fall—before the rainy season turns the countryside into impassable bogs, or energy shortages and soaring costs undermine European support." In particular, such manoeuvres anticipate the liberation of Kherson and other parts of Southern Ukraine before Russia brings even more troops there and stages sham referendums. In turn, the Kremlin seems to be preparing its army for a prolonged war of attrition.
Ukraine connects occupied Zaporizhia NPP to its energy grid. Isabel Coles and Evan Gershkovich (Wall Street Journal) write that "Ukrainian workers at Europe's largest nuclear-power plant reconnected two of its reactors to the grid on Friday after an outage that capped weeks of brinkmanship with Russia and heightened concerns of a nuclear accident." The Zaporizhia Atomic Energy Station (ZAES) produces 6.7-gigawatts of electric energy, which constituted one-fifth of Ukraine's electricity before the war. The ZAES is the first nuclear power plant in history to be occupied during a war. To inspect the facility and assess the damage inflicted by shelling, the UN deployed an observation mission that will likely arrive there in late August. In turn, Ukrainian officials have called for the demilitarization of the ZAES in order for all of Europe "to sleep peacefully and not be afraid of nuclear clouds in its sky."
UN mission to inspect Zaporizhia nuclear power plant in late August. Joe Parkinson, Laurence Norman, and Drew Hinshaw (Wall Street Journal) report on the success of the negotiation process between Ukraine, Russia, and the UN, which resulted in permission for a team of international observers to visit the facility. The observers, who represent the International Atomic Energy Agency (IAEA), are supposed to bring "spare parts, radiation-monitoring devices, and other vital materials to the plant" to secure its safe functioning. According to experts whom Parkinson, Norman, and Hinshaw cite, "after Chernobyl this is the most important mission the IAEA has ever undertaken—everything else pales in comparison." Inspection of the ZAES became possible after extensive lobbying by President Macron of France, who raised the matter with President Putin directly. The authors also highlight that "Russia's nearly six-month occupation has transformed the facility into a military base, where employees deemed to be loyal to Ukraine have been shot and tortured."
Ukraine's grain exports increase under UN-backed deal. Isabel Coles and Jared Malsin (Wall Street Journal) write that the deal signed between the UN, Turkey, Ukraine, and Russia on 22 July 2022 entails a partial lifting of the sea blockade to allow the export of Ukrainian food. In the month that has passed since then, Ukraine has exported 1 million metric tonnes of grain. By comparison, 2.7 million metric tons of grain were exported through alternative routes (i.e., via railroad and the Danube) in July. Coles and Malsin mention that "Ukraine accounted for about 10% of global wheat exports and 14% of corn exports before the war and was a key supplier to countries in the Middle East and North Africa." In this light, the global food crisis became one of the repercussions of Russia's invasion. Apart from the grain exports, Coles and Malsin discuss in their article the dire situation around the Zaporizhia nuclear power plant and challenges ahead of Ukraine's planned counter-offensive.
Ukrainian dance artists incorporate war experience into contemporary choreography. Gia Kourlas (New York Times) presents stories of lesser-known Ukrainian dance artists and choreographers who, unlike ballet stars, did not make it to the war-related headlines of the Western media. Kourlas writes that many independent Ukrainian dancers have had to flee their country, abandon their art for more practical activities, start helping the military with fund-raising or coping with mental stress, or simply keep their bodies fit before better times come. Many dancers seem to "have a particular sensitivity to the way trauma inhabits the body." In particular, Mykyta Bay-Kravchenko, a dancer and teacher from Lviv, says that wartime experiences make him feel a "drumming" inside. This "drumming," notwithstanding the negative energy it emits, has made the artists invent new ways of expression. In turn, Krystyna Shyshkarova, owner of a contemporary dance school in Kyiv, describes her feelings as "cold anger inside—I'm like a machine a little bit." Shyshkarova works on a unique program that incorporates elements of tactical training in choreography to keep the bodies of soldiers healthy: "The program will feature preparatory exercises for civilians and military personnel to create healthy movement habits. Sitting down, standing up, rolling over—without injuring any joints—are not as simple as they sound. And try adding to that body armor and ammunition." Liudmyla Mova, a choreographer and psychologist, works on a new program that helps people in the military cope with physical and mental stress. She utilises somatic methods and practices to bring relief. Kourlas concludes that the experience of war is changing Ukrainian dance a lot, if not marking the birth of a new era of contemporary dance.
Russo-Ukrainian war revolutionizing Germany's foreign policy. Joseph C. Sternberg (Wall Street Journal) writes that almost immediately after Russia's invasion of Ukraine, Chancellor Olaf Scholz announced new strategic objectives for German foreign policy: "First, Berlin would reinvest in its military to meet the North Atlantic Treaty Organization's goal of spending 2% of gross domestic product on defense… Second, Germany would treat energy policy as a national-security matter and wean itself off Russian natural gas. Third, Berlin would no longer pursue mindless diplomacy for diplomacy's sake, especially with the world's autocrats." Sternberg argues that six months after Scholz's declaration, German foreign policy is indeed on track to change. One of the catalysts for this change was the release of photos of atrocities in Bucha in April 2022 that made Germans acknowledge the genocidal nature of Russia's war, as well as reconsider their role in the world. Apart from this, many prominent figures from the Chancellor's environment, including members of his government, appear to be hawkish on the Kremlin and are lobbying for change on their own. Sternberg also writes that Germany today has no major economic consequences from increasing its defence spending and maintaining sanctions against Russia. However, considering the volume of its trade with China, Scholz's objective to stop bargaining with autocratic states is hard to swallow. Sternberg concludes that Scholz's February 2022 declaration designated "a turning point, and that's what Germany is getting, even if it will take years to know exactly what form the turn has finally taken."
North Korean foreign policy becoming more pro-Russian. Dasl Yoon (Wall Street Journal) argues that Russia's invasion of Ukraine created an opportunity for North Korea and rejuvenated its connection with the Kremlin. In particular, "Pyongyang wants to dispatch laborers to the Russia-controlled regions of eastern Ukraine—Donetsk and Luhansk—providing the Kim regime with a much-needed source of overseas income." Apart from this, Kim Jong Un expects to get access to the newest Russian military equipment, increase volumes of trade between states, and benefit from Russia's veto power on the UN Security Council whenever new sanctions against his state will be discussed. In this light, North Korea consequently has voted against all the UN resolutions condemning Russia's invasion, as well as has already recognised occupied territories around Donetsk and Luhansk as sovereign republics. Yoon cites Patricia M. Kim, a US-based expert on North Korea, who believes that "Pyongyang and Moscow see clear parallels in their respective situations and share a common cause in opposing sanctions and the U.S.-led 'Western Order'…The growing solidarity will exacerbate great power competition in the region."
Russia tries to reanimate its stalled offensive in Ukraine's southeast. Matthew Luxmoore (Wall Street Journal) writes that "Russia is moving to significantly bolster its forces in Ukraine as its campaign to secure territory in the country's east and south stalls ahead of planned plebiscites on annexation by Russia." For that reason, the Kremlin removed the age limit for recruits (i.e., citizens over 40 may sign up now), as well as ordered an expansion of Russia's army by 137,000 soldiers (i.e., total military staff will be 1.15 million in 2023). Apart from this, Luxmoore highlights that a newly formed ground force (the 3rd Army Corps) will be deployed to Ukraine soon. However, according to US analysts, the hastiness of formation of that force may decrease its effectiveness, as soldiers will probably lack discipline and training. Finally, Kremlin-affiliated military companies such as the Wagner Group are touring Russia's prisons and convincing convicts to fight in Ukraine by promising earlier release and financial bonuses. At the same time, Ukrainian forces have increased the intensity of their attacks on Russian rearguard positions. They target military infrastructure in occupied areas, including those very close to the Russian border, making invaders feel uneasy on Ukrainian soil.
Russia cannot defend its strategic objects in Crimea. Thomas Grove (Wall Street Journal) shares the observation that Ukraine is gradually eroding the Kremlin's confidence in the security of the Russian rear, especially in Crimea. Since the beginning of the invasion, the Kremlin has regarded the peninsula as a command and logistical hub for the occupation of Ukraine's southern territories. Crimea has also been the place of stationing of the Russian Black Sea Fleet since the days of the Empire, which became one of the reasons for its occupation in 2014. However, Ukraine's recent drone strikes on the most heavily fortified bases—such as the Saky Airfield and the headquarters of the Black Sea Fleet in Sevastopol—have weakened belief in the impenetrability of Russia's defensive lines in Crimea. As a result, the fleet is moderately active in the waters around the peninsula or has left for safer locations; meanwhile, the Ukrainian army gained a better understanding of how Russian radar and air systems work, and the Kremlin's narrative of the successfully waged "special operation" has started crumbling. Grove concludes that "this capability to launch deeper strikes means Ukraine is walking a delicate line between undermining Russia's sense of security on the peninsula without inflicting losses that could be used to drum up support for a broader military mobilization across the Russian heartland."
Russia's treatment of Ukraine's POWs is inhumane and probably illegal. Anna Nemtsova (The Atlantic) writes a story about Ivan Demkiv, a surgeon from Mariupol, who "was taken prisoner in mid-April, along with 77 other doctors and hospital staff, and has been held ever since at a complex called Olenivka in the Russian-occupied east." Nemtsova emphasizes that an instance of detention of a noncombatant alone contravenes international law—not to mention the fact that Russia uses Demkiv and his colleagues as bargaining chips for prisoner exchanges, makes them perform medical duties under pressure, and subjects them to intimidation and public curiosity. Also, Nemtsova argues that Olenivka, a former Soviet-era penitentiary complex, is poorly suited to accommodate prisoners of war—there is no running water and the facility itself is unsanitary. It also is unsafe and prohibited to observers: following explosions in one of its buildings on 29 July, the Red Cross was denied the right to inspect the place of the tragedy, contrary to Geneva Conventions. Nemtsova interviewed a recently released Olenivka prisoner, who described his experience as "one constant nightmare": "We were 50 people in a cell for six inmates—dirt, walls covered in fungus, horrific stink, no windows…There were at least 100 women kept in the isolator—15 to 20 of them in a single cell, where they'd have to take turns to sleep." Nemtsova concludes that the safety of Ukrainian POWs at Olenivka greatly depends on media coverage and public interest in their fates.