Ukraine's art of war: Tactical retreats and strategic offensives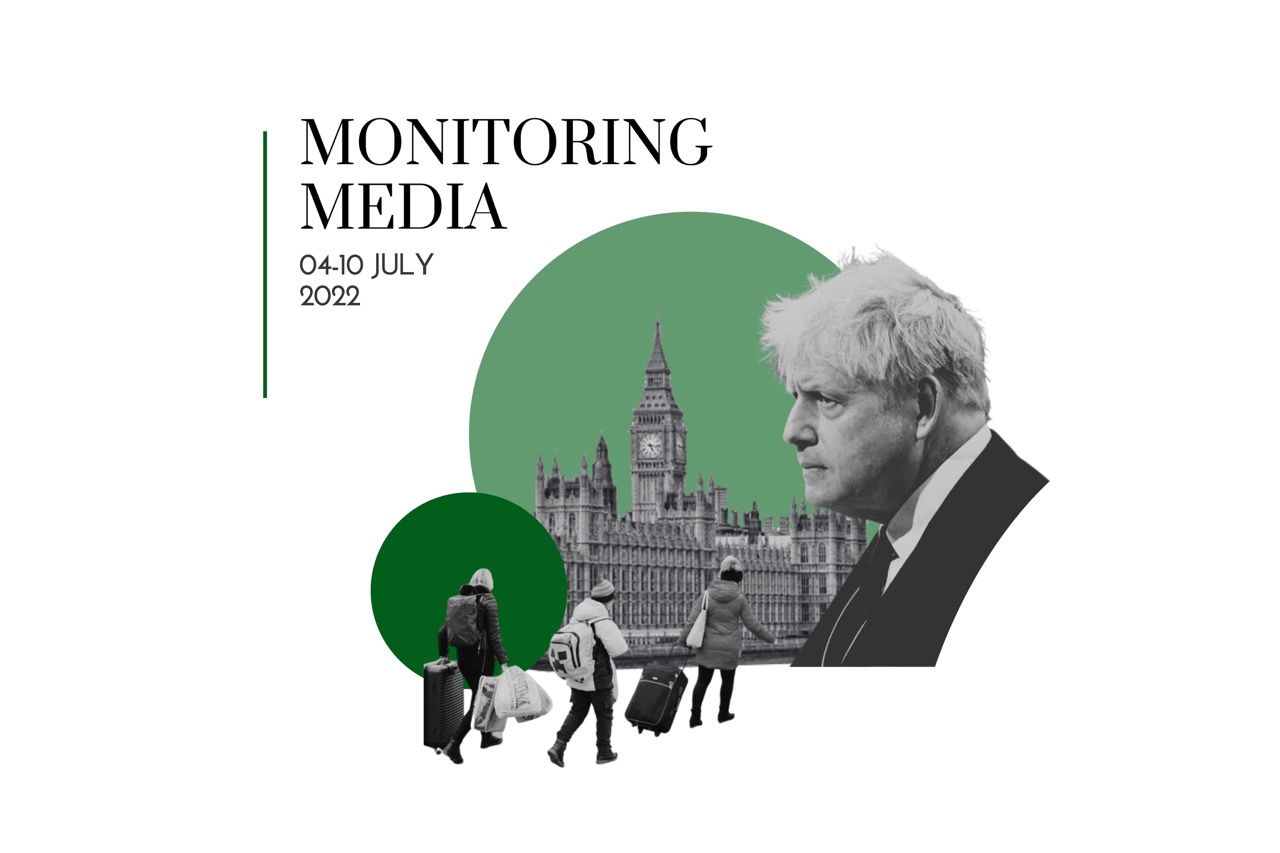 CIUS weekly report on media coverage of Ukrainian affairs, 04–10 July 2022
Three North American magazines (The Conversation, Politico, and The New York Times) were selected to prepare this report on how the situation in Ukraine has been portrayed in media outlets during the past week (04–10 July 2022). The sample of magazines was created based on their impact on public opinion, as well as their professional reputation, popularity among the readership, and topical relevance. The three magazines represent the centrist and liberal political spectrum.
This report covers only the most-read articles about Ukraine, as ranked by the respective magazines themselves in the past week. It also covers promoted texts on home pages, texts from special sections on Ukraine, texts from the paper editions of the magazines, and texts about Ukraine from opinion columns and editorials.
Topics featured in the selected articles:
Ukraine at war: reclaiming Zmiinyi (Snake) Island is a serious blow to Russia; Ukraine requires even more Western weaponry to go on the offensive; Zelensky's team accused of mismanagement by a Republican member of Congress; Ukraine's reconstruction has already started; Kyiv is unhappy about PM Johnson's resignation; the war brings new challenges and opportunities to Ukrainian displaced persons and businesses;
The world and Ukraine: US is developing a long-term strategy to support Ukraine; US army continues providing weaponry to Ukraine; the democratic West is working to unblock Ukraine's grain exports;
Russia at war: Kremlin protests against the establishment of an international tribunal to investigate Russia's war crimes; Russia's energy exports likely to face long-term decline; Kremlin utilizes cinematic art to reinforce its anti-Ukrainian propaganda.
The most common arguments:
Ukraine's reclaiming Zmiinyi (Snake) Island is its biggest strategic success so far. Basil Germond (The Conversation) starts from the point that the island has its own unique history in the Russo-Ukrainian war. It is the place where a legend of bravery was born: a small group of Ukraine's soldiers ran out of ammunition but boldly stood up to a Russian warship in the first days of the invasion. (Later, the Russian flagship Moskva was sunk near Zmiinyi.) Possession of the island has been crucially important for the Kremlin, as from there "the Russian Navy could contribute to the bombardment of Ukraine with cruise missiles." Also, "it gave the invaders the ability to threaten Odessa with an amphibious assault and enabled them to deny access to and from Ukrainian ports." Finally, Snake Island was used by Russia as a base for electronic warfare and air defence systems. Therefore, Ukraine's recapture of the island not only became a major development in undermining Russia's naval superiority and unblocking grain exports but may also damage Russia's international diplomacy efforts, as the Kremlin has continuously blamed Kyiv for export disruptions. If the flow of grain is successfully restored in the nearest future, Russia will face a new cycle of isolation in the international arena.
Ukraine seems to be losing the war, which makes Western support more crucial than ever. Frank Ledwidge (The Conversation) writes about his meeting with a senior Ukrainian government official in Kyiv. That meeting ended with gruesome conclusions: Ukraine is sinking into a protracted war that it has no resources to wage: "If Ukraine is not winning, then it is losing." Western weaponry helps the defenders to hold the front line, but it is yet "unable to impose strategically meaningful costs on Russia's leaders." The Kremlin seems to pay little attention to current human and equipment losses, as the core of its army remains intact and continues "neutralising Ukraine as a viable state." Ledwidge argues that to drastically change the dynamics of war, Western partners should send more arms to Ukraine and do it fast; Ukraine needs to achieve a decisive victory on the battlefield instead of continuing to bleed out for the next months and years. Ledwidge assumes that the West, and specifically the US, possess an "arsenal of democracy" that should be retrieved from storage and delivered to Ukrainians by the hundreds.
Ukraine's government reproves US lawmaker Spartz for her criticism of Zelensky's office. Andrew Desiderio and Christopher Miller (Politico) discuss a critical exchange between Victoria Spartz, a US Republican lawmaker, and Ukraine's government officials. It started when Spartz rekindled years-old US suspicions that Andriy Yermak, Zelensky's chief of staff and the second person in Ukraine after the president, had alleged ties with Russia that have harmed and continue harming Ukraine's defensive operations. Apart from this, Spartz belittled Zelensky's ignorance of pre-invasion US intelligence data, his unwillingness to properly prepare for the invasion, poor decisions concerning recent staff policy (i.e., hiring Oleh Tatarov, who may have a history of corruption, as deputy chief of the Office of the President), and mismanagement of weaponry supplied from the West. In response to Spartz, Ukraine's Foreign Ministry issued a statement accusing the lawmaker of spreading Russian propaganda in the US, as well as capitalizing personally on the war. The main opposition party in Ukraine, European Solidarity, which is led by former President Petro Poroshenko, made use of Spatrz's accusations and itself attacked Zelensky and his office. Spartz is of Ukrainian origin, has visited Ukraine numerous times since February 2022, and is considered an expert in Congress on the war.
Ukraine's government team presents ambitious reconstruction program to the West. Dan Bilefsky and Nick Cumming-Bruce (New York Times) highlight the key points delivered by Ukraine's representatives in Lugano (Switzerland) on 04 July 2022. In his address, President Zelensky declared that Russia's indiscriminate destruction of lives and cities was a direct attack on democratic values. Therefore, he said, "the reconstruction of Ukraine is not a local project, not a project of one nation, but a joint task of the entire democratic world." In turn, Denys Shmyhal, Ukraine's Prime Minister, estimated the cost of reconstruction at $750 billion. Bilefsky and Cumming-Bruce argue that regardless of global empathy, there are at least two major obstacles to a smooth reconstruction. Firstly, the West will struggle to implement ambitious programs in a post-Soviet state "with a culture of endemic corruption and fragile democratic institutions." Secondly, many well-wishing countries have already started "suffering from war fatigue amid spiraling inflation and food and gas prices." It remains to be seen how strong the West's commitment to Ukraine will stand after the war is over.
Ukraine lost a strong ally with Boris Johnson leaving the post of UK Prime Minister. Megan Specia (New York Times) starts her article with a statement that "Boris Johnson may be a polarizing figure in Britain, but in Ukraine he is widely adored for his unstinting support since the conflict with Russia." In this light, his resignation from the post of UK Prime Minister was an unwelcome development for Ukraine's political world and popular culture. President Zelensky named Johnson a true friend of his state and emphasized that "Ukrainians feel personal gratitude to Boris," specifically for his "leadership and charisma." He was one of the first world leaders to firmly support Ukraine and supply it with weapons, thus saving hundreds of lives. Social influencers started posting thousands of memes in Johnsons' honour, while the Ukrainian National Railways and a major Silpo retail corporation topped their logos with a floppy blonde hairdo on the Internet. Specia concludes that Jonson's resignation will revamp the British post-Brexit foreign policy, yet the treatment of Ukraine is unlikely to change. No matter who comes to 10 Downing Street after Johnson, they will continue supporting the state at war.
The return of Ukraine's internally displaced persons to their homes may never happen. Emma Bubola and Megan Specia (New York Times) use the story of Hanna Obuzhevanna, 71, to illustrate the fates of internally displaced persons (IDPs) and the challenges arising ahead of them. While the major media attention is paid to Ukrainian migrants who travel to the EU, comparatively little is known about those who are staying in safer regions within Ukraine's borders and cannot return home. There are millions of such people in Ukraine now, spending their nights in churches and gyms, lacking food and basic necessities, and requiring temporary or new permanent places to live. Bubola and Specia write that "many people displaced by the invasion fear that their land may never return to Ukrainian control and are divided about what they would do in that scenario. Some say they will still find a way to return. Others insist that they would rather lose everything than live under Russian control." Many IDPs are also worried that even if Ukraine's army liberates their homelands little of their property will remain unscorched. To get rid of depressive thoughts, they often engage in civic activities and volunteering.
The war opened new opportunities for Ukrainian jewellers. Victoria Gomelsky (New York Times) writes about Stanislav Drokin, a jewellery atelier in Kharkiv, who had to adapt his business to the conditions of war. In the first two months, he became a volunteer. His atelier was converted into a storage space for medicine and food to support the city's defenders. After the volunteering movement became more organized, Drokin returned to his jewellery practice and started crafting art objects from bomb shards. One of his one-of-a-kind collections is "Nezabudka" (forget-me-not), created to commemorate people who have died or become victims of this war. Apart from Drokin, Gomelsky writes about many more Ukrainian jewellers who either emigrated because their workshops had been destroyed or continued working in Ukraine in dire conditions and supply shortages. Gomelsky cites one such jeweller who claims that their works of art are a very good way to promote Ukrainian culture. GemGenève, an international gem and jewellery trade fair held in May 2022, became a successful showcase for Ukrainian goods and generated public interest at Ukraine's booth.
US needs to develop a balanced long-term strategy to support Ukraine in its war of attrition. Peter Baker and David E. Sanger (New York Times) argue that the dynamics of the Russo-Ukrainian war will directly depend on the commitment of the US and its allies to provide military, political, and economic support to Ukraine. Baker and Sanger define the contemporary stage of the war as "a geopolitical stamina contest in which President Vladimir V. Putin is gambling that he can outlast a fickle, impatient West." With European weapons stocks running low and a growing reluctance in the US to continue financing Ukraine's expenditures, President Joe Biden's administration faces a new task: how to end the war on terms that are acceptable for everyone. Apart from this, Biden's administration is under pressure to fulfil its four strategic objectives from the spring: securing the long-term survival of a "vibrant, independent, democratic Ukraine"; transforming the invasion into a "strategic failure" for Russia; avoiding a direct conflict between superpowers; and strengthening the international order around Western values. All these tasks and objectives lead Baker and Sanger to the conclusion that in the unfolding long-term conflict the US should unquestionably inspire and lead, the EU should follow, the swing states (Brazil, China, India) should be convinced into partnership, and all sides should be as patient as the Kremlin.
US to send more precision-guided artillery to Ukraine. Lara Seligman (Politico) writes that Washington decided to send 1,000 new precision-guided artillery rounds to Ukraine as part of a new $400-million aid package for Kyiv. This package also includes four additional high mobility rocket launchers (HIMARS) that will make Ukraine the owner of twelve such machines in total. The 1,000 precision-guided rounds are believed to be making a difference in the battle for the Donbas, as they will replace thousands of regular Howitzer shells; 36,000 of the latter were shipped to Ukraine in the last aid package. Apart from this, the precision-guided rounds will avoid civilian casualties, striking Russia's strategic facilities directly.
G-20 participants criticize Russia for disrupting Ukraine's grain exports and weaponizing food. Meredith Lee, Sarah Anne Aarup, and Gabriela Galindo (Politico) scrutinize the results of the recent G-20 summit and claim that the problem of Ukraine's trapped grain prompted the G-20 foreign ministers to consider a pressure campaign on Russia to unblock the Black Sea exports. Apart from this, another campaign was considered to discredit the Kremlin's accusations that the disruptions in grain exports were triggered by Western sanctions. Lee, Aarup, and Galindo write that "Moscow denies it's weaponizing food to pressure other countries to stay silent about the war, but has frequently suggested it will only send food exports to 'friendly' countries." In light of political contradictions between G-20 ministers, no unified condemnation of Russia's role in the global food security crisis was adopted. Apart from the G-20 discussions, Lee, Aarup, and Galindo highlight that the UN and Turkey have tried to serve as mediators in unblocking Black Sea exports. However, Turkey seems to have compromised itself as an unbiased mediator for Kyiv when Ankara "released a Russian-flagged cargo ship that Ukrainian authorities say is filled with 'stolen' Ukrainian grain." The article ends with an observation that recent Western efforts to diversify Ukraine's grain exports "diminished Moscow's leverage over global food supplies," but much remains to be done in future.
Kremlin warns US against establishing an international tribunal to investigate Russia's atrocities in Ukraine. Politico reprints an AP article in which Dmitrii Medvedev, a top Kremlin official, denounces the US for what he describes as politics to "spread chaos and destruction across the world for the sake of 'true democracy.'" Responding to the US initiative to establish an independent international body to investigate Russia's war crimes in Ukraine, Medvedev attacks the US by claiming that it is inappropriate "to judge others while staying immune from any trial." To that end, he recalls the US's impunity after the nuclear bombing of Japan and the war in Vietnam. Medvedev also refers to threats and claims that the "idea to punish a country with the largest nuclear potential is absurd and potentially creates the threat to mankind's existence." Another Kremlin official and Putin's aide, Vyacheslav Volodin, warns Washington that Russia may decide to reclaim Alaska if the West freezes its foreign assets. (The USA purchased Alaska from the Russian Empire in 1867 for $7.2 million.)
Russia's oil exports remain stable, but a long-term decline in the sector has started. Carole Nakhle (The Conversation) highlights that "after more than four months of war, Russian oil and gas production is at close to the same level as when the war started." The reason for this is the EU's overwhelming dependence on Russia's energy exports, which makes it hard to diversify supplies efficiently and under the pressure of time. This said, after Germany and the Netherlands, China is the third-largest consumer of Russian energy, and Beijing decided to increase its imports, benefitting from the falling prices. India followed suit and also increased its volumes of imports from Russia. Speculating about the nearest future, Nakhle assumes that "as long as sanctions are not imposed by all the major oil importers, Russian oil will continue to find buyers." As for more remote predictions, considering that the post-2014 Western sanctions stand, Russia will need to curtail its extraction: "In a country with complex reservoirs, ageing fields and a hostile climate, the lack of investment and access to technology will accelerate the long-term decline."
Russia's newest propaganda film instructs Russians why they should support the war in Ukraine. Greg Dolgopolov (The Conversation) analyses the content and effect on the viewer of the "Sunbaked" (Solntsepyok) movie, which aired in August 2021. The movie predicted Russia's engagement in war and sent a signal to ordinary citizens to get ready, taking the "correct side" in the forthcoming calamity. The movie reiterates major messages of the Kremlin's propaganda, such as that Ukrainian volunteers get training in genocide in special camps, join the army afterwards, and start indiscriminately shelling their own villages. All Ukrainian soldiers are portrayed as "right-wing skinheads and folk costume wearing psychopaths." Dolgopolov concludes that "Solntsepyok's propaganda is designed to confuse the audience, entertain with action and dramatic moral choices and overwhelm. The audience is constantly emotionally manipulated…Connections to the truth are not as important as the ideology of shaping a motivation for war."