Not by arms alone: The West should consider energy lend-lease to Ukraine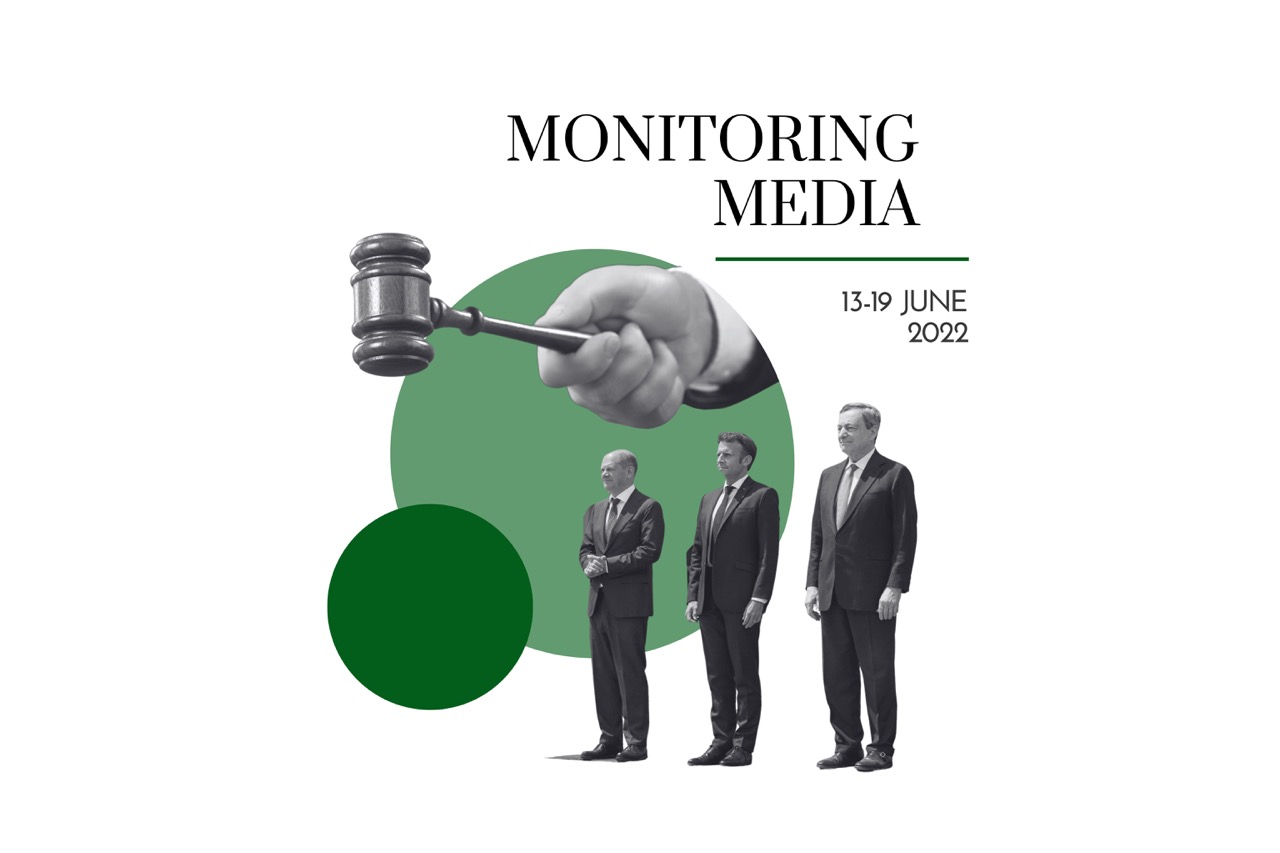 CIUS weekly report on media coverage of Ukrainian affairs, 13–19 June 2022
Three North American magazines (The Conversation, Foreign Affairs, and Foreign Policy) were selected to prepare this report on how the situation in Ukraine has been portrayed in media outlets during the past week (13–19 June 2022). The sample of magazines was created based on their impact on public opinion, as well as their professional reputation, popularity among the readership, and topical relevance. The three magazines represent the centrist and liberal political spectrum.
This report covers only the most-read articles about Ukraine, as ranked by the respective magazines themselves in the past week. It also covers promoted texts on home pages, texts from special sections on Ukraine, texts from the paper editions of the magazines, and texts about Ukraine from opinion columns and editorials.
Topics featured in the selected articles:
Ukraine at war: the nation stands firm in defending every inch of its territory, first trial proceedings begun against Russia's war criminals, partners discuss peace package deal with Kyiv;
The world and Ukraine: US is a crucial partner in Ukraine's defence and infrastructure rebuilding, the West should help to secure Ukraine's energy sustainability, Poland's dedication and Germany's indecisiveness affect the dynamics of the Russo-Ukrainian war;
Russia at war: Ukraine's POWs mistreated in occupied territory, Russia over-relies on heavy artillery as winning strategy, Kremlin has stabilized RF domestic financial sector, Russians escape their state's informational monopoly by diversifying their media diet.
The most common arguments:
Ukraine is fighting against a revanchist empire on behalf of the whole West. Dmytro Kuleba (Foreign Affairs), Ukraine's Minister of Foreign Affairs, argues that Ukraine has no option but to win the war that has become existential for his nation: "Properly armed, our forces can stretch Putin's troops—which are already exhausted—past the breaking point" (emphasis added). To achieve that result, Kuleba advocates that the West needs to consistently fulfill three major objectives. Primarily, it should advance Ukraine "appropriate numbers of advanced heavy weapons" all at once. Secondly, the West should maintain and increase economic sanctions against Russia. Thirdly, any "calls for diplomatic settlements that would help Putin before he makes serious concessions" must be ignored. Kuleba opines that Russian aggression is fuelled by its imperial ambitions and the Kremlin's firm belief in its imminent victory. Therefore, if today's Russia is allowed to defeat Ukraine, then the whole Western world, as well as the rules-based international order, will become threatened.
The majority of Ukrainians do not accept secession of any part of their territory as a means to end the war. John O'Loughlin, Gerard Toal, and Kristin M Bakke (The Conversation) present the results of a survey conducted by the Kyiv International Institute of Sociology (KIIS). According to the survey, 82% of Ukrainians reject yielding any territory under any circumstances, while 61% support "opposing Russian aggression until all of Ukraine, including Crimea, is under Kyiv control." The analysts also note that the respondents who are "most affected by the war through displacement, and thus most concerned about their immediate security and welfare, are most likely to support an immediate ceasefire"; namely, 65% of the respondents in western Ukraine demonstrate a willingness to fight Russia until its full withdrawal, compared to 45% in the eastern Ukraine. Also, "women are more likely than men to favour immediate negotiation" by a gap of 13%.
Ukraine's resistance in occupied parts of its territory is stronger than Russians anticipated. Christopher Morris (The Conversation) claims that Ukraine's "continued resistance in occupied regions—both violent and nonviolent—challenges the Russian narrative as well as its strategy." At this moment, Russian troops cannot fully control the districts it has occupied and are suffering ongoing casualties inflicted by local resistance units—which, according to Russia's casus belli, should not exist. Anticipating the invasion, Ukraine created the resistance networks much in advance. Furthermore, the planned aggressive Russification in occupied districts is hard to carry out due to the lack of local support from the people or administrators. If Russian troops fail to take control of the Ukrainian districts it has recently occupied, resistance may ignite and spread further east, including Crimea. Morris concludes that "far from expanding and renovating the Russian Empire, territorial expansion into Ukraine has opened a series of bleeding sores that will remain open as long as Russia maintains a presence in Ukraine."
Ukraine Armed Forces' command are rewriting the handbook of modern warfare. Lawrence Freedman (Foreign Affairs) provides a detailed account of the military operations in the Russo-Ukrainian war since February 2022. By doing so, Freedman seeks to answer the question of why Ukrainian resistance is so effective and the Russian offence is so poorly developed. He specifically looks into the quality of command. Having assessed dozens of events and cases, Freedman points out four rules for successful warfare in modern times: "First, there must be mutual trust between those at the senior and most junior levels…Second, those doing the fighting must have access to the equipment and supplies they need to keep going…Third, those providing leadership at the most junior levels of command need to be of high quality…[Fourth,] the ability to act effectively at any level of command requires a commitment to the mission and an understanding of its political purpose."
Ukraine launches first trials against Russian war criminals. Sergey Vasiliev (Foreign Policy) writes about three Russian servicemen who were convicted by the Ukrainian court of committing war crimes. Vasiliev observes similarities between the three cases—they "concern low-level perpetrators who committed crimes under pressure in the fog of war and readily accepted responsibility." At the same time, these cases set the stage for prosecution of the higher-ranked masterminds behind the escalated invasion. Vasiliev also claims that "during the 114 days since the invasion, nearly 18,000 conflict-related crimes were registered by the Ukrainian Prosecutor General's Office, most of which were violations of the laws and customs of war." Finally, he notes that trials against enemy soldiers during wartime may themselves become cases of selective application of justice. The fairness of proceedings in the wartime context is sometimes hard to ensure, and the court rulings are open to challenge by the enemy side. This said, in the mentioned three cases Vasiliev finds the proceedings as "passing muster."
To end the war, all sides should agree on peace proposals in a package. Neophytos Loizides (The Conversation) outlines a deal consisting of five proposals that should resolve the Russo-Ukrainian hostilities. First, to satisfy its immediate economic and humanitarian necessities, Ukraine should become an EU member within the next five to ten years. Second, to fund Ukraine's reconstruction and sustain its own development, the EU should restore purchases of Russian gas and oil, but introduce a levy on them. Third, to securely incorporate Crimea and Donbas back into its sovereign territory, Ukraine should complete a genuine decentralization. Fourth, to mitigate social tensions, Ukraine should implement inclusive governance constructed around civic, cultural, and gender consonance. Fifth, to establish an effective security and policing mechanism, Ukraine should agree on multilateral solutions such as a UN peacekeeping mission with extensive powers and/or a specialized council involving NATO, Ukraine, the EU, and Russia.
US should not only help Ukraine defend itself but lead global efforts assisting its economic reconstruction. Brian J. Cavanaugh (Foreign Policy) states that in the case of Ukraine, "for all the might and capability brought to a fight, the West tends to pull chocks and leave the recovery and rebuilding efforts to haphazard afterthoughts." This is a flawed approach, as military and economic assistance should be provided to Ukraine simultaneously. Cavanaugh refers to negative effects of the Marshall Plan: commencing its implementation in the third year after WWII "drove European governments nearly to exhaustion" and almost uprooted people's faith in democracy. With this in mind, regardless of how the war ends, the US should take the lead in organizing international aid to Ukraine without delay. Such assistance, above all, should focus on renovating infrastructure, urban planning, and cyber security. The long-term objective of Washington should be "building an environment where the Ukrainian people can thrive and one that will further stabilize Eastern Europe for years to come." The reconstruction should be facilitated by redirecting Russia's frozen assets in the West to Ukraine, engaging American sectoral specialists, and reinforcing the EU's parallel initiatives.
The West should offer energy lend-lease to Ukraine so that it can survive the next winter. Amy Mackinnon and Robbie Gramer (Foreign Policy) emphasize that Kyiv is under time pressure to procure natural gas deliveries so that it can heat homes and power its industries this coming winter. They suggest a two-component solution: "secure international financing to buy natural gas from major exporters in the Middle East and North Africa … and a possible 'lend-lease' agreement with Washington to import U.S. liquefied natural gas (LNG)." This solution will require Ukraine's partners to invent custom funding mechanisms, as well as Washington to deliver 6 billion cubic metres of LNG to terminals in Europe, from where the gas will be further transported via pipeline to Ukraine. In turn, Kyiv will repay Washington in two years, after domestic production reaches sufficient levels. The authors encourage the West to take the gas shortages seriously, as the energy crisis is certain to escalate further. At the same time, these shortages create an opportunity to make a faster switch to renewable sources in both the EU and Ukraine.
Poland has become a major partner in Ukraine's war effort against Russia. Christoph Mick (The Conversation) writes that Polish-Ukrainian relations have never been better in history than today. He also puts forward the idea that if Poland and Ukraine can find a common language, both of them will benefit. Conversely, if their relations become strained or even lead to conflict, both will lose. To illustrate the counterproductivity of strained relations, Mick discusses cases from the past: 17th-century Cossack clashes with Polish rule, 1918–20 Polish-Ukrainian armed struggle for Eastern Galicia, mass murders in Polish and Ukrainian villages during WWII in Volhynia and Galicia, the 1947 "Operation Wisła" mass deportations of Ukrainians from their ethnic territories in Poland, and others. In recent times, Warsaw has managed to forsake its imperialist view of Ukraine: "Common political interests now prevail, not least because of the increasing threat to [Poland's] neighbours from Vladimir Putin's Russia." At the same time, Mick observes that "historical issues are still unresolved and emotionally highly charged."
Germany's indecisive stance on Russia is exploited by the Kremlin to fuel the war. Peter Rough (Foreign Policy) writes about the impact of Chancellor Olaf Scholz on Germany's official position regarding Russia. In late February 2022 he sounded antagonistic and declared a major shift in Germany's federal security and foreign policies. A few weeks later, however, the antagonism seems to have vanished. Rough argues that "as a former finance minister, Scholz's initial reflex…was to flood the zone with money, including a 100 billion euro ($108 billion) fund to bolster Germany's armed forces. As a Social Democrat, his inclination…has been to try to manage, rather than confront, Russia." Recently, the policy of diplomatic appeasement of Russia instead of hard-power support for Ukraine has been on the rise. This reflects the traditional German approach of treating Russia as the gatekeeper of Central and Eastern Europe. Rough concludes that such a German "posture—lukewarm support for Ukraine, eagerness to strike a deal with Putin, the hope to get back to business as usual—will set Europe back by years, perhaps even decades."
Russia and Ukraine both have issues with abiding by the law on prisoners of war. Christoph Bluth (The Conversation) brings the fact to light that both belligerents are mistreating their prisoners of war. The Russian side, including the self-proclaimed authorities of temporarily occupied districts in Luhansk and Donetsk oblasts, is publicly threatening to prosecute the hundreds of captive soldiers from the Azovstal plant in Mariupol. Videos of the humiliation of Ukraine's POWs often appear in the media. There are also reports that some Ukrainian captive soldiers were murdered by Russians. The Ukrainian side, while allowing Russian POWs to call their families, occasionally posts its interrogations in the media, thereby violating the privacy of the captive soldiers. Bluth writes that such practices contravene the four 1949 Geneva Conventions to which both belligerents are signatories: "Prisoners of war may not be subjected to torture and must be protected against acts of violence, insults, and public curiosity."
Russia's massive shelling of Donbas sites reflects its centuries-long military practice. Lucian Staiano-Daniels (Foreign Policy) states that "in contrast to U.S. doctrine, which emphasizes the relatively precise use of high explosives, Russian doctrine emphasizes massed firepower—and has for generations." Staiano-Daniels traces the emergence of Russia's artillery-centred military tradition to the early 18th century. Cannons helped Muscovite tsars to expand their fiefdom and build an empire. In recent times, the Kremlin believes that massive devastation of cities and civilian fatalities are acceptable if they speed up capture of territory and reduce troop casualties. The preservation of troops is important, as it is infantry that eventually wins wars. In this light, the Kremlin invests in artillery as a relatively fast, economical, and efficient way to wage victorious wars without the necessity to train and re-equip soldiers, which is slower, more expensive, and not always successful. In the battle for the Donbas, the Russian command places its infantry behind artillery lines and orders the indiscriminate and dense shelling of wide areas before any advance.
Russia's financial system has been stabilized, downgraded, and adjusted to the new wartime reality. Kirill Shakhnov (The Conversation) points to a paradox: regardless of the destructive impact of economic sanctions, the Russian ruble today looks stronger than before the invasion. This stems from two major factors. Firstly, the oil price has remained comparatively high on global markets since February 2022, and thus Russian revenues from its exports, albeit reduced ones, have been secured. Secondly, the massive flight of foreign investors and the bans on imported goods have allowed more currency to stay in the Russian market. Shakhnov concludes that "although the currency has kept its value, its utility is greatly weakened…the sanctions make it far harder for Russians to spend relatively strong roubles either on imports or abroad because of travel restrictions."
Russians who follow diverse media are more critical towards the war. Ekaterina Romanova (The Conversation) presents the results of her analysis, backed by references to several sociological surveys, that "Russians who get a more diverse media diet on their smartphones are more likely to oppose the war than those who get their news only from TV." The difference in positions on the war between the two groups of Russians is insufficient to change public opinion, yet it remains statistically significant. Romanova highlights that those Russians who regularly obtain their news from Telegram channels are better aware of the complexities of the war compared to those who watch Russian state TV. This said, around 66% of Russians, regardless of their media preferences, still support the Russian invasion.