Society as a driver behind Ukrainian diplomacy and defence measures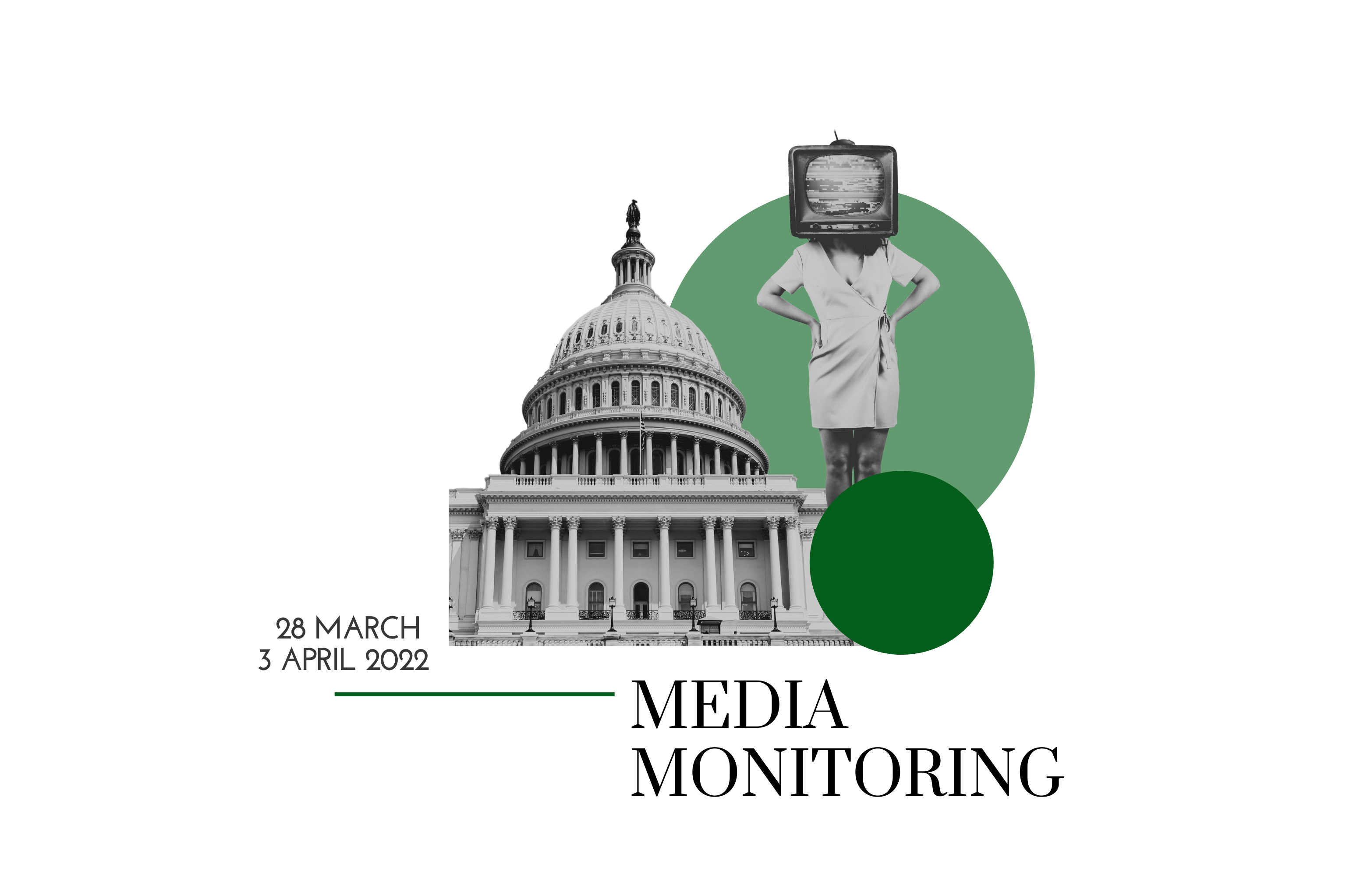 CIUS weekly report on media coverage of Ukrainian affairs, 28 March–03 April 2022
Four North American online magazines (Foreign Affairs, Atlantic Council, The National Interest, and The Conversation) were selected to prepare this report on how the situation in Ukraine has been portrayed in the media during the past week (28 March–3 April 2022). The sample was based on their impact on public opinion as well as their professional reputation, popularity among readership, and topical relevance. Overall, the four magazines may be said to represent the centrist, liberal, and conservative political spectrum.
This report covers only the most-read weekly publications as ranked by the respective magazines themselves. Also, this report covers only texts from special sections on Ukraine; texts not belonging to Ukraine-specific sections or those with comparatively modest attention from readers were not considered.
Topics featured in the publications
Ukrainian and Russian leadership during the war: Zelensky as Churchill
the human cost of war: displacements, disinformation, homicides, and crimes against humanity
scenarios of peace resolution: Russia needs "victory" and moves troops to the Donbas, Ukraine needs Western weaponry and places NATO "on hold"
the war will likely evolve into a protracted conflict
Washington should be the leading actor in stopping the war, but Europe should become more engaged and should increase pressure on Russia
the Russian-Ukrainian war resembles "futile wars" from the past: great powers were usually defeated.
The most common arguments
Wars in states like Ukraine become traps for the great powers. Russian intervention in Ukraine follows a similar combat logic as US interventions of recent decades, from Vietnam to Afghanistan. The same as the Kremlin today, Washington "repeatedly launched military interventions with extravagantly unrealistic expectations, overestimated its own capabilities and underestimated its opponents, believed it would be loved rather than hated, and thought it could put its favourites into office and then get away easily" (Gideon Rose, Foreign Affairs).
Unless it suffers considerable damage on the battlefield or signs a balanced peace treaty, the Kremlin will take years to acknowledge its defeat and leave Ukraine. Analysts believe that Russia has lost legitimacy even in the Donbas, Ukraine's most pro-Russian region, which makes it almost impossible to secure a long-lasting victory (Brian Milakovsky, Foreign Affairs). Also, the type of war Russia is waging in Ukraine today is called an elective war, and it usually leads to the defeat of the assaulting forces (Edmund Adam, The Conversation).
Russians put forward unrealistic military goals and failed to achieve them. Russian advancements into Ukraine stalled last week. Russian rhetoric about "denazification" and "demilitarization" of Ukraine started disappearing from official documents. Instead, the Russian command decided to relocate their troops from northern Ukraine to the Donbas in order to try to achieve a breakthrough in at least one region.
As summed up by Peter Dickinson (Atlantic Council), Russians "have completely failed in everything they have set out to do, and so now they are redefining what the purpose is so they can declare victory." The future bodes brutal fights in eastern Ukraine. Russia will ignore losses in equipment and human lives for the sake of achieving a breakthrough (Samuel Charap, Foreign Affairs).
Western countries should become more engaged in stopping the war in Ukraine. Proposed courses of action for the West include: a continuous supply of weaponry to Ukraine's Armed Forces (Alyona Getmanchuk, Atlantic Council; Oleksandr Danylyuk, Atlantic Council); enlightenment of Russian citizens about the war via the Internet; establishment of a demilitarized NATO-supported zone along Ukraine's western border; help with crafting Ukraine's policies regarding the occupied parts of Donbas; and pausing Ukraine's NATO membership application (Gerald F. Hyman, The National Interest).
The ongoing Russo-Ukrainian peace talks suggest many compromises, yet are far from reaching the "signing point" and make little or no effect on stopping the full-scale Russian invasion (Mark Episkopos, The National Interest).
Washington should play a major role in stopping the war. Neither a protracted conflict nor extreme sanctions are in the interest of Western states, especially the US: "A weak Russia, unable to control its territory and large nuclear arsenal, would pose a grave threat to U.S. national security" (Samuel Charap, Foreign Affairs). At the same time, allowing Putin to subdue parts of Ukraine's territory will jeopardise European security and Trans-Atlantic partnership.
Washington should pursue "three long-term interests – achieving regional stability, discouraging Russia from turning into an international rogue, and precluding a new bipolarity" by not pushing Russian into the Chinese sphere of influence (Samuel Charap, Foreign Affairs). Ramon Marks (The National Interest) outlines how to do this: "A top foreign policy priority for the United States must be to work on a multi-year plan to shift the bulk of responsibility for European defense leadership to allies." The post–Cold War "American shield over Europe" should be gradually weakened, even removed.
Economic sanctions against Russia will become harder to maintain. Richard Nephew (Foreign Affairs) argues that three factors threaten the longevity of sanctions: global disruptions in food and energy supplies, disunity among Western states triggered by varied effects of the sanctions on their respective economies, and Western fear of Russia's switch to new growing markets.
In the long run, not all Western states will rigorously support the sanctions: "Liberal political orders do require shared values, such as tolerance, compromise, and deliberation, but these do not foster the strong emotional bonds found in tightly knit religious and ethnonationalist communities" (Francis Fukuyama, Foreign Affairs). These "weak bonds" between "global" values and "regional" interests can make it harder to justify and support sanctions by the Western states.
Ukrainians can become heroes of the liberal world. Ukrainians "are willing to die for liberal ideals, but only when those ideals are embedded in a country they can call their own" (Francis Fukuyama, Foreign Affairs). The Russian rejection of the Western incentive to promote liberalism globally may be one of the reasons behind the war (see Alexander Cooley and Daniel Nexon, Foreign Affairs).
Western lenience nurtured the Kremlin's warmongering rhetoric. The West trusted Russia too much, notwithstanding the Kremlin's anti-Western propaganda and aggressive foreign policy (e.g., helping its favoured candidate to win in the 2016 US presidential election). Russian media attacks on liberal values and institutions in light of the West's reluctance to become a global informational gatekeeper led to massive brainwashing in North America and Eurasia (including Russia itself).
Oleksandr Pankieiev (The Conversation)writes that in Russia, "both NATO and Ukraine have been depicted as aggressive foes that want to destroy Russia … Demonizing the enemy was the primary goal of Russia's propaganda machine." Anders Åslund (Atlantic Council) adds to the point that "denial of Ukrainian statehood and identity is deeply rooted in modern Russian society" which makes it impossible "for many Russians to accept Ukraine as anything other than a component part in their own country's national narrative." Today, Ukrainian society continues to pay the price for the West's prior informational lenience.
The public pays the highest price in war. The tragedy of losses, destructions, and forceful displacements was highlighted in numerous publications. However, regardless of all challenges, Ukrainian society remains motivated to defend its freedom, especially in eastern Ukraine. This motivation came as a surprise for Putin and the Russians, who imagined the full-scale invasion to be an easygoing and short-lasting affair (Brian Milakovsky, Foreign Affairs; Anders Åslund, Atlantic Council).
David Marples (The Conversation) adds that Belarus citizens are paying their own price in the Russo-Ukrainian war. In 2021, having failed in the presidential elections, Aliaksandr Lukashenka usurped power in Belarus and became critically dependent on the Kremlin's protection. This allowed the Kremlin to use Belarus as a launchpad against Ukraine: "Belarusians do not want this war, but their country is under occupation too. They should be regarded as the initial victims before the war escalated into the horror it has become in Ukraine." Marples also mentions that many Belarus volunteers are fighting on Ukrainian side.
Europe is facing an unprecedented migration crisis. The waves of Ukrainians fleeing their country have transformed the European continent into the world's biggest shelter for displaced people. Therefore, revising the existing system of refugee support should be a strategic task for the EU. In the example of the Ukrainian exodus, Alexander Betts (Foreign Affairs) outlines measures that the EU should implement to mitigate refugee crises in future. If the support system is revised, it should also decrease Europe's xenophobia against refugees, which was so widely present in 2016 with respect to fleeing Syrians.
Worth Your Attention
The war in Ukraine is the fault of Ukraine. "Ukraine is paying the price for its defiance of Moscow. Encouraged by the West since the 2008 Orange Revolution, Kyiv pursued engagement with the European Union and NATO. For more than a decade, it refused to negotiate neutrality or a closer relationship with Moscow" (Ramon Marks, The National Interest).
This statement carries a neo-colonial and neo-imperial undertone and is a nod toward Russia's expansionist ambition. Marks believes that Russia possesses a legitimate right to influence and even steer the politics of its neighbouring states. Additionally, Marks' state-centrist approach downplays the identity and right to self-identification of the Ukrainian people. For more information on why such a position is problematic, we suggest an essay by Volodymyr Kravchenko (Forum for Ukrainian Studies).
Russia cannot lose the war. Many analysts expect the war to end with Russia satisfying its demands as an inherent great power (Liana Fix and Michael Kimmage, Foreign Affairs; Mark Episkopos, The National Interest). Many Western citizens do not believe in the victory of Ukraine because media and commentators in their countries have not discussed this scenario enough to form the public opinion.
The above claim was identified and refuted by Kateryna Zarembo (Atlantic Council). Three decades after the collapse of the USSR, Western analysts chose to perceive Russia as a partner state that was expected to transition to a full-fledge democracy in some near future. Today's Russia's actions and strong appetite for revanchist power generate much anxiety and uncertainty in Western societies. Yet it also contributes to the growing appreciation for the Ukrainian military defence effort and hope for the Ukrainian victory in this war.
Zarembo posits that the victory of Ukraine is in everyone's security interest: "The only outcome that should satisfy the West is the complete defeat of Russia. If Ukraine stops fighting in exchange for the illusion of a temporary truce, the consequences for both Ukraine and the wider world will be grave and the costs of stopping Putin will rise even further." Aleksander Motyl (The Conversation) shares similar views and calls Russia a textbook fascist state
Ceding a part of its territory is an acceptable price for Ukraine to end the war. "In the long run, giving up territory in the east is likely to make Ukraine a far more viable state – and allow it to further strengthen and accelerate its ties with the West … The idea that Ukraine will have to give up territory to Russia may seem unpalatable to many, but we are dealing with stark military and political realities, not fantasy" (Alexander Hill, The Conversation).
This statement is contentious on many levels. Above all, a cession of a territory, forcefully occupied by an aggressor, to the aggressor contradicts any international laws of inviolability of sovereignty; if permitted, such act of cession will erode the trust in international institutions. Secondly, giving up territory to stop further military aggression will allow Putin to avoid responsibility for the war crimes and crimes against humanity. Putin's victory will increase his legitimacy in Russia, incentivize Western leaders to restore contacts with him, and send a signal to other authoritarian leaders that the gravest war crimes may not necessarily lead to prosecution. Thirdly, the cession of a territory to stop military aggression will serve as a precedent and will have an impact on other conflicts; this solution will legitimise the right of strong states to humiliate the weak. Fourthly, a cession of any Ukrainian territory to Russia may lead to a political weakening of the Ukrainian state and may provoke new instabilities. Finally, such cession of a territory will not stop Russian aggression in the long run, as the Kremlin has openly declared its intention to return all of Ukraine into its sphere of influence. In summary, Alexandre Hill offers an imbalanced solution to a complex problem.
For more information on this issue we suggest reading publications by Betul Yuruk (Anadolu Agency), Laura O'Callaghan (The National News), and Rina Goldenberg (DW).
The Russian nation should not be accused in starting the war. "It is Russian President Vladimir Putin's war and no one else's, just as World War II in Europe was Adolf Hitler's." (Margaret MacMillan, Foreign Affairs)
Public opinion of Putin grew significantly in the month after the Russian full-scale invasion, with 83% of the polled population supporting it. Already in 2017, the World Values Survey demonstrated that every third respondent in Russia (32,1%) considered the build-up of "strong defence forces" to be the major national objective; around 70% of respondents anticipated war involving Russia in future.
Zelensky and Putin are the key antagonists and "faces" of the war. Margaret MacMillan (Foreign Affairs) implies that national leaders play pivotal roles in wars and conflicts, on both symbolic and practical levels. An assertion is made that their behaviour and decisions steer the development of wars and conflicts. While applicable to Putin's case, this understanding was also extended to Zelensky who soon became a strong wartime statesman now compared to Winston Churchill.
MacMillan's perspective on leaders' role in the war may suggest to some that the role of the peoples in such contexts is secondary, as well as that both Putin and Zelensky occupy comparable positions in their societies and in the war. The latter is misleading for a reason that both leaders preside over different political systems. Putin is recognized as an autocrat who controls all power in the Russian state and rules without consideration for individual freedoms and human rights. Zelensky presides over a democratic state of Ukraine in which he was elected by the majority of the citizens who from the onset of the war have self-mobilized to defend their country. In Ukraine, the effects of the war effort cannot be explained exclusively by the power of the president.
Mychailo Wynnyckyj, a professor of sociology writing out of Kyiv, suggests that Ukrainian response to the war should not be associated with any individual leaders or personified symbolism, partially because the tradition of political leadership in Ukraine is not as figure-centred as in Russia or the US. Wynnyckyj's reference to the diffused leadership on the ground in Kyiv echoes other scholarly observations on the culture of political leadership in Ukraine and does not fully support MacMillan's claim that "in the present crisis, there can be no doubt that the two leaders, Putin and Zelensky, have determined the shape of the conflict."
For more information on the issue we recommend reading this briefing by The Economist.
The Russo-Ukrainian war will end only through a Western new deal with Putin. Washington is advised by analysts to seek compromises with the Kremlin and stabilize the region. Otherwise, "without some kind of deal with the Kremlin, the best outcome is probably a long, arduous war that Russia is likely to win anyway" (Samuel Charap, Foreign Affairs). The scenarios offered by the analysts usually require concessions from Ukraine without comparable concessions from Russia (Robert Levgold, The National Interest).
Kateryna Zarembo (Atlantic Council) writes that no compromises are possible with contemporary Russia: "There can be no meaningful negotiated settlement with a regime that openly denies Ukraine's right to exist while actively seeking to destroy Ukrainian statehood and identity." No kind of concessions on the part of Ukraine will lead to an extensive peace. Therefore, according to Oleksandr Danylyuk (Atlantic Council), the war should end with the defeat of Russia and that requires a supply of the Western fighter jets and heavy weaponry to Ukraine.