To live without Big Brother: Is it possible for reformed Ukrainian local media?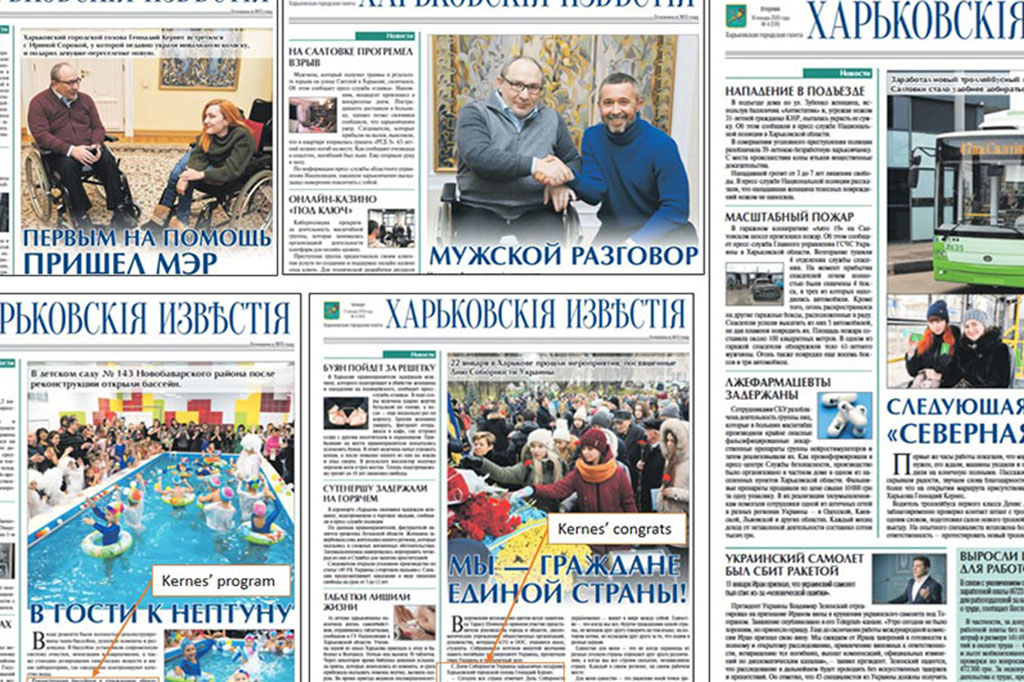 Let's imagine an ordinary Ukrainian town or village. Sitting in his dining room, the mayor of the town eats his borscht and edits a local newspaper. His wife, a schoolteacher, does her best to help, looking for critical remarks. Journalists aren't part of this process, they just wait for their orders and write up preordained outcomes.
Several years ago, I heard about this from Serhiy Tomilenko, head of National Union of Journalists of Ukraine. Apparently, it was quite a typical situation for municipalities to own the local press organs—a phenomenon Ukraine inherited from Soviet times. In the 1990s, the Ukrainian mass media had a chance to get free from government or local authorities, but few took advantage of it—especially in rural areas, where betraying their loyalty to a mayor or head of a district rada (council) would mean a loss of funding. Thus, the common situation entailed local authorities editing the content, editors reviewing any corrections and practicing self-censorship, and readers, as a rule, not seeing any useful information about local affairs in their newspapers.
During the Poroshenko presidency, reforms of the municipal press were implemented. Local authorities could no longer be the owners or co-owners of local mass media. And all editorial offices that had failed to become independent earlier were forced to convert to independent operations.
There were 664 municipal local papers in Ukraine before the reforms in 2016. And on 1 January 2019, after the reforms were complete, 62% of them conformed to all the new requirements; the rest were liquidated.
However, declared freedom isn't equal to actual freedom. According to monitoring done by the Pylyp Orlyk Institute for Democracy (POID, a Ukrainian NGO), some of the reformed local media still depend on local authorities. Research uncovered that in 2019, 28% of the content in Ukrainian newspapers was so-called "jeansa" (undeclared paid political advertising). This means that almost every third text in reformed papers was published with violations of editorial independence standards. To explore the problem more deeply, I decided to compare the content of two sites: izvestia.kharkov.ua (website of the reformed Russian-language newspaper Kharkovskie izvestiia) and mediaport.ua (Ukrainian-language online media, never under local government ownership).
Background: Mass media and oligarchs in the former Soviet Ukrainian capital
The Kharkiv mass media market is known to be the nexus of a tense struggle among oligarchs, one of whom is the mayor, Hennadii Kernes. In 2015, Ukrainian experts from Institute of Mass Information identified Kharkovskie izvestiia as the mouthpiece for this erstwhile supporter of former Ukrainian president Viktor Yanukovych's Party of Regions. Before the reforms in 2014, the newspaper's annual? cost of operations was reportedly 8.5 million hryvnias (about US$354,000). "In fact, Kharkiv's inhabitants are paying every day for the mayor's PR," the experts claimed. Named among other oligarchs who allegedly controlled the city's media market was the scandalous Ukrainian internal affairs minister, Arsen Avakov. Indeed, he owned a TV channel and several internet sites.
As for the mass media Mediaport, it is recognized as independent. Its founder Zurab Alasania, current chief of the Ukrainian public broadcaster Suspilne, is mentioned as the Mediaport's founder, but owners aren't listed on the website.
The 2014–18 content of both mass media outlets was studied by POID experts. During certain periods, especially before elections, the experts discovered 10–47% of the texts in Kharkovskie izvestiia were "jeansa," whereas on Mediaport 0–5% "jeansa" content was found. Thus, "jeansa" is a common problem for many local Ukrainian mass media, but its actual scope depends on the owner's politics. As a rule, the percentage of "jeansa" texts is higher in papers formerly under municipal ownership. For this research, news items from the 13th to the 30th of January were collected and analyzed.
The more news, the less information? Findings regarding Kharkiv mass media information policy
With regard to information policy, there are two types of local mass media in Ukraine: those focusing predominantly on local news and those providing equal space to international, national, regional (within Ukraine), and local content. Previously, I had researched these types on Lviv and Odesa local news sites. There is a great interest in international and national news in Lviv and other cities of Western Ukraine, and here it's customary to present the news with a local perspective. On the other hand, Odesa mass media are concerned mainly with local affairs.
As for Kharkiv, I found large proportion of international news on the website of the Novosti Television Agency, atn.ua. This proportion was even larger than on the Lviv news site zahid.net. However, in the case of the former there was no distinguishable intention to frame an international or national agenda. The news was of both a serious and an entertaining nature (e.g., sanctions against Russia, panda diet, the chupacabra affair in the US). International and national news on the atn.ua website were reprints as a rule. Thus, for ATN these items were mainly an attempt to increase the number of hits on the site. In any case, with the help of the most popular Ukrainian news aggregator ukr.net, it is quite possible for local news sites with a national agenda to compete with all-national sites.
An interest in national and international news may also be observed on Kharkovskie izvestiia. Let us compare the topics in Kharkovskie izvestiia and on the Mediaport website.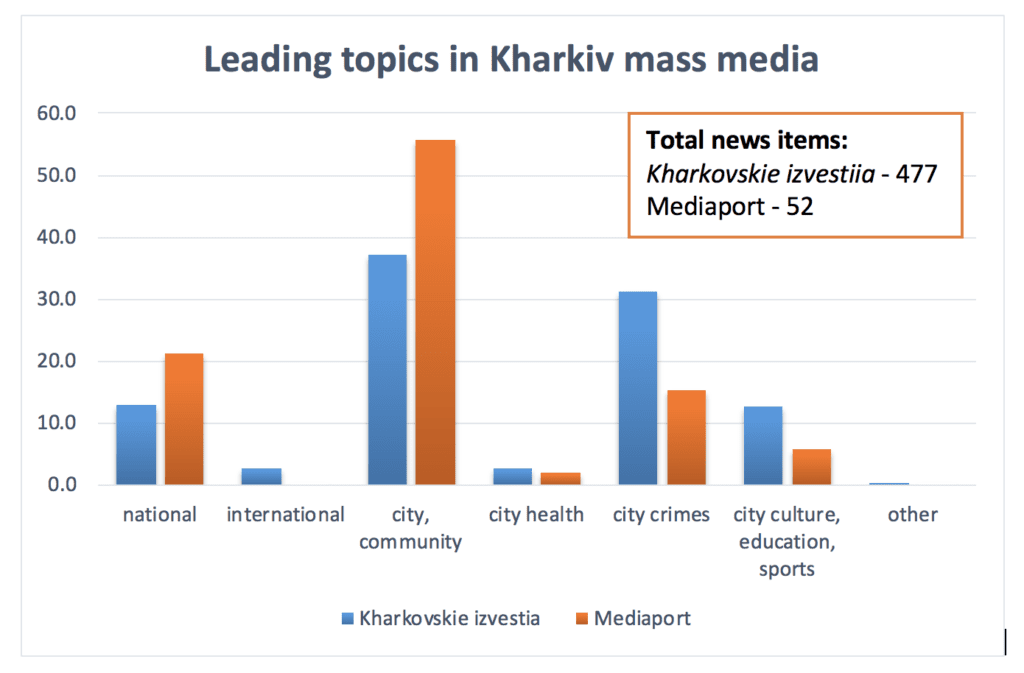 Mediaport does not cover international events at all, whereas Kharkovskie izvestiia does. The news represents only 3% of its content, and only a few texts concern topics connected with Ukraine—for example, about the Ukrainian Boeing in Iran, Russian sanctions. However, most of the news items are about international topics (avalanche in the Himalayas, new types of birds in Indonesia, Trump's impeachment, and of course the coronavirus).
Other types of news of interest to Kharkovskie izvestiia include crime and (on the positive side) culture, education, and sports.
According to POID data, crime is the leading topic for almost all local news sites (usually representing about 30% of content), and Kharkovskie izvestiia is no exception. Of course, it's not a positive trend: with crime news a site may get more readers on the Internet, but a large percentage of this kind of news may form inadequate perceptions about urban life, security of the citizenry, etc. And during wartime (as Ukraine has been in for over five years now) this may be an exacerbating threatening factor.
It seems that positive news about culture, etc., may somehow balance the negative news. However, as we see below, such news items are sooner employed to emphasize the mayor's positive image or to redirect attention from certain topics.
Mediaport's leading topics are local affairs and national affairs. Crime is reported on, as well, but the ratio between city news and city crimes is quite different: it is nearly equal for Kharkovskie izvestiia (37%/31%) and not equal for Mediaport (55%/15%).
Thus, the former municipal paper publishes about 40 news items per day (no texts on the weekends), whereas the independent site posts 3–4 items. However, Kharkovskie izvestiia's news content consists mainly of reprints of national media, crime stories, and positive texts about culture, etc. As we show below, this is an effective technique in the mayor's PR efforts.
Data: Two types of political communication
Furthermore, the sites present two types of political communication. The weaker one has Kernes dominating as a subject, and while the more diverse one has several political personalities mentioned.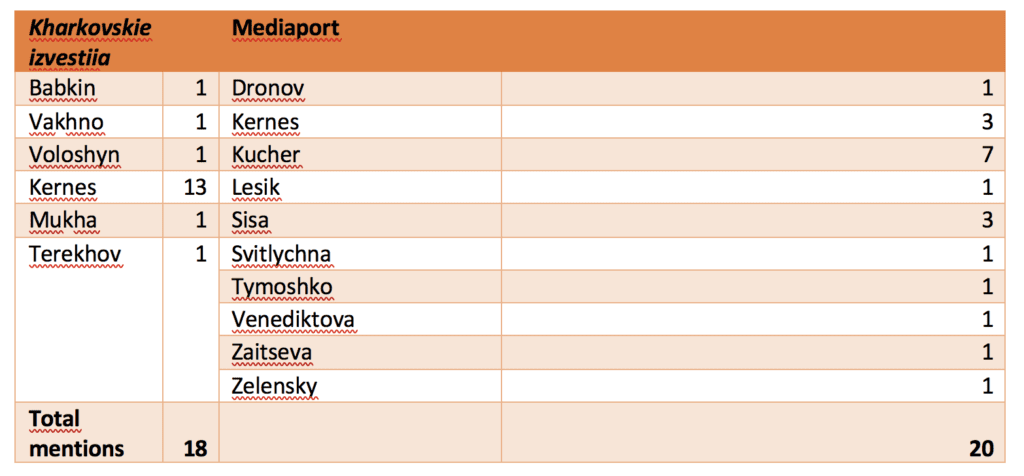 Despite different numbers of news items (much more for Kharkovskie izvestiia) we have almost equal numbers of political subject mentions. This means that the former municipal paper's content is overwhelmingly about generalized Kharkiv inhabitants who participate in culture events, receive assistance from local agencies, etc.—and of course, the mayor is the main hero. In this survey, other personalities mentioned by Kharkovskie izvestiia are the city's honoured citizens (Vakhno and Voloshyn), a sergeant killed in the Donbas war (Mukha), a famous Ukrainian musician who performed in the city (Babkin), and the deputy mayor (Terekhov). Thus, there is a low engagement of political figures here, and we may suppose that some events remain untouchable.
As for Kernes, an exaggerated loyalty towards him becomes apparent. Let's see some headlines:
Hennadii Kernes grants an interview to the program "Gossips"
Hennadii Kernes opens a trolleybus track to Northern Saltivka district
Hennadii Kernes meets Sergiy Babkin / a world champion / an OSCE official / a schoolgirl…
Thus, the paper is a daily journal of the mayor's activity, and it's not the events per se but Kernes himself who is significant for coverage.
The situation on Mediaport is quite different. Kernes is not the main figure, and other popular politicians and other personalities are also covered—for example, local deputy Kucher. The Sisa story is about the former chief of the municipal forest company, charged with bribery. There are also stories about crimes and court hearings, a conflict between Kernes and the central government, and an investigation about Kernes as well.
In sum, Kharkovskie izvestiia presents an authoritative model of Kernes' government, while Mediaport shows us more a competitive picture of local politics. And the nature of the mentions of a political subject can be seen as a reflection of said politician's influence on local mass media.
Additionally, the constant frequency of mentions of Kernes should be taken into account. There are no periods of high or low attention towards him—which may be a sign of specially created attention, a popular technique for political promotion.
For instance, for the last week of January Kernes is mentioned 8 times (once or twice per day). For the three weeks of our research, his photo was published three times on the first page of the print edition, where his comments or initiatives were mentioned seven times. Only in two issues was he not a front-page headliner: the day of the prime minister's resignation and the day of the UIA plane crash victims' bodies' arrival in Kyiv from Iran.
Figure 1
Here again, we get plenty of information about Kernes' activity, but it's one sided. We know about his achievements and his meetings with celebrities and ordinary Kharkiv inhabitants. However, there is no information about the criminal charges made against him and his subordinates, his income, etc.
Post-tagging: Adjectives and verbs in headlines
As we can see, Kharkovskie izvestiia transmits a constant picture of the mayor's fruitful activity and of Kharkivites' prosperous life under his government. We may see this from analyzing the adjectives, adverbs, and verbs in particular. For instance, we have thirteen mentions of the adjective "new" in descriptions of new municipal services, a museum's reconstruction, new flights from a local airport, designs for new subway stations, plans for new trolleybuses and subway train cars, and even a new wheelchair, which was presented by the mayor to a handicapped girl. Additionally, adjectives such as "the biggest," "good," "the most complete," "ambitious," and "extraordinary" present a most positive image of a city that is developing actively with the help of its experienced manager. As for verbs, such words as "begin," "open," "continue," "develop," "build," "obtain," and "plan" correlate with the same picture.
In Mediaport's headlines, adjectives are used quite rarely. As a rule, they provide additional information like "old" cards, "criminal" case, "historical" museum, etc. Among the verbs are words about appointments: "resign," "head," "strip" (of citizenship), "dismiss," and "appoint"; and about communication: "reconcile," "address," and "explain."
Conclusion: Why should anyone care about the local press?
Local press is in crisis all over the world. Circulation is decreasing, and advertisers prefer the internet as a new space for promotion; there is also a lack of trained journalists. Thus, local newspapers as an important element of mass media system have been suffering a lot. As a result, local communities feel ignored and frustrated: they are getting fragmented information and it's extremely hard for them to monitor local authorities and be engaged in local affairs.[1]
In Ukraine, some local officials and oligarchs benefit from the critical situation of the press. They feel free to use their money to buy covert PR. Thus, with its severe economic problems, Ukraine has an abundance of local papers that are unable to earn money and survive only on handouts. The reforms were supposed to resolve this quandary. And along with the reforms of the municipal press, a law on transparency of media ownership was also implemented. However, neither reform is fully working. In this way, it's possible for mayors and other local government figures not to be among a paper's owners but still to influence its content.
The example of Kharkovskie izvestiia should be taken into account when considering the outcomes of municipal press reforms. While there are positive examples of successfully implemented reforms, among the reformed press the practice of loyal coverage of former owners is still widespread.
Ukrainian officials like to cite just the high percentage of reformed papers, as a rule. However, the reforms of the municipal press will be incomplete if we just look at reports, new regulations, and other documents of editorial offices. Content and standards compliance are important, as well. And for many Ukrainian journalists, being given their freedom is not enough. To use it properly is even more important.
Nataliia Steblyna

---
[1] Nielsen, R. K. (2015). Introduction: The Uncertain Future of Local Journalism In R. K. Nielsen (Ed.) Local Journalism: The Decline of Newspapers and the Rise of Digital Media (pp. 13-22). Oxford: Reuters Institute for the Study of Journalism;
Goldsmiths Leverhulme Media Research Centre. (2010). Meeting the News Needs of Local Communities. Retrieved from: http://www.mediatrust.org/uploads/128255497549240/original.pdf